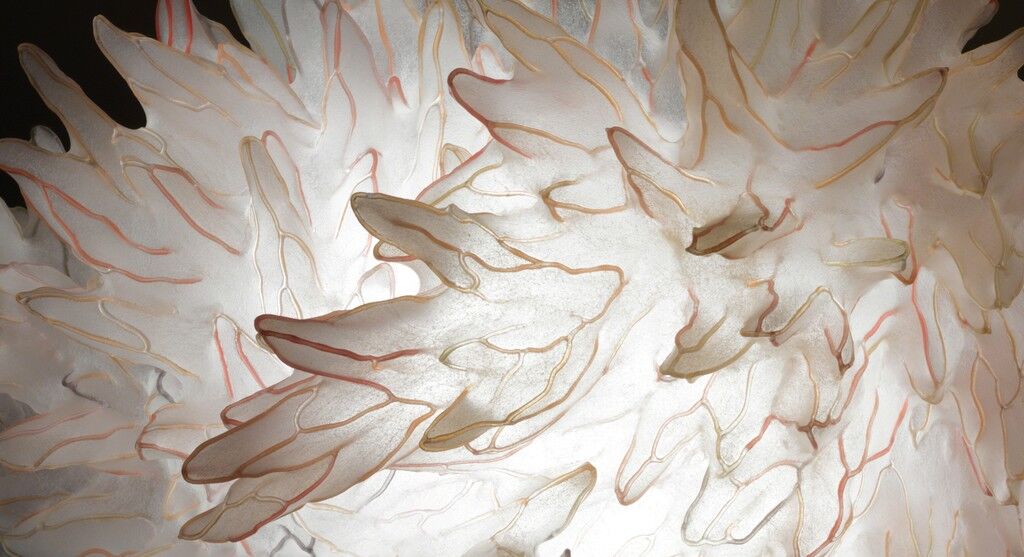 "Serfaty's stunning work represents a logical next step for the IMA's design and decorative arts collection," IMA curator James Zemaitis told us. "With our galleries of Contemporary Design mostly focused on industrial and mass-produced design from 1980 to the present, and our Glick Collection of studio glass, we have been searching for contemporary works which fuse the traditions of design and craft. Thanks to the generosity of Serfaty and her team, we will be installing this work at the entrance to the Contemporary Design gallery in late August as part of a pop-up exhibition devoted to designers who also function as the true makers of their work."
Scholars have written on how Serfaty's sculptural forms recall the cosmic imagery of Hellenistic goddesses, and indeed the artist is interested in the ritual vessels of Antiquity. But the initial inspiration for these natural, fractal lightworks came when she saw a piece in the ceramics department at the Bezalel Academy of Arts and Design in Jerusalem—a delicate network of glass filaments that sparked a vision for the sublime shapes of the "Soma" series, of which Memory is part. "Soma" is the Ancient Greek word for body, while in science it signifies the part of a neuron that contains the cell nucleus—so the collection seeks to be both to corporeal and cerebral. Without wishing to break the artist's magic spell, her process of making bears some explanation. Interlacing fine glass filaments into amorphous forms, the glass is then sprayed with a special polymer that forms a kind of pearlescent membrane.
At Maison Gerard, Serfaty's light sculptures will be displayed alongside the contrasting textures of her hand-felted furniture, whose stony appearance refers to the earth rather than the light of the sky. The Shah and Thor stools (both 2014) resemble lichen-covered stone, with layers of silk, linen, and wool fibres creating an aged finish. Like glowing tendrils, luminous coral, or ancient boulders, Serfaty's work seems to have descended from another world.
Ayala Serfarty is on view at Maison Gerard, New York, May 6 – 20, 2015.
Stay up to date with Artsy Editorial