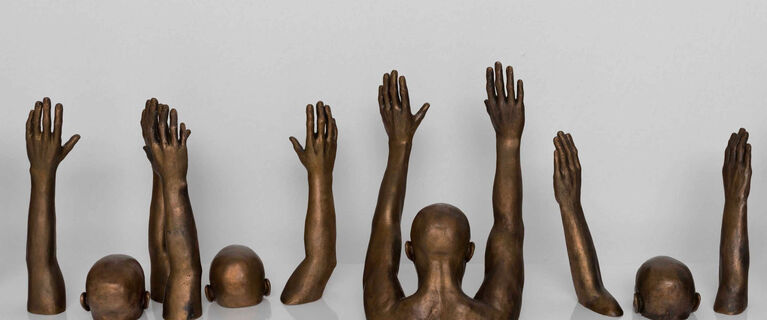 Art
How Advocates of African-American Art Are Advancing Racial Equality in the Art World
Meredith Mendelsohn and Tess Thackara
"When I see what's happening at the Met, it's almost extraordinary," says Lowery Stokes Sims, referring to the increasingly diverse holdings and exhibitions of the New York museum, where she became the first black curator in 1975. "And to have Noah Purifoy at LACMA, and Archibald Motley at the Whitney. This has been a long trajectory," she adds.

Sims, who went on to hold executive positions at the Studio Museum in Harlem and New York's Museum of Arts and Design, is quick to point out, however, that while the field for contemporary African-American artists has developed steadily, and works by more historical figures have become increasingly sought-after by museums and collectors, there is still much work to be done.
Indeed, only a small group of African Americans occupy curatorial positions at mainstream museums, relatively few African-American artists have been given major solo museum shows, and works by 19th- and 20th-century African-American artists are undervalued by the art market relative to those by white artists of equal standing. Change doesn't come organically, however. It takes individuals. And there is a contingent of curators, collectors, artists, dealers, and others who are working to advance racial diversity in the art world. We spoke to those with a history of activism around the representation of African-American art in the United States and a younger generation of artists and professionals who are reaping the rewards of their forebears and continuing the movement toward a fairer—and more culturally rich—art world.
Revising the Canon
When Sims joined the education department at the Met in 1972, she found a like-minded cohort with which to agitate. Together, they organized exhibitions of community art groups in a small space by the entrance to the museum's cafeteria on 81st Street. "We became a little cadre of activists within the Metropolitan Museum to fight for inclusion and diversity," says Sims. She recalls an exhibition of 19th-century African-American artists that Regina Perry organized in the space during a Met fellowship in the mid-1970s, in particular, as one of the many "stories that have probably been forgotten" along the road to a more diverse art establishment.
Portrait of Amanda Hunt, Lowery Stokes Sims, Kimberly Drew, Bernard Lumpkin, Michael Rosenfeld, and Lauren Haynes at the Studio Museum in Harlem, New York, by Emily Johnston for Artsy.
It wasn't until the 1980s that significant strides began to be made, with a handful of key individuals—like Marcia Tucker at the New Museum—driving forward progressive programs at institutions and galleries. The introduction of postmodern critical theory into university curriculums was also pivotal, Sims notes, in producing a new generation primed to challenge the very idea of a dominant art-historical narrative. "I think it was the fad for deconstructive strategies in art criticism and theory—the challenges to the canon, the introduction of a whole new group of critical models," she says. "Walter Benjamin and Derrida, and all of those things." Those shifts in thinking were reinforced in the '90s by Thelma Golden's groundbreaking exhibition "Black Males: Representations of Masculinity in American Art" at the Whitney Museum, as well as the 1993 Whitney Biennial, and the landmark series of group exhibitions in the 2000s at the Studio Museum in Harlem—shows like "Freestyle," "Frequency," "Flow," and "Fore," organized under Golden's directorship with the help of Christine Y. Kim, Lauren Haynes, Naima Keith, and Thomas Lax.
Today, the museum's robust programming—bolstered by supportive committee and board members like collectors Corey Baylor and Bernard Lumpkin—is matched by its efforts to nurture a new generation of black curators as well as artists. Protegees of the museum include Naomi Beckwith, now a curator at MCA Chicago, Thomas Lax, recently hired as associate curator at MoMA, and Jamillah James, assistant curator at the Hammer Museum in L.A. "Thelma is very explicit that she gives us a skillset in the institutional world to go out there and change it," says Amanda Hunt, a curator at the Studio Museum. "That's why I'm here. So I hope that's what I can do for people who eventually come up under me. But it's slow work."
Portrait of Lowery Stokes Sims at the Studio Museum in Harlem, New York, by Emily Johnston for Artsy.
Many institutions also acknowledge the glaring absences in the art-historical canon, and some are actively making efforts to revise the history of American art to include work by African-American artists. One of the most significant emblems of the structural shift taking place in the mainstream is the Museum of Modern Art's appointment, in 2014, of Darby English as a consulting curator tasked with filling in the gaps in MoMA's collection. "It has work by some very important figures, but just not enough," says English, who continues to teach at the University of Chicago alongside his MoMA post. "I'm thinking about works that will have maximal resonance with MoMA as a larger context for Modernism and Postmodernism."
Finding Platforms Beyond the Institution
While mainstream museums have moved at the slow pace typical of large institutions, galleries have used their relative agility to maneuver and respond to the public's increasing interest in African-American artists. Only a handful of those artists—Mark Bradford, Glenn Ligon, and Julie Mehretu among them—have made it into the upper reaches of the market with works that fetch millions of dollars at auction. But contemporary art galleries like Jack Shainman, Papillion Art, Sikkema Jenkins & Co., and James Cohan are bringing increasing visibility to emerging and mid-career African-American artists. And Michael Rosenfeld, a lifelong advocate for and dealer of work by African-American artists, among others, continues to provide a platform for historical black artists.

Interest, Rosenfeld says, has developed incrementally around an older generation of artists like Barbara Chase-Riboud and Alma Thomas, who served as inspiration for a younger generation of better-known contemporary artists. "Even Chase-Riboud is now selling for hundreds of thousands of dollars," says Rosenfeld. "However, if one looks at them in relation to other great artists of that generation, there is still a lot of room for growth." And in a climate where museum solo shows by black artists still proportionally lag far behind those of their white counterparts, galleries have stepped in to create institution-worthy exhibitions. Among those was a show by Nick Cave—the Chicago-based sculptor, dancer, and performance artist known for his wild, Afrofuturist "Soundsuits"—which inaugurated Jack Shainman's upstate venue, The School. "That show was stunning and should have been picked up by MoMA," says the Washington, D.C., collector Peggy Cooper Cafritz, known for her prescient taste in work by young black artists.
The Problem with "Black Art"
Making African-American art and artists visible and addressing the cultural and social context out of which their works arise without making the art secondary to race itself is no small challenge. It is something Golden has addressed considerable attention to—complicating ideas of blackness and African-Americanness in numerous exhibitions—and with which Rosenfeld has grappled throughout his career. "It just so happened that many of the artists that I was drawn to were African-American," says the dealer of his beginnings in the art world. "There was no plan; there was no strategy. I was interested in showing artists that I loved but who others didn't think were particularly significant."
Rosenfeld's exhibition series "African-American Art: 20th Century Masterworks," held annually from 1993 through 2003 and featuring works by Jacob Lawrence, Eldzier Cortor, Alma Thomas, and numerous others—all artists he still has on his roster today—is recognized for having put momentum behind the market and institutional demand for works by black artists of the last century. "The impetus came from collectors, curators, and artists who knew I was interested in showing African-American artists. They would appear in group shows of collage or Abstract Expressionism or Surrealism, but including them within those exhibitions wasn't bringing them a certain degree of recognition," says Rosenfeld. "So we had many conversations about whether it is inherently racist to organize an exhibition according to the skin color of the artist."
Portrait of Corey Baylor, Jack Shainman, and Hank Willis Thomas by Emily Johnston for Artsy.
In the end he was encouraged to do so. "Lo and behold, the first show had a big impact," he says. (Sims was a regular attendee of those exhibitions; "It was a great gathering point," she says.) Rosenfeld notes that, after 10 years, he dropped "African-American" from the shows' title and attendance tapered off. "In retrospect, it was necessary to have continued that series," says the dealer, pointing to a recent, successful exhibition about abstraction in American art, which focused on work by African-American artists. The work Rosenfeld shows challenges any limiting notion of what African-American art should look like, something artist Betye Saar notes has expanded over the years: "It's finally recognized that people of color make art—from abstract to conceptual to folk art. Whatever art is being made, there's some black artist making it."
Darby English prickles at the pigeonholing of African-American artists' work. His forthcoming book, 1971: A Year in the Life of Color, focuses on major post-war black artists working in abstraction—from the painters Sam Gilliam, Frank Bowling, and Alma Thomas, to Light and Space sculptor Fred Eversley. But though the book groups artists together according to their race, English strives to focus on the art and its context rather than the artists' ethnic or racial identities. "The hairs on my neck stand up when I hear the term 'black art,'" says English. "No one has ever called Guernica 'Spanish art'—because you diminish the fact that it's a Picasso, that it's a hallmark of political Modernism, that it's such a statement. Why is that diminishment of all the complexity, all the specificity not acceptable with Guernica, but perfectly fine if you're talking about a Glenn Ligon painting or work by Kara Walker, Jacob Lawrence, Palmer Hayden, Ed Clark, or Betye Saar? What makes it okay to do it to black artists but not do it to Picasso? That is a not a rhetorical question, and as long as we treat it as one, nothing changes."
Hank Willis Thomas, a conceptual artist whose work addresses the construction and use of race in America, also resists this categorization. "I could be a black artist, but I'm also many other things. All of us inhabit multiple identities at once," says Thomas. "The craziest thing about blackness is that black people didn't create it. Europeans with a commercial interest in dehumanizing us created it. Five hundred years ago in Africa there weren't black people. There were just people."
A Younger Generation Finds New Forms
A younger generation of black artists is continuing to push back against reductive expectations and rewrite the rules. "I guess I don't think so much about whether the art world is accessible, but more so about creating my own context," says Lauren Halsey, whose immersive installations manifest otherworldly, Afrofuturist environments. "If you're viewed as being marginalized, then you have less freedom, especially if you're a black woman," adds Tschabalala Self, who reclaims the black female body in paintings and prints, and who was picked up by Thierry Goldberg Gallery while finishing her MFA at Yale. "People are expecting you to tell a story about your victimization and how your life is difficult. The problems my figures have are just problems about being. Blackness is not their problem."
A similar mission runs through L.A. curator Erin Christovale's experimental short film program "Black Radical Imagination," which she organizes along with Amir George. "We wanted to focus on narratives that broaden the idea of a 'black experience,' with the aid of new media and technology," says Christovale. That effort has been aided by online platforms such as Kimberly Drew's highly regarded Tumblr site Black Contemporary Art. "The world of arts professionals and artists of color have really utilized a seeming collectivity enhanced by the web," says Drew. "We communicate with each other in different types of forums and support each other's work. It's been happening for a long time but it's much more fast-paced now."
Portrait of Jacolby Satterwhite and Tschabalala Self at the home of Corey Baylor by Emily Johnston for Artsy.
Portrait of Kimberly Drew, Lauren Haynes, and Amanda Hunt, with Glenn Ligon's Give Us A Poem, 2007, at the Studio Museum in Harlem, New York, by Emily Johnston for Artsy.
With his wild experiments with digital media, Jacolby Satterwhite is among other young artists who are overturning all kinds of expectations—not least what art inside a traditional institution can look like. "I think a lot about how to contribute to the freedom of how art is made, how to be part of that discourse of how art expands." Along with his inclusion in 2014's Whitney Biennial, Satterwhite was commissioned by the San Francisco Museum of Modern Art to create an interactive piece to help inaugurate its new space, opening this spring, part of which will be shown at the Whitechapel Gallery's upcoming exhibition "Electronic Superhighway." (The feature-length film sees animations of "hyper-eroticized cyborgs" conveying a narrative about power, romance, and sexuality.)
What Still Needs to Be Done?
Nonetheless, those committed to increased diversity in the art world agree there is much room for growth. "It has eons to go," says Cooper Cafritz. "There are still far too many galleries who don't represent any African-American artists—or Latino or even Asian." It's widely acknowledged that more black artists will achieve due recognition when more African-American curators are placed in mainstream museums. "There's an educating process that has to happen," says Dr. Joy Simmons, an L.A.-based collector of African-American art. "And the development and growth of young curators of color. Thelma [Golden] curated "Black Male" and the biennial at the Whitney, but she was there for 10 years. It takes time."
Left: Portrait of Lauren Halsey, Betye Saar, Dr. Joy Simmons, Erin Christovale, Michelle Papillion, and Naima Keith. Right: Portrait of Lauren Halsey. Photographs taken at the home of Dr. Joy Simmons by Megan McIsaac for Artsy.
Sims echoes the point: "The biggest lack is diversity in staff in museums," she says. "That is really a very stubborn point for which we haven't had many breakthroughs." She adds that the 10 or 20 major curators of color in the U.S. is an improvement over the four or five of the past but that "the opportunities for young African-Americans majoring in Art History seem to be much richer in academia than in museums." That challenge isn't just one of the institutional sphere. "We need more diversity in who owns or runs galleries," says Michelle Papillion, of the aforementioned L.A. gallery, which has helped foster a new generation of young black artists.
If one thing can be said for sure, it's that momentum is being felt across the art world to correct its deeply entrenched imbalances. "People are really interested in how, finally, to fix this, not just to have a dialogue about it," says Sims. "You don't have the excuse anymore that you can't find [a black] artist or curator or art historian—because they're there. There was a point where there really weren't. There was just a few of us. But now there are a lot of us."
TT