In the Studio: Elmgreen & Dragset Name Their Inspirations and Spotlight the Ongoing AIDS Crisis
Portrait of Elmgreen & Dragset in their studio by Paul Green for Artsy.
After hunting down their fortresslike studio, a converted 1920s water-pumping station tucked away on the side-streets of Berlin's Neukölln, I found Michael Elmgreen and Ingar Dragset with power tools in hand, calm and focused at work. Within the lofty, light-filled space, surrounded by packing materials and shipping crates (filled with artworks en route to or returning from exhibitions), the pair cooperatively added the finishing touches to a piece resembling a giant exhibition wall label. The piece is part of a new conceptual project, titled "
Self-Portrait
s," which will debut at
Victoria Miro
's Mayfair gallery and at Frieze London this week. With this new series, the two artists have taken on a somber, personal approach, naming their influences as a form of self-portraiture and paying homage to the artists and artworks that helped shape their artistic identity.
Photo by Paul Green for Artsy.
Photo by Paul Green for Artsy.
Elmgreen & Dragset, 'Untitled (After The Lovers),' 2015. Photo by Paul Green for Artsy.
These large-scale works require complex preparations and production feats—processes bolstered by the partnership between the two artists. Dialogue is not only essential to their creative process, but also inherent to their works conceptually. "Our pieces are very communicative," Elmgreen notes. "We are also in a dialogue with the audience. There are no artistic collaborations or artist groups that make introverted work. That's not possible, because you already have each other, and you need to understand each other." Dragset chimes in: "The audience is a playmate as well."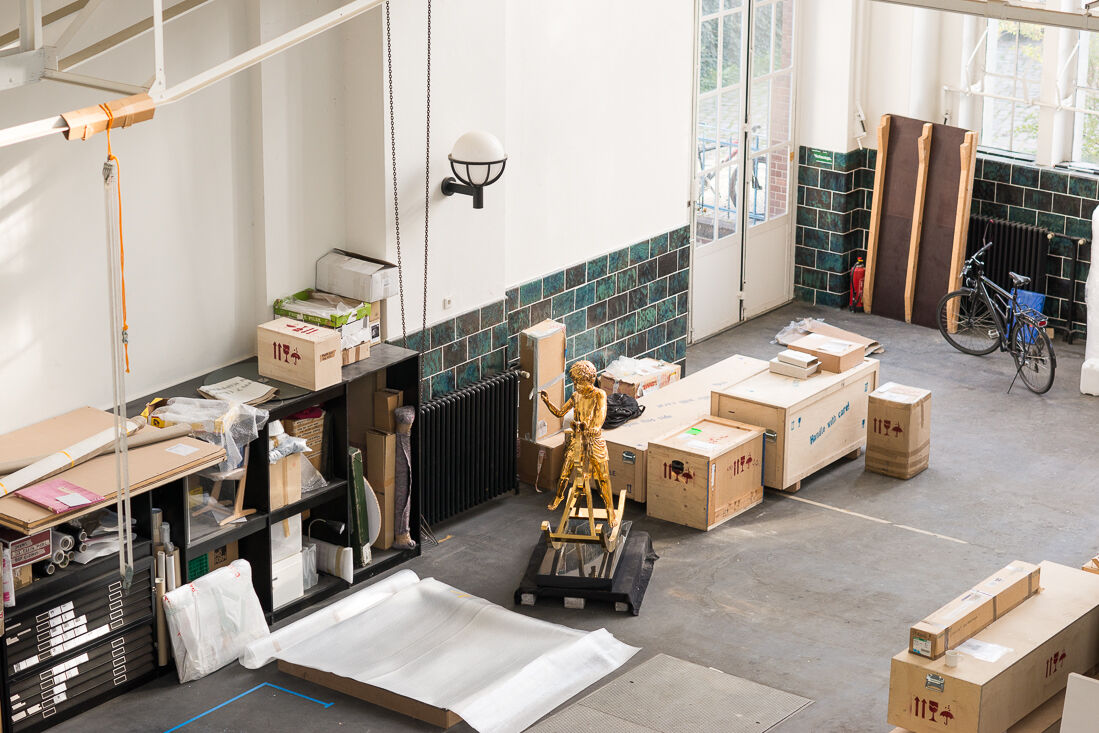 Elmgreen & Dragset, 'Powerless Structures, Fig. 101,' 2013. Photo by Paul Green for Artsy.
During their 2013 exhibition, "Tomorrow," at the
Victoria & Albert Museum
in London, the duo welcomed audiences into a grand family home that they installed within the galleries of the museum. The elaborately equipped rooms belonged, as Elmgreen & Dragset imagined,  to an aged and disillusioned architect. Visitors were encouraged to interact with the fictional character's personal effects. "They could really go and have a look at the book shelf, go through the drawers, take a nap in the bed, read his letters, lay down on the sofa, go and practice the piano," says Dragset. "A lot of elderly ladies loved just to be in the living room, sitting there for hours." 
Photo by Paul Green for Artsy.
Language and dialogue are just as integral to Elmgreen & Dragset's new works premiering for London audiences this fall at Victoria Miro, which is linked to a parallel exhibition of their work at Massimo De Carlo's London space. While giving me a tour around their studio, the artists point to a large piece they're working on. "My Brain Is Driving Me Crazy" is printed in thick black lettering across a stark white background and, below, "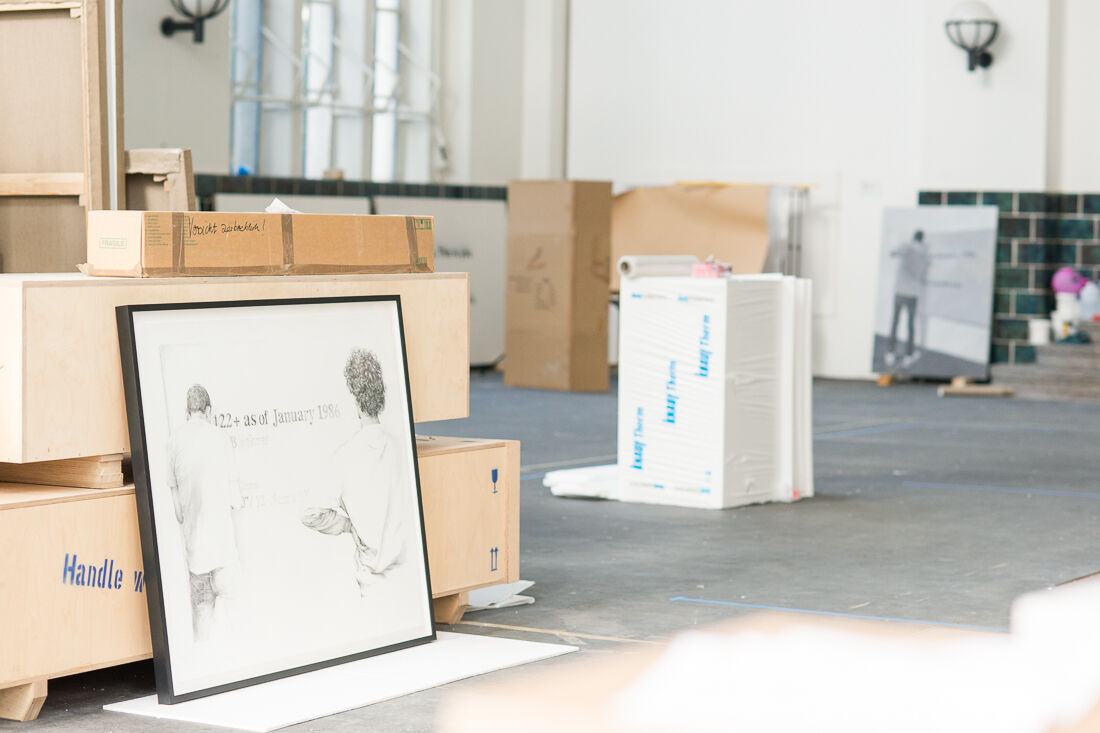 Photo by Paul Green for Artsy.
Next, they show me a small framed drawing on paper, a reflexive image of Elmgreen and a studio assistant, working on a painting from the "Self-Portrait" series. In the drawing, Elmgreen's body partially obscures the text: "8,122+ as of January 1986." "It's the number of people who died of AIDS by that date during the crisis," Elmgreen explains. "It references a painting by activist artist

Photo by Paul Green for Artsy.
Moving deeper into the studio's grand hall, the main "Self-Portraits" emerge. A group of large paintings on canvas lining the far wall, all similarly modeled after wall labels, feature text that is hand-painted or mechanically printed in varying typefaces and styles. Some of the text is crisp, some a bit faded or even double-stamped as if the label were discarded after use. 
Photo by Paul Green for Artsy.
Household artist names pop off the white surfaces:
Photo by Paul Green for Artsy.
A departure from the darkly humorous anti-establishment projects for which they are known, the new pieces bear a restrained quality, working through concepts of memory, projection, and how nostalgia can function as a positive force. A reference to a famous work by Gonzalez Torres Untitled (Go-Go Dancing Platform) (1995) quotes a 1991 work of the same name by

Installation view of "Elmgreen & Dragset: Stigma," Massimo De Carlo, Milan, 2015. Photo by Roberto Marossi. Courtesy Massimo De Carlo, Milan/London
The parallel exhibition they're mounting at Massimo De Carlo, titled "Stigma," is a revival of the one they showed in the gallery's Milan space over the summer. It's comprised of a series of hand-blown glass vases, each filled with the same medical-grade pigments used for coating the pills of HIV-related medicines in enticing pastel colors—peach, pink, pistachio, baby blue. When the option arose to mount both shows simultaneously, they decided to tie the two together, broadening the platform for pushing these challenging issues back into public discourse. "Now that you don't die from it anymore, the media lost interest and nobody talks about it," Dragset says. "The public discussions around PrEP (Pre-exposure prophylaxis) brought about a lot of memories, both of art from the '90s and the time you came out in the '80s, and of the AIDS crisis. It just felt like a time to redress some of these issues." 
The two shows come at a time when the U.K. is encountering an upsurge of HIV, despite the subject rarely surfacing in the news—save for one recent scandal in the U.S. of the egregious ex-hedge funder who bought the patent rights to Daraprim, a drug used for treating AIDS patients, and spiked the prices overnight from $13.50 to $750 per pill.

Though the vases at Massimo De Carlo resemble funerary urns, and the wall labels at Victoria Miro invoke the works of numerous art historical icons, neither are meant to be taken literally. The mixing of fact and fiction, lived experiences with imagined ones, recurs throughout their work—and manifests in their concurrent shows through an engagement with memory and an attempt to find meaning in nostalgia. According to Elmgreen & Dragset, moments of misunderstanding are just as important as moments of clarity as they continue to challenge notions of "universal truths."