At Independent Art Fair Opening, Emerging and Established Artists Share the Stage
Installation view of Air de Paris's booth at Independent, 2018. Photo by Etienne Frossard. Courtesy of Independent.
Independent
, now in its ninth year, is most certainly an art fair. There are galleries, and there are collectors buying works from galleries. But it's marked by the fact that it doesn't quite
feel
like a fair. The frantic din of thousands of collectors talking over each other, characteristic of most fair openings, is absent at Independent. Instead, people hawk their wares here quietly enough that you sometimes forget things are actually for sale. Booths come in a variety of weird shapes and sizes—nothing looks faintly like a grid in a convention center. This is all, of course, a calculated move by Independent's initiators.
"From the beginning we said, 'no aisles!'" recalled Elizabeth Dee, the gallery owner who is a co-founder of the fair and acts as its CEO.
It was Independent's VIP preview Thursday morning, and Dee was standing on the fifth floor of Spring Studios, the Tribeca venue where the fair has alighted each March since 2016. (Owned by the creative agency Spring, it also hosts shows during Fashion Week and boasts a new social club, Spring Place.) Before that, the fair was held in the old
Dia
building in Chelsea (currently the temporary home of
Hauser & Wirth
), and for the last two springs, it has held an iteration in Brussels; this year, that fair was moved to November.
Nearly a decade in, Independent's mission has calcified: to allow blue-chip dealers to co-exist next to small, emerging galleries, and to allow established artists to have work a few steps over from the new vanguard.
Installation view of Elizabeth Dee's booth at Independent, 2018. Photo by Etienne Frossard. Courtesy of Independent.
"Every generation has a fair that responds to the fair landscape, and does something different," Dee said, noting that her model when she was dreaming up Independent was the Unfair, which was staged as a response to
Art Cologne
in 1992 and 1993, giving those who were excluded from one of Europe's most prestigious fairs the chance to show in an unorthodox environment, and didn't overwhelmingly favor the collectors.
"We wanted to do a fair that artists wanted to participate in, that artists wanted to make work for," she said. And they have.
Dee is showing a few new
Douglas graduated from the Städelschule in Frankfurt less than a year ago, and Leibowitz currently has a solo show at the Institute of Contemporary Art, Philadelphia: the emerging next to the emerged.
There's also older artists to rediscover: take Marlborough Contemporary's booth of new paintings by
Installation view of 303 Gallery's booth at Independent, 2018. Photo by Etienne Frossard. Courtesy of Independent.
"He's really the genesis for Kippenberger, and a huge influence for people like Michael Williams," said Marlborough director Max Levai, who then pulled out the book they put out in 2016—the first on the artist in English—and showed pictures of Büttner carousing around Hamburg, Berlin, and Cologne with the era's leading party animals.
Levai was clearly taken by the history, and it's great stuff for Kippenberger-heads to nerd out on, but here, it's just another hook to sell the work—the ostensible purpose of any art fair, even one that feels like an exhibition. The new paintings are on offer for $60,000 per canvas, and a big self-portrait from 1986 was $180,000.
Some Independent galleries had dispensed with business early in the preview, selling all or most of the work within the first few hours. Among those,
Clearing
placed all of its new
David Kordansky
sold nearly all its sculptures by the Los Angeles artist
Women Playing with Dolls
(2017), which was $32,000, and
Among Flowers
(2017), which was $28,000.
"It's a very exciting fair—it feels like an exhibition space, it feels curated," said Mera Rubell, the Miami collector who was making the rounds with her husband, Don, but wouldn't say whether they had purchased any of the work on display.
Installation view of Chapter NY's booth at Independent, 2018. Courtesy of Chapter NY.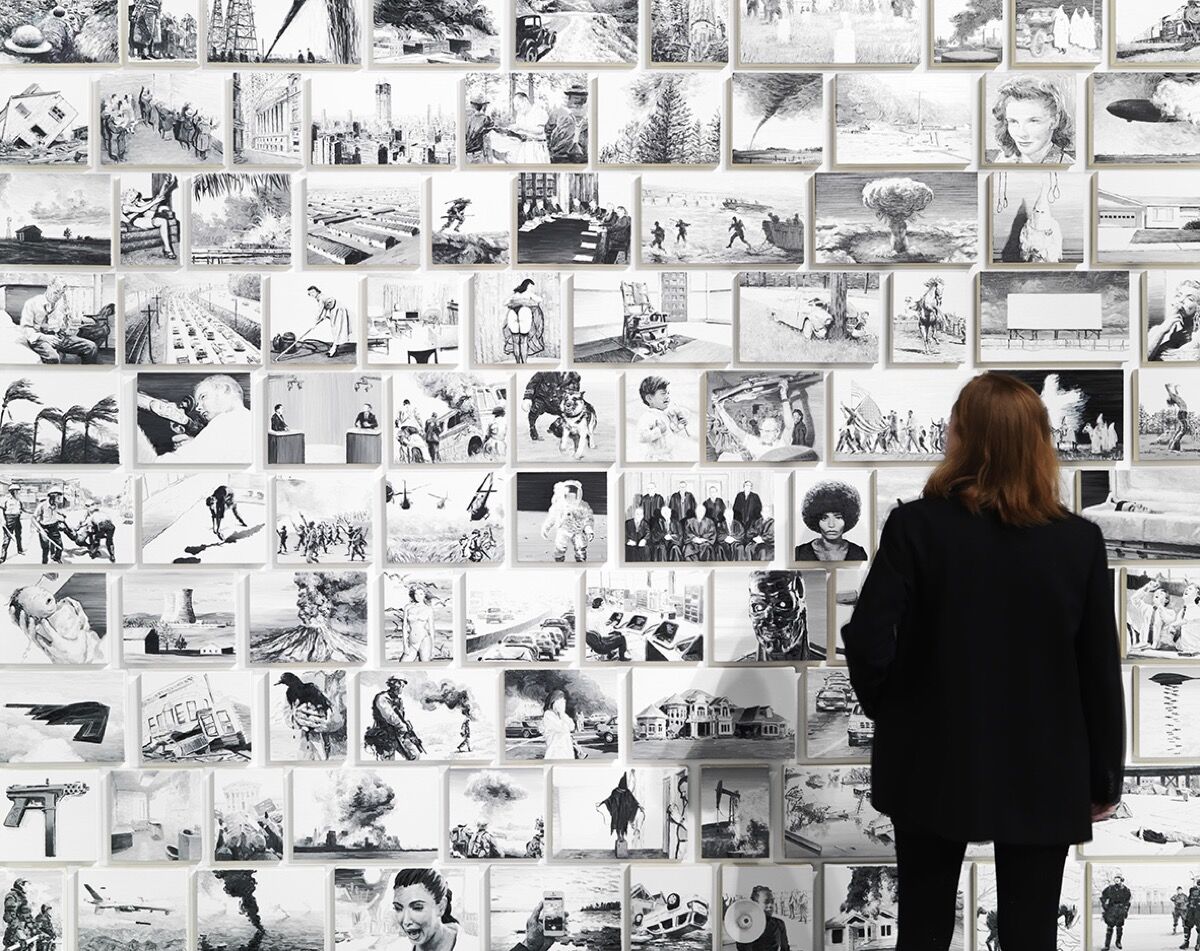 Cynthia Daignault, What Happened, 2018. Courtesy of The Sunday Painter.
A series of small canvases by
The Sunday Painter
actually make up one single, big work. Titled
What Happened
(2018)—"the same name as Hillary Clinton's book," a gallery rep noted—the work also came with a big price tag: $120,000. But it sold just hours after Independent opened. It's a pretty remarkable thing to behold, dozens of canvases that track the last 100 years of living in America, from the Vietnam war to Kim Kardashian, all rendered in Daignault's painterly reverence, all in black and white.
Around the corner on the ground floor,
Magenta Plains
embodies the Independent ethos within a single booth. The gallery just turned two, and only today announced its official artist roster. At the fair, it's showing work by
Director Olivia Smith said the gallery had sold much of the booth, including one of Libby's enchanting gear-stuffed sculptures for $4,500, and several Parrinos for up to $25,000. Smith said that Independent, like the gallery's program itself, offers as much important, broader context for its older artists as it does for the younger ones.
"They're here because they want to show with someone younger," she said.
Nate Freeman is Artsy's Senior Reporter.