The Influential Art Dealer Who Introduced Murakami Is Honored at Frieze New York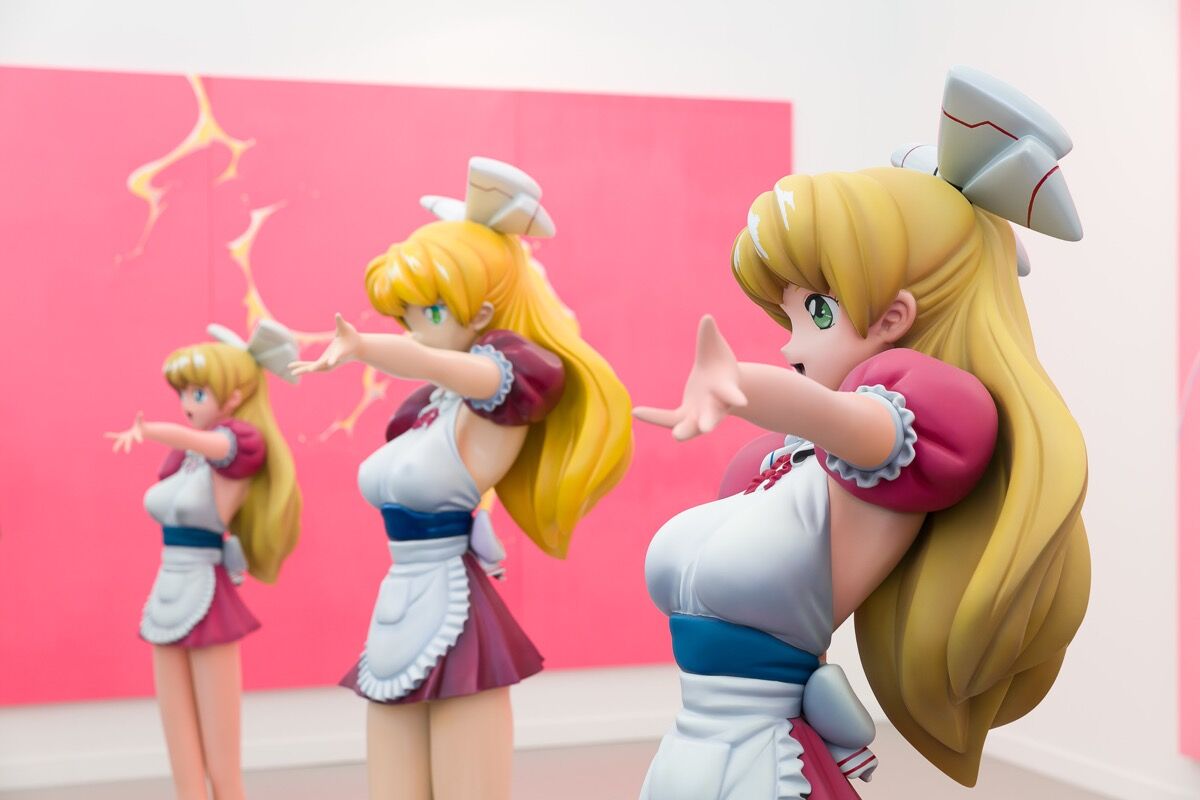 Installation view of Takishi Murakami's work in "For Your Infotainment" at Frieze New York, 2018. Photo by Mark Blower. Courtesy of Mark Blower/Frieze.
Hudson, the late dealer who built Feature Inc. into one of America's most influential small galleries over its 30-year run, was not your typical exhibitor at art fairs. After boycotting them for decades, he dabbled in a few, such as NADA and Independent Art Fair. When Feature Inc. was invited to show in the Outsider Art Fair in 2013, Hudson
brought
something especially outsider: Tantric paintings by anonymous residents of
Rajasthan, India
, which fair founder Andrew Edlin
called
"unlike anything the fair had seen in its 20-year history." Another time, he came to a fair and sold pot brownies out of his booth.
Now Hudson, who died in 2014 (the same year his gallery closed), is back at an art fair one last time. For
Frieze New York
—which opened on Wednesday to VIPs—Matthew Higgs, director of the New York-based art nonprofit White Columns, organized "For Your Infotainment," eight booths showing artists championed by Hudson and Feature Inc. when no other gallery would. There's
"Wherever his interests seemed to lie, they invariably seemed to be out of sync," Higgs said Wednesday at the fair. "It's taken fully 25 years for Tom of Finland's work to be acceptable even in today's contemporary art world landscape. And think about when [Hudson] showed Murakami in New York for the first time in the mid-'90s—my feeling is no one else would have shown that work, and 25 years later, that seems crazy."
Higgs has a long history with Hudson. He said that he obsessed over the latter's program from afar while living in London in the late 1980s, reading everything he could about Feature Inc. When Higgs moved from London to New York in the early '90s, he was a frequent visitor to the gallery, which, by then, was in SoHo. In 1988, Hudson had moved Feature Inc. to New York from Chicago, where he opened the gallery on April Fools' Day in 1984 with the first-ever show of
Tom Friedman, Untitled, 1990. Courtesy of Stephen Friedman Gallery.
"When I went to the gallery, invariably, I never got it—and then 3, 5, 10, or 15 years later, it just came into focus," Higgs said.
"What it comes back to is: Hudson was right, and the decisions that he made 25 or 30 years ago that seemed like total curveballs were fundamentally correct," Higgs said. "I think he understood the value of the work at its earliest stage, and I think he understood that there is a much larger audience for it."
"I think this originally sold for, like, $700," Higgs said of the work.
Installation view of Tom of Finland's work in David Kordansky's booth at Frieze New York, 2018. Photo by Mark Blower. Courtesy of Mark Blower/Frieze.
The gallery wouldn't comment on the asking price for the bar of soap, but a number of other sales early on in the fair confirmed Hudson's instincts were spot-on. David Kordansky sold two graphite-on-paper works by Tom of Finland for $25,000 each, and Nicelle Beauchene sold several paintings by
When Pettibon was first included in shows at Feature Inc., not only did Hudson have difficulty selling his work, but some thought the drawings didn't belong in a gallery at all, Higgs said.
"You have to remember, when Hudson showed the work, there were no monographs on Raymond Pettibon—there were the stapled zines that Raymond made by himself and distributed by himself," Higgs said. "And Hudson understood that to move this out of the West Coast subculture of punk, into another context—his context—it could start to reverberate and find new conversations."
Last year, the Feature Hudson Foundation was established to maintain the gallery's expansive archives. The foundation had a booth in the section, with works by B. Wurtz,
"It was important there was a physical, literal, manifestation of Hudson here," Higgs said. "Hudson was always behind the front desk—when you go to Gagosian, you don't see Larry behind the desk, when you go to Zwirner, you don't see David behind the desk. But at Feature, Hudson was always there."
Nate Freeman is Artsy's Senior Reporter.
Stir Creativity
See how Bombay Sapphire supports artistry.
Sponsored by Bombay Sapphire