Inside the $200 Million Expansion of America's New Must-See Museum
When the billionaire industrialist Mitchell Rales welcomed a crowd of journalists to preview the new $200 million expansion of his and his wife's private museum Glenstone in Potomac, Maryland, he cited his philanthropic father, Norman Rales, as an inspiration. A former orphan who built a successful real estate company, the elder Rales left his estate to fund the education of underprivileged youth; a plaque near his grave reads "Champion for the Underdog."
It would be hard to call his son Mitchell an underdog, given his estimated net worth of
$3.7 billion
(Mitchell's brother, Steven, is worth $6.4 billion, according to Forbes). Nor are the artists that he collects with his wife—art historian and curator Emily Wei Rales, who is the director of Glenstone—in any sense. Wander through the museum's new Pavilions, a graceful set of 11 interlocking rooms arranged around a serene water court, and you'll see some of the most recognizable names (and works) in the post-war canon: one of
View of the water court at the Pavilions. Photo by Iwan Baan. Courtesy of Glenstone Museum.
Little else about the Pavilions, which add 50,000 square feet of exhibition space alongside Glenstone's existing 2006 building, screams "underdog" either. But the Raleses said one way they've been able to assemble this collection—often described as one of the
most important private collections in America
—is by identifying important movements and artists while they're still, well, if not underdogs, at least before they become art market heavyweights.
"
"We go with our own taste and understanding, and wait 20 years to find out if we've been on the right track."
He cited
"Most of the things we are doing today are in the '80s and '90s, and living artists that are creating new work," he said. "I wouldn't want to talk about who it is that is front and center for us today, because we don't want to move the markets per se….We quietly go about our business."
Wei Rales pointed to the large gallery with a survey of artists' work from the collection, and noted how much of it was acquired long before the movements or artists hit a market peak.
"If you take a hard look at room two and the artists that are represented there, those are projects that we've kind of closed the loop on," she said. "So
"Slow art"
The boardwalk at Glenstone. Photo by Iwan Baan. Courtesy of Glenstone Museum.
In her remarks, Wei Rales gently reminded the visitors to take their time as they moved through the collection, an approach she called "slow art."
"We hope that you will slow down, that your pulse will also slow down, you'll start to become aware of your breath and the changing light levels in a gallery," she said.
Glenstone's exhibitions remain up for a long time (the
Robert Gober, Untitled (detail), 1992. © Robert Gober. Courtesy Matthew Marks Gallery. Photo by Ron Amstutz. Courtesy of Glenstone Museum.
Indeed, the Raleses, who married in 2008 and have two young daughters together, practice what one might call "slow collecting." They are known for their methodical, deliberate acquisitions, based on careful research and a deep well of patience. They rarely buy at auction, but work quietly and discreetly to acquire whatever is piquing their interest at the time. (Wei Rales cited the five years of discussions it took to establish "a sense of trust" before they could acquire Kawara's Moon Landing triptych from 1969.) They do their own homework; like most collectors, they have an extensive network of friends in the museum and gallery world, but they do not work with a dedicated art advisor.
"We spend a lot of time thinking about art history, we read a wide range of art writing, we stay aware of what's in the museums and galleries, and we look carefully. Then we go with our own taste and understanding, and wait 20 years to find out if we've been on the right track," Wei Rales said.
Portrait of Emily Wei Rales and Mitchell Rales by Julie Skarratt. Courtesy of Glenstone Museum.
Just to be considered for their collection, an artist must have been working for at least 15 years, though Wei Rales said they are always on the lookout for new work and occasionally encounter something which "overwhelms" them. But when they buy, it is strictly from those artists who have stood the test of time, and then only prime works by that artist.
"We're very aware of building an institutional collection, which is why we established the 15-year rule for ourselves," she added. "If we're going to collect an artist in depth, which is what we prefer to do, then we want to know the depth is there."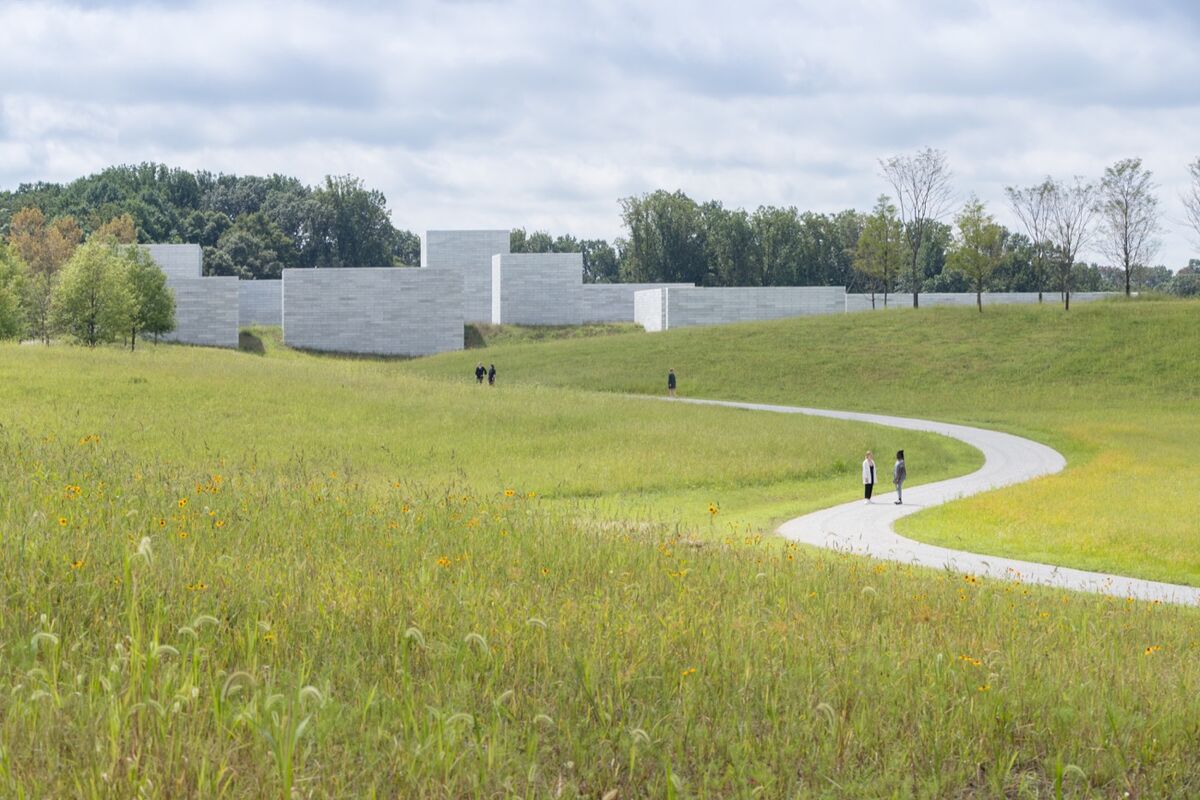 Approach to the Pavilions. Photo by Iwan Baan. Courtesy of Glenstone Museum.
That collecting strategy comes in part from the core business philosophy of the firm that brought Mitchell Rales his billions. As the co-founder, with his brother Steven, of the industrial conglomerate Danaher, they aim to buy the top firms in each field they enter. Then, they hire the best talent they can find to manage and refine the firm's operations—applying another Danaher principle, the Japanese concept of kaizen, which advocates continuous improvement. (Although Mitchell is still actively involved with Danaher as a director, he manages to visit the Pavilions at least three times a day.)
Kaizen is a core part of Glenstone, too, applied to its hiring and operational practices. Recently, one of Danaher's leading kaizen teachers held a training at the environmental center to upgrade the landscaping staff's cleanliness practices, "how you put away and store things, all your materials and supplies," Rales said. "We made big improvements on things." The museum has a staff of 130, including a full-time horticulturalist to look after Split-Rocker (2000), and 25 guides who are part of a program to build a pipeline of young arts professionals.
Wei Rales noted that Glenstone's visitor numbers have historically been low—fewer than 10,000 in its first seven years, though it's expecting around 100,000 annually following the re-opening—so she and her colleagues had to identify other ways to measure, evaluate, and improve upon the museum's success.
Jeff Koons, Split-Rocker, 2000. © Jeff Koons. Courtesy of Glenstone Museum.
Kaizen is "an easier thing to apply in operations," she noted. "You can continuously improve how much energy you're consuming per square foot, for instance."
"However, we've been able to adapt these ideas by creating different kinds of metrics for those areas that may not be easy to measure," she continued, citing a 15-question survey given to visitors. Those responses "become the basis for evaluation internally—this person says they're really thirsty halfway through their tour, so maybe we can have water or rest stops."
"I would venture to say that everybody on our staff knows the definition of kaizen and has participated in kaizen events," Rales added.
The attention to detail shows up everywhere, from the meticulous planting of more than 8,000 trees, to the dove-white umbrellas offered to visitors in case of rain, to the two light-filled cafes with farm-to-table food. The buildings and the 230 acres of grounds (the Pavilions were designed by architect Thomas Phifer and Partners, and the landscaping was by Adam Greenspan of PWP Landscape Architecture) were lavished with just as much attention as the collection, to create what Wei Rales called a "holistic experience of art, architecture, and landscape." Glass walls around the water courtyard and the rest of the building stream natural light into the Pavilions, nearly eliminating the need for artificial lighting during the day; Rales beamed as he noted not a drop of chemicals had been used to treat the grounds in the past eight years.
Tony Smith, mug, 1973/2005. © 2018 Estate of Tony Smith / Artists Rights Society ARS), New York. Photo by Iwan Baan. Courtesy of Glenstone Museum.
Just as Rales brings his philosophy of continuous improvement to the museum, so has his passion for art informed his approach to business. In 2016, Danaher split into two companies, spinning off its manufacturing-focused businesses into one firm so the new, improved Danaher could reorient its investments towards companies in the life sciences, diagnostics, and environmental fields. Wei Rales pointed out to her husband (they also refer to each other as "co-conspirator") the synergy between the recent pivot towards human-focused industries, and the inspiration they draw from art.
"There's more of a public good attitude, and it's just much more fun to do that kind of thing where you're really making impact for the good of mankind, and that's the same that we're doing here," Rales said.
It all sounds like something that would make Rales's father Norman, who passed away
in 2012
, proud.
"He'd be drinking a glass of champagne with me right now," Rales said. "This is what it's all about."
Anna Louie Sussman is Artsy's Art Market Editor.
Header image: Aerial view of the Pavilions. Photo by PWP Landscape Architecture. Courtesy of Glenstone Museum. Thumbnail image: Aerial view of the Pavilions. Photo by Iwan Baan. Courtesy of Glenstone Museum