Inside The Boiler Room at Heath Ceramics, an Unassuming San Francisco Art Destination
On any given day in an increasingly bustling industrial district nestled between San Francisco's Mission District and Potrero Hill, you will find a line of people waiting for their Blue Bottle coffee in a vast, bright warehouse that is home to the city's beloved purveyor of streamlined cups, plates, and other earthenware: Heath Ceramics. Large, street-facing windows allow for those waiting for their java to watch a slew of unmarked white delivery trucks collecting the factory's wares to ship out across the world, while the view from inside reveals large kilns, bulky equipment, and forklifts making, moving, and packaging product. It's an oddly beautiful site, like a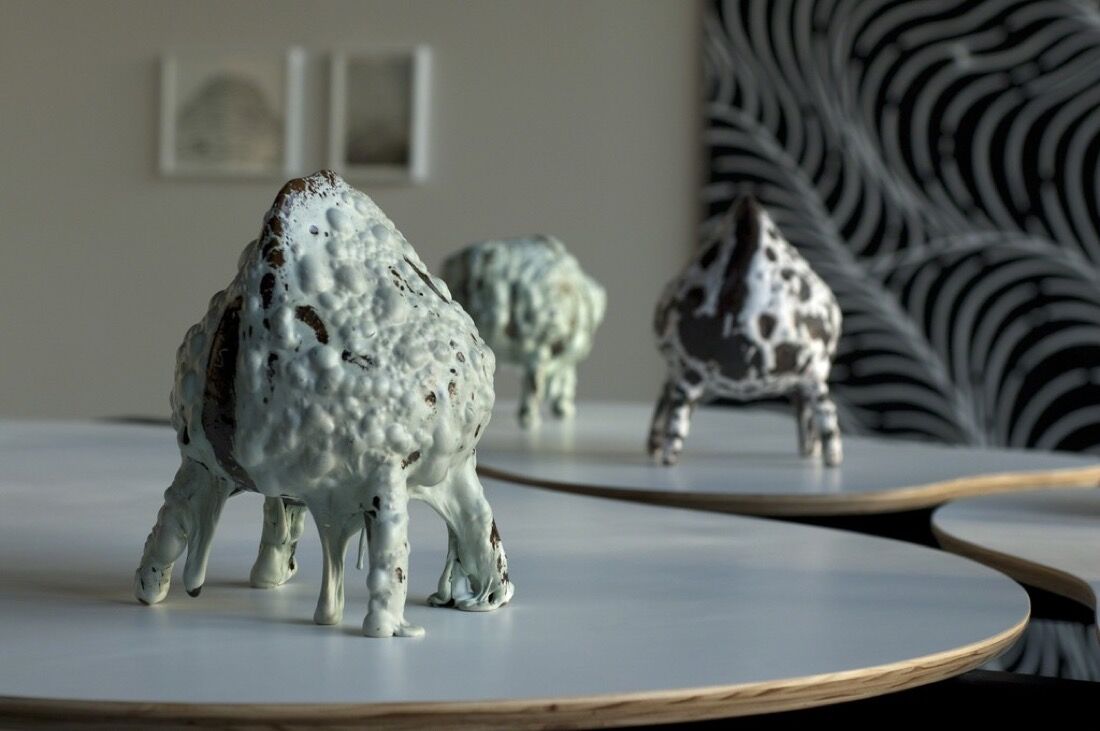 With a New Orleans-style iced coffee (a signature of Blue Bottle) in hand, one can sit and watch all the activity, shop in Heath's retail showroom, and, now, follow the beckoning sign to duck around the corner into Heath's new project space,
The Boiler Room
. Here, two enormous black tanks protrude from one wall of a welcoming and expansive room. When I visited, it was full of blob-like structures—the mystical, morphing ceramics of artist
onsite experiments
with Heath's facilities and materials, and the marriage between the artist's background in both painting and sculpture. 
Heath was founded by the ceramicist Edith Heath and her husband Brian in 1948 in Sausalito, a lush suburb of San Francisco. She made a name for the business, but it hit financial trouble in the 1970s. Robin Petravic and Catherine Bailey acquired it in 2003 from the Heath Trust, and have taken it from strength to strength over the last decade. Most recently, they reinforced their line of tiles with a book about tile's role in interior design, Tile Makes the Room (2015), and won a design award from the Cooper Hewitt—Smithsonian Design Museum. Ask Petravic and Bailey to describe The Boiler Room, their now one-year-old venture, and they sum it up: "It's a one-of-a-kind space where we show, share, and sell one-of-a-kind work that explores the intersections of art, craft, and design." They generally avoid the term "gallery," though everything on view is for sale.
The space launched in 2014 with a show by ceramicist Stan Bitters and has since featured the work of makers and collaborators close to the Heath family. (Monroe collaborated on a project several years ago in Heath's L.A.-based studio before being invited to create work for an exhibition.) Thus far, artists featured in The Boiler Room are those that also create collections for Heath. Though this isn't a prerequisite for Petravic and Bailey, the exhibition program has given Heath's existing collaborators an exciting opportunity to work bigger and experiment more. "We want to share the work of artists we believe in and want to reach communities that may not have engaged with art before," Petravic and Bailey say, "or who might be put off by the typical 'white wall' gallery experience." 
Alabama on Alabama
" alongside Southern-based artists Butch Anthony (Chanin's partner), Rinne Allen, and John Henry Toney. For one month The Boiler Room was activated by hanging textiles, paintings, and photography—with no sculpture or ceramics in sight—providing Chanin the chance to showcase her wide-ranging practice and influences that funnel into the objects she produces for Heath's retail collection. Their Alabama Chanin line of products is a suite of dinnerware designed at the intersection of stitch and clay, bringing a hand-sewn feeling to Heath's distinctively glazed surfaces. 
After Monroe's show closes, The Boiler Room will feature the work of Tung Chiang, who directs Heath's Clay Studio, a space for experimenting with and prototyping new designs. Titled "Throwing Light," his show will explore the artistic possibilities of the table lamp. Not quite your average gallery, the space provides fertile ground for explorations into the intersections of art, craft, and design.
—Kara Q. Smith