Inside the Weird and Magical Collections of Artists
Eric Baudelaire. Courtesy of the artist and Art Brussels 2017.
Josephine Meckseper. Courtesy of the artist and Art Brussels 2017.
Spend enough time with artists and you'll find that most are collectors of one sort or another.
This April, a pop-up exhibition within Art Brussels 2017 explored this proposition. Curated by Jens Hoffmann and Piper Marshall, "Mementos: Artists' Souvenirs, Artefacts, and Other Curiosities," sought, in Hoffmann's telling,"to bring in a completely different idea of value that isn't always present in an art fair itself." The curators asked 73 artists to loan them objects of personal or emotional value, along with a brief text detailing the story behind each object.
Few of those objects in the exhibition had any inherent or resale value. In fact, the show offered up any number of things that make us ask why one might want to own them at all, things that, were they not presented in the sort of large vitrines you might find in a natural history museum, could easily be mistaken for castoffs destined for Goodwill or the garbage.
French artist
Serpentine Gallery
, she contributed a number of teabags drying on a radiator grill; teapots figure in her piece
Wantee
(2013), which is in part a fictional meditation that reimagines Prouvost's grandfather as a conceptual artist.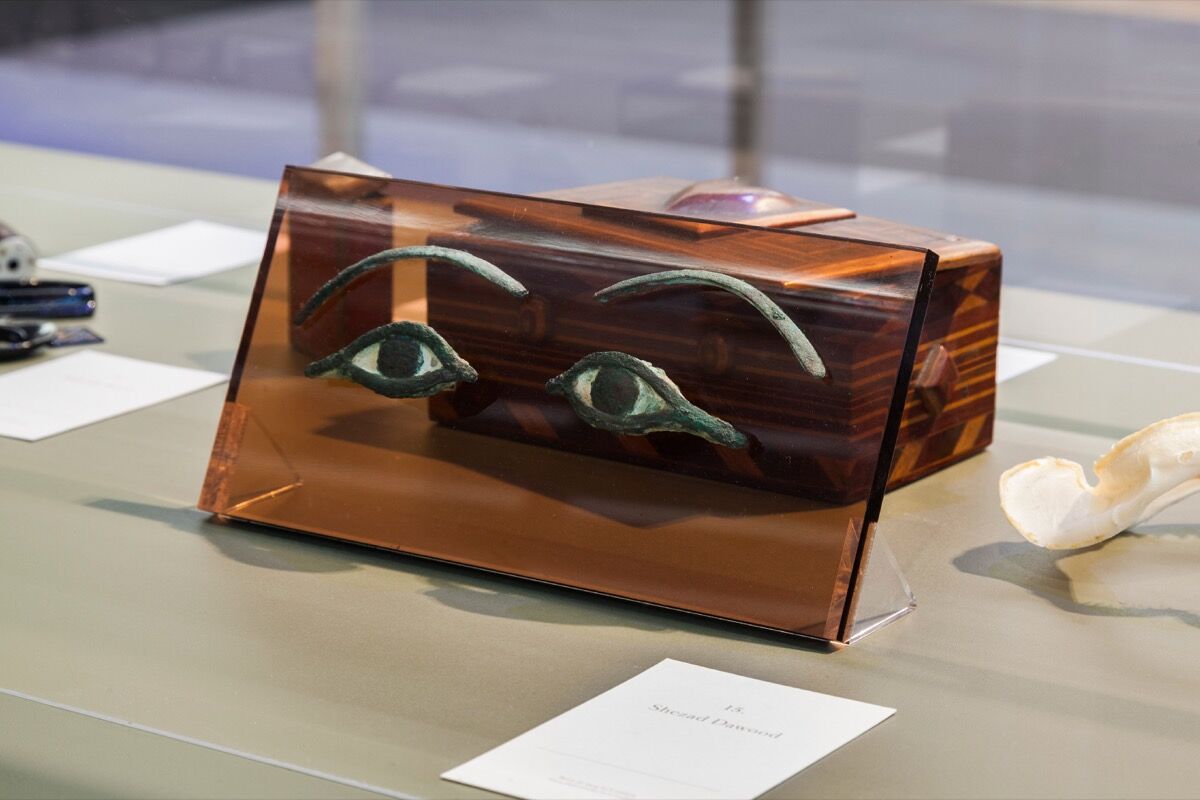 Installation view, "MEMENTOS Artists' Souvenirs, Artefacts, and Other Curiosities" at Art Brussels 2017. Photo David Plas. Courtesy of Art Brussels 2017.
It turns out that the things people have lying about are terrifically engaging (philosopher Martin Heidegger's outhouse toilet seat, anyone?), particularly when they come with private stories attached. When I ran into him there, the British artist
Of course, when you rifle through someone else's private things, sometimes you come upon things you don't exactly need to see, such as the attractive glass bubbles that the Hungarian artist Andrea Éva Győri has filled with her father's sperm. (An accompanying text helpfully informs us that Győri's mother collected it.)
Still, even if it is prurience that first attracts us to such mementos, the stories behind them illuminate one of the most pervasive attributes of contemporary art: nostalgia. We encounter it in every fair and gallery—a wistful yearning for analog photographs, outdated video games, broken-up bands, old typefaces, toys, not to mention bygone styles of painting and design. A catalogue of longing could stand in nicely for one of recent artworks. It seems to me that what gave "Mementos" lasting significance was that, without explicitly trying, the exhibition parsed an entire grammar of nostalgia.
There is the odd, everyday thing—like Prouvost's teabag—that becomes a Proustian madeleine, calling to mind a host of past experiences. There is the heroic object, such as the saw-toothed shark's jaw that
As spectators outside the action of these artists' inner lives, we have to take such stories at face value—and the phrase is key, for it is the tales associated with them that imbue these objects with emotional or personal worth.
Malgorzata Szymankiewicz. Courtesy of the artist and Art Brussels 2017.
Kendell Geers. Courtesy of the artist and Art Brussels 2017.
This is true, it seems, even when the stories are false. American artist
The American artist
As is misdirection. Perhaps the last thing we might have expected from the seminal American photographer and filmmaker
Installation view, "MEMENTOS Artists' Souvenirs, Artefacts, and Other Curiosities" at Art Brussels 2017. Photo David Plas. Courtesy of Art Brussels 2017.
Psychologists regard nostalgia as a means of sustaining self-continuity: It's the emotional fuel that drives the stories we tell, linking the person we once were to the one we are today. You might keep a meaningful tool, like Clark's brush—or a sentimental item, like the small, blue velvet pouch with the ashes of a childhood dog, Tyler, that L.A.-based artist
When I asked him about it, Israel told me he hasn't collected the ashes of any other dead pets but that he does have a bin in his studio, which he calls the Scrapbook. "In it," he says, "you'll find everything from a menu from Kate Mantilini (a Morphosis-designed L.A. restaurant I once frequented that's now closed), to a Kardashian family Christmas party favor: a crystal bowl etched with jaguars around its rim. I'm always auditioning objects, looking for stars to cast as sculpture in future projects."
Studios have become beaches on which the scraps and oddments of an artist's life washes up, only to be recycled, given new roles in new dramas. As we sift over those beaches, we learn much about the collecting artist but also about ourselves. Repositories of memory and sources of inspiration, the nostalgic objects artists keep "could also be said to be cultural markers," says Marshall. Each tells part of the story of "how we're negotiating various systems." These items may help forge our ongoing sense of self, but in aggregate they fill in a picture of the culture from which they, and we, come. For Marshall, this makes such items inherently political.
Photograph of Josephine Meckseper's bookshelf by Daniel Dorsa for Artsy.
While not a collector of things, she considers herself rather "a temporary custodian of objects," in part because, she says, "I grew up in a large, old house in Germany filled with my parents' collections of old 19th-century toys, contemporary art, and rooms filled with bookshelves. Subsequently, I don't feel the urge to collect."
Interesting that for us the word collect has come to mean own. Meckseper might not consider herself a collector, but she does accumulate things—mostly books. ( "Primarily," she says, "because I read them.") To the Brussels show, she loaned a first edition of Hunter S. Thompson's The Great Shark Hunt, an overt cultural marker—it compiles the late author's gonzo political journalism—that functions, too, as a comment on the current cultural and political situation. It is also, inevitably, nostalgic, as Meckseper herself obliquely acknowledges: "Now that we have entered a digital age, the book as a physical object containing narratives and content on a page feels even more significant."
Installation view, "MEMENTOS Artists' Souvenirs, Artefacts, and Other Curiosities" at Art Brussels 2017. Photo David Plas. Courtesy of Art Brussels 2017.
Kris Martin. Courtesy of the artist and Art Brussels 2017.
Meckseper's practice provides a glimpse into the way certain people transform ordinary objects that are invested with cultural sentiment into art. Today we call those people artists. In the past, it was shamans or priests who transmuted common, artisanal things into magical entities. Which goes a long way toward explaining why the Dutch artist
Dawood is himself the owner of an assortment of ancient Egyptian magic and occult items. "I have a shabti, which is a ceramic glazed mummy, in blue," he tells me, "and a beaded mummy mask, as well as two or three magical amulets." At "Mementos," you could gaze upon his pair of kohl-rimmed eyes, from an ancient Egyptian sarcophagus, mounted on a brown Perspex stand, and which he bought in Paris. The platitude of the eyes being the windows to the soul comes to us from ancient Egyptian magic, he tells me. His text adds, "I like the idea of something from the ancient past meeting a 1970s future that doesn't quite work out."
It's the way of all things: They travel through time accruing to this or that person, and live out an awkward future with objects from other eras. Perhaps it takes the eyes of an artist to recognize the magic in connecting them anew.
Cover image, right: Portrait of Josephine Meckseper in her New York home by Daniel Dorsa for Artsy.