Jeff Zimmerman's Sculptural Lamps Gleam as Lighting Thrives in Art and Design Spheres
Installation views of Jeff Zimmerman at R & Company, New York. Courtesy of R & Company and the artist. Photo by Joe Kramm/R & Company.
Jeff Zimmerman, Illuminated Crystal Cluster sculpture in gray hand-blown glass, 2015. Courtesy of R & Company and the artist.
"Just because it's light and glass doesn't make them one or the other," says Zimmerman, who primarily works with private clients on site-specific commissions. "They are reactions to the environment. They are more an installation than anything," he explains. Clients and collectors are happy to embrace this ambiguity of medium. And the same ambiguity is also evident at "
A Case Study in Lighting
," the current show at Seomi International in Los Angeles, where Zimmerman's lighting is installed throughout the gallery's case study house, a convergence of design and art in the Hollywood Hills.
Zimmerman is one of several names on R & Company's roster that wavers between art and design, delving into lighting.
2015 Design Miami/ 2015 booth
, for example, could easily have camouflaged itself among the immersive installations shown across the street at Art Basel in Miami Beach.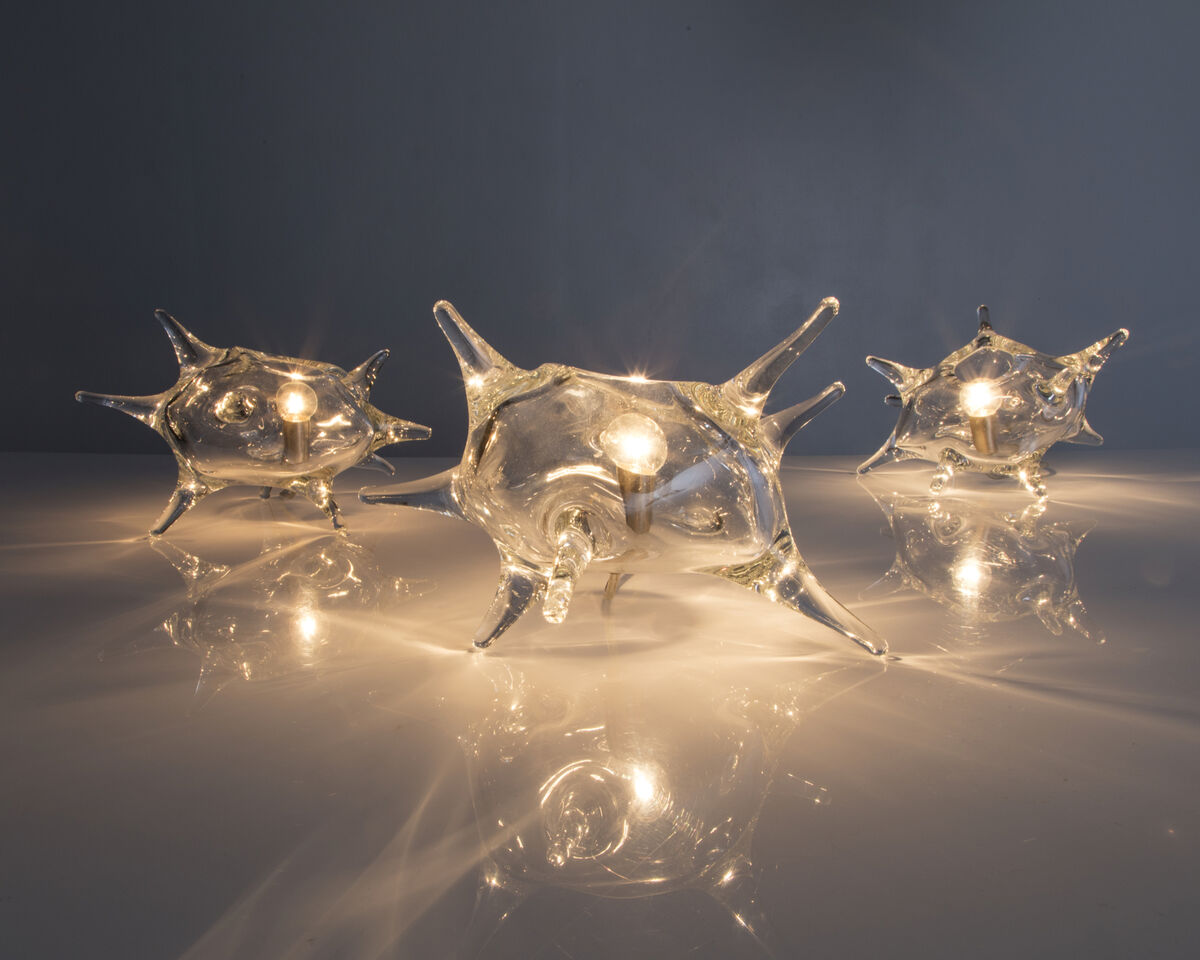 Jeff Zimmerman, Unique "Amoeba" Illuminated Sculpture, 2015. Courtesy of R & Company and the artist.
"Making lamps that are more sculptural—yes it's a trend, but Jeff's been doing this for years," says R & Company's Evan Snyderman, who has hosted five solo shows with Zimmerman. "He approaches it very differently. Sculpture first, and then function. He's actually making everything you see. What Jeff designs occupies the space in the home that is otherwise not utilized. They float."
Zimmerman's lighting is far from the only game in town. Currently at Anton Kern Gallery in Chelsea, art-design couple
Rad Light
" show at Patrick Parrish and the Leo Fitzpatrick-curated "Marlborough Lights" at the eponymous gallery's Lower East Side space, expectations will be high, but Fischer's lineup looks up to the task. A whole alphabet of young artists and designers made the cut from
—Kat Herriman
Jeff Zimmerman
is on view at R & Company, New York, Jan. 19–Feb. 20, 2016
.
Stir Creativity
See how Bombay Sapphire supports artistry.
Sponsored by Bombay Sapphire