Why Jenny Holzer's "Inflammatory Essays" Is the Perfect Work for Our Times
Before galleries were vying to show her work,
"It was good, encouraging practice to start out illegally, because then I could realize anything I wanted to get done, to the limits of my endurance and stealth," Holzer
told
Even Magazine
in 2016. But even the best criminals get caught if they stay in the game long enough, and Holzer is no exception. During one 3 a.m. run in SoHo, she was apprehended by the police and put in the back of a squad car. "I launched into a rambling explanation and they decided I was not worth keeping," she
recalled
in a 2016
New York Times
story. "I was dripping with so much wheat paste they probably didn't want me on their back seat much longer."
A run-in with the law seems apropos given that Holzer culled her textual materials from a hodgepodge of writings by incendiary figures who caused much controversy throughout their own careers. Then a student at the
Whitney Museum of American Art
's independent study program, Holzer was inspired by her assigned reading list, which included screeds by Mao Zedong, Vladimir Lenin, Emma Goldman, Adolf Hitler, and Leon Trotsky, among others. To provoke passersby, Holzer extracted these disparate voices into a uniform format of essays, each composed of 100 words arranged into 20 lines.
For Holzer, the street, unlike the museum, offered an egalitarian viewing experience. "I try to reach a broad audience, the biggest possible," she said in a 1985 interview. Without an entrance fee, and with no assumption of previous knowledge, the project was free and exceptionally open to the public. "From the beginning," Holzer explained, "my work has been designed to be stumbled across in the course of a person's daily life." (This also holds true for her contemporaneous "Truisms" series from 1978–87, consisting of photocopies similarly posted around New York that feature maxims like the oft-repeated "Abuse of power comes as no surprise.")
At the time, Holzer estimated that bustling city dwellers would give her anonymous, unsigned works just seconds of their time. But in 1979, before late capitalism had transmogrified leisure into a luxury commodity, piqued pedestrians would stop and engage. "People would star things or underline parts," Holzer told the Times. "Sometimes I would come back around and stand close enough to listen to people argue over them."
Unlike the text-based work of artists such as
1990 interview
, "some of them would be completely irresponsible."
It would seem that the lack of authorship ascribed to the posters is both a rejection of ownership, as well as moral responsibility. But Holzer was acutely aware that anonymity could help stave off sexist misreadings, and the artist purposefully obfuscated her identity as a means of ensuring a fair reception of her work. "I wouldn't want it to be isolated as a woman's voice because I've found that when things are categorized, they tend to be dismissed," she informed Art in America in 1986. "I find it better to have no particular associations attached to 'the voice' in order for it to be perceived as true." Still, this precept proved complicated in practice: "Yet, I do want my voice to be heard," Holzer continued, "and, yes, it's a woman's voice."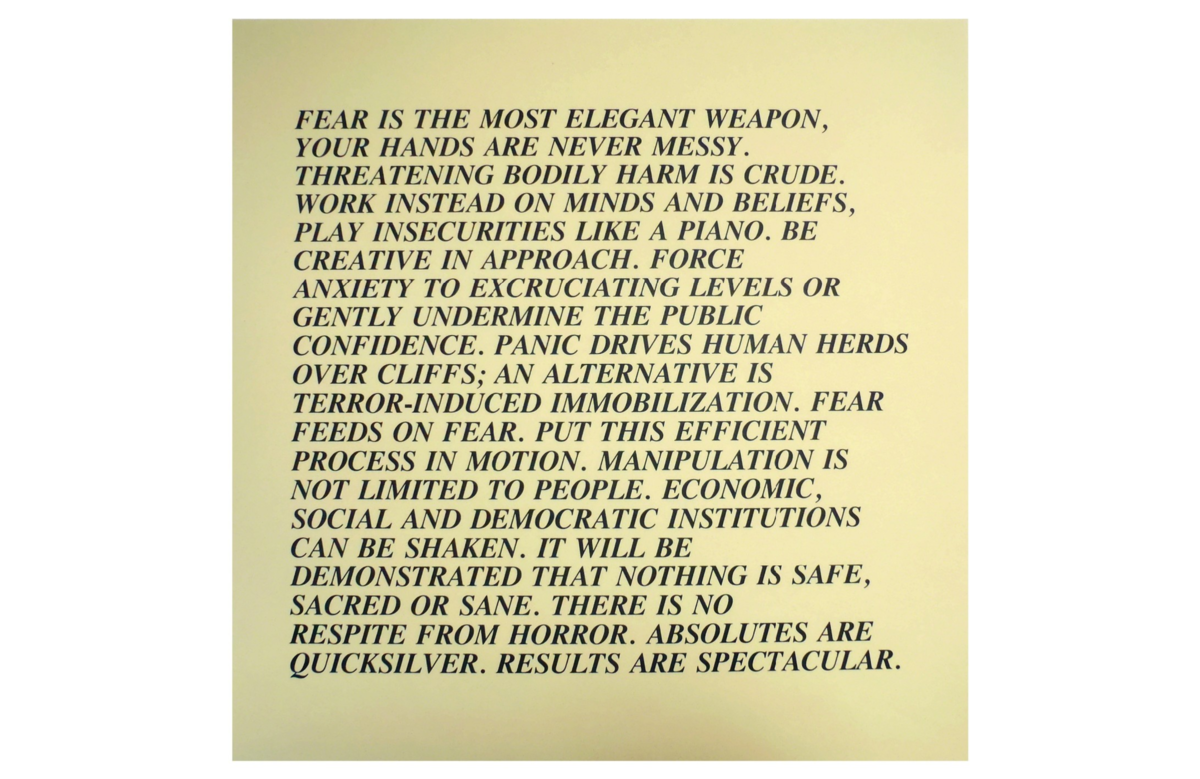 While this defense might read as slightly hypocritical—Holzer wished to defy gender stereotypes by eliminating them, while also maintaining the inherent femininity of her voice—by initially packaging the essays as anonymous, and then reclaiming them as her own as she became a more established artist, Holzer was, paradoxically, able to achieve both goals. Similarly, the oscillating sentiments within the works have invited alternate interpretations. The way in which one essay admits to vengeance ("MONDAY SOMEONE DIED BECAUSE HE HURT ME SO I CUT HIM WITHOUT THINKING") while another condemns the concept ("A CRUEL BUT ANCIENT LAW DEMANDS AN EYE FOR AN EYE") makes the series seem Trumpian in its ability to
publicly counter its own beliefs
.
Following the 2016 election, Manhattan gallery Alden Projects staged a show drawing on the political parallels between the rise of Trump and the troubling times when Holzer was showcasing her work around a bankrupt and blighted New York City. Things have changed drastically since the Carter administration gave way to Reaganomics and the "Greed is Good" messaging of the 1980s, but the strategies Holzer employs in her "Essays"—in which she co-opts fascistic language to ultimately parody its aims—seems to foreshadow Trump's own baffling tendency to adopt authoritarian messaging (remember when he
unwittingly quoted Mussolini
on Twitter?), albeit without any sense of irony or ethical concerns.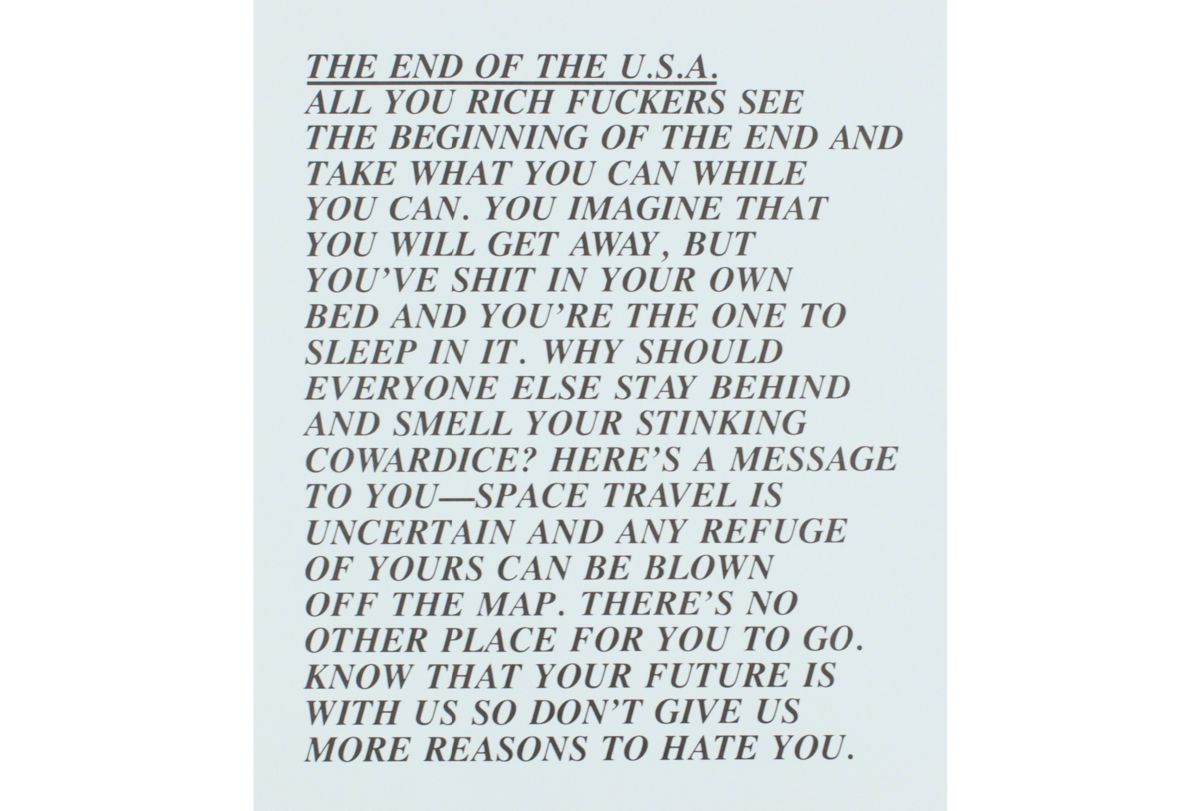 In
a recent article
in
Art in America
, Leah Pires observes that Trump's speeches "bear an uncanny resemblance to the freewheeling incoherence" of the "Inflammatory Essays." "Frequently pairing affirmations with denials, advocacy with dismissal," Holzer's work, Pires argues, can be read as a postmodern precursor to the president's doublespeak, which "can be difficult to summarize and disconcertingly easy to interpret as sympathetic to a broad range of views."
Whether Holzer's series resonates as an encapsulation of the dystopian, financially fraught New York of the late 1970s and early '80s, or as a prescient refutation of today's morally bankrupt administration and its tactics of deceit, "Inflammatory Essays" continues to prompt the public discourse it set out to in the first place.