Can This Doctor's New Gallery Make Art L.A.'s Next Wellness Trend?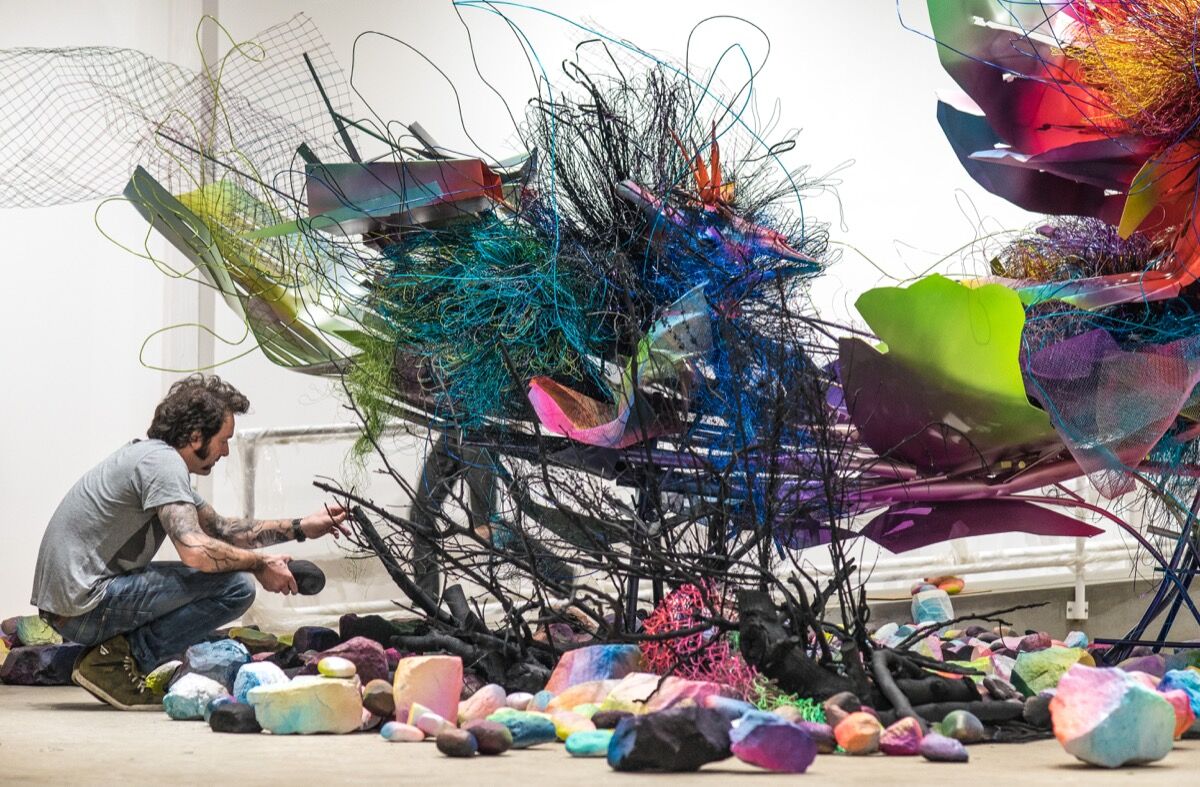 Installation view of "Jungle Cities," courtesy of DENK Gallery.
Dr. Katja Van Herle and David Hoey are unlikely gallery owners. She is a celebrated endocrinologist with a cult following; he, a superyacht captain. But often, in their limited free time over the course of their marriage, they chewed over the relationship between wellness and art—two passions they shared. "Then, last year, we had a kind of come-to-Jesus moment," Van Herle tells me over the phone, from her home in Downtown Los Angeles's Arts District. "We thought, 'Hey, we're officially middle-aged, maybe it's time we made this into more than just a conversation. Let's finally bring this idea—that art can be a powerful agent of wellness—out into the open.'"
So last year, after the couple committed to the plan with a "spit handshake," as Van Herle jokes, they began plotting how to best communicate—and actualize—their philosophy. They landed on opening a commercial gallery space, where a portion of all profits would go to community engagement and arts education. "With a physical space, we could work with artists who want to engage with the community, provide a calming space for anyone to interact with art for free, and raise funds for causes we believe in—mainly, exposing more art and its effects to more people," explains Van Herle.
DENK Gallery opens to the public tomorrow, on a corner in downtown Los Angeles that's just four short blocks—walking distance, a rare luxury in the sprawling city—from MoCA L.A.'s Geffen Contemporary. When I speak with Van Herle, she's putting the finishing touches on plans for the inaugural opening featuring 
Burning Man
—a festival whose attendees have also long explored the healing effects of of art, creative expression, and communing. "We always want the gallery, and the art that we're showing, to be thinking about questions of cultural health, in a holistic sense: How is society functioning? How is the city working? How can we give back?" she explains. At DENK, Quinze will show installations based on extinct or endangered flora. "He's a great fit for the first show, because his work really creates this immersive space for contemplating these ideas," she continues.
Installation views of "Jungle Cities," courtesy of DENK Gallery.
Installation views of "Jungle Cities," courtesy of DENK Gallery.
DENK means "think" in Flemish, Van Herle's native tongue. It's a word that serves as a fitting accessory to this "art for wellness" philosophy, one that began percolating, for Van Herle, during her youth in Belgium. Reared by a physician-father and a mother who taught philosophy and art history, Van Herle was encouraged to use art a means to expand and calm her mind; to assuage everyday stresses. "When my mom took us to museums, she'd describe a piece's history and its motives in a way that made me realize how art can open up a deep understand of humanity and sociology," she recalls. "Galleries and art books became a place where I went to when I needed a break, needed to move beyond myself. It was very soothing."
But it wasn't until years later, when she met her husband (who had studied architecture and aesthetics) that she began to think that art could be an extension of her medical practice. "Through my conversations with David, I was reminded that art is a powerful tool for holistic wellness," Van Herle explains. DENK, for the couple, is the embodiment of the idea, and a platform for experimentation. Through the gallery space, they hope to explore different ways in which art can heal—whether it's through contemplative engagement with artists' exhibitions; artmaking workshops in schools, hospitals, and community centers; or other channels yet to be discovered.

While it's not a groundbreaking model—other non-profit and for-profit galleries have explored similar community-focused approaches—Van Herle certainly has the medical chops to sturdily bolster DENK's goals. She has both a M.D. and a M.S. in public health; was previously the Chief of Endocrinology and the Chair of the Diabetes Task Force at UCLA; and maintains a private practice in Los Angeles.
Installation view of "Jungle Cities," courtesy of DENK Gallery.
To help build a program that features artists "who have a commitment to community and cultural engagement," in Van Herle's words, she and Hoey have brought a team of three curators on board. "We're trying to help people—and not just those already connected with the arts—reach an understanding that life is about more than just yourself, and we think art can be one of the most effective gateways to that," Van Herle explains. "And I think the timing, oddly, may be right. Art is healing, in all of its forms—that's what we want to communicate through DENK."

Alexxa Gotthardt is a contributing writer for Artsy.
Stir Creativity
See how Bombay Sapphire supports artistry.
Sponsored by Bombay Sapphire