In Laura Owens's New Whitney Show, Painting Is Serious Fun
Installation view of Laura Owens, Untitled, 2015, at the Whitney Museum of American Art, 2017.
"What a pleasure to come into a gallery and see everyone smiling," remarked
Whitney Museum
director Adam Weinberg during this morning's press conference for its mid-career retrospective of Los Angeles-based artist
The show's spiritual center might be a pair of two similar works from 2014, which both appropriate an inspirational poster that reminds the down-and-out that "when life gives you lemons, make lemonade." Owens's versions splice and dice the original imagery—a citrus rainstorm funnelling into the head of a cartoon man whose spigot-nose emits sugary liquid—and makes it both joyous and strange.
Exploring this show is a bit like observing the painterly counterpart of Bradley Cooper in the campy 2011 thriller Limitless—the story of a man who, thanks to an off-market synthetic drug, is able to maximize the full potentials of his brain, growing intellectually at impossible speed. Granted, Owens's evolution occurs over the course of 20-plus years, which feels frictionless when condensed into a single floor of a museum. But everywhere there is evidence of a fearless curiosity that isn't afraid to indulge, digest, repeat, and discard stray ideas as they arise.
Laura Owens, Untitled, 1997. © Laura Owens. Courtesy of the Whitney Museum of American Art.
Laura Owens,Untitled, 2012. © Laura Owens. Courtesy the artist / Gavin Brown's Enterprise, New York and Rome; Sadie Coles HQ, London; and Galerie Gisela Capitain, Cologne.
Skittering along in a roughly chronological mode, this survey finds Owens unfurling from a maker of sparse monochromes and abstractions, circa the mid-1990s, into a painter willing to affix bicycle wheels to an epic canvas; to silkscreen personal ad texts, and layer chunks of volcanic rock on top; to riff feverishly on the iconography of a clock via a 2011–12 series (in 92 parts) or the alphabet (in 33 parts); to make a tangle of cartoon cats the reverential subject of a large-scale composition. (It doesn't hurt that, along the way, she's assembled a studio team to help realize some of her wilder visions.) These works dare you to take them seriously, even when they seem merely puckish or frivolous.
This is not to say that Owens wasn't working full speed ahead from the beginning. A 1999 painting of two monkeys—their goofy faces at odds with the gracefully executed foliage they're perched on—encapsulates Owens's signature mix of opposing forces: the spare, poetic, and elegant in bed with the stupid, the gleeful, and the inane. The work in question is a diptych, but one whose canvases are spaced oddly far apart, leaving a gaping void of plain white wall in between. (The monkeys don't seem to mind.) A 1997 work—almost everything in Owens's oeuvre is untitled, by the way—sets out to be the simplest seascape imaginable, letting two childish seagull shapes (with accompanying airbrush drop-shadows) float over a dead simple, three-tone ocean. A large 1999 canvas of abstract, digital squiggles predates the current craze for
MS Paint-inspired imagery
by nearly two decades.
Owens makes it look easy to jiggle between poles: giddily squeezing lumpy splats of color straight from the tube one moment, only to turn around and wax virtuosic with still lifes of fruit, typewriters, books, the next. These dissonances are happily bundled into the exhibition design itself, as in a room-within-a-room that pairs paintings from 1998—of squishy, inexpertly rendered bees buzzing about a hive—with handsome, minimalist furniture designed by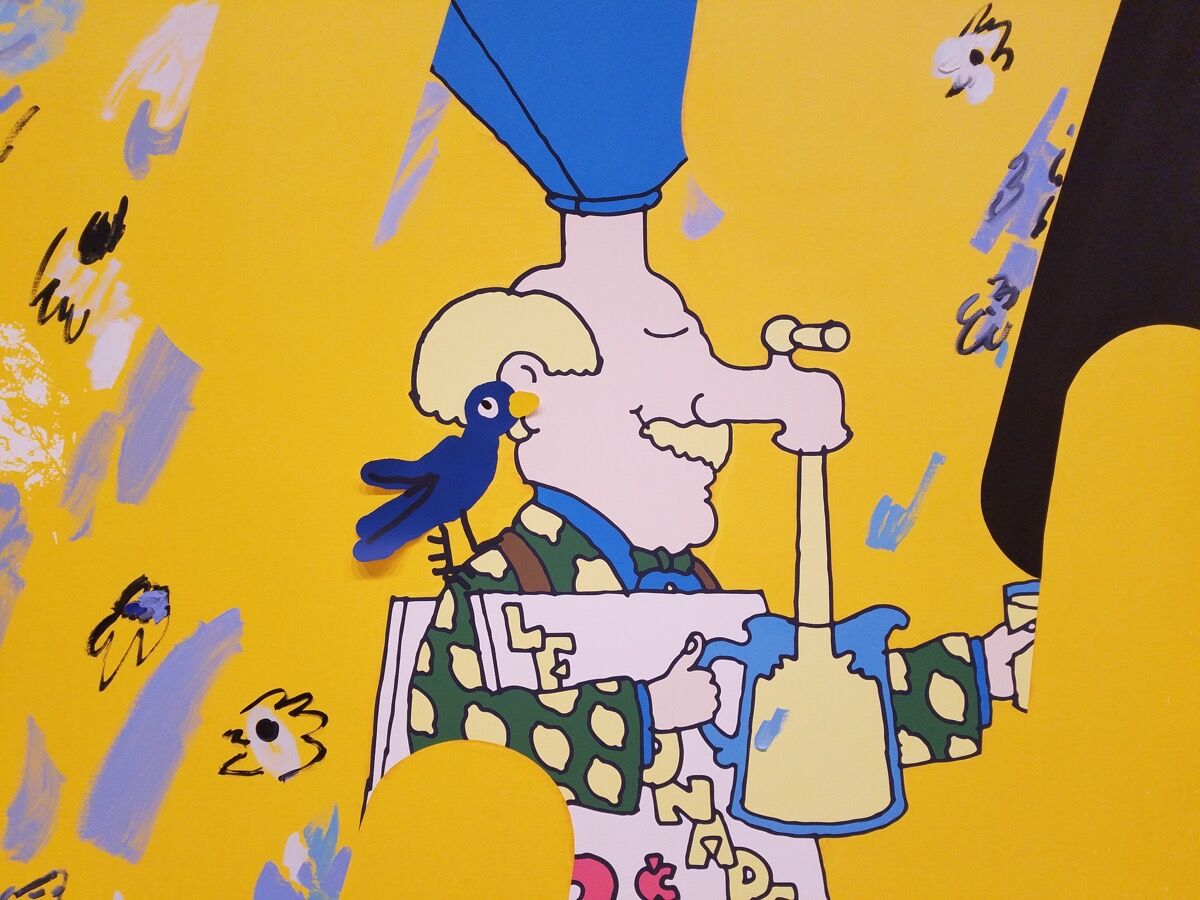 Detail shot of Laura Owens, Untitled, 2014, at the Whitney Museum of American Art, 2017.
Another self-contained section of the show hangs paintings from the '00s salon-style. These are playful, self-consciously girly, and heavy on the pinks and pastels—in line with the romanticism of someone like
A monumental, multi-part work on the museum's eighth level—described by Weinberg as a painting that is a sculpture, or possibly a sculpture that is a painting—finds Owens sampling from beyond the well of art history. Namely, from her middle-school-age son, Henry, whose short story and drawings she borrows for content. "I don't think my mom asked me if she could use my story for her painting," Henry recalls in the terrific and hefty catalog for this exhibition. "She told me later, after she had already started using it." He's not entirely floored by the finished work, which was originally unveiled in 2015 at Capitain Petzel in Berlin. "The images on the back of the paintings seemed kind of interesting," he notes. "It was also interesting in a way that the story and the drawings have nothing to do with each other except that they were both created while I was bored."
Laura Owens, Untitled, 2006. © Laura Owens. Courtesy of the Whitney Museum of American Art.
Detail of Laura Owens, Untitled, 2012. © Laura Owens. Courtesy of the Whitney Museum of American Art.
The catalog itself—a dense hodgepodge of ephemera, correspondence, installation shots, essays, text messages, auction-house screenshots, and more—is a handy way to situate Owens within a larger family of artists, in Los Angeles and beyond, as well as influences. Those range from peers (
Gavin Brown
, announcement cards from Sadie Coles—it's hard not to get swept away by the effusive, DIY energy contained within this book, and the way it tracks a career and community.
One of the most eye-catching of Owens's later works at the Whitney appropriates another inspirational poster. This one features a boy and a dog dangling from a long cord, and bears a message of cheery uplift: "When you come to the end of your rope, you make a knot, and hang on." As an artist, Owens seems to have access to an enviably endless amount of rope. But hers is a kind of offbeat genius that wants to invite you in, rather than stand on the sidelines in chin-stroking wonder. Weinberg told the preview crowd that Owens hoped the retrospective would encourage others to keep making art. From the limited perspective of this particular lapsed Sunday painter, the Whitney show is an unqualified success—it positions painting as simultaneously the most and least serious game, and asks you to play along.
Scott Indrisek is Artsy's Deputy Editor.