The Legendary Bars Where Famous Artists Drank, Debated, and Made Art History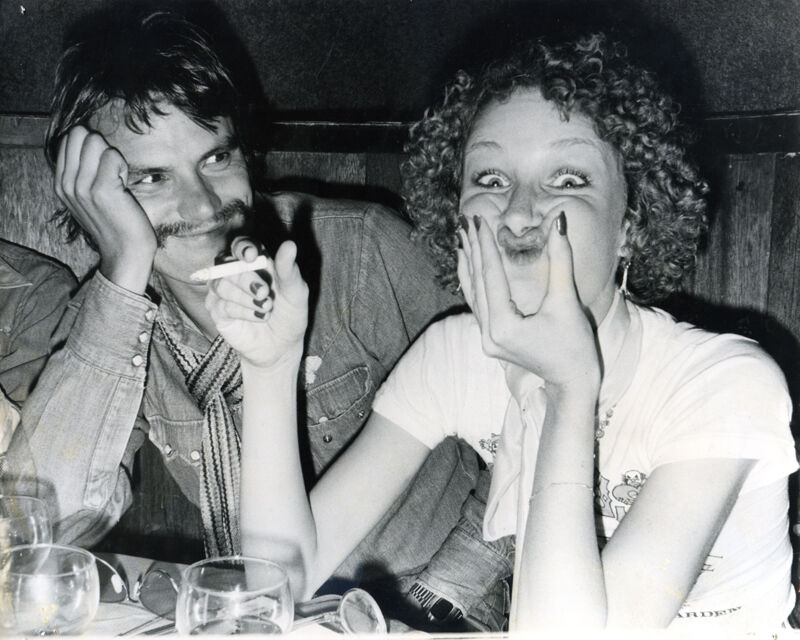 Anton Perich, Olivero Toscani and Donna Jordan at Max's Kansas City, ca. 1970. Courtesy of the artist and Steven Kasher Gallery, New York.
On a recent weekday evening at the Lower East Side bar Beverly's, a neon pink glow enveloped a young crowd downing cheap cans of Modelo. In the long, narrow venue, patrons ate chips and guacamole from a takeout joint, while drinkers' sartorial choices—white sneakers, fitted sweatpants—suggested the bar's dominant mode: effortlessly hip.
Yet small details, such as the gold, stuffed pistol above the bar mirror and the video art playing behind a booth, signaled the bar's divergence from your average Manhattan dive. These are artworks by predominantly emerging artists, and are part of a series of rotating exhibitions at Beverly's, which have featured sculptor
Beverly's continues a long tradition of bars that not only cater to creative people, but often prove crucial to their conversations and careers. In New York, London, and Paris in particular, certain watering holes have hosted legendary conflicts, philosophical debates, and networking opportunities. They became boozy safe spaces (at least for those who knew their limits).
In Paris, bars aided the emergence of modernism. In his book Picasso and the Painting That Shocked the World, Miles J. Unger describes La Closerie des Lilas in Montparnasse as "an essential stop on the itinerary of anyone interested in contemporary art." On Tuesday evenings at the end of the 19th century and the beginning of the 20th, writers (Arthur Rimbaud, Ernest Hemingway, Gertrude Stein), artists (
Courtesy of Beverly's, New York.
Open until 4 a.m., the nearby Le Tabou jazz club served as a late-night meeting point for the existentialists. Cultural worlds collided at the underground bar. According to Lewis MacAdams, author of Birth of the Cool: Beat, Bebop, and the American Avant Garde, the novelist Boris Vian introduced musician Charlie Parker and philosopher Jean-Paul Sartre here.
Yet during the 1940s and '50s—just after World War II forever altered Paris and the rest of Europe—the rise of
The tavern closed in 2013, though nostalgia protected the actual bar from destruction: The Texan restaurant Eberly bought, dismantled, and pieced it back together for its own southern crowd. Its operations manager, Tom Maitland, who is a former New Yorker, used to drink at the Cedar Tavern in the '90s after it became, in his parlance, "basically an NYU frat bar." (Other hip hotspots have suffered similar fates, long after the art crowd passes on. Café de Flore, La Closerie des Lilas, and Les Deux Magots are all still open in Paris, though they're now major destinations for tourists and other non-bohemians.)
If the Abstract Expressionists gained a reputation for their brooding, aggressive natures, the
slurs
at
La Closerie des Lilas, Le Café de la Société Artistique et Littéraire Française et Etrangère, 171, Boulevard de Montparnasse, Paris, 1909. Photo via Wikimedia Commons.
Ronald Bladen, Max's Kansas City, 213 Park Avenue South, c. 1972, Courtesy of the Ronald Bladen Estate and Loretta Howard Gallery, NY.
In 1989, Rimkus opened her own bar, Max Fish, on the Lower East Side. Artists followed, including
helped
finance the operation, and eventually donated a bronze sculpture of a rat dressed as a cop that had been turned down as part of a public commission. Rimkus hosted monthly art shows and events until rent increases forced her out in 2013. The following year, she opened a new iteration nearby. "The whole neighborhood has changed," she tells
Artsy
. "You just have to roll with it. Nothing stays the same. Our clientele is pretty eclectic still." Her neighbors, she says, are all being evicted or taken to court by landlords. High-end hotels continue to move in. But Max Fish is preserving a bohemian spirit while real estate skyrockets.
Down the street, Beverly's preserves that same energy for a younger generation (and perhaps resurrects the aura of gallerist Gavin Brown's Chelsea bar, Passerby, which shuttered in the late aughts). Owner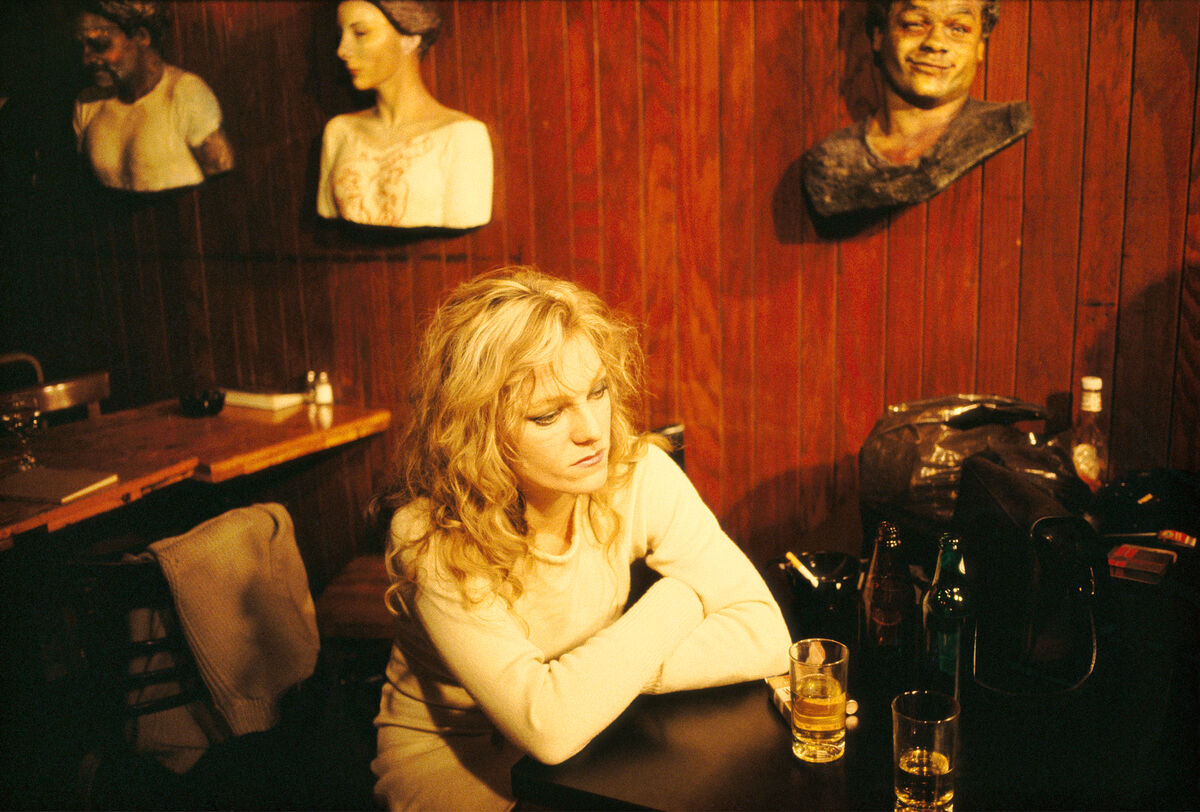 Nan Goldin, Cookie at Tin Pan Alley, NYC, 1983. ©​ Nan Goldin. Courtesy of Matthew Marks Gallery.
Dixon and her co-owners also face some flattering competition from hopeful upstarts. "Let's just say, small neon bars named after a woman have been very popular since we opened," she avers. Like all the best artists, the best art bars take inspiration from their predecessors while creating spaces for radical new conversations. If these newcomers can encourage creativity and community in striking, novel ways—cheers to them.
Meanwhile, artists have long been migrating from Manhattan to Brooklyn en masse. In 1992, as Williamsburg was becoming a creative outpost,
New York
magazine writer Brad Gooch designated Kings County as the "New Bohemia" (not without pushback—one
commenter
noted how the article glamorized crime-ridden streets). Now filled with more bankers than struggling artists, the neighborhood maintains at least one oasis for artists: Soft Spot still serves sub-$6 drinks before 8 p.m.
Other than that, you're more likely to find creatives patronizing Bushwick bars farther east, where rent is (relatively) reasonable. At
Honey's
, bartenders pull drafts from beer taps designed by
Whitney
biennial artist
Clearing
. Further south, on the border of Bushwick and Bedford-Stuyvesant, the art space
Secret Project Robot
features a bar called Cuckoo. Here, visitors can drink after—or before—they view exhibitions and performances. Proceeds fund the gallery, and you can find parties nearly every night (past themes have included "super prom," "goth," and "flea market"). What happens when real estate developers inevitably push all of the patrons out of this area, too? If history is any indication, New York will always offer somewhere for artists to drink and commiserate.
Alina Cohen is a Staff Writer at Artsy.
Marc Quinn Iris
Explore the cup collection here.
Sponsored by illy