Liste's Director Looks Back on 25 Years of Helping Young Galleries Survive
Work by Dijan Kahrimanovic at LISTE – Art Fair Basel, 2015. Photo by Alec Bastian for Artsy.
In April, during a conference in Berlin,
David Zwirner
floated the controversial idea that mega-galleries like his should pay more for fair booths to subsidize the cost for struggling smaller galleries. He said it would be "a little bit like a tax: you make a little more money, and you get taxed a little bit." The press was shocked enough by the statement that news reports and think-pieces were filed on the remark, but Peter Bläuer, director of Liste, an Art Basel satellite fair, just thought it was hilarious. His fair had been charging galleries on a scaled system for decades.
"We were laughing here!" Bläuer said last week, calling New York from Basel, Switzerland. "We said, 'OK, that's nice of David, but we've been doing it for 20 years!'"
Then again, the nonprofit Liste—the scrappy and beloved 79-booth outfit in a former brewery in Basel that opens a day before the 293-booth megalith named after the town—is not like many other fairs. When Bläuer founded it in 1996, it was the first fair to embrace the offbeat and, frankly, uncommercial outfits that could never get into the big bazaars, and has inspired the likes of NADA, Independent, and the Sunday Fair. It cares deeply about young galleries, who pay as little as around 7,100 CHF ($7,140) to appear at the fair in their first year—a deal, considering they get access to the horde of collectors who stop by Liste to see lower-priced works and get a glimpse at the art stars of the future. And as Bläuer prepares to retire after Liste 2018 closes this week, he called from Basel to discuss how having a gallery-first, nonprofit fair like Liste is one of the best ways to help risk-taking galleries.
LISTE 2017 Preview. Photo by Daniel Spehr. Courtesy of LISTE – Art Fair Basel.
As far as providing advice for young galleries, Bläuer has quite the pedigree—today's art stars most likely passed through Liste on their way to the top. Zwirner himself got his start showing at Liste's first edition in 1996, when it was a band of outlaws shut out from the main fair and intent on claiming their own turf. Since then, the fair has launched galleries as diverse as kurimanzutto from Mexico City, David Kordansky from Los Angeles, and the globetrotting
Perrotin
, all before they went to claim large booths across town on the Messeplatz.
"There is no one gallery who started after '96 who belongs today to the top-10s of the world who did not cross Liste," Bläuer said. "Liste is not just another fair. We really do something that Art Basel is not doing: We really care about the new generation, and at the end, that's our success."
At a time when young galleries are struggling to budget for the art fairs they feel they need to attend even if it bankrupts them, Liste has managed to keep booth prices, and ancillary costs, extremely low. Though only first-year galleries get the bargain price of 7,000 CHF for a 25-to-30-square-meter Liste booth, it's more than three times cheaper than the 24,900 CHF a gallery has to pay for a space of that size at Art Basel, at the price of 830 CHF (around $845) per square foot. (A booth in the Statements sector of Basel is 400 CHF, or $405, per square foot, meaning an equivalent 30-square-foot booth would still be nearly twice as expensive than one at Liste at 12,000 CHF, or $12,166.) And while the prices go up a bit each year, they top out at 15,660 CHF ($15,876) for a booth if a gallery is in the fair for eight years or more. And all amenities that other fairs can tack on for extra fees—from lighting to Wi-Fi to partition walls—are included. The staff even finds the dealers a cheap place to crash in town.
"We care about the price, and we care about accomodation so they don't have to go to expensive hotels—it's things like this," Bläuer said. "At other art fairs, it's very expensive to get more light or if you want to paint this wall, but we don't take these extras. It's an important point that the fair is not that expensive. Liste is not profit oriented, there is no conglomerate behind us that wants to make a lot of money. We try to keep the prices low as possible. I am happy at the end of the year if we can pay all the bills!"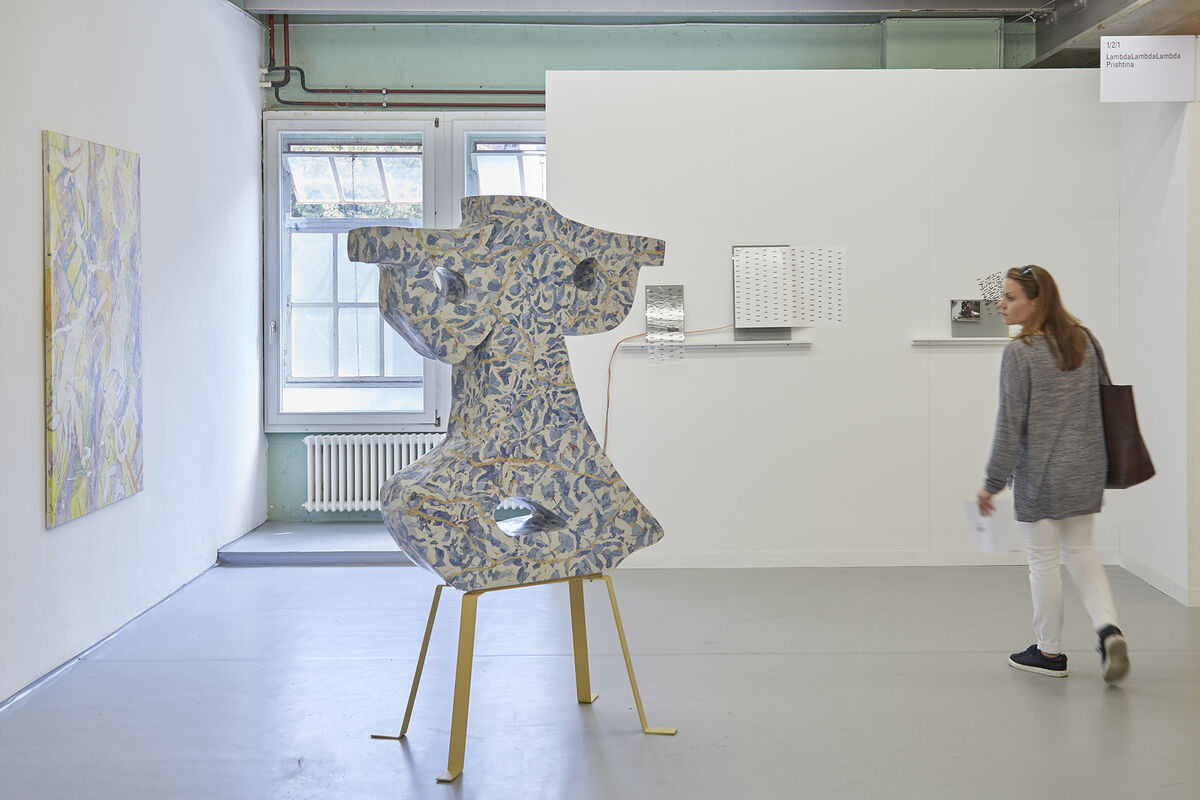 Installation view of LambdaLambdaLambda at LISTE – Art Fair Basel, 2017. Photo by Benjamin Westoby for Artsy.
And this year, just to spice things up, Bläuer introduced an award: a 2,000 CHF ($2,029) discount on the booth funded by a nonprofit foundation he started last year, Friends of Liste, which is given to five to ten galleries that applied with risky—and perhaps not overtly commercial—special projects. Bläuer said he wanted to make sure the whole thing didn't scream "art fair" to visitors.
"When I realize that everyone wants to only bring paintings, I say, 'Oh my god, I don't want a painting art fair!'" he said. "Contemporary art is more than just painting! So I say to the galleries, 'Please, bring also other things.'"
And in order to attract the galleries that would bring difficult work that might not sell, he had to offer them a discount in return.
"I know on the other side, it's not an easy time," he said.
The fair began when two then-small, now-big Zurich dealers, Eva Presenhuber and Peter Kilchmann, asked Bläuer to join them in proposing a sector for young galleries at Art Basel. It was the most powerful fair in the world, but it consistently rejected upstart galleries with new artists in their stable. Art Basel wasn't interested in opening a sector for young galleries at that time, so the trio found a space quite different from the open-plan-style expo centers that hosted most fairs: a 19th-century red brick edifice that once housed a brewery. It's a sprawling building that curls its way up several stories, with galleries occupying turrets at the rooftops and nooks in the basement and everywhere in between. Showing in the first edition were 36 galleries from 12 countries, including Maureen Paley from London, Jack Hanley from San Francisco, and Jack Tilton from New York.
Installation view of work by Cornelia Baltes at Limoncello's booth at LISTE, 2016. Photo by Benjamin Westoby for Artsy.
"It was the first fair to focus on younger galleries," Bläuer said. "There [were] a lot of very, very interesting galleries, so we would have been stupid to not do something for them."
By creating an environment willing to accomodate more risk-taking shops, Bläuer created what he said was the first fair that championed the smaller galleries, not just the most successful galleries—creating an ecosystem for daring art dealers in a country that is generally very accomodating of other parts of the arts ecosystem. There are Swiss government subsidies and grants for artists, museums, and critics—but not, Bläuer noted, for gallerists. And more than two decades after Liste's inception, it is still a perilous time for young, small galleries. The cities where galleries have to locate to be near collectors also have sky-high rents, which, for galleries with lower price points, can be unsustainable. And just as they have historically, today's mega-gallery juggernauts are still gobbling up talent as soon as young galleries start to make money off of them.
Liste gives dealers a guilt-free fair option, and Bläuer says he personally imparts business acumen to young galleries who might not know much about budget sheets or payroll, at a time in their careers when every fair can be make-or-break. While he's never run a gallery himself, he said that he understands from running a fair, even a nonprofit one, that you need to be on top of expenditures and budgets, and he tries to offer general financial advice to the galleries who he thinks need it.
"There were several galleries who were at Liste that closed, so we're aware of [their plight]," Bläuer said. "New York or London is very, very expensive to rent, we can't do a lot for that. But sometimes I see new galleries, they love art, they have very good artists, but they don't know very much about business. It's not enough to love art—it's also a business."
He added that some dealers did arrive at Liste fully formed and ready for primetime, such as Los Angeles-based David Kordansky. "I already saw that he will be, one day, really on the top," Bläuer said. But, he added, "Not every gallery wants to have a gallery like Kordansky or Zwirner, they don't want to have 50 people working for them."
There may be a Kordansky-esque natural at this year's Liste, but after that, Bläuer won't be there to see them bloom—he's decided to retire at 66, to rest a bit. ("I'm an old man!" he said. "It's time!") He wants to spend some time viewing
And while Liste has always been confined to Basel, Bläuer said his successor might decide to extend the fair's brand to other cities.
"There can be another art fair somewhere, as we always thought about that—Liste is a very good brand!" Bläuer said. "We never did it, but if it's the right time, the right moment, the right place, we might do it."
What's for sure is, when the fair opens Monday, there will be galleries who could not afford to go to other fairs, showing artists other dealers wouldn't take chances on, and presenting them to the world's collectors in town for Art Basel. The model works so well that, inevitably, some galleries at Liste this year will soon move on to the bigger fair across town.
"Every year, we look around in the whole world, and ask, 'Where are the really new interesting galleries?'" Bläuer said. "And we pick the best of them and introduce them in Basel to the audience, to the collectors, to the museum people. Art Basel doesn't do that—but that's fantastic, that's the great thing, as we fit so well together. They start here, and if they're good enough, Art Basel takes them. That's always a compliment for us."
Nate Freeman is Artsy's Senior Reporter.
TEFAF New York Fall 2018
October 27-31, Park Avenue Armory
Sponsored by TEFAF New York Fall