From Andy Warhol to Chris Ofili, the London Auction Season's Eight Most Important Acquisitions
Andy Warhol, One Dollar Bill (Silver Certificate) (1962). Courtesy Sotheby's London.
Sotheby's reported its biggest grossing contemporary sale in Europe ever. Phillips doubled its total from last year. Meanwhile, a slightly less exuberant Christie's sat squarely in the middle of its overall pre-sale estimate ($148.9 million, compared to an estimated $128.2–182.3 million).
Among the perennial hyperbole, however, was the news that Sotheby's didn't manage to sell its top lot on July 1st,
Study for a Pope I
(1961). A day earlier, four pieces by
aggressive guarantees given
for the New York season in May. 
"Sometimes the market likes more dazzling pictures," said Edmond Francey, head of the department of post-war and contemporary art at Christie's, about the unsold Richters. "Maybe the market likes more decorative work, though I don't like that word. Maybe the estimates were a bit high. We are little surprised as well." 

What, then, were the key pieces last week that did move, and why were they so compelling for collectors to acquire? Here, the most important lots from the London auction season, focusing on last week's contemporary sales.

One Dollar Bill (Silver Certificate), 1962
$32.6 million (est. $20.4–28.2 MILLION), Sotheby's
Andy Warhol, One Dollar Bill (Silver Certificate) (1962). Courtesy Sotheby's London.
This four-by-six-foot linen canvas was Warhol's first and only hand-painted dollar bill work, completed before the artist moved on to his iconic silkscreen practice. "He was trying to find a way of creating an image that appears mass-produced," said Alex Branczik, Head of Sotheby's Contemporary Art department in London. "A couple of moments later he transformed the way he made art for the rest of his career, and the way art was made for the rest of the century."
Chris Ofili, The Holy Virgin Mary (1996). Courtesy Christie's.
A controversial history warrants a hefty price tag—a new auction record for the artist, in fact. The piece first appeared in the public eye during Charles Saatchi's notorious "Sensation" exhibition in London in 1997. When it was shown in New York two years later, the mixed media painting attracted the scorn of the then-Mayor Rudolph Giuliani for being "anti-Catholic." "It's a very special picture," said Christie's Francey. "There is a myth surrounding it, but it is also very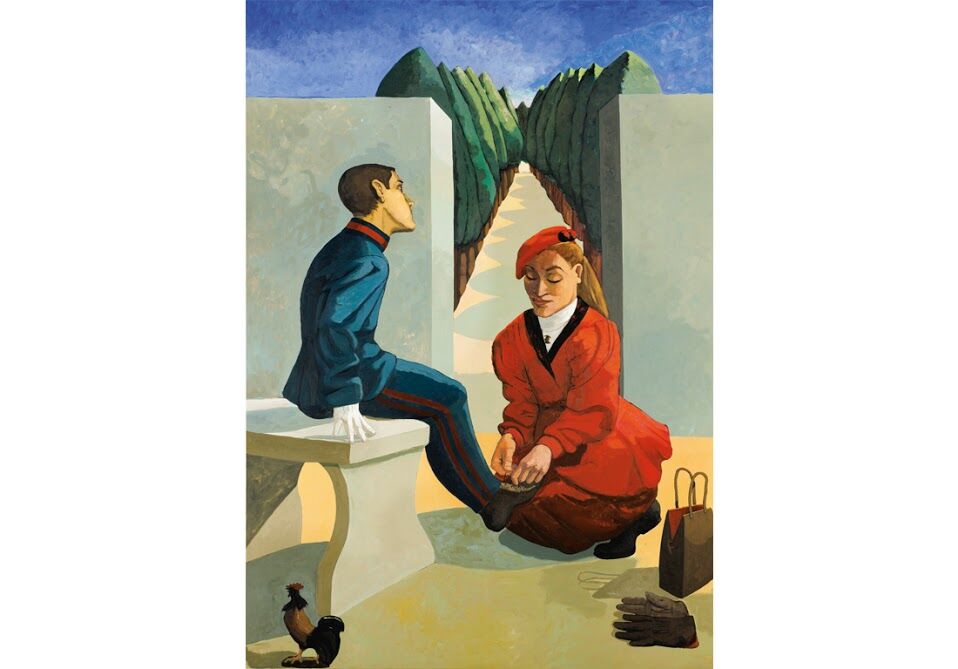 Paula Rego, The Cadet and his Sister (1988). Courtesy Sotheby's.
Described as "psychologically charged" by the auction house, it shows a young man, about to depart for his military service, having his shoelaces tied by his elder sister. The canvas is replete with symbolism, not least the cockerel in its bottom left corner.

Study for Head of Isabel Rawsthorne and George Dyer, 1967
$19.1 million (est. $12.5–$18.8 million), Christie's
Francis Bacon, Study for Head of Isabel Rawsthorne and George Dyer (1967). Courtsey Christie's.
The first of only 10 diptychs painted by the Irish-born British painter, it immortalizes two of the artist's most important relationships: with his lover, George Dyer, and his friend, the artist Isabel Rawsthorne. It was the first of only two pieces portraying these two subjects together and was top lot in Christie's June 30th sale.

Ai Weiwei, Circle of Animals / Zodiac Heads (2010). Courtesy Phillips.
The first from an edition of six, this piece was Phillips's top lot and set a new auction record for the artist. The sculptural installation reimagines the animals of the Chinese zodiac that once stood at the Beijing palace of Yuanming Yuan but were looted in the 19th century. It has been displayed at Los Angeles County Museum of Art and in New York's Central Park, among numerous other institutional outings.

Frank Auerbach, Head of Gerda Boehm (1961). Courtesy Sotheby's London.
A record for a work on paper by Auerbach, this portrait of the artist's cousin came from the collection of the poet Stephen Spender. "It was the second highest price ever for the artist," said Sotheby's Branczik. "You will have a hard job finding a better work on paper. Quality makes all the difference in this marketplace; it's an educated market and people know what they are looking at."
Peinture de feu couleur sans titre (FC27), 1962
$9.3 million (est. Avaliable upon Request), Christie's
Yves Klein, Peinture de feu couleur sans titre (FC27) (1962). Courtesy Christie's.
One of Klein's famous fire color paintings and made during the final year of his life, it sold to the curator overseeing the work of Greek collector George Economou. The first piece in the same series, FC1 (Fire Color 1), sold at Christie's New York in 2012 for $36.4 million.
Portrait of Gertrud Loew – Gertha Felsovanyi, 1902
$39.1 million (est. $19–$28.4 million), Sotheby's

Gustav Klimt, Portrait of Gertrud Loew (1902). Courtesy Sotheby's London.
Though this Klimt was in the auction house's Impressionist and Modern art auction earlier last month, the early 20th century portrait deserves a mention in this list due to its significant, above-estimate result. Major oil works by the artist appear rarely at auction, though this price is far from his record. The highest price for a Klimt was set in 2006 when his famous 1907 portrait Adele Bloch-Bauer I sold for $135 million.
Stir Creativity
See how Bombay Sapphire supports artistry.
Sponsored by Bombay Sapphire