The Magical Life of 98-Year-Old Painter Luchita Hurtado
After more than seven decades working in relative obscurity, the 98-year-old
catapulted into the spotlight
. The Venezuela-born artist is delighted to be enjoying her golden hour—she has just opened a solo show at
Hauser & Wirth
in New York, and will receive her first institutional show at the
Serpentine
in London later this year, followed by a survey at Mexico's
Museo Tamayo
in 2020. But to her, ultimately, "it means nothing." For Hurtado, having a means to express herself is enough. And what she wants to express comes from a place of profound humility.
Nature, and the body, have always been present in the artist's work, and for Hurtado, these are one and the same. "I am part tree," Hurtado said at the preview of her Hauser & Wirth exhibition. "And I'm part of anything that's on this planet." Her body, she said, is not hers, but is on loan from some higher power. Indeed, she is using her new platform not to reflect back on her wildly eventful and creative life, but to address the greatest urgency of our time—namely, the existential plight of our planet. In her latest paintings, this manifests itself in images of bodies giving birth to globes, crowning like babies' heads.

Hurtado may be focused on the present, but her show at Hauser & Wirth lays testament to her past, in the form of a few dozen works representing a snapshot of what she produced in the 1940s and '50s, a period during which she lived in New York, Mexico, and Northern California. Her early works are filled with lucid, springy, biomorphic shapes; colorful, angular geometries; and forests of tree-humans that sometimes invoke the Cuban artist
An interest in early and present-day indigenous cultures was one current through the Dynaton movement that Hurtado's second husband, Rules for Conduct (ca. 1940s) and an untitled work from 1949, whose force-filled, elemental forms and sunburst rays bring to mind a cosmology.
More intoxicating, still, are Hurtado's surrealistic landscapes and body paintings from the 1960s and '70s (not on view in the Hauser show), some of which went on display at the
Hammer Museum
as part of the
2018 "Made in LA"
survey of art made by Angelenos. (Hurtado still lives in Santa Monica Canyon, where she moved in 1951.) In one of them, Hurtado imagines her body as a desert landscape, painted from the vantage point of a reclining figure looking down at her naked form, her breast and bent knee appearing as sandy peaks. In another, her body appears beneath a perfectly formed apple that's a stand-in for the sun or moon.
As others have often noted, the paintings feel extraordinarily contemporary and crisp. They are also remarkably well-preserved, having lived among Hurtado's late husband's archives for years, until her studio director Ryan Good unearthed some 1,200 of her works while working for Mullican's estate—setting into motion the art world's new interest in her work.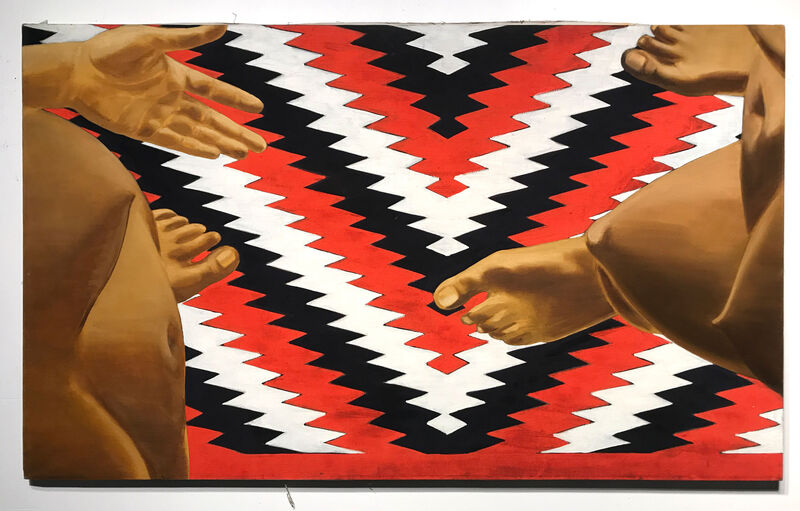 That Hurtado has gone under the radar for so long is particularly surprising, given she has been deeply tied up in the art world for her entire life. She was wife to two artists, and is mother to the artist
de Young Museum
this year, and John Mullican, who is a filmmaker. Hurtado personally knew
But it's Hurtado's work, more than her rich story, that deserve our attention—though in some ways, they are inseparable. Her life has been filled with joy and fascination, as well as suffering. (She lost two of her children, one to polio at the age of just five years old.) Her art has, she said, been an abstracted diary of it all, one that she kept for herself. For Hurtado, making art has always been "a need, like brushing your teeth," as she said in a recent interview with Sarah Lehrer-Graiwer. She never felt resentful of her husband Lee's success, and never wished to be recognized. Instead, she's always just felt grateful and amazed to be alive—to have a body, and access to nature and a paintbrush. "Life is very strange," she said. "It's magic, actually."
Tess Thackara is Artsy's Writer-at-Large.