Mary Heilmann's New Dia Show Places Her among the (Male) Icons of Minimalism
Mary Heilmann, The First Vent, 1972. © Mary Heilmann. Photo by Stephen White. Courtesy of the artist, 303 Gallery, and Hauser & Wirth.
When
"Partly because of being a young woman, but also because the scene was very cliquey, it was hard for anyone to get attention," says Heilmann, referring to the dominance of the male
Heilmann managed to get a studio visit from the artist
"The attitude toward making the wall pieces, the alleged paintings, was antagonistic—it had that edge to it," says Heilmann, 77, sitting in her loft in Tribeca.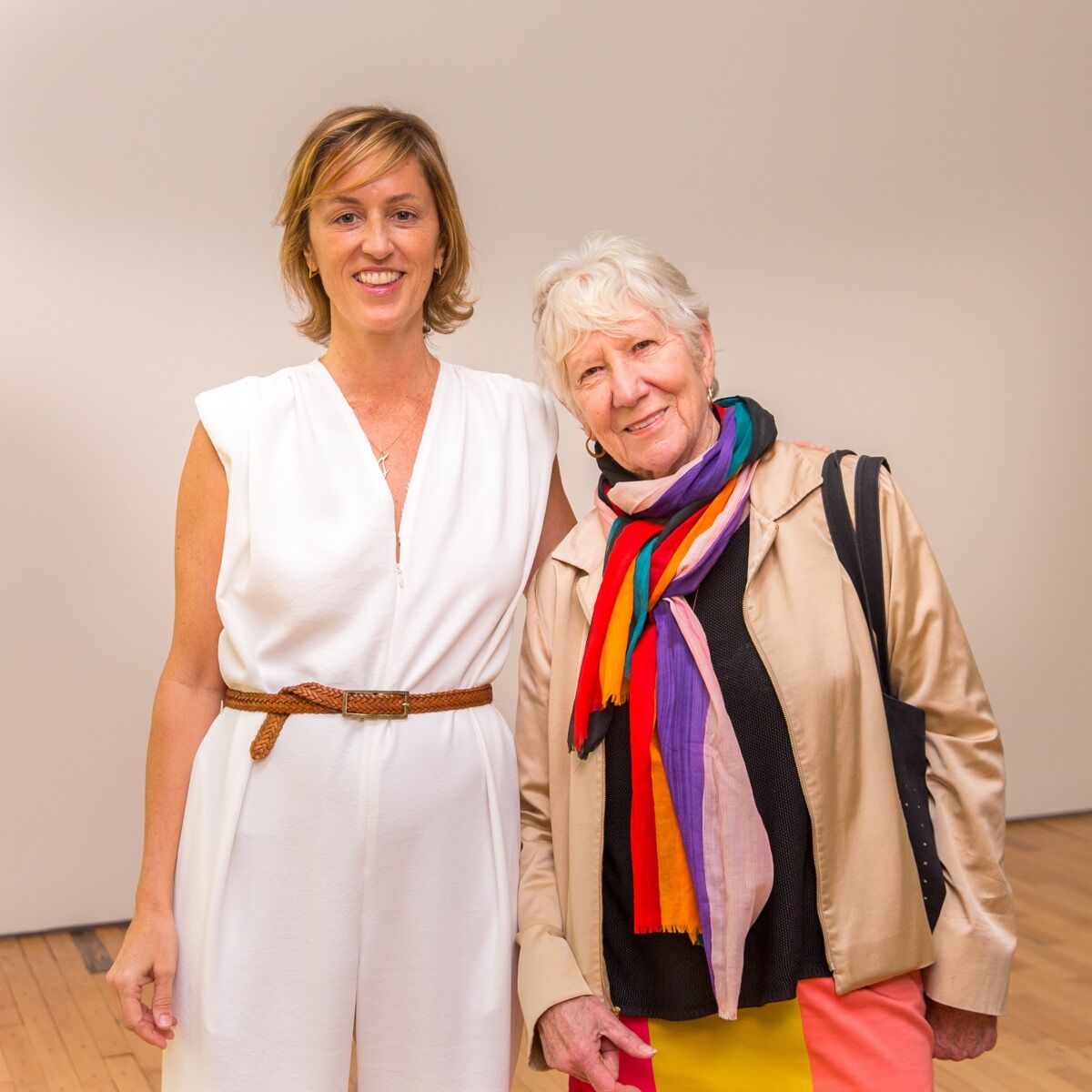 Mary with Jessica Morgan, director of Dia Art Foundation, at the Dia:Beacon Spring Benefit, 2017.
The artist divides her time between her New York office and her working studio in Bridgehampton. Around the corner from the latter space, at Bridgehampton's Dan Flavin Art Institute, a concise survey of paintings and ceramics representing key moments in her 50-year career has just opened. There, a permanent installation of Flavin's fluorescent light sculptures that emanate saturated color serves as both inspiration and counterpoint to Heilmann's temporary exhibition, which is on view through May 2018.  
"I found the connection fascinating," says Jessica Morgan, director of the
Dia Art Foundation
, which in 1983 inaugurated the Flavin satellite in a former firehouse. "Mary was looking at the geometric forms and the types of references that appear in Flavin's and Judd's works to everyday objects, to industrial production, to the spatial environment. But she was producing it in an entirely different way—painting, for a start, and a softer form of painting, often using her fingers."
The Heilmann show is part of Morgan's institution-wide effort at gender rebalancing since she took the helm at Dia in 2015. The Flavin Art Institute had historically shown temporary exhibitions of
"I'm passionate about bringing in women artists, new voices, new bodies of work—staying explicitly within this period of the '60s and '70s where we have this incredible depth and strength, but thinking about the omissions," says Morgan. This past spring, she installed a new, long-term gallery at Dia:Beacon with recent acquisitions of sculpture by
Mary Heilmann, Green Mirage, 2017. © Mary Heilmann. Photo by Thomas Müller. Courtesy of the artist, 303 Gallery, and Hauser & Wirth.
Mary Heilmann, Red Mirage, 2017. © Mary Heilmann. Photo by Thomas Müller. Courtesy of the artist, 303 Gallery, and Hauser & Wirth.
Heilmann's show at the Flavin Art Institute begins with The First Vent (1972), a crimson grid with two tiers of wobbly vertical lines referencing the vents on ubiquitous window air conditioners, while also echoing Judd's serial structures. "We wanted to mark the point where Mary arrived in New York and encountered the Dia artists who made such an impression on her," says Morgan.
Painted with her fingers, at a time when Heilmann supported herself by teaching children, the work's craftiness subverts the severity of Judd's sharp angles.
Heilmann was first exposed to works by Judd and Flavin while she was in graduate school. "Judd, especially, used the idea of home as an inspiration in his work," the artist says, invoking her own interest in domestic environments—as seen in her candy-colored chairs, an array of which populated one of the terraces of the
Whitney Museum
's new building when it opened in 2015.
"How things looked good in a house was also a big inspiration of mine growing up," says Heilmann, who opens a show of primary-colored, geometric paintings from the late 1970s at the
Craig F. Starr Gallery
in New York on July 10th. "That psychologically stuck with me."
Her love of home is reflected at the Flavin Art Institute in A Row of Cup and Saucers (2017), a playful group of five ceramic pairings in different colors lined up on a cantilevered shelf. Red Metric (2015), three squarish, free-edge ceramic tiles joined together in order of descending scale and wall-mounted, also reflects Heilmann's ongoing engagement with ceramics.
Her interest started as an undergraduate at UC Santa Barbara, where she was a literature major but discovered a talent at throwing pots. "There was a whole hippie scene of handmade pottery," she says. That introduction to the medium would lead her to graduate school at Berkeley, where she studied with the radical ceramist
Mary Heilmann, Rio Nido, 1987. © Mary Heilmann. Photo by Thomas Müller. Courtesy of the artist, 303 Gallery, and Hauser & Wirth.
Rio Nido (1987), another painting in the show, was made when Heilmann first moved out to the Hamptons and established a studio there. It's titled after a town in northern California where her family went for summer vacations and features a dark ray shape festooned with splotches of bright colors—referring to both the colored lights people would string on their porches in Rio Nido and the sense of liberation she found in moving her studio to the Hamptons.
Heilmann's Green Mirage and Red Mirage, both completed in 2017, respond directly to Flavin's early 1960s series of "Icons," in which he first bridged painting and sculpture by attaching light bulbs to painted wood constructions.
"He used just plain porcelain fixtures with a bulb screwed in that are pretty beautiful and really in keeping with the way I think about making things," says Heilmann, who used the same 30-inch-high scale for her canvas-and-wood constructions, painted with vibrant combinations like radiant green inflected with bands of turquoise, red, and purple. Heilmann says her color choices are informed as much by fashion—"that color looks good with that color"—as by
"Everyday life and art history all join together in my work," she says.
It's Heilmann's extraordinary use of color, in particular, that drew Morgan to place her work within the Flavin Art Institute. "The unassuming quality of her work lulls you in," Morgan says, "and then you realize all the quirks and careful counterbalancing that take place within the geometric and color combinations."
Marc Quinn Iris
Explore the cup collection here.
Sponsored by illy