For Old Masters and Art Students Alike, Drawing Is a Way to Unlock Creativity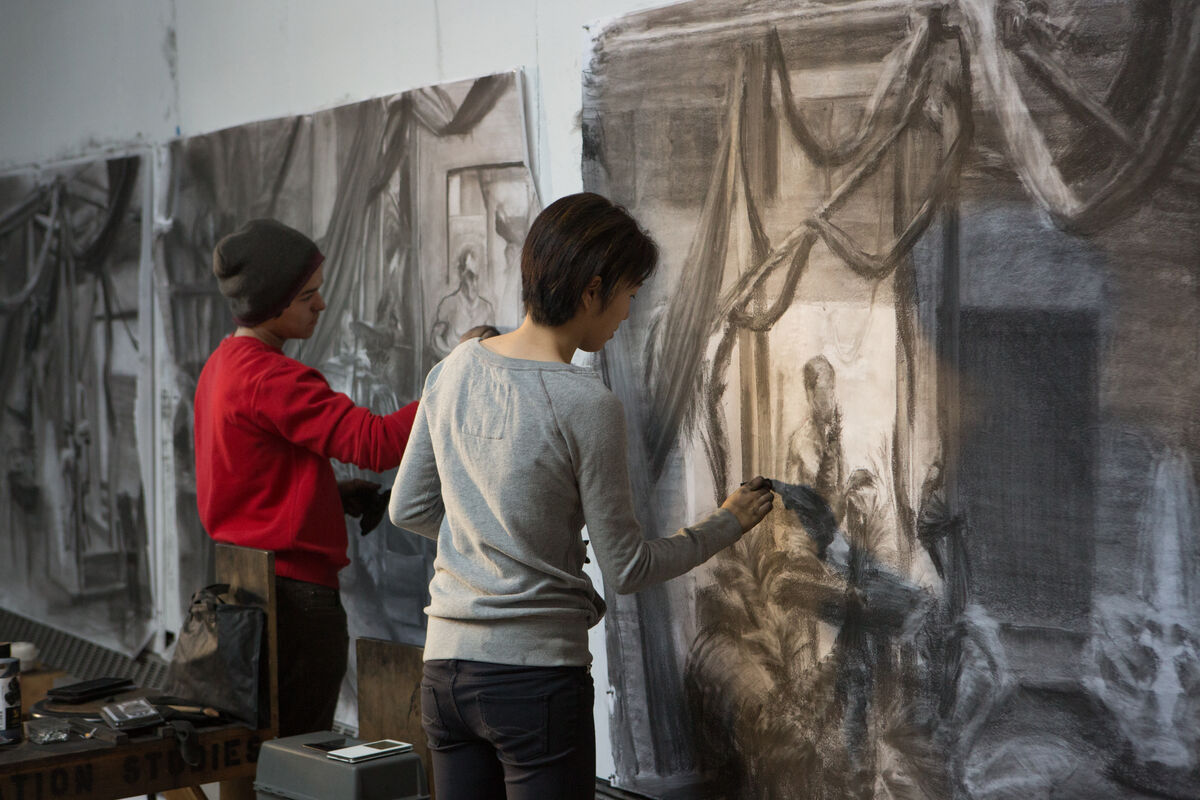 At a recent exhibition opening at the
RISD Museum
, visitors could be seen with magnifying glasses trained over drawings that hung from the walls, closely observing their intricate marks and complex textures—analyzing them like live specimens.
Seventy objects of study had traveled from the
British Museum
's collection of drawings, in a selection that represents several centuries, even millennia, of human mark-making. Works on view represent everything from an ancient Egyptian funerary papyrus, to the feverish maelstrom of tumbling, muscular figures that
Last Judgement
, and an abstract drawing by former RISD grad
Indeed, so strong and diverse is the grouping of works on paper that the British Museum's Keeper of Prints and Drawings, Hugo Chapman, described it at the opening as "the best-ever drawing show that we sent out from the collection."
In many ways, the exhibition, titled "
Lines of Thought
" and curated by the British Museum's Isabel Seligman, reflects the methodology around  drawing at RISD. The school places an unusual emphasis on the discipline—often considered to be traditional or outmoded—as a foundational practice for anyone exploring a creative field. Drawing is taught as a form of visual thought, a method of investigating the world and generating new ideas or solving problems, even a mode of self-discovery.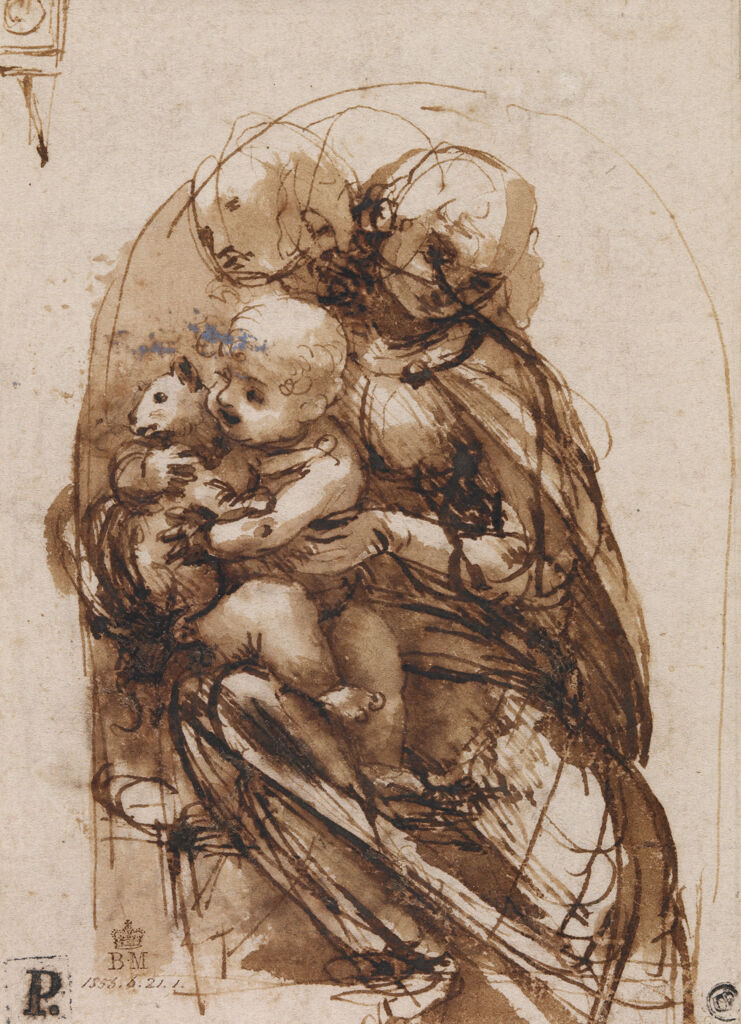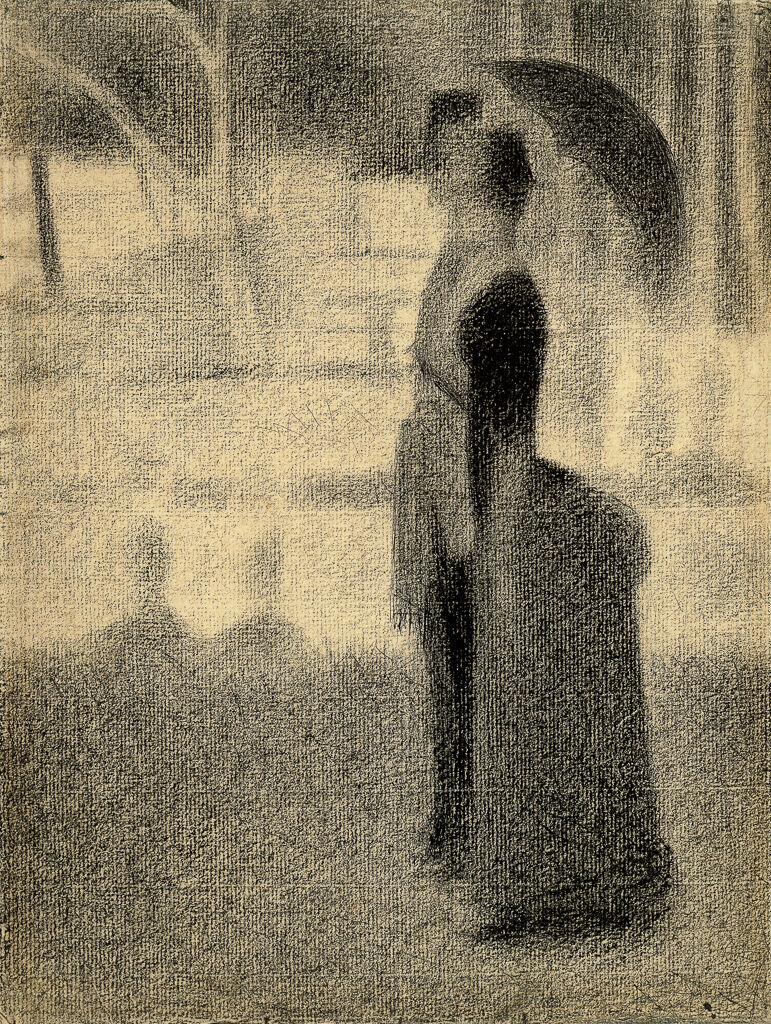 "I always like drawings more than paintings," says Joanne Stryker, RISD's Dean of Experimental and Foundational Studies. "Drawings are so much more spontaneous and alive, it's a moment—artists are never really finished, but they're catching a moment of thought, and that makes them so vital. All these possibilities are still there."
In the drawing classes that she and other faculty members teach, students will often begin by engaging in observational drawing, sometimes working from the extensive collection of taxidermy and specimens in RISD's Nature Lab, rendering a shell, for example, or a textured seed pod. They are encouraged to repeat the drawing, iterating, and perhaps abstracting it to its essential form, or homing in on one aspect of it. "By the time you draw it maybe 50 times," says Stryker, "you no longer see the object."
At that point, through a process of decision-making (conscious or subconscious) and discovery, the drawing may have evolved into something else entirely. Once the students have gained confidence, they're encouraged to develop their own ideas in drawing—which could be anything from a plan for a 3D structure to a live drawing performance.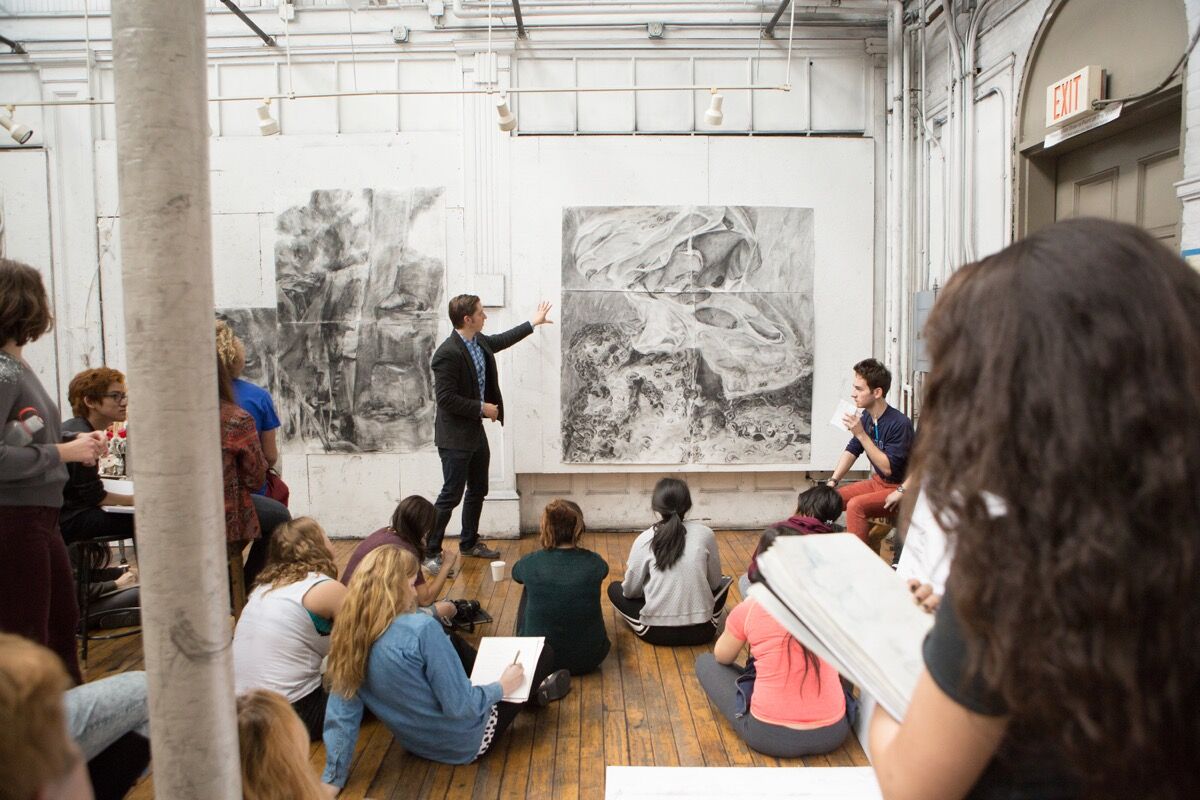 Drawing is not only a way for students to get to know the world through observation and process, but a means to learn about themselves. "It's a way to help them understand how they think," says Stryker, "whether they're a person who likes to start a drawing not knowing where it's going to go, so they really feel their way through it in a very intuitive way, let the medium, let the subject matter take them somewhere. Or, if they're someone who starts with a plan and executes it."  
Visitors to RISD Museum can see these various processes play out in many of the works in "Lines of Thought," which Seligman has organized according to themes such as "Brainstorming" and "Insight and Association." In the latter section, a drawing by British artist
The drawing is in fact an abstracted interpretation of a film still from Friday the 13th (1980), showing an empty boat moored on a wooded lake, filtered through Doig's eye to become a kind of inchoate dreamscape.
The process of iterating and brainstorming—experimenting with, as Seligman describes it, an excess or profusion of ideas so that the artist can test and evolve a form or concept—can be seen in Adam and Eve (1504). The pen-and-ink study shows the German artist working and reworking Adam's extended arm and curled hand. In some of the sketches, Adam holds the symbolically charged apple given to him by Eve; in others, his fingers bend to accept the gift.
Dürer takes pains to capture Adam's sinuous veins and the peaks and valleys that emerge in modeling of his limbs, as well as the subtle qualities of expression conveyed through various modifications in his hand gesture.  
"You don't know what you'll come up with if you don't do those 100 drawings, because you get to explore all the possibilities in your head," says Stryker of encouraging students to continue reworking their drawings in her classes at RISD. "If they stop at 10 drawings, you've got to push them to keep going—chances are the first 10 are not going to be the best. Chances are that's going to come further down the line."
RISD considers drawing classes to provide a practice that's valuable for all disciplines, whether students ultimately end up pursuing careers in architecture, industrial design, photography, or painting—or even a career that might appear to have nothing at all to do with art, such as medicine.
"If you're a surgeon and you're cutting into someone, it helps you understand that space and understanding the result of the way you move your arm or hand," says Stryker. "I have a friend who's a neuroscientist and she says that if she's trying to figure out something that she's reading about the brain, she'll do a little drawing to translate the text into something visual."
Underlying both RISD Museum's latest exhibition and the school's foundational drawing classes is the idea that, as with all human mark-making practices, whether drawing or writing, sometimes you don't know what you see, or what you think, until you put pencil to paper. The externalization of a concept or image gives you some distance from it, so that you can have a conversation with the sheet of paper in front of you.
(Professor Dumbledore's "pensieve" in Harry Potter here comes to mind—a bowl that the wizard can drop excess thoughts and memories into, pulling them from his brain as gooey strings of immaterial form and placing them into the bowl to review and analyze.)
"The line gives you information about stuff but it also gives you expression, it creates space," says Stryker. "The students are very conscious of what they're doing at first, but then they can let the unconscious take over a bit. And that's where the really amazing stuff happens."
Tess Thackara is Artsy's Writer-at-Large.