From Matisse to Turrell, 8 Artists Who Designed Transcendent Chapels
Artists have a long history of designing spiritual and religious spaces.
In more recent times, modern and contemporary artists have actively continued that tradition, creating stained-glass windows, murals, altarpieces, and in some cases, entire structures with religious or non-denominational spiritual intent. And in doing so, they've transformed the experience of being in a sacred space. War and Peace, both 1952) for the Chapel of the Château de Vallauris, which has since become a museum dedicated to his work. And film director Jean Cocteau (known for Orpheus and Beauty and the Beast) contributed several graphic murals to churches, including the Notre Dame de France in London in 1959 and Chapelle Saint-Pierre in Villefranche-sur-Mer, France, in 1957.
Below, we share the stories behind eight notable artist-designed chapels—encompassing works of art that redefine spirituality in the artist's terms, and foster moments of contemplation, introspection, and perception.
James Turrell, Dorotheenstadt Cemetery Memorial Chapel, 2016
Berlin, Germany
Image of James Turrell, Dorotheenstadt Cemetery Memorial Chapel, 2016. Photo by mangtronix, via Flickr.
In late 2016,
The installation was a continuation of Turrell's longtime concerns with space and light, particularly as they relate to spiritual sites. As a Quaker, Turrell has outfitted many Meeting Houses with his skylights—apertures that open these contemplative spaces and allow light to flood in.
Mark Rothko, Rothko Chapel, 1964–71
Houston, Texas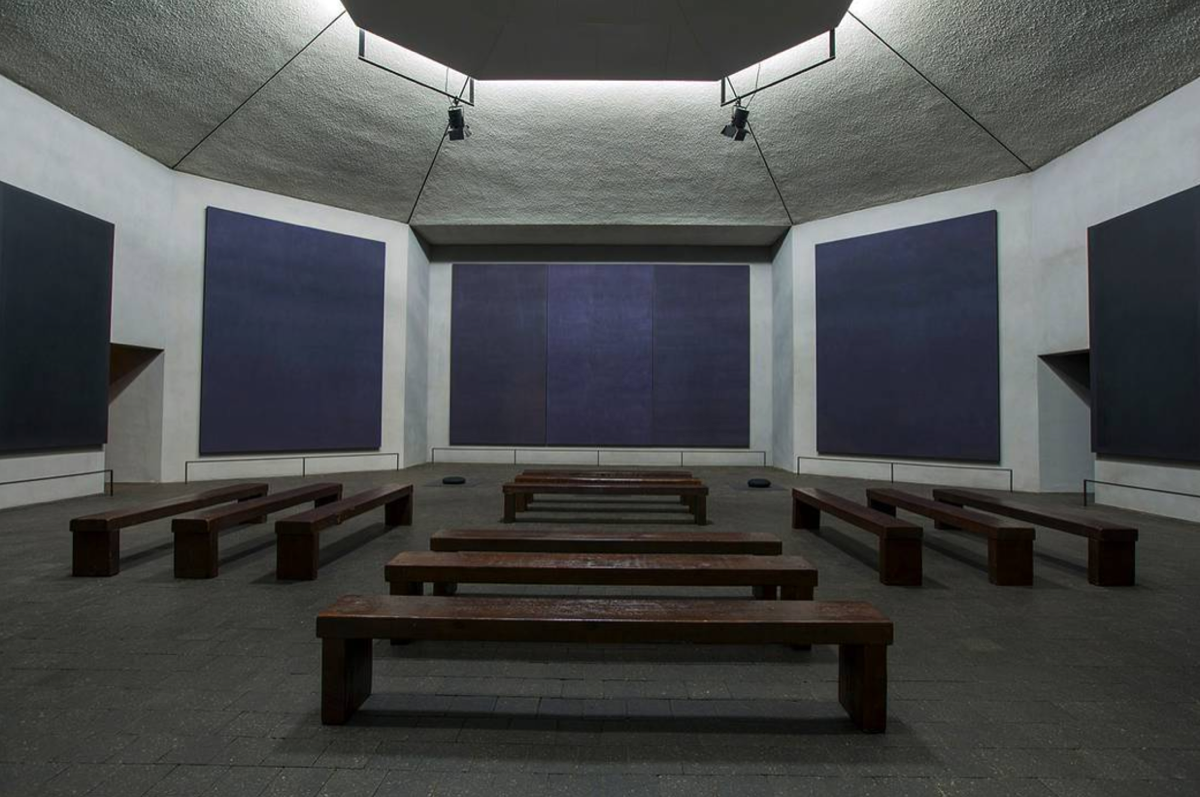 Mark Rothko, Rothko Chapel, 1964–71. Photo by @ykcreative, via Instagram.
The Broken Obelisk (1969), stands in a pool of water. The 25-foot tall inverted obelisk has been interpreted by many as a universal monument for all.
When the chapel first opened in 1971 (Rothko never saw the completed work; he died in 1970), Dominique de Menil emphasized that the Rothko Chapel was not intended to be an imposing, traditional religious space, but rather a space for turning inward. "It offers a place where common orientation could be found—an orientation towards God, named or unnamed, an orientation towards the highest aspirations of Man and the most intimate calls of the conscience," she said.
Theaster Gates, Sanctum, 2015
Temple Church, Bristol, United Kingdom
Theaster Gates, Sanctum, 2015. Photo by Max McClure, courtesy of Situations.
Sound and community were the vehicles of spirituality for Sanctum (2015). The site of this intervention was the medieval Temple Church in Bristol, originally designed by the Knights Templar, which had been bombed out during World War II in 1940, leaving only a shell of the building behind. Gates used salvaged material from nearby sites to create a structure inside the hollow walls of the former church, including doors from a former chocolate factory and bricks from demolished houses.
The space housed an ambitious 522-hour-long program of non-stop performance, featuring local musicians and DJ's, spoken-word poetry and gospel choirs as well as artists who were just visiting the city temporarily. "This project was attempting to make space inside of a sacred space that people might connect with another," Gates
noted
at the opening. "
Sanctum
is primarily a platform on which the people of Bristol have an opportunity to hear each other."
Henri Matisse, La Chapelle du Rosaire de Vence, 1948–51
Vence, France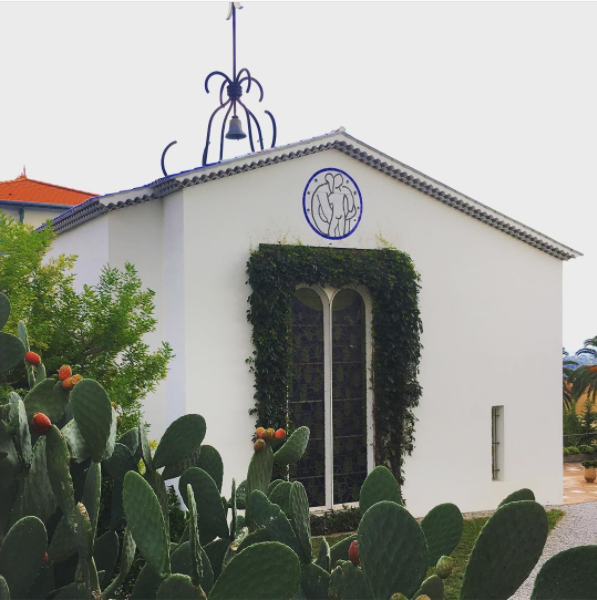 Photo by @avanheugten, via Instagram.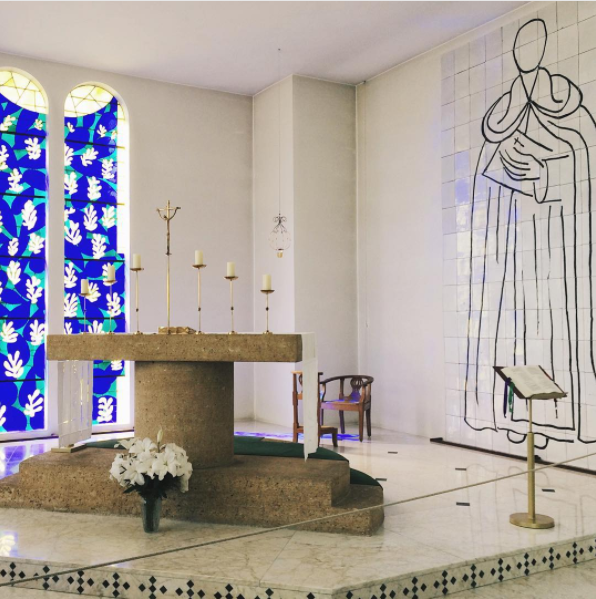 Photo by @mynameisjohnny, via Instagram.
In 1941,
Later, in 1946, when Bourgeois was in the process of becoming a Dominican nun (she became Sister Jacques-Marie), she called on Matisse to help her design a chapel for her sisterhood in the hills of Vence, France. Matisse, who had been born Catholic but was an atheist, was more interested in spirituality than religion, and he proceeded to design a space inspired by natural forms and vibrant color. "I think it is better to pray in beauty," he would say.
Despite the severity of his illness—at this point, he could barely stand—Matisse worked on the chapel for the next four years, until it was opened in 1951. He had his hands in nearly every area of the design—from the building itself to the cut-out-inspired stained glass windows, mosaics of the Stations of the Cross, candlesticks shaped like anemone flowers, and even the vestments that the priests would wear.
For Matisse, the project was a culmination of his life's work. "This work required me four years of an exclusive and entiring effort and it is the fruit of my whole working life," he once said. "In spite of all its imperfections I consider it as my masterpiece."
Ilise Greenstein, The Sister Chapel, 1978
Queens, New York
Ilise Greenstein, The Sister Chapel, 1978, installed at Rowan University Art Gallery West, Glassboro, NJ. Photo by Andrew D. Hottle.
In the 1970s, while Greenstein was looking at Michelangelo's infamous Sistine Chapel, she noticed a glaring issue: "Where was woman in man's relationship to God? God and Adam touching hands—almost. Where was Eve?" Greenstein was inspired to create an alternative chapel, made by women, for women. "I decided that I would challenge the Michelangelo concept; I would retell the myth of creation."
Over the next few years, she collaborated with a wide range of female artists and in 1978 she opened The Sister Chapel at PS1 in Queens. Her work featured 11 larger-than-life portraits of heroic female role models selected by each of the contributing artists—June Blum painted Betty Friedan,
Terence Koh, Bee Chapel, 2016
Andrew Edlin Gallery, New York
Installation view of Terence Koh, Been Chapel, 2016. Photo by Olya Vysotskaya. Courtesy of the artist and Andrew Edlin Gallery.
In 2014, Canadian artist
asked
upon arriving at his new home. Inspired by the writings of Indian philosopher Krishnamurti, who taught that to change society you must first start on a small scale, with the single self, Koh and his partner decided to build a "bee chapel" between two apple trees. Essentially, the structure was a large-scale hive able to fit a single person at a time, and bring them in close communion with the bees—a seldom experienced proximity.
To share the experience with others,
Koh debuted a version of his bee chapel at Andrew Edlin Gallery
in New York in 2016. He created seven spaces within the gallery, each corresponding to one of the the seven days of the week. The rooms were covered in raw earth and lined with a layer of metal mesh that separated bees from humans. From this immersed vantage point, viewers could watch the bees' constant activity, while being reminded of their precarious condition in the environment with the ongoing threat of colony collapse. By drawing attention to the fragility of nature and our place within it, Koh created a space with both spiritual and political undertones.
Sound was an important sensory element of the show. Not only was the bees' perpetual humming mic-ed to amplify their presence, the gallery also included a sound recording of two black holes colliding a billion light years away. From the smallest scale to the largest, Koh's work suggested that we are all "living in a vibration."
Ellsworth Kelly, Austin Chapel, 2015
Austin, Texas
Ellsworth Kelly, Austin, 2015 (model; interior view). © 2016 Ellsworth Kelly Estate. Image courtesy of the Blanton Museum of Art.
Ellsworth Kelly, Austin, 2015 (model; interior view). © 2016 Ellsworth Kelly Estate. Image courtesy of the Blanton Museum of Art.
Though he never referred to it as an explicitly religious space,
Austin
installation—a 2,715-square-foot stone building—has garnered comparisons to the Rothko Chapel since it was announced in 2015 that it would be built on the grounds of the
Blanton Museum of Art
in Austin, Texas.
Kelly designed the structure in 1986 for a private collector and was inspired by the
Louise Nevelson, The Chapel Of The Good Shepherd, 1975
Saint Peter's Church, New York
Image of Louise Nevelson Chapel of the Good Shepherd. Courtesy of Saint Peters Church.
For American sculptor
Nevelson intended the space to be abstract enough to be universal, for people of all denominations to experience a sense of peace and joy. The result was an intimate room measuring only 28 by 21 feet, washed in pale tones. She translated religious iconography into complex sculptural works made of wood and painted it white—the only color elements in the room are the altar, which is gilded in gold, and the pews, made of pale ash wood. "My focus is a celebration of the contemplative in a space that is not defined by walls or time, but only the limitation of the spirit itself," she explained.
Stir Creativity
See how Bombay Sapphire supports artistry.
Sponsored by Bombay Sapphire