Meet Norm, the Painter-For-Hire Beloved by L.A.'s Leading Artists
L.A.'s most unlikely art world celebrity is known simply by one name: Norm. His superfans include artists
This month Norm, 62, finally takes the starring role. At the Institute of Contemporary Art, Los Angeles (ICA LA), the city's new kunsthalle in the downtown arts district, he is the subject of a retrospective, not as an artist—he makes deadpan text pieces and abstract graphic signs under his own name—but as a fabricator. "This Brush for Hire: Norm Laich & Many Other Artists" presents a roll call of some of L.A.'s greatest (and most irreverent) names in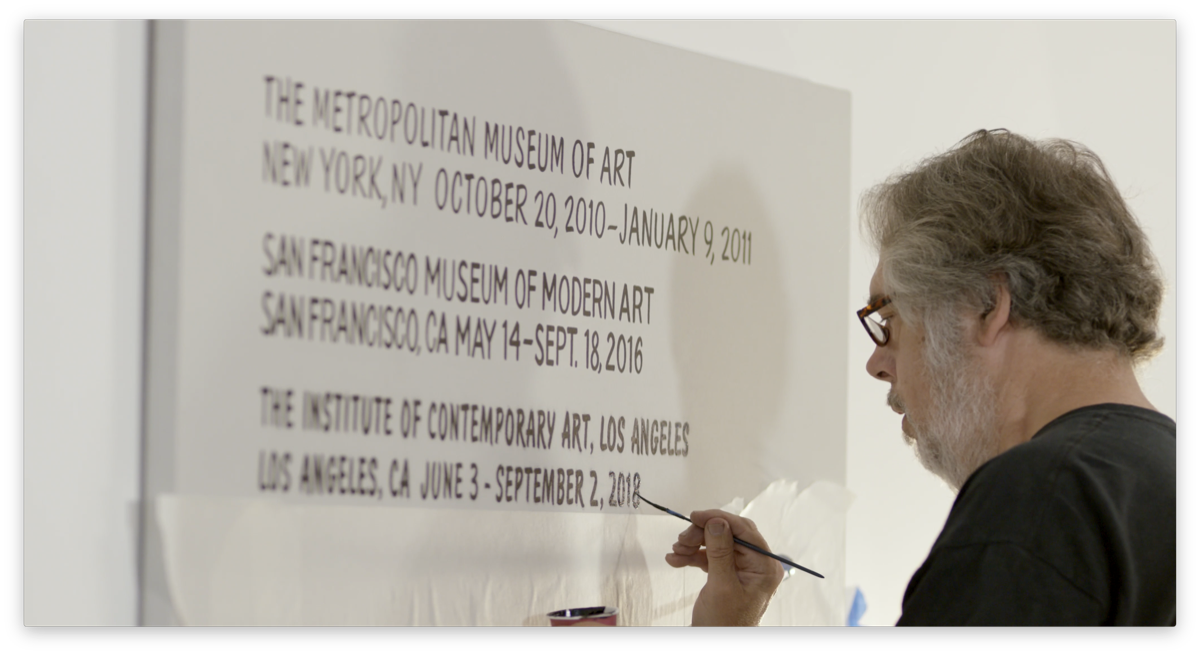 Some of the works here are existing pieces that Norm labored on years ago; several are site-specific installations or wall pieces that Norm brought to life in earlier exhibitions, which he recreates at ICA LA once again. Of the latter category, there's
Monochrome Painting
(1998–99; recreated 2018);
MOCA, Los Angeles
in 1992; and a line of text by Weiner that runs along the floor of the space. They're joined by contributions from
The exhibition is a tribute and a conceptual art piece of its own, masterminded by Baldessari and Cranston, along with Norm—who preferred the idea of presenting a retrospective of his business, rather than "just another painting show" of his own sign works (a proposal that was initially on the table). According to Cranston, Norm's numerous former artist clients were quick to grant permissions for the show—"because it was Norm, they all said yes immediately." Some of their pieces amounted to nothing more than a set of instructions, dependent on Norm for the manual labor and draftsmanship required to materialize them.
Prina's work, for instance, consists of a simple manual for a wall painted in monochrome aquamarine and emblazoned with the words "MONOCHROME PAINTING" in Kabel font. Norm first created this piece for Prina in the late 1980s; this latest iteration took him and an assistant four days to complete at ICA LA.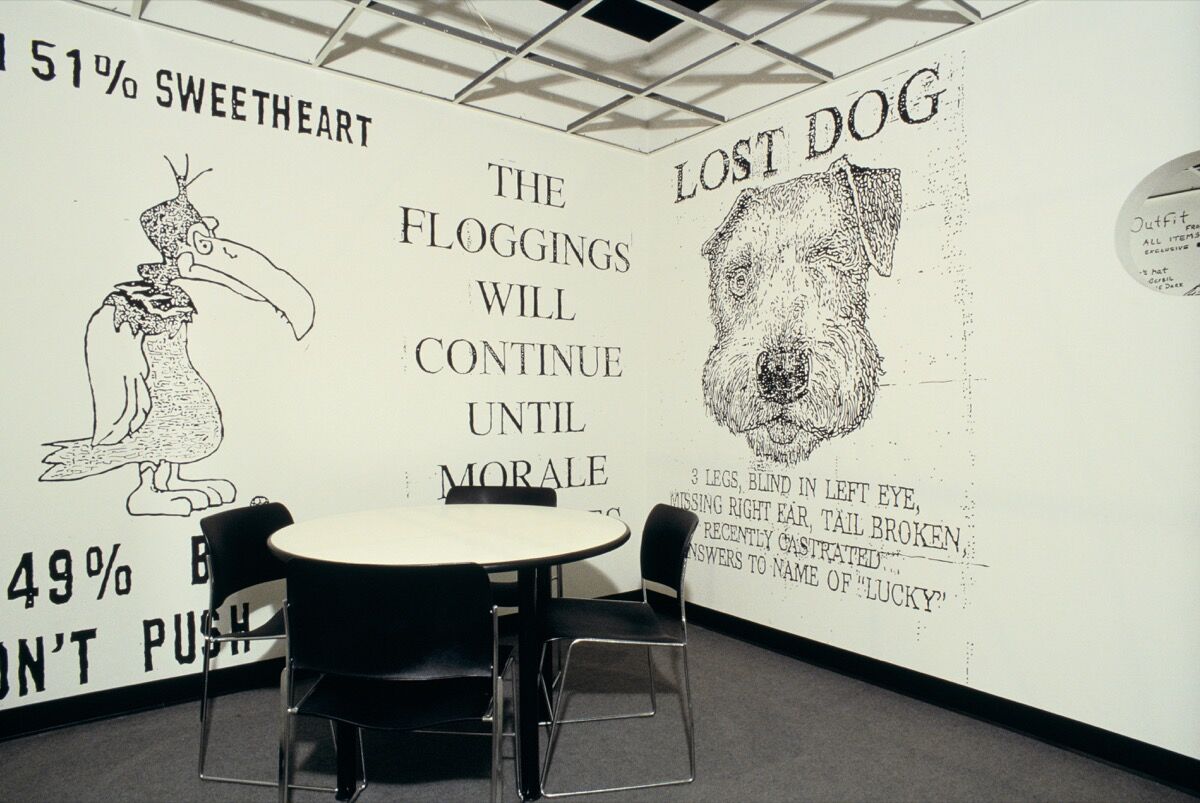 Baldessari's A Painting That Is Its Own Documentation (1966–68)—a canvas featuring painted text that tells the story of its own origins and records each subsequent exhibition outing—requires new lettering to be added each time it's shown. Norm said that in the past, when Baldessari's work wasn't so valuable, making fresh iterations of it came with less angst. Back then, he felt he had the "freedom to give a little more flair to the lettering." When the piece traveled to San Diego in 1996, for example, Norm took the liberty of giving the new words an italic flourish.
This time around, he had several people peering over his shoulder, and he found himself feeling rather shy. The piece was recently donated to
SFMOMA,
and traveled to ICA LA with an escort who kept an eagle's eye over proceedings. An ICA LA film crew was also following Norm around through the installation of the show. All of this resulted in him painting a font "that was way more conservative than usual," he says, the letters of which are dignified, upright, and formal.
The biggest hurdle, though, came with recreating Kelley's work. The installation consists of a cluster of actual office cubicles that manifest the late artist's proposal for workspaces at the corporate headquarters of the advertising firm Chiat/Day, designed by architect
Norm worked with Kelley to realize the piece for "Helter Skelter" back in the early '90s, and suggested they employ a technique used to render fresco paintings during the Renaissance. The method goes something like this: The images are projected onto white butcher paper, and their outlines are traced with small perforations. The paper is then applied to the wall and rubbed with charcoal powder, which filters through the holes, forming a loose outline of the images. These drawings are then painted over, and any excess charcoal wiped away. The original butcher paper templates survived from the '90s and could be reused, but it still took Norm, Meg Cranston, and a handful of assistants a week and a half—working long, 12-hour days—to bring the office cartoons to life at the ICA LA.
This and other works in the show—like Scott Grieger's black map of America, superimposed with "The United States of Anxiety"—hit a nerve at this moment in national discourse. And while it's true that many of L.A.'s Conceptual art greats are white men, a certain unease around gender is explored in another Norm-executed work here by Various Strata (1996/1998–99), it's a wall painting that displays a stacked decrescendo of three words: "HIM," "HYMM," and "HMMM," the stiff male pronoun seemingly dissolving into the suggestion of a funeral prayer and then an expression of flaccid skepticism.
This needling of authority also underpins the subversive nature of this exhibition—revealing and celebrating the humble laborer rather than the genius auteur, and questioning the very possibility of authorship. Norm doesn't take credit for these works, which he's physically produced, but Cranston has a more nuanced view. Asked if she and Baldessari intended for this show to be a hat tip to Norm, she says, unequivocally, yes. "There are lots of artisans behind the creation of art. It's true of most art-making," Cranston says. "John Baldessari has made that very clear. Films are very honest about that—there are awards for different roles." (She also considers
The fact that Norm is an artist in his own right—and not just any artist, but a sign-painting artist—helps bolster his appeal as a collaborator among L.A. artists with strong roots in that tradition. "He completely understands art-making," says Cranston. "It's a common experience to work with fabricators who scratch their heads and say, 'Well, why the hell would you want to do that?'" Not so with Norm, who once gigged as a sign painter in Detroit, painting billboard ads for liquor, cars, and cigarettes after attending art school in Toronto—and who has enormous admiration for the work of artists like Baldessari and Cranston.
He speaks a common language—wry, deadpan, and resolutely egoless—which can be seen in the one artwork in the exhibition for which he's the sole author. Laich's Never Die (2015) is a brightly colored, makeshift fast-food sign in the shape of a wobbly green speech bubble that's filled with menu items from a roadside diner. Scrawled in black between listings for cheeseburgers and shakes (and their corresponding dollar signs) are two words, rendered vertically: "Never Die." It's the perfect distillation of a certain California ethos that undergirds "This Brush for Hire"—a droll streak of humor and sincerity in a city of flat signs and immortal ambitions.
Tess Thackara is Artsy's Writer-at-Large.