Meet Vanessa Bell, Virginia Woolf's Overlooked Artist Sister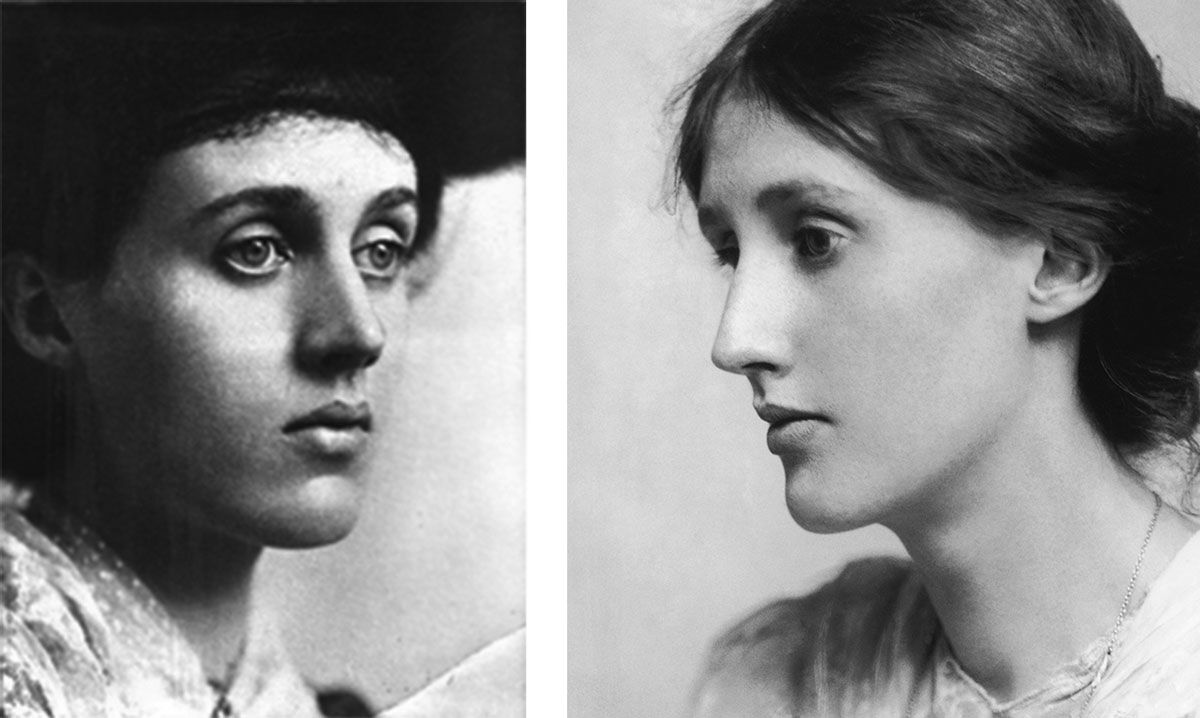 As a young Virginia Woolf scribbled her first stories—precursors to her groundbreaking novels, now considered Modernist classics—her elder sister,
Bell would indeed become a talented painter, although her work has long been overshadowed by the life and accomplishments of her brilliant writer sister. Both were members of the Bloomsbury Group, a group of influential English writers, intellectuals, and artists who rejected oppressive Victorian institutions and embraced creative freedom, sexual permissiveness, and atheism. They became known for their bohemian lifestyles and complex love affairs: The American writer Dorothy Parker famously remarked that the group "lived in squares, painted in circles, and loved in triangles." Bell's art critic husband, Clive, was in love with Woolf, his sister-in-law, who had an affair with the writer Vita Sackville-West; Vanessa herself took the critic Roger Fry and artist
Perhaps more for their lifestyles than their achievements, the Bloomsbury figures scandalized their contemporaries. Either way, their appeal has long endured in fiction, film, and scholarship. Bell and Woolf's sisterhood, in particular, has seen something of a resurgence in popularity, with both a biographical novel and a BBC miniseries about them released in the past two years. And, come February, the Dulwich Picture Gallery in London will stage the first major solo exhibition of Bell's work in an effort to untangle her from the twisted love affairs of the Bloomsbury circle while positioning her as a pioneering artist in her own right.
From the Victorian Era to Modernity

Born in Victorian-era London, Vanessa Bell née Stephen was raised in an intellectual, upper-middle-class household that frequently opened its doors to leading thinkers of the time. Her father was an accomplished man of letters; her mother, Julia, was a famous beauty and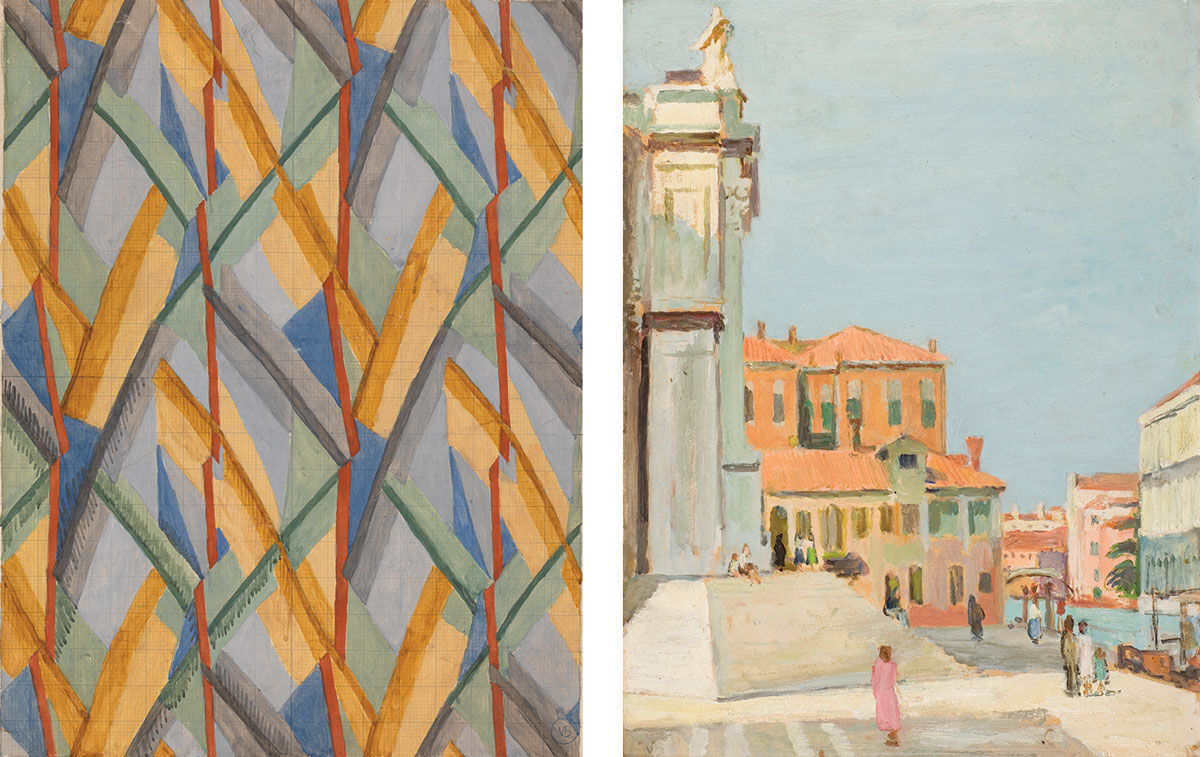 Bell and Woolf were educated at home, as was typical in Victorian times, when women could neither vote nor occupy powerful positions in society. Nevertheless, Bell's father encouraged her artistic talents, and in 1899 she enrolled in the Royal Academy of Arts. There, she was mentored by 
Yet it was England's first 
Beyond Fine Art

From that moment, Bell embarked upon a period of experimentation, incorporating the lessons of 
Blurring fine art and applied arts, Bell was also an innovator in the realm of design. With Fry and Grant (her longtime partner and the father of her daughter, Angelica), she co-directed Omega Workshops. Their modernist products ranged from furniture to stained glass and mosaics, as well as textiles, which Bell patterned in vibrant hues that revealed her distaste for restrained Victorian designs. In 1915, she began to incorporate these fabrics into popular dress designs.
Bell even created the original book jacket designs for the majority of Woolf's novels and essays. Though Bell hadn't necessarily read the books before creating the designs—her sister would relay the necessary details—they capture, in their loose, suggestive style, the sensations and rhythms of Woolf's prose. According to art historian Frances Spalding, author of the biography 
Vanessa Bell: A Portrait of the Bloomsbury Artist
 (1983), the book jacket designs were "elliptical, teasing in a way, leaving things out in order to suggest—which is what Virginia Woolf was trying to do in her writing." And despite the numerous reprints of Woolf's novels over the past century, Bell's original designs continue to inspire. Random House's recent cover designs, created in collaboration with Finnish design house Marimekko, were 
described
 as a "modern interpretation" of Bell's covers.
Her Complicated Legacy

Even with these diverse achievements, Bell remains underknown as an artist. Sarah Milroy, the curator behind the upcoming Dulwich Picture Gallery show, points to the tendency of Bell's personal life to eclipse her art. "Because of her complex romantic entanglements, her known genius for hospitality and homemaking, her extraordinary physical beauty, and her natural tendency toward self deprecation, she has been overlooked as an also-ran to the painter Duncan Grant, and as a hanger-on to Fry and to her husband, Clive Bell. She has been presumed to have been dependant on their ideas about art," Milroy said in an email interview. "The truth is that these artists and writers made their discoveries together, with Bell very much at the center of the discussions. That oversight, I suspect, has been quite simply the product of sexism, both in her own time and in our own."
The Bloomsbury Group, too, has seen its reputation suffer over the years, with some critics regarding the group as affluent dabblers in the arts. Yet these labels are often mixed up with the members' unconventional lifestyles rather than their works. "The artists and writers were quite clearly engaged with some of the most radical ideas of their day, in the realms of art, literature, politics and social mores,"  Milroy said. "I suspect the notion of them as dilettantes may be a prejudice arising from the fact that the group was formed around the fellowship of many women and homosexuals (as well as some heterosexual men), and that—like Marcel Proust—their arena of engagement was often the domestic."

Though indeed privileged, Bell, like her sister, was far from dilettantish, painting nearly every day save for a debilitating period of mourning following the death of her son. Her portrayals of women are particularly fascinating glimpses into the challenges faced by women of her stature on the cusp of the modern era. Upon viewing Bell's A Conversation (1913–16), which depicts a trio of women huddled together in secretive conversation, Woolf once again praised her sister: "I think you are a most remarkable painter. But I maintain you are into the bargain, a satirist, a conveyer of impressions about human life: a short story writer of great wit and able to bring off a situation in a way that rouses my envy."
Demie Kim is an Editorial Associate at Artsy.