Meet Vladimir Kush, the Painter Suing Ariana Grande
Russian-born artist Vladimir Kush knows branding. While fans were busy calling him a
By 2019, Kush seems to sit atop a veritable empire of his own devising, with private gallery outposts in Maui and Laguna Beach, as well as inside Caesar's Palace in Las Vegas. There, a team of associates push Kush's paintings and prints: bold, happily trippy compositions in which elephants sport tubas for heads and trees turn into humans. Kush's mix of marketing savvy and franchise-style salesmanship brings to mind an unlikely partnership between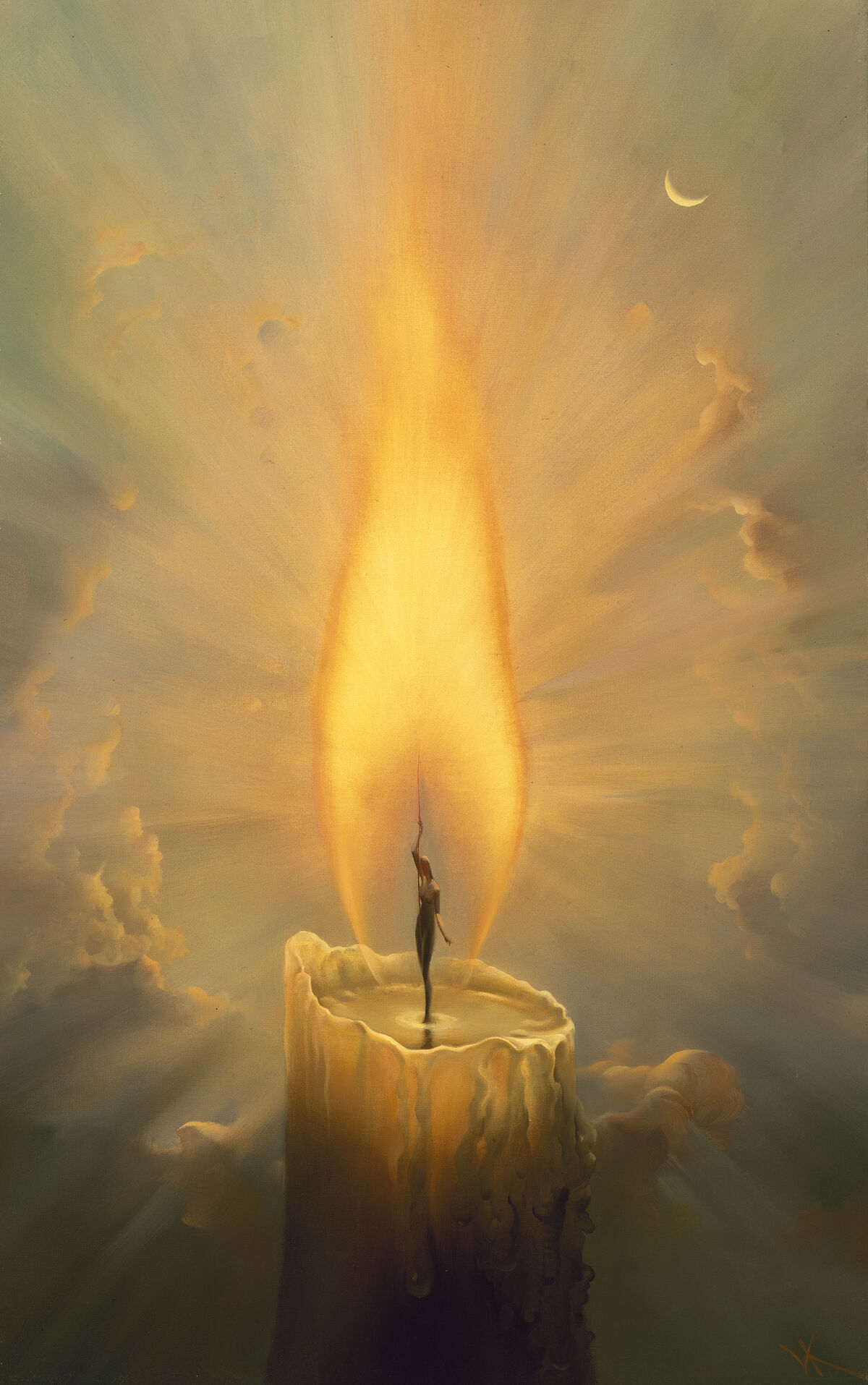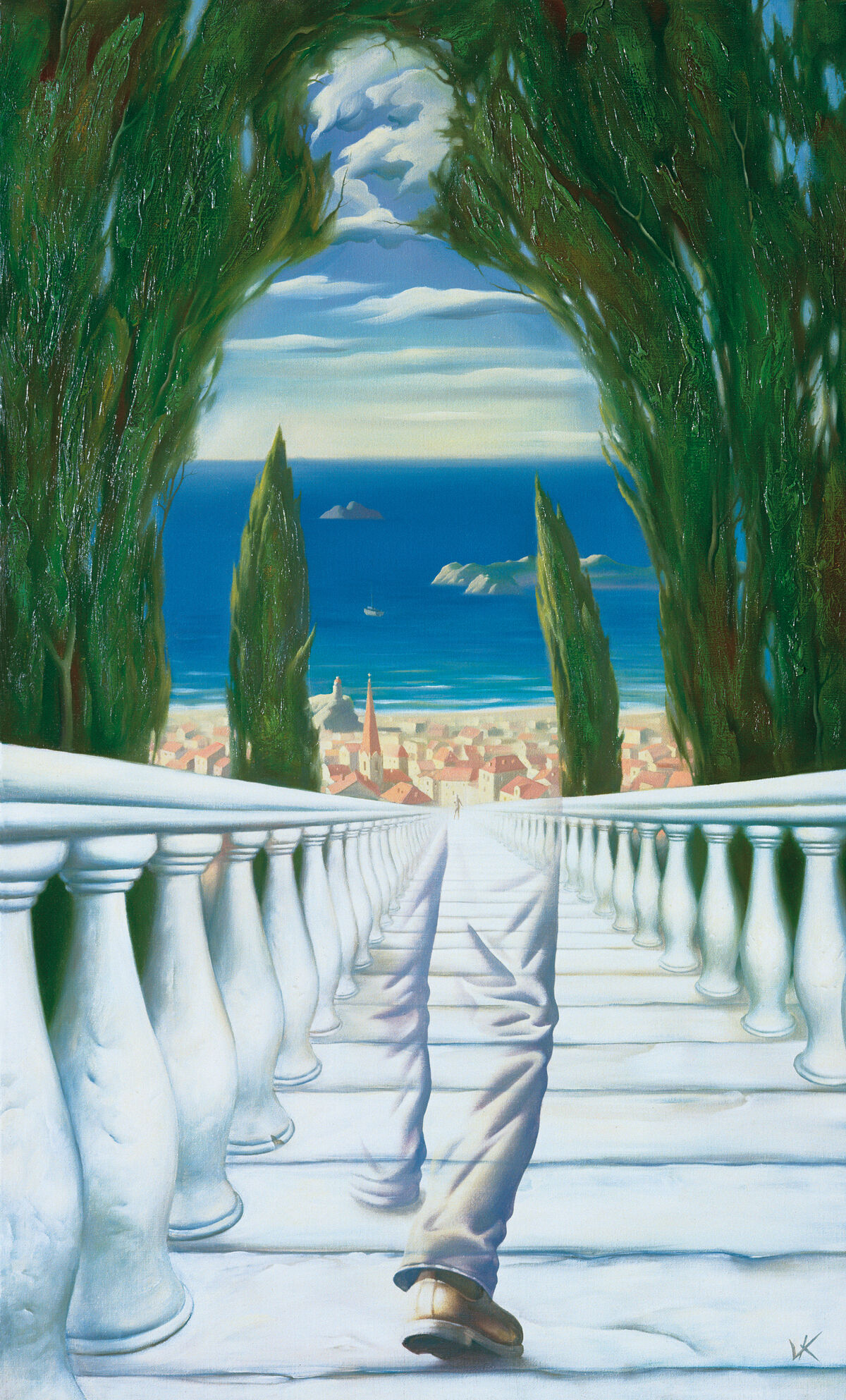 The artist has been in the news lately thanks to the pop singer Ariana Grande, whose team is being
accused of looting Kush's imagery
in the
music video
for "God is a woman." Kush's works depict a tiny woman dancing within the flame of a candle; Grande's video portrays the star in a nearly identical scenario. It's not the first time this has happened to him—Kush previously pursued a similar
case
against the pop singer Pink back in 2007. The artist is indignant, but also confident in his claim. (He's also not a Grande fan—Pink Floyd and Moby are more his speed.)
"I feel there is a lack of ideas out there," Kush said, reflecting on the appropriation of his work. "They think it's going to go unnoticed…they change a few shapes.…Maybe they think, Vladimir Kush, it's a Russian name—maybe he's far away, he's not even going to notice, and he doesn't have the capacity to do anything about it." Regardless of whatever minor tweaks the music-video director made to his imagery, Kush said that it was clearly his underlying concept that had been pilfered. "Once you start trying to do that, you're tapping into Kush art," he said. "You're tapping into Metaphorical Realism, that's been invented right here."
If Grande thought that Kush was some scrappy amateur without legal recourse, she chose the wrong artist to borrow from. Kush's original paintings, he said, retail for $30,000 to $40,000 (for 11-by-14-inch canvases) and can climb to $100,000 (for 30-by-40-inch works). His operation has also sprawled into other, complementary ventures. The Kush brand encompasses "sculptures, a jewelry line, books…we even have perfume," the artist told me. "We have a watch—I designed a watch! I designed some furniture as well. Metaphorical Realism has a lot to say." (Kush's studio has also produced an adult coloring book iPhone app, called Aries the Sheep.)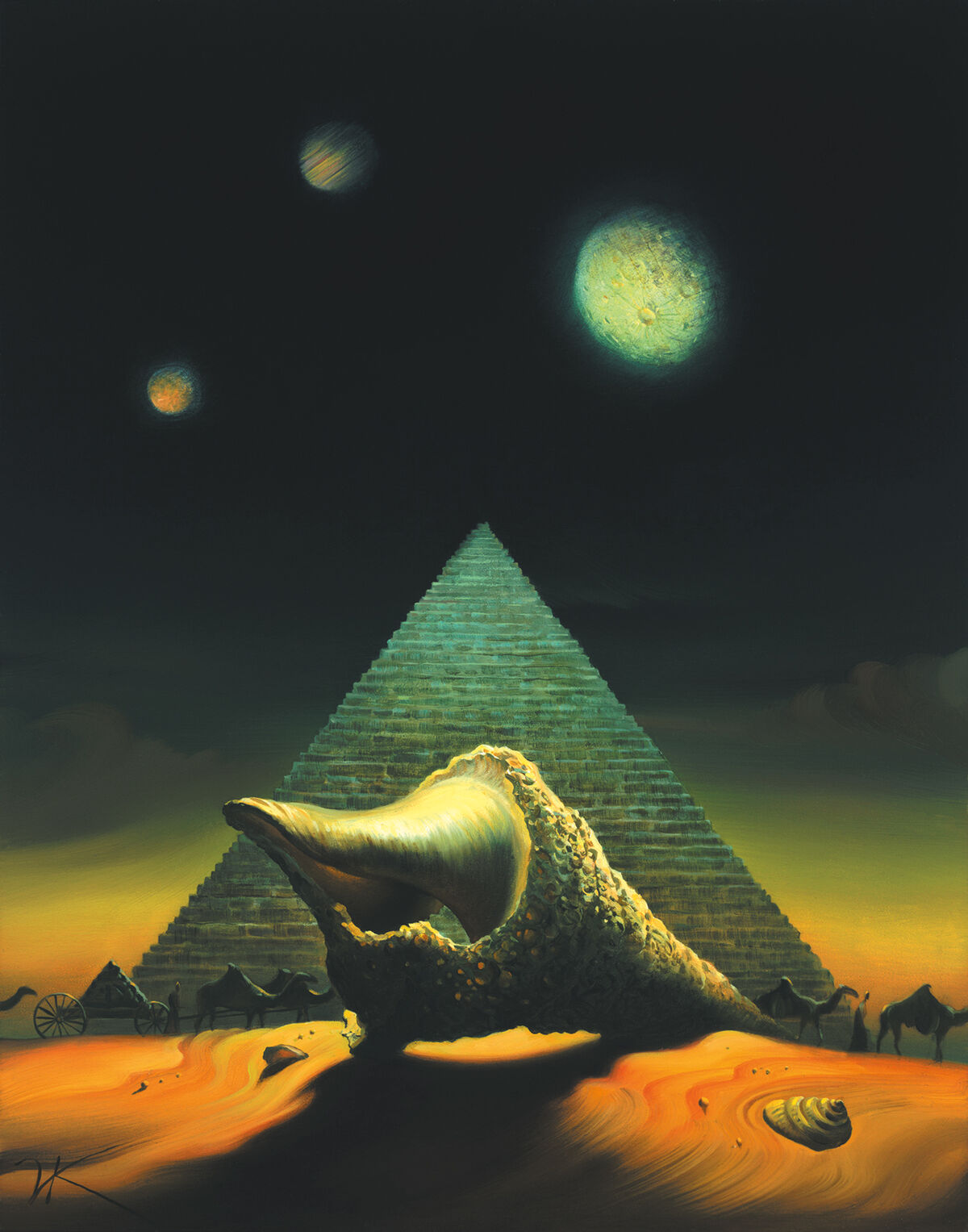 While Kush is refreshingly comfortable talking about the business side of his activities, he's equally verbose when it comes to his painting practice itself. "I'm trying to catch the notions that are very hard to comprehend," he said. "What is love? What is the purpose of life? Time? The only way to describe those things or come closer to understanding them is to use the world of metaphors or analogies."
I asked Kush if his subject matter comes from his own dreams. It does not. "It's pretty much an intellectual process," he said, launching into another involved metaphor—one that likens the creative process to an apple being peeled, with the peeler doing all sorts of work beneath the apple's skin, "invisible to anyone." What about, I gently inquired, any
psychedelic
connotations? Perhaps Kush's
surname
was bending my mind in this direction.
"There are people, sometimes, that would compare my work to these artists who are into hard drugs," he admitted, citing the artist My work] is intellect plus imagination, it's not just fantasy art. I have to come up with images according to the curvature of the spine of my imagination." After describing his philosophy in equally inventive terms ("I'm wiping off that mirror of reflection with the flannel of world culture"), Kush told me that his paintings make universal connections, telling stories beyond the reach of something so narrow as a drug experience: "This is why they speak to a very wide audience—not just people under a hallucogenic influence."
However he unearths his ideas, there's something endlessly charming in Kush's practice—an unguarded earnestness mixed with flights of bold absurdity. Consider a painting like Golden Anniversary (2008), which depicts two loving bananas in an idyllic moment. Kush pictured the two aging, anthropomorphic fruits spending time at a Club Med. "In a 'golden anniversary,' when you celebrate 50 years—you're really ripe, as a fruit," he explained.
I can't help but be tickled by the thought of an art-loving retiree wandering into Kush's Laguna Beach gallery and walking out with this mind-boggling and strange painting, which—with its literal banana hammock—practically begs for a Freudian interpretation. "A lot of people, looking at my work, they think, 'Oh! How come I couldn't think of that before? It's like I was dreaming about it,'" Kush said. "But I'm bringing it to the surface."