On the Met's Roof, Adrián Villar Rojas Hosts a Dinner Party for 5,000 Years of Art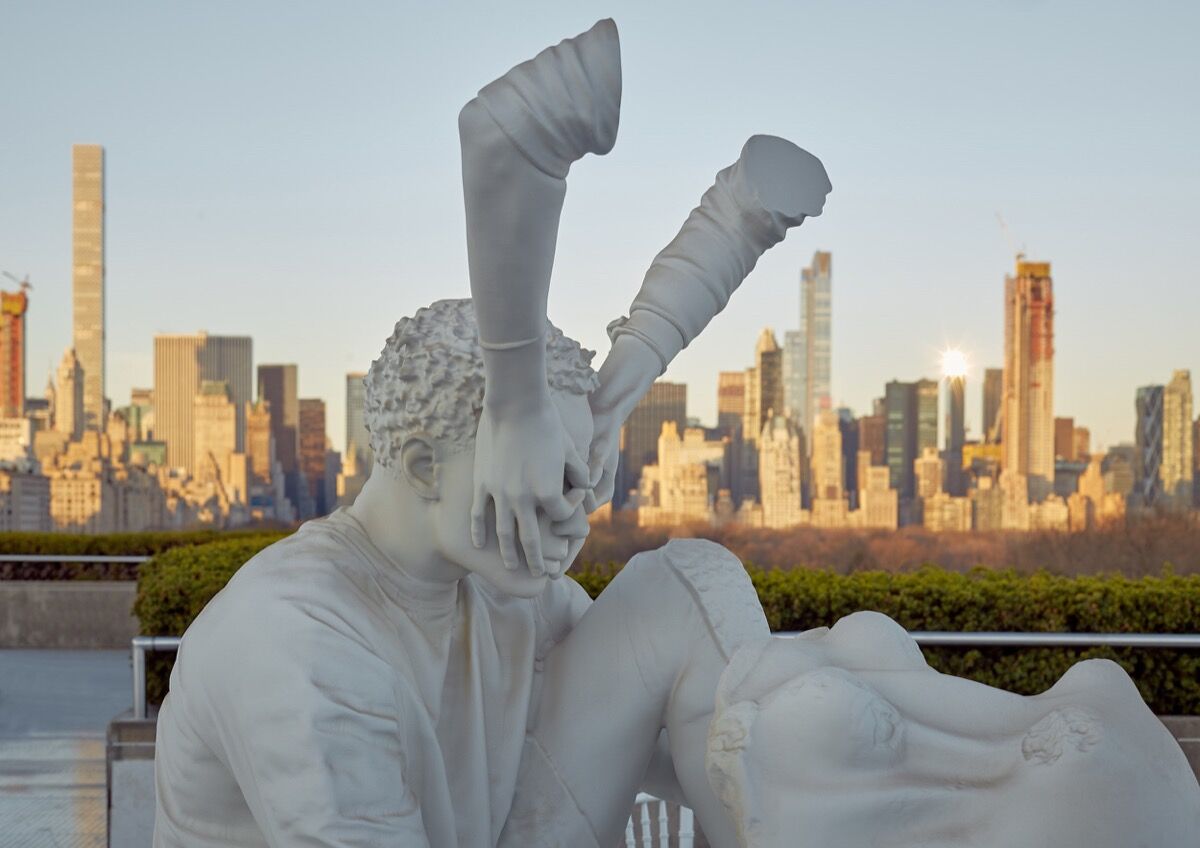 This summer, on the roof of the
Metropolitan Museum of Art
, some 5,000 years of cultural history is scattered,
en plein air
, across long banquet tables.
Fragments of classical Greek and Roman sculptures occupy the same space as Medieval swords, African altar figures, Egyptian icons, half-eaten fruit, and toppled wine glasses. In one corner, two young people wearing large masks like backwards baseball caps make out, and a woman naps under the hollow curve of a sculptural shard, using a vase as a pillow. Elsewhere, someone wearing sneakers holds the Head of Tutankhamun high in the air like war booty—or a triumphant party trick.
"I feel like I've arrived at a party I invited myself to," I overhear a woman say as she surveys the scene. "It's disorienting. And wonderful." I agree.
We're standing on top of the Met the day "The Theater of Disappearance," a project by Argentine artist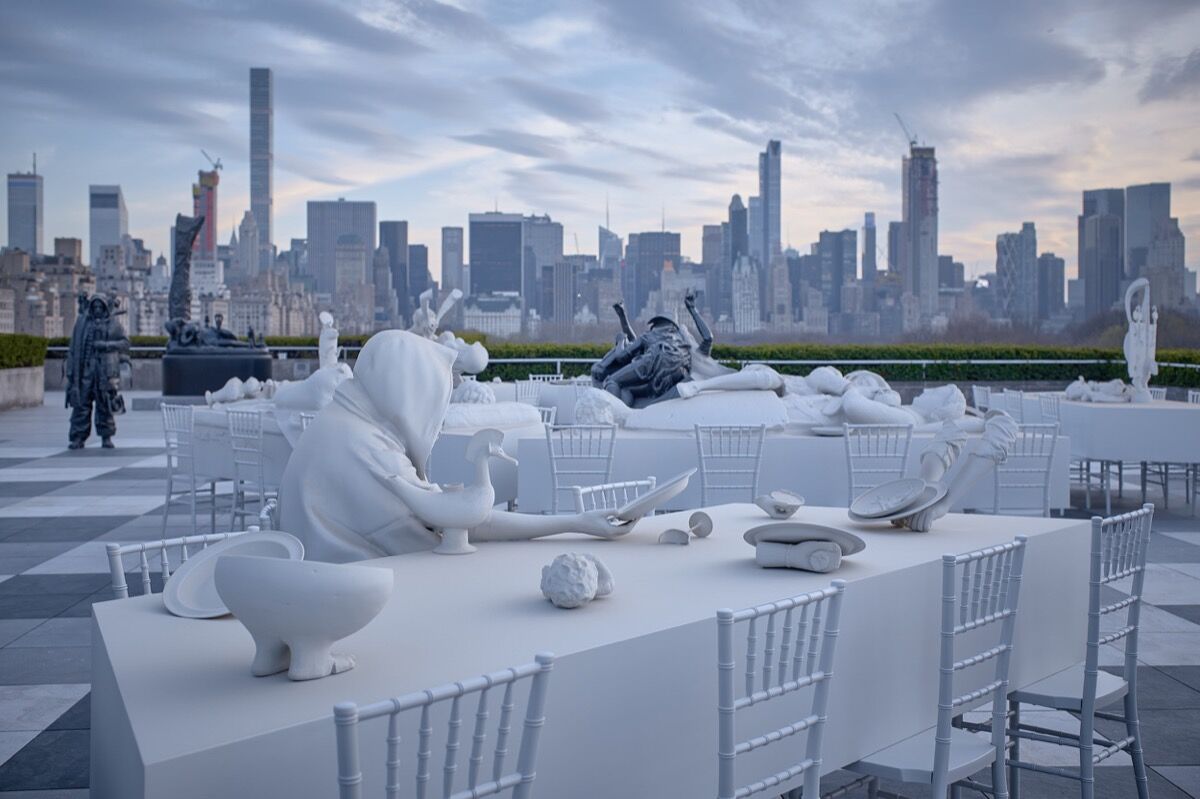 It covers the museum's roof, which this afternoon is bathed in 70-degree sun and populated by Rojas's sculptural installation and a crowd of visitors. Some came for the art, others for the rosé and the view (it overlooks a green expanse of Central Park). But even the latter set find their curiosity piqued by Rojas's work.
They've all just made the long trek to the Met's roof. There's no special entrance that leads museumgoers straight to the top of the vast building. So visitors must—at the very least—pass a statue of Egyptian Pharaoh Amenemhat II in the museum's entryway, and through halls containing a trove of
Even if you beeline, it's hard not to register at least some of the treasures on your path: amulets forged by Vikings, jewelry worn by emperors, stained-glass windows that decorated 13th-century Parisian churches.
So once you arrive at Rojas's installation—the banquet tables topped with copies of sundry objects from the museum's collection and figures of all shapes and sizes—some of its details might look familiar. I immediately recognize one vessel: a funny little sculpture of a bull, with a big rear, tiny tail, spout for a mouth, and handle affixed to its back. It mounts a half-eaten apple and sits next to a fallen goblet and an intricately decorated shield.
I can't remember where, in the massive labyrinth of galleries at the Met, I'd seen the animal-cum-decanter. And I certainly can't recall when, or where in the world, it was made. But the longer I walk around the installation, taking in its array of objects and artworks piled on top of and embedded into each other, the less it seems to matter.
I watch one small child fixate on a sculpture of a young man sitting at the edge of one of Rojas's tables. He asks his dad why the subject is holding the chipped head of a hippopotamus; why a pair of disembodied hands wrap around his eyes like goggles; and why he's only wearing one sock. The parent doesn't have answers. "I guess we just have to guess," he replies.
In another corner of the roof, a group of teens wonders why figurines perch on the shoulders of a hoodie-clad man. And why that pretty head, that looks like it might belong to a "god" or "an angel," is emerging from his backpack. Try as they might, they can't find a label explaining the sculpture's story.
These are just two of the characters in Rojas's anachronistic installation. But unlike the museum's highly researched cache, which is arranged neatly by date, culture, and location, Rojas has eschewed organizational methodology altogether.
In "The Theater of Disappearance," objects from all eras, and humans of all stripes, melt into each other in the blur of a wild party—a pleasure that people have shared throughout time, perhaps even for as long as they've made art.
So why scramble the tidy timeline of cultural output that the Met has so carefully assembled over the years? A couple hours spent on the roof, surrounded by Rojas's installation, offers an emphatic answer. Here, in a world without labels explaining an object's provenance or a person's origins, biases are thwarted. The artistic traditions of East and West, North, and South, objects made across centuries, even millennia, all jostle together on an equal footing.
And while biases are never completely eradicated, I was reminded—while staring at a sleeping figure that simultaneously clutches a sword, mask, and sarcophagus—that there is no hierarchy when it comes to art.
It's all an integral expression of human creativity and experience, no matter the era, location, or culture in which it was made.
Alexxa Gotthardt is a contributing writer for Artsy.