Michael Manning Is an Archeologist of Endangered Internet Icons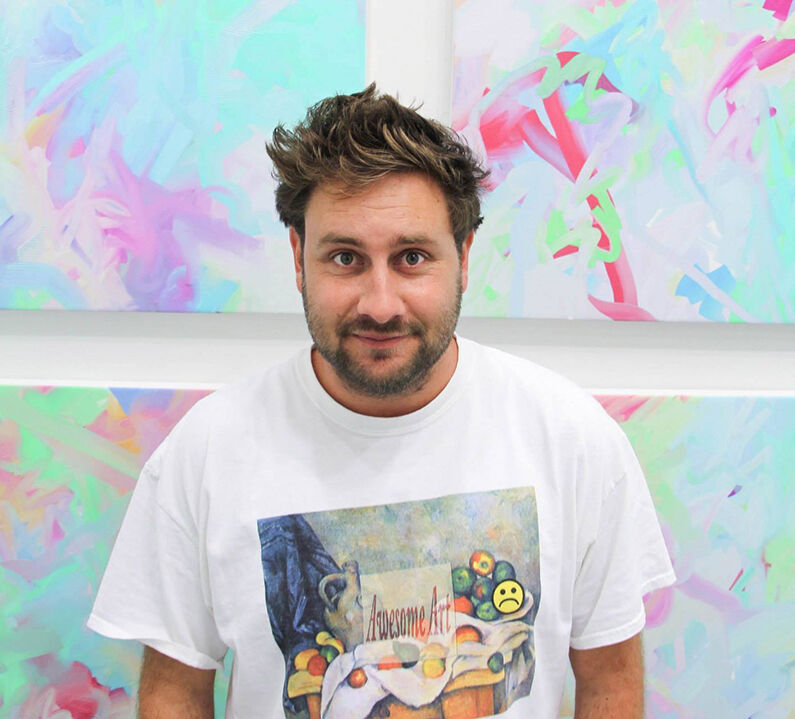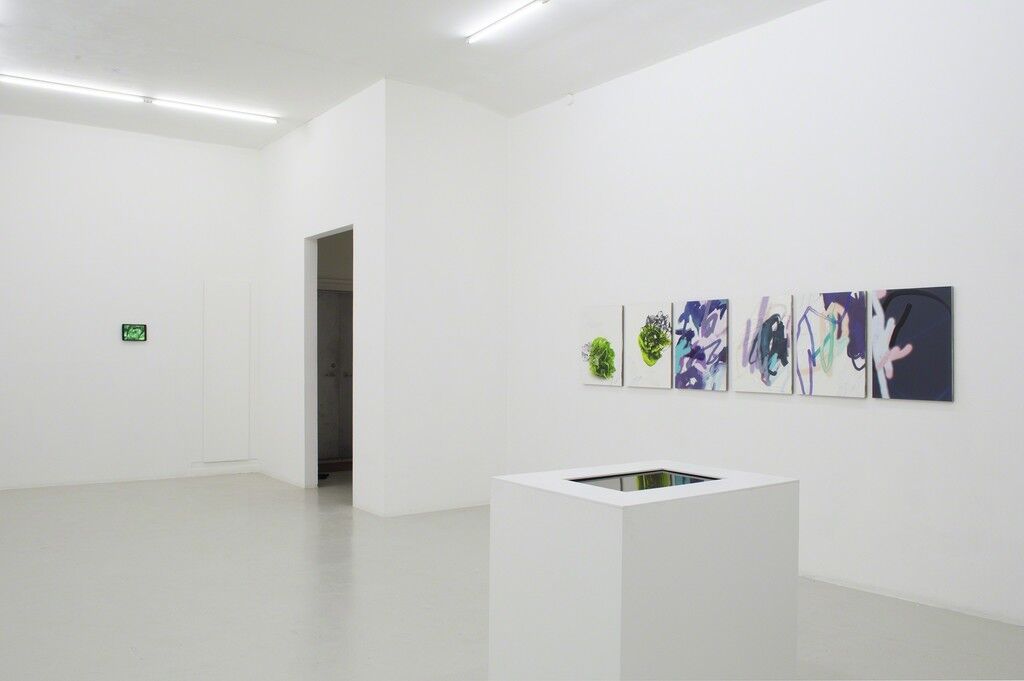 In his
new show
at
Last Resort
in Copenhagen, Manning has installed abstract compositions alongside a multimedia study of a lettuce—an everyday form that Manning uses to explore the state of solid objects in a world being overtaken by internet culture. "All my work covers these ideas about the internet, and technology, and the necessity of the object in a time when photography and the distribution of JPEG images and all sorts of documentation are prevailing," says Manning. "But this show has a lot more to do with one idea I wanted to focus on, which as you probably can tell," he adds, laughing, "revolves around food and lettuce."
Lettuce is arguably the most organic member of a host of symbols that Manning has obsessively examined over the past 10 years. Icons related to internet-based communication (AOL's little yellow man) and cheesy clip art (unicorns, waterfalls), as well as images of amoebas and constellations repeat in the L.A.-based artist's work. Manning seems to have fun with these often outmoded motifs—animating them, for instance, in interactive websites like his clickhole
mirrrroring.net
—but he also takes them seriously. Like an archeologist, he tracks and preserves icons that can be easily forgotten in the never-ending whirl of updates to operating systems and electronics.
For Manning, lettuce—featured at Last Resort in 3D paintings, videos, and epoxy sculptures—is a rich metaphor from which many connotations can unfold. "I love how lettuce is this thing that everyone recognizes," says Manning. "It's so basic—in flavor, aesthetically—it's a very easy object to deal with in." As he pulls images of greens from the internet, manipulates them with paint, and animates them, they become stand-ins for the malleability of the internet and the many ways we interact with it.
Last year, Manning became interested in food culture and specifically the role of seed savers, chefs who mine seeds from forgotten heirloom plants and reintroduce them to the ecosystem. A statement by one chef struck him. "He talked about how food culture has to be very actively kept alive; how the history of it has to be continually participated in otherwise you lose it," Manning says. "He mentioned how we can study a statue from Ancient Rome and understand the process and techniques which allowed it to exist—but you can't take an Ancient Roman-cured ham and eat it and understand the way they added flavors to it," he continues.
Manning connects this idea to the culture of online participation in various forms, including internet activism. "It has to do with this idea that a lot of people are actively participating and creating the history that they want to be accountable for. Over the course of the last two years, people have really figured out how to use the internet as a tool for radical social and political organization."
While the through-lines between politically driven movements and visual iterations of lettuce might feel somewhat tenuous, Manning's process—with every phase rooted in the digital realm—allows the artist a broad range of sources. He appropriates images found online, embellishes them with digital tools, and sometimes gives them form with 3D technologies. In one video, displayed on an Ipad in the center of the show, he crops and animates a stock photograph of a head of Boston lettuce so that it becomes an abstract, undulating form that takes on new life—lettuce preserved and elevated as a proxy for the living, breathing, layered digital world.