The "Most Dangerous Architect in America" Built a House—Then It Vanished
"Portrait of Gregory Ain," publicity photo released in connection with the exhibition, "Exhibition House by Gregory Ain," on view at The Museum of Modern Art, New York, May 17, 1950 through October 29, 1950. The Museum of Modern Art Archives, New York. Photographer: Homer Page
Installation view of the exhibition, "Exhibition House by Gregory Ain," on view at The Museum of Modern Art, New York, May 17, 1950 through October 29, 1950. The Museum of Modern Art Archives, New York.
Architecture can make the lives of people, all people, better. This belief guided the vision of 20th-century architect Gregory Ain, though it may also have contributed to his decline.
Ain was hounded by the Federal Bureau of Investigation for years during the Red Scare, leaving his reputation irreparably marred. Today, while many of his great modernist works—designed to be affordable and racially integrated—still stand in Los Angeles, the architect's personal history, vision, and achievements, when compared with his contemporaries, remain relatively unknown.
His absence from the architectural canon is mirrored by a structure that should have rocketed him to lasting fame. In 1949, Philip Johnson, then the director of the
Museum of Modern Art
's architecture and design department, commissioned Ain to build an exhibition house for the institution. That same commission, to design a house that would temporarily live in the museum's garden, had brought great acclaim to
Ain approached the MoMA commission with a commitment to affordability, without sacrificing design. He used sliding walls to avoid creating boxy rooms, and developed open spaces that could adapt to the needs of a given resident. The estimated cost for construction of the full-sized home, a
press release
noted, was as little as $15,500 (roughly $157,000 today). The house went on view to the public in the MoMA garden on May 19, 1950.
Installation view of the exhibition, "Exhibition House by Gregory Ain," on view at The Museum of Modern Art, New York, May 17, 1950 through October 29, 1950. The Museum of Modern Art Archives, New York.
What happened next, like what happened to Ain's career, remains something of a mystery. But the story has been partially unravelled by architect Katherine Lambert and artist Christiane Robbins, who created "This Future Has a Past," which is currently on view at New York's Center for Architecture. (Originally shown at the 15th International Venice Architecture Biennale in 2016, the show has been brought to New York by the nonprofit Anyspace.) The project brings together details of the MoMA commission with FBI files documenting a dizzying level of surveillance that focused on the left-leaning architect. Ain even had the attention of J. Edgar Hoover, who considered him
the most dangerous architect in America
.
The show is a timely deep-dive into the life of a man who worked towards equality, at a time when that, along with the company one kept, was considered a political stance. But more broadly, the show raises questions around what history forgets and why.
Breuer's MoMA commission was meant to be demolished at the close of its exhibition, but instead it was purchased by John D. Rockefeller, Jr. and re-constructed permanently at the Rockefeller Estate in the Hudson Valley. But there's no record of the fate of Ain's exhibition house—despite the fact that it drew more than three times the number of visitors than Breuer's.
"When we think about what happened to this building after the exhibition was over, what surprises us is that there is so little information," said Lambert.
While attempting to shed light on the history of the MoMA commission, Lambert and Robbins found that the scope and intensity of the Red Scare had left a lasting impression on those who knew Ain (who died in in 1988). In 2001, they approached artist
Others who lived through the Scare were similarly reticent to talk. "You would bring this up and it would be an instant pivot to another subject," said Robbins, who began looking into Ain while living in one of his buildings in the Avenel Cooperative Housing Project in Los Angeles. Their next stop was the FBI.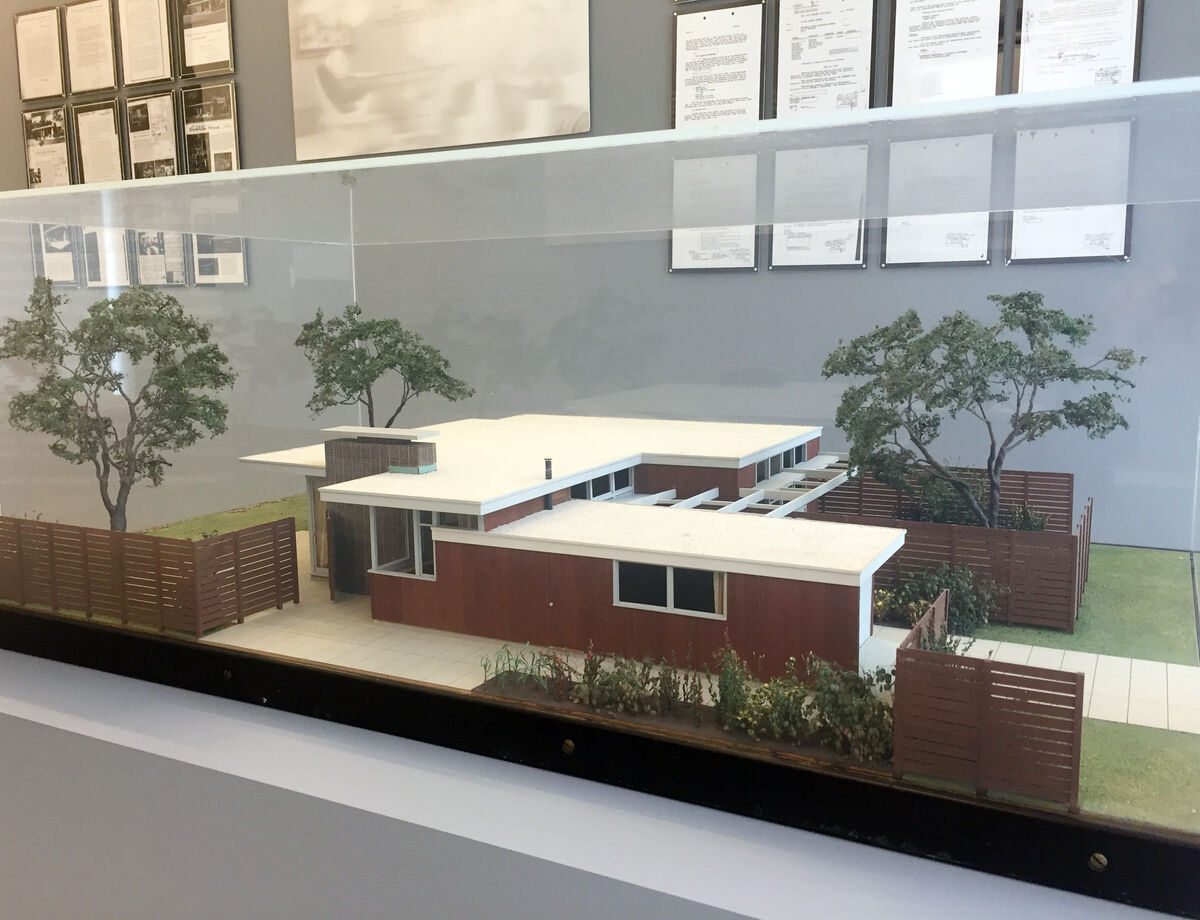 Courtesy of The Center for Architecture.
Lambert and Robbins knew that the architect had been watched during the Red Scare and submitted a Freedom of Information Act Request to review any declassified FBI documents on him. While they were initially denied, further requests were granted. Upon digging into the documents, it quickly became clear that Ain and his family were the target of three decades of surveillance. Documents relate that even his babysitter reported his family to the government, suspicious of the "literature" in their home and noting that they "seemed to be in some sort of group."
While there are some newspaper stories around the MoMA house, in the absence of much documentation, until recently it was largely unclear what the house actually looked like. For the show's first outing in Venice, Robbins and Lambert presented a model that recreated it, based on their research and understanding. But the New York iteration of "This Future Has a Past" also includes a newly discovered model of the structure, which was recently acquired by MoMA for its collection.
According to this latter model, the MoMA house resembles one of Ain's unrealized Los Angeles Community Homes, which, Robbins noted, the FBI suspected was linked to the Communist Party. By the time Ain began working on the MoMA house, he knew that this L.A.residential project was dead in the water, as it had been denied government loans because it was racially integrated.
"Ain was being a bit sly," said Robbins, nodding to the decision to make the MoMA house so similar to the design for the Community Homes. After finishing the MoMA commission, he returned to California and aware of the surveillance on him, told his business partners that he could be a liability and resigned. He continued to work and design houses, but his days of ambitious housing developments were behind him.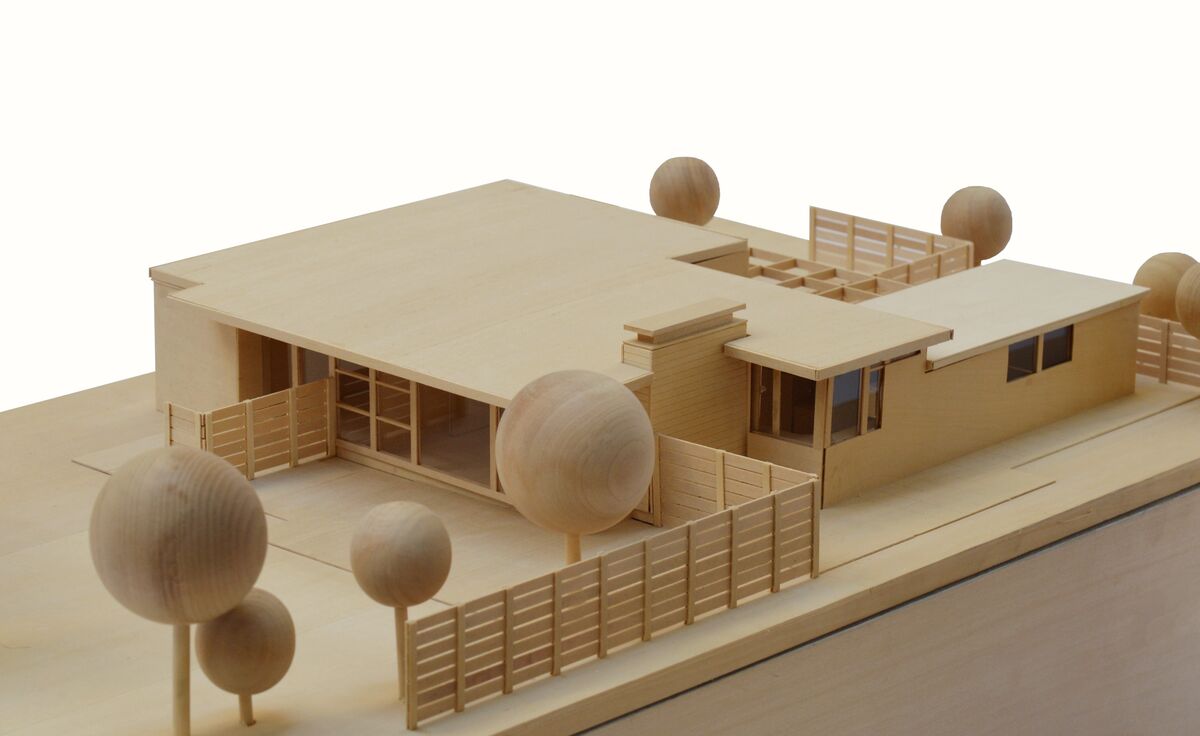 Courtesy of The Center for Architecture.
While one finds echoes of Ain's populist idealism in the "Usonia" of
Standing next to the model of the MoMA house and reading the FBI documents displayed on the walls, it feels very difficult to separate architecture from politics. "[Johnson] claimed to not even care about politics. He cared about selling modernism," said Lambert.
But it is possible Johnson was feigning ignorance when it came to the politics of Ain's work. Like much else about the architect's life, Johnson's reasons for commissioning Ain aren't neatly spelled out. Still, though their careers were quite different, Ain and Johnson did share something, though it's entirely possible neither knew it: Both had an FBI file.
Isaac Kaplan is an Associate Editor at Artsy.
Stir Creativity
See how Bombay Sapphire supports artistry.
Sponsored by Bombay Sapphire