The Museum of Sex Recasts Itself as an Edgy Art Space
Museum of Sex facade. Courtesy of Museum of Sex.
It's easy to disregard New York's Museum of Sex as a tourist trap—one that advertises heavily on the subway, and features a breast-themed Bouncy Castle.
Museums of erotica, like Paris's Musée de l'Érotisme and Berlin's Beate Uhse Erotik-Museum, have been known to brim with prurient curiosities: antiquated sex toys, fertility icons with very erect phalluses. They are the kind of places you visit once, for the fun and fascination of it, and then probably never return to. (In recent years, both closed their doors permanently.)
New York's Museum of Sex, which opened in 2002 on the busy corner of Fifth Avenue and 27th Street, has also explored sex through the display of erotic objects and ephemera. But recently, the museum has overhauled its program to focus on another facet of sexuality: sex as artistic inspiration.
By organizing exhibitions and lectures that explore the relationship between fine art and sex, the museum hopes to shed any gimmicky reputation and establish itself as a site of serious cultural exchange.
"The topic of sex is so important to almost any creative person," says art director and nightlife impresario Serge Becker, who is also Museum of Sex's newest creative and artistic director. "It seemed like a no-brainer to bring art into the museum."
Becker was appointed to his position this June. And his first act at the museum, before he officially took its helm, was to reimagine its advertising strategy—to "shift its perspective," he says. And he used art as his tool.
Serge Becker. Courtesy of Lissa Rivera.
"Night Fever" advertisement. Courtesy of Museum of Sex.
Becker is a veteran art director who's masterminded the creation of perennially hip New York restaurants like La Esquina and Miss Lily's, and consulted on campaigns for Nike and Swatch. But advertising for a museum—or any organization—whose name includes the word "sex" isn't easy.
"You can't advertise online, because the topic of sex is edited out of Google searches," explains Becker. So he cooked up a plan of action that deployed "old-fashioned, outdoor advertising" as its juggernaut. He also transformed the museum's Instagram account. Both channels foregrounded the relationship between art and sex, in turn announcing the museum's makeover.
Becker's first campaign launched in November 2016 to coincide with the opening of the museum's exhibition-cum-club "Night Fever" (also the first exhibition in which Becker was involved). It paired photographer
The show itself, which is on view until December, delivered on the campaign's tacit promise of strong photography and sensuality by bringing together a spellbinding group of Bernstein's images, which show the disco-era revelry that went down in legendary clubs like Studio 54, Le Cirque, and Paradise Garage. At the museum, they're hung in a leather- and mirror-clad bar that does its best to conjure the atmosphere of the photographs. At the room's center is a large stack of speakers so commanding that it's almost sculptural. It was forged by Richard Long, who devised the famed sound systems for the era's most transcendent dance spots.
"Night Fever" has served as a bridge between the old MoSex, as the museum is affectionately nicknamed, and the new. Sure, it could be read as a gimmick that coaxes visitors into the museum with disco nostalgia and booze. But Bernstein's photographs are strong enough to rise above pure novelty.
Lissa Rivera, Beautiful Boy Boudoir. Courtesy of the artist and Museum of Sex.
It also helps that the two exhibitions that opened in "Night Fever's" wake are very good. "Known/Unknown: Private Obsession and Hidden Desire in Outsider Art," up through September, came next with a unique exhibition of over 100 pieces exploring sex and sexuality by self-taught artists. It includes a fantastical watercolor by reclusive artist Rocking Bed Cunnilingus Whirligig and Masturbating Man with Hand Under a Woman's Blouse) humorously air hidden desires.
"NSFW: Female Gaze" followed, opening on June 21st. Like "Known/Unknown," it approaches both art and sexuality from a unique, timely angle by gathering the work by 25 emerging female artists who consciously reject the male gaze—and in turn reclaim ownership over female sexuality—by taking themselves or other women (and the occasional man, too) as subjects.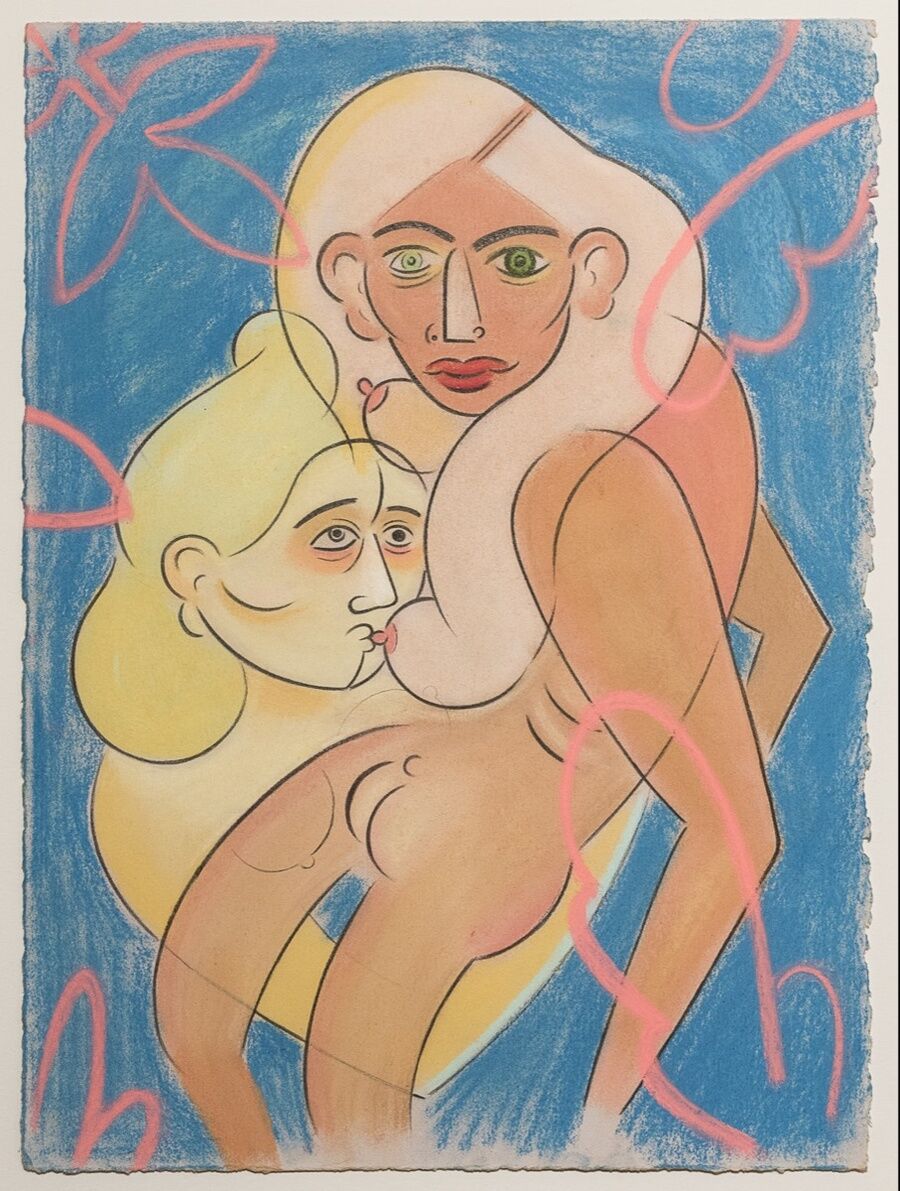 KOAK, Seagulls, 2015. Courtesy of the artist and Museum of Sex.
Polly Nor, It Never Happened, 2015. Courtesy of the artist and Museum of Sex.
The show was curated by Lissa Rivera, the museum's associate curator, along with Marina Garcia-Vasquez, editor-in-chief of VICE Media's Creators vertical. VICE also helped underwrite the exhibition, sponsorship made clear in the exhibition's signage.
In general, the MoSex isn't shy about broadcasting sponsorships. This isn't rare for museums, of course, which regularly receive funding from brands in order to execute exhibitions. But for MoSex, which is a for-profit museum (Gluck was denied non-profit status by the New York State Board of Regents), these relationships are especially important to its well-being. Sponsorships, along with profits gleaned from the $20 entrance fee, keep the museum's doors open.  
Moving forward, Becker will continue to work closely with the museum's curatorial staff, including Rivera and guest curators, to build on the art-meets-sex exhibition program they've kicked off. On the horizon for October is a retrospective of the cult Japanese photographer
Joanne Leah, The Whole, 2016. Courtesy of Joanne Leah and the Museum of Sex.
Together, the team will guide the museum's renovation, which is in the messy throws of completion (the gallery that hosts "NSFW" is visibly unfinished), and bring Becker's vision for a more serious Museum of Sex to fruition. Becker hopes the changes will, slowly but surely, transform the reputation of the institution.  
"I take the long-term view. All you can do is keep at it, and overtime hope that the perspective will shift," Becker says. "Ideally someone who once thought it was a tourist trap will see the new ads, hear about the new exhibitions, and begin to see that there is something really interesting happening here."
The response from both visitors and artists invited to participate in the museum's program (and who one might expect to balk about showing at Museum of Sex) has been largely positive. "So far, all the artists we've approached are enthusiastic about contributing," says Becker. "It feels very grassroots."
Becker is optimistic about the future. "I think over time it will become even easier," he says, of convincing prospective visitors of the museum's legitimacy. "I might delude myself, but it seems like a topic people want to engage in, and one they're happy to have a serious forum for, because there aren't many out there."
Alexxa Gotthardt is a contributing writer for Artsy.