A New Documentary Perfectly Captures the Passion and Absurdity of the Art Market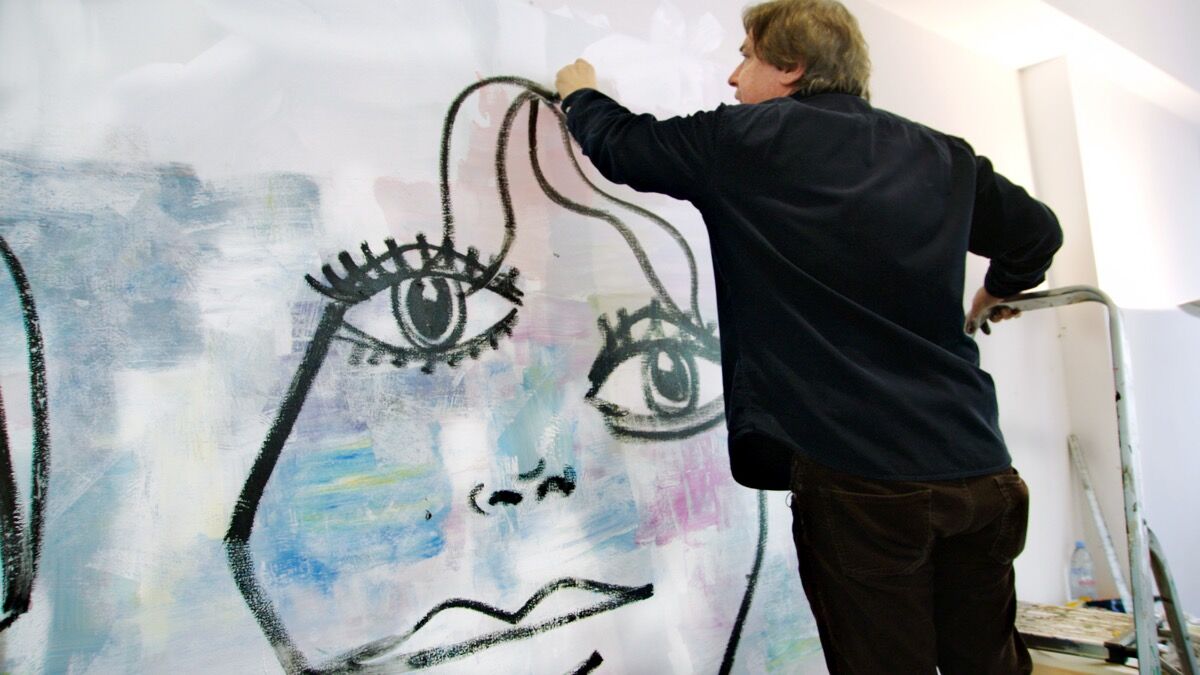 "It's very important for good art to be expensive," Simon de Pury says at the beginning of The Price of Everything, the explosive documentary about the contemporary art market that airs on HBO in November.
"You only protect things that are valuable," de Pury continues. "If something has no financial value, people don't care."
Such a brazen quote sets the tone for a slick feature that pulls the curtain back on the top tiers of the art market, as told by its power players. The filmmakers gained access to their inner sanctums, and let their subjects explain this kooky world themselves.
The result is a superficial but deeply entertaining romp driven by a propulsive soundtrack, which helps explain to the layperson what the contemporary art market has become in the last few years. There is no narration, no moralizing, no definitive conclusions, just director Nathaniel Kahn behind the camera asking questions. Because of the compulsive watchability of the footage and the high-gloss presentation, it very well could be a crossover hit on the level of The September Issue (2009), a film about making the September issue of Vogue, which drew in viewers with no previous interest in the fashion world.
But even for those in the industry, The Price of Everything is a worthwhile watch, as longtime market players from across the art world talk uninterrupted about the relationship between art and money. The film lets their fierce opinions coexist without any kind of forced resolution.
The primary push-and-pull running through the film is between those who support sky-high prices for certain artists, and those who find this spiraling vile. There's Amy Cappellazzo, the executive vice president of Sotheby's, who is filmed as she plans for the sale of the Steven and Ann Ames collection in November 2016. At one point, she casually claims that a Rabbit (1986) for $945,000, bragging that it's now worth $65 million. There's Koons himself, who takes Kahn into his studio, where an army of assistants are reproducing
The film opens with a dizzying montage of auctioneers taking increasingly high bids punctuated with the sound of smacking gavels, then whirls through Frieze New York before landing in a Sotheby's storage room, where Cappellazzo and two staffers are putting together the catalogue for the upcoming sale. From there, it travels to the spacious Chicago apartment that Stefan Edlis shares with his wife, Gael Neeson, with its views of the Centennial Wheel, where he sits down at his computer to show Kahn some of his recent additions to a collection he says contains 200 works by 40 artists. The camera lingers on the screen for a moment, giving eagle-eyed viewers a chance to glimpse the acquisition statements that the world's richest collectors rarely share. The spreadsheet indicates whether the work was currently installed at the home in Chicago, or at their home in Aspen.
At the time of the interview, according to the spreadsheet on the screen, Edlis had purchased 13 works in 2016 for a total of $16.2 million. Among those were
Star Dust
(2009) for $7.5 million from
Gagosian
, and
Untitled (Cowboy)
(2011–13), the
Corso
IV
(2015) from
David Zwirner
for $1.6 million, and Koons's
Gazing Ball (Courbet Sleep)
(2015) for $2.5 million from Gagosian.
In the film, the collector spends a giddy moment in his Chicago apartment admiring the Koons, with its purple gazing ball set in front of a precise replica of Le Sommeil.
"I have a Courbet!" Edlis exclaims. "A knockoff doesn't get you a lot of credit as an art collector because anybody can do that, but put a gazing ball on it and presto!"
"I'm like Jason and this is one of the beasts, this sort of momentous mythical creature that I've been called upon to slay," Nemerov says.
"I prefer to see it in a museum, not in a private collection," Richter tells Kahn, in his slow, soft-spoken English.
Even Richter's new works that are sold on the primary market are too expensive, in his opinion. Pointing at a particular work on the wall at Marian Goodman, Richter says that the price is too high.
"It's not good when this is the value of a house, it's not fair," Richter says. "I like it, but it's not a house."
Kahn then tells Cappellazzo about Richter's sentiment, and she says, "Museums? Ugh! I mean, museums are great, we love them, but they're also…I mean, if they have too many, they'll never come upstairs and see the light of day. So then it's like a cemetery—why do you want your things in a cemetery? They're buried underground somewhere. So, museums, for him—that's just a very socialist democratic way, like, of avoiding having to deal with, like, rich people who want them."
The documentary does not explicitly take sides with Richter or Cappellazzo, de Pury or Saltz, Koons or Nemerov. Perhaps the only person close to a sympathetic figure is
"[People] think I'm dead," Poons says to Kahn, without a hint of malice.
As the film ends, it turns out that Dennis Yares, the director of New York's
Yares Art
, wants to give Poons a show. This becomes the one clear storyline a viewer can unequivocally root for. It's also when the context from which the title comes proves helpful in understanding the film: It's a line from the 1892 Oscar Wilde play
Lady Windermere's Fan
. Lord Darlington is asked to define a cynic; he says a cynic is "a man who knows the price of everything, and the value of nothing."
Nate Freeman is Artsy's Senior Reporter.