This New Fair Is a Friendly Entryway into Collecting Art and Design
The inaugural edition of the
Object & Thing
fair opened today in a resolutely industrial corner of Bushwick, Brooklyn, where 32 galleries are presenting objects ranging from the elegant to the absurd. It provides an intriguing (and occasionally frustrating) model for a small-scale fair, abandoning gallery-specific booths in favor of a highly curated presentation where works mingle in eclectic tableaux. If you ever wondered whether
Christmas-tree-shaped "butt plug" inflatables could comfortably share real estate with resin vases by
This boundary smudging makes the experience invigorating for the casual viewer, but also raises questions about what is likely to actually sell. Who is dropping $30,000 on a pair of used Adidas sneakers, dangling from a string, by bad-boy artist
Here's the part that is both exciting and annoying: All of the fair's objects are clustered into discrete "islands," allowing for quirky juxtapositions, like colorful Kachina dolls perched atop a bright yellow
virtual tour function
—but it can make the IRL experience slightly disorienting.
That said, walking around the cavernous main room of Object & Thing is also exceedingly pleasant. This is essentially a design fair, after all, and the attention to detail is impeccable. The "islands" themselves—minimalist structures that combine chunks of concrete, composite wood, semi-opaque plastic, and split ULINE fiber drums—are sculptural marvels in their own right. The overall effect is close to a very chic showroom, and that's not a bad thing. Friday morning's press and VIP opening was a civilized affair, relatively free of the boisterous opening-hour crowds typical of bigger fairs like Frieze New York. Object & Thing is notable for the absence of individual gallery reps—any questions are instead fielded by iPad-toting fair representatives—which eliminates some of the usual sales frenzy. (The streamlined buying experience seemed to be lost on one disgruntled art advisor at Friday's preview, who was low-key hyperventilating over how he would negotiate his "professional discounts.")
The center of the fair's main space is taken up by a veritable army of chairs, a reminder that furniture and art are
increasingly malleable categories
. An eye-popping, $16,000 work from 2014 by Peter Shire—whose title,
Pecker Meeny
, sheds little light on whether it's meant to be a chair or side table—serves as a resting place for a bunch of aluminum bananas by
Chain Chair Pair
(2017), by
tied together for an entire year
.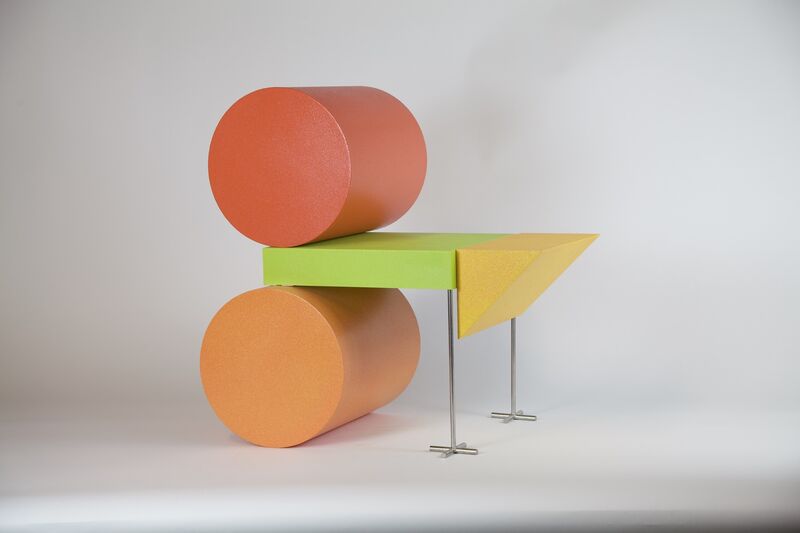 Elsewhere, playfulness is the order of the day. Don't miss
Girl Mirror
(2017, $7,500), for which a ceramic female figure sprawls on her back, a circular mirror genty supported by her butt crack. Equally goofy and serious are a series of NASA-themed cups produced by
kintsugi.
And a more literal spirit of play is everywhere at Object & Thing, with sculptural games of varying degrees of functionality. There are all-metal backgammon tables by
Anyone who isn't down with all this category-crossing can rest easy: The fair also has plenty of vessels meant to hold flowers, or simply sit on a shelf looking pretty. Gaetano Pesce's dramatic resin creations—root beer–colored goblets supported by wobbly, alien legs—are stand-outs. A vase-like sculpture by
Still, it's the objects that resist simple labeling that end up being the most interesting. A massive bench structure by pompom2014-3 (2014), a ragtag chandelier constructed out of fabric strips and priced at $28,000.
Occasionally, disparate worlds collide at Object & Thing. Out Time (2012)—a fiberglass sculpture priced at $32,000 and featuring two drain pipes that evoke disembodied, crossed legs—hangs out next to a quintet of handblown-glass works by
Scott Indrisek is a contributing writer for Artsy.