A New Immersive Installation in Paris Lets You Step inside Klimt's Masterpieces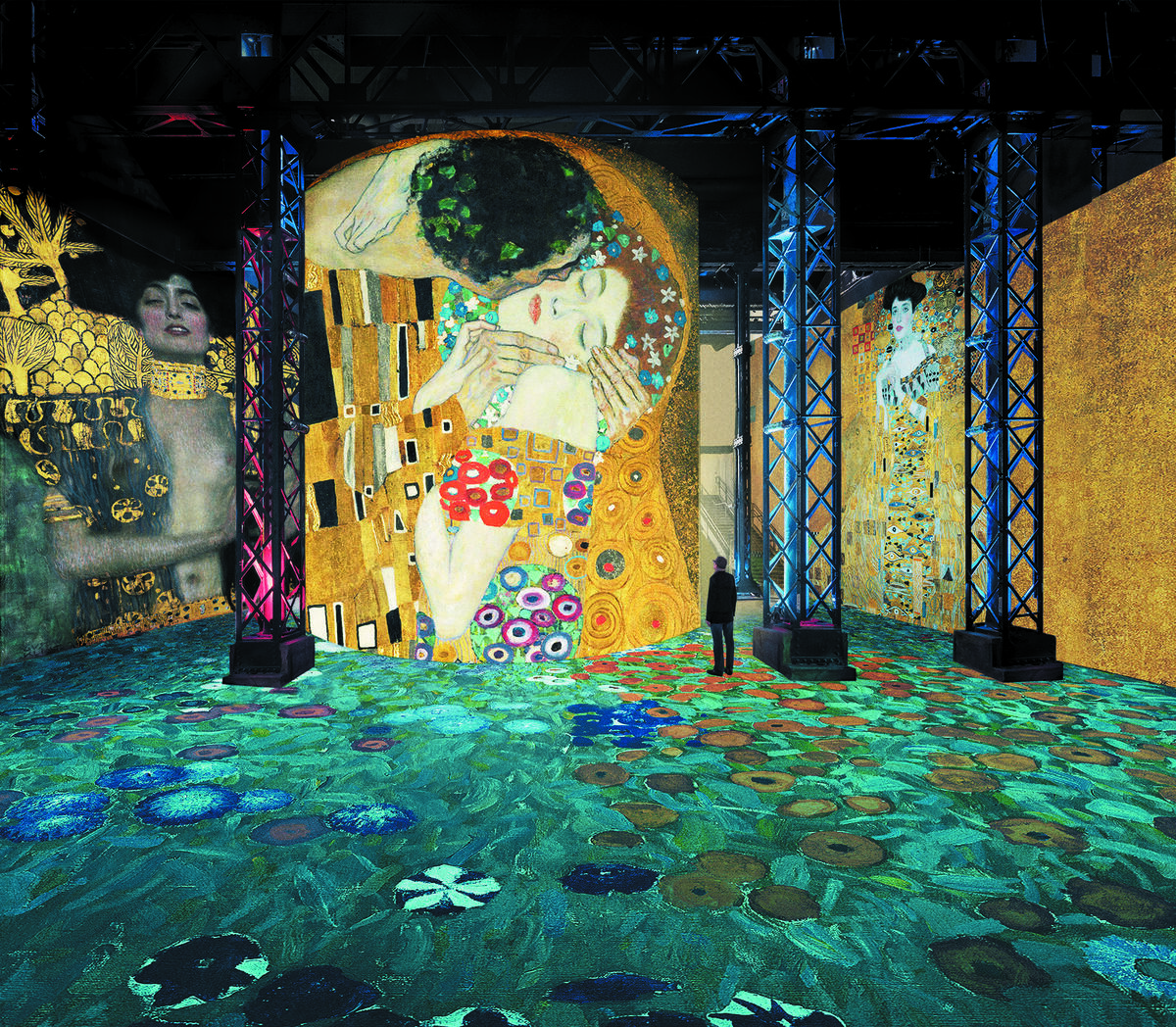 Blink and you'll miss them, but over the course of its 29 seasons, The Simpsons has incorporated a plethora of sly art-historical references into its plots. Some of the best feature in an episode titled "Mom and Pop Art," in the course of which
The episode itself is worth a watch—rarely has the art world been satirized quite so deftly—but there is one scene in particular that sticks in the mind. Visiting a museum for inspiration, Homer drifts off to sleep and dreams of wandering through the scenery of paintings by the likes of
Brief though the sequence is, the idea it proposes is seductive; the notion of stepping through the frame of our favorite paintings and quite literally inhabiting them will always have a powerful imaginative pull. And while we might not envy Homer's particular experience (he is, variously, beaten up by 15th-century Vitruvian Man; pelted with Campbell's soup cans by Warhol; and gunned down by Picasso's Three Musicians from 1921), few would pass up the chance to immerse themselves in a masterpiece.
This is the in-no-way humble ambition behind the Atélier des Lumières ("workshop of lights"), a new art venue that opened in Paris last weekend. Housed in a cavernous former iron foundry on the trendy Rue Saint-Maur (think Manhattan's Lower East Side, but with better pastries), the Atélier is an attempt to bring cutting-edge digital projection technology together with great art, creating an immersive experience—and, the hope is, an entirely new way of looking at paintings.
The Atélier des Lumières may look unpromising from the street, but inside, something fascinating is taking place. You enter through the crowded ticket hall and find yourself in a vast room illuminated only by the faintest blue light. Suddenly, projectors scattered across the space flicker into action and the walls begin to stir; at once, you are surrounded by the architectural outlines of a grand Viennese salon, which in turn give way to a riot of color and figurative forms. Even if you had only the most cursory interest in art history, you could not fail to recognize the exuberant yet intricate images projected onto the walls as the work of the Austrian
Walking around, you are enveloped by Klimt's ravishing creations. Adele Bloch-Bauer, the subject of the artist's most famous portrait, towers above you over 30 feet tall, disintegrating into a shower of gold and silver pixels without warning; before you know it, the lovers of Klimt's masterpiece The Kiss (1907–08) are crowding out the vast space in a larger-than-life PDA. The confines of the room itself seem to shift as a blizzard of gold leaf whirls across the floor and ceiling.
Regardless of whether or not you're a fan of Klimt, this display of digital wizardry will leave your head spinning. And no wonder. As Michael Couzigou, the Atélier's director, explains, the workings behind it are anything but simple: Each of the 140 video projectors involved in the presentation has been specially adapted, and fitting the space to the correct standards took more than a year. Any future display along the same lines will require the old foundry to be completely reconfigured.
The project has its roots in a similar venture that its parent firm, the private arts organization Culturespaces, opened in a disused quarry in the South of France back in 2012. In the original space, known as Carrières des Lumières, exhibitions centered around
"It was a huge amount of work," Couzigou admits. But after some time searching for an appropriately large space—no mean feat in densely populated central Paris—and years of development on the venue, the Atélier has at long last opened with two continuously looped immersive displays: the aforementioned Klimt projection, and a second, even more impressive spectacle based on the work of the Viennese artist
The selection of artists may not seem an obvious one at first; with Paris's cultural importance, one might reasonably have expected the place to be given over to a French painter. But as Couzigou explains, the choice was carefully considered. "First of all, we have an obligation to attract visitors," he says. "Klimt is a very well-known artist, and The Kiss is an iconic work of art. He abandoned classicism for something more personal, more introspective." Immersed in a more or less chronological succession of the artist's career highlights, you get a clear sense of quite how radically Klimt reinvented his own art.
Though hardly obscure, Hundertwasser is not a household name outside of his native Austria. Yet as Couzigou explains, showcasing his work helps to both shed light on an artist who should by rights be better known, and to continue the story of Viennese art in the 20th century. "[Hundertwasser] was Klimt's heir," Couzigou says. "He reclaimed Klimt's heritage, and what's more, he was a very graphic artist." As such, the two displays (which also feature a brief selection of images by
You could, of course, dismiss this all as yet another Instagram-friendly gimmick, or even argue that bringing great works of art "to life" should not be necessary: Who, after all, would have the temerity to try and improve upon a bona fide masterpiece? But this, as Couzigou is at pains to add, is not the intention. "This is an entirely different type of experience from what you would get in a museum," he says. "It provokes a strong emotional response." As such, the Atélier has great potential as an educational space. "Our priority is to open culture to everyone, and digital art allows this," he explains.
So far, the project has more than delivered. Even on a gloomy Monday afternoon, queues for the exhibition stretched several blocks down the street; on the opening weekend, so many people turned up that this normally quiet stretch of Rue Saint-Maur was rendered all but impassible to traffic. What's more, you'd be hard-pushed to identify any particular demographic from a look at the waiting line: In terms of age, race, and (as far as one can guess) social class, it appears to have attracted a genuinely diverse clientele.
Given the sheer visual splendor of the displays, the debut show's popularity is hardly surprising. Indeed, you can't help but wonder what might be in the pipeline for future shows. paintings could be exploited to thrilling effect; a show dedicated to