New MoMA Art Supplies Help Kids Find Their Inner Artist
What if your child could color with the hues of
waterlilies, draw in the tradition of
Museum of Modern Art
in New York, takes cues from modern masters to inspire creativity.
Available
online
now, through Target and the MoMA Design Store (both in stores and online), Making with MoMA is the result of a collaboration between MoMA's education and curatorial departments and Kid Made Modern, the children's art-supply company founded by designer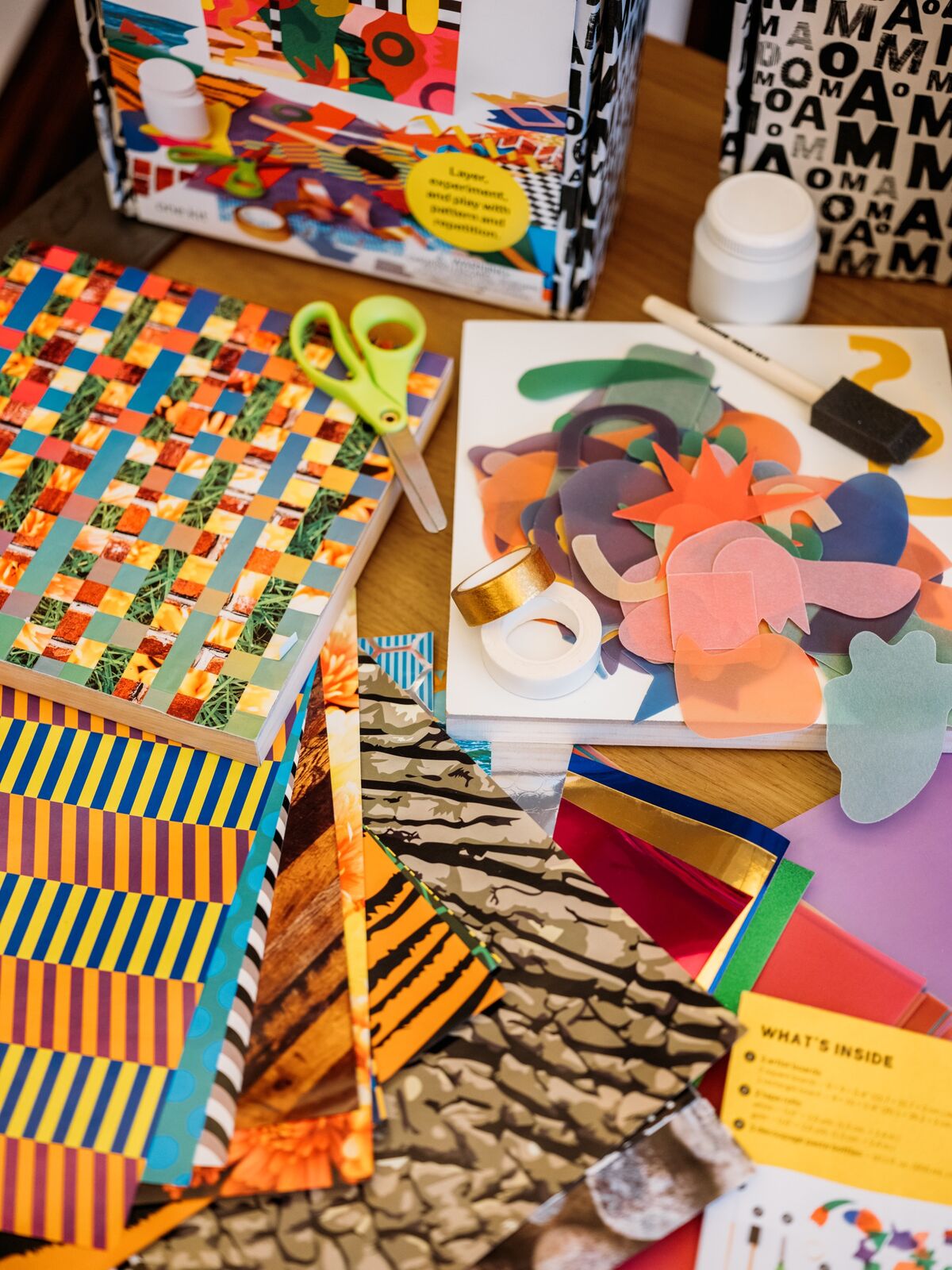 While Making with MoMA uses famous artworks as points of departure, it's meant to embolden wee artists to make their own masterpieces. "We want to make sure that the experience is as open-ended as possible," Oldham explained. "We're not trying to tell you to paint like
This first capsule collection, which will be followed by a larger line this fall, includes a three-part sketchbook designed for the
Surrealist game of exquisite corpse
, as well as kits for making a collage or a shadow-box sculpture. And, importantly, Oldham explained, all of the materials are artist quality—a rarity for kids' art supplies—and environmentally friendly.
Oldham worked with MoMA's Elizabeth Margulies and Cari Frisch, who co-authored the 2018 book of art activities Art Making with MoMA, a touchstone for the collaboration. Margulies and Frisch, who lead the museum's family programs and initiatives in its department of education, noted that they were drawn to Kid Made Modern due to its innovative tools and ability to introduce sophisticated techniques to children (like a no-fuss printmaking kit). The new, thoughtfully designed projects are intended to help kids think more like artists.
"We really wanted to think about the choices that artists make and give those opportunities to kids," Margulies said. That could mean carefully mapping out a collage before gluing down the pieces; learning how to tell a story by putting together a shadow box sculpture; and, more broadly, slowing down to think about the colors and textures that may go into an artwork. Future products from the collaboration will include more kits and tools inspired by MoMA's collection, with an eye towards "diversifying not only the types of materials that we offer, but also the voices of the artists that we include," Margulies said.
The current collection also includes giant "smush crayons" made up of colors from the palettes of three beloved paintings at MoMA: Van Gogh's Starry Night (1889), Untitled (1968), and one of Monet's "Water Lilies" (1914–26). When you draw with one, you get a line that delightfully shifts color as you go.
"We started thinking: How could we create a new way of seeing paintings?" Oldham explained of the crayons' design. To determine the colors for each one, he worked with the MoMA team to take scans of the paintings that reduced them down to their color palettes, then selected a few representative hues. And while they were conceptualized for kids, Margulies suspects that the crayons may also be favored by adults keen to take home a memento from the museum.
Oldham sees the crayons, like the collection more broadly, as a teaching moment. "We so rarely spend time reducing a color palette in our head down to what was that artist was thinking," he mused. "It creates a ticklish way just to see, and that's the whole goal here."
Casey Lesser is Artsy's Lead Editor, Contemporary Art and Creativity.