New Records Set for Signac and Caillebotte at Christie's Impressionist and Modern Sale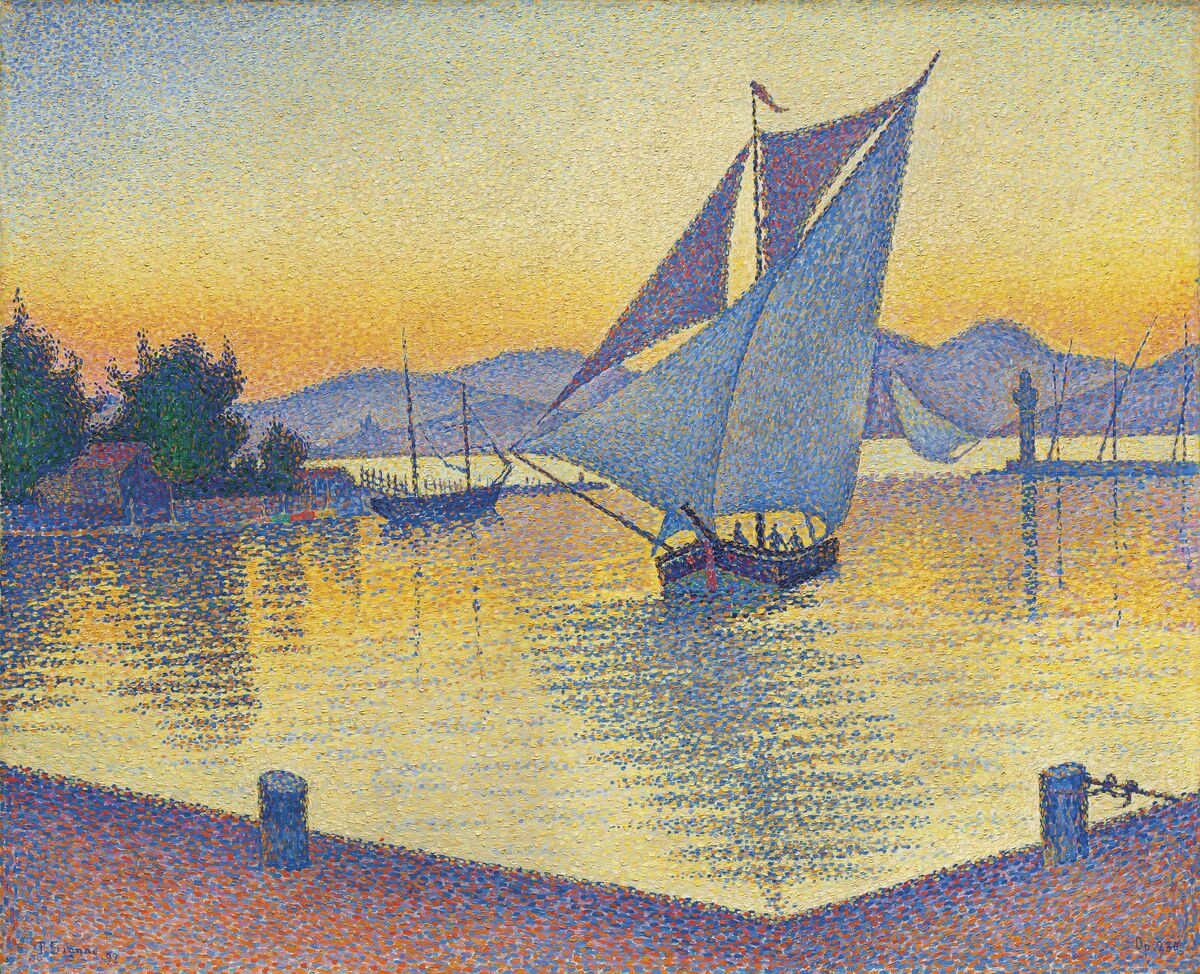 Despite a rocky start—where just 12 of the 21 works from an American collection sold successfully, resulting in a £50.6 million ($66.7 million) gross on a trove of works said to be worth £100 million ($131.9 million)—Christie's notched £165.7 million ($219.5 million) over the course of its Impressionist and modern art evening auctions in London on Wednesday. That total is an improvement on the total of £113.9 million ($159 million) for the equivalent evening sales last year. But the lack of bidding on lots with estimates in the eight figures, coupled with Tuesday's
unremarkable sale at Sotheby's
that barely beat the low estimate, could point to fractures in the strength of the Imp/mod market. Overall, the sell-through rate for Christie's Wednesday evening sales was 82% by lot.
Top lots
Nature morte de pêches et poires (1885–87), which was captured at a hammer price of £18.5 million ($24.4 million) by a woman in the salesroom—the only bid on the lot. It was below the on-request estimate, which was £20 million ($26.4 million). With fees, the total was £21.2 million ($28 million).
Le Port au soleil couchant, Opus 236 (Saint-Tropez) (1892), which sold to a man in the salesroom for the hammer price of £17 million ($22.4 million), right below the high estimate of £18 million ($23.7 million). With fees, the total was £19.5 million ($25.7 million), enough for a new record for the artist.
Le lieu commun (1964), which hammered at £16 million ($21.1 million) to Impressionist and modern art specialist Olivier Camu for £16 million, just over its low estimate of £15 million ($19.8 million), but far from the £25 million ($33 million) high estimate. With fees, the price paid was £18.4 million ($24.3 million).
While the sale appears solid, and indeed crushed the totals raised by archrival Sotheby's at its Imp/mod evening sales on Tuesday night, Christie's failed to offload a number of high-profile works from an anonymous U.S. collection consigned to Christie's London. (On Wednesday,
Bloomberg
revealed
that the collectors are brothers Monte and Neil Wallace, who are benefactors of Princeton University.) The suite of 21 works (two had been withdrawn) were featured in a separate sale dubbed "Hidden Treasures: Impressionist and Modern Masterpieces from an Important Private Collection," with the idea being that even though the sellers are based in the U.S., there's more of a thirst for Imp/mod masterpieces in Europe.
It didn't turn out that way. While trying in vain to sell a late-period Saule pleureur et bassin aux nymphéas (1916–19), with an on-request estimate of £40 million ($52.8 million), auctioneer Jussi Pylkkänen chandelier bid up to £36 million ($47.5 million), and then spent minutes begging the room and the specialists for a single bid, but none came. He called out Katsura Yamaguchi, managing director of Christie's Japan, hoping there was an Asian collector willing to spend high into the eight-figure range. Works by
The house fared better when the main, mixed-collector Imp/mod evening sale began. After an
The "Art of the Surreal" evening sale, which ended the night, extended the hot streak, successfully selling the £18.4 million Magritte, while only two lots failed to find buyers. The sale totalled £43.8 million ($57.8 million), well above the equivalent sale at Sotheby's the night before, which grossed £13.8 million ($18 million).
Even with the day sales Thursday, it appears Christie's will fall short of the high estimate of £272 million ($358.8 million) for all the Imp/mod works that it will sell this week. But by surpassing last year's £113.9 million ($159 million) total for the same evening sale—and already besting the £149.5 million ($207.8 million) total achieved by last year's combined day and evening Imp/mod sales—the house did much to assuage fears of a major slowdown in the category that may have been raised following the lackluster sale
at Sotheby's on Tuesday
. Granted, there were 82 lots for sale at Christie's versus the 39 at Sotheby's, and Wednesday night's sale dragged on before finally wrapping around 9:30 p.m., by which time many collectors had left to arrive on time for dinner reservations. At one point in the Surrealist sale, auctioneer Adrien Meyer told those who'd stuck around in the salesroom: "There are many seats empty, so if you want to sit in the back, feel free."
The Impressionist and modern art auctions continue in London Thursday with a day sale at Christie's.
Nate Freeman is Artsy's Senior Reporter.
TEFAF, Mar 16 – 24
7000 years of art history in Maastricht.
Sponsored by TEFAF