New York Dealer Mounts One-Night-Only Shows to Boost Urgency—and Sales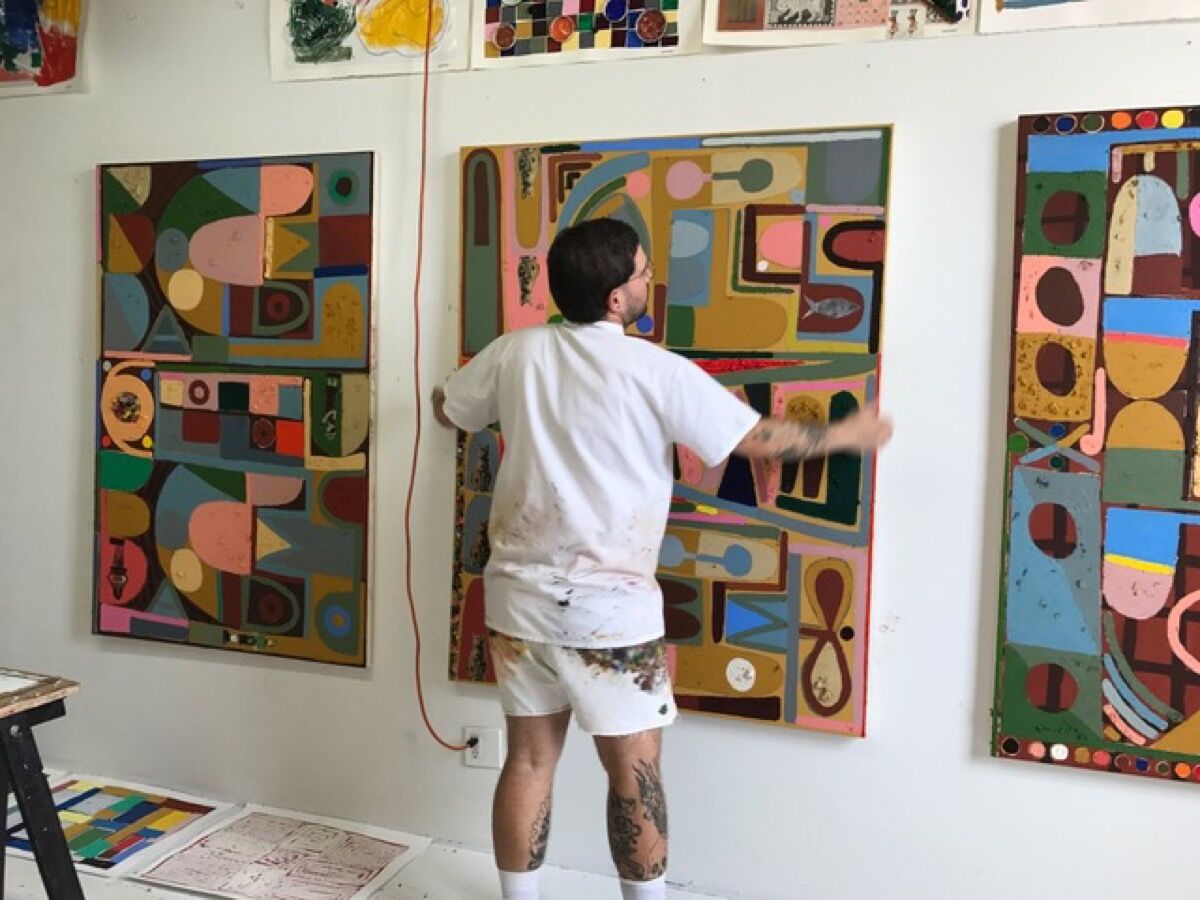 Austin Eddy in his studio with paintings destined for his one-night exhibition. Courtesy of Half Gallery.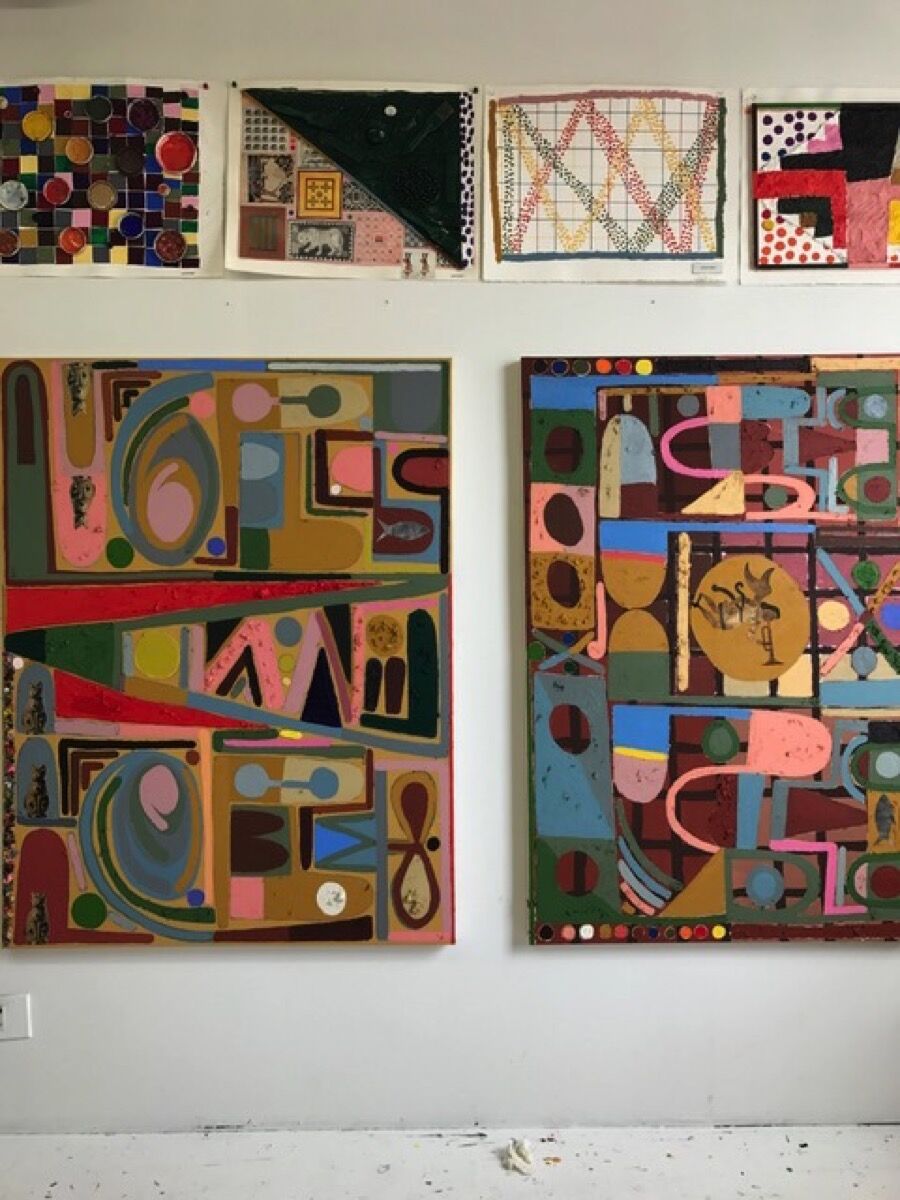 Works by Austin Eddy in his studio. Courtesy of Half Gallery.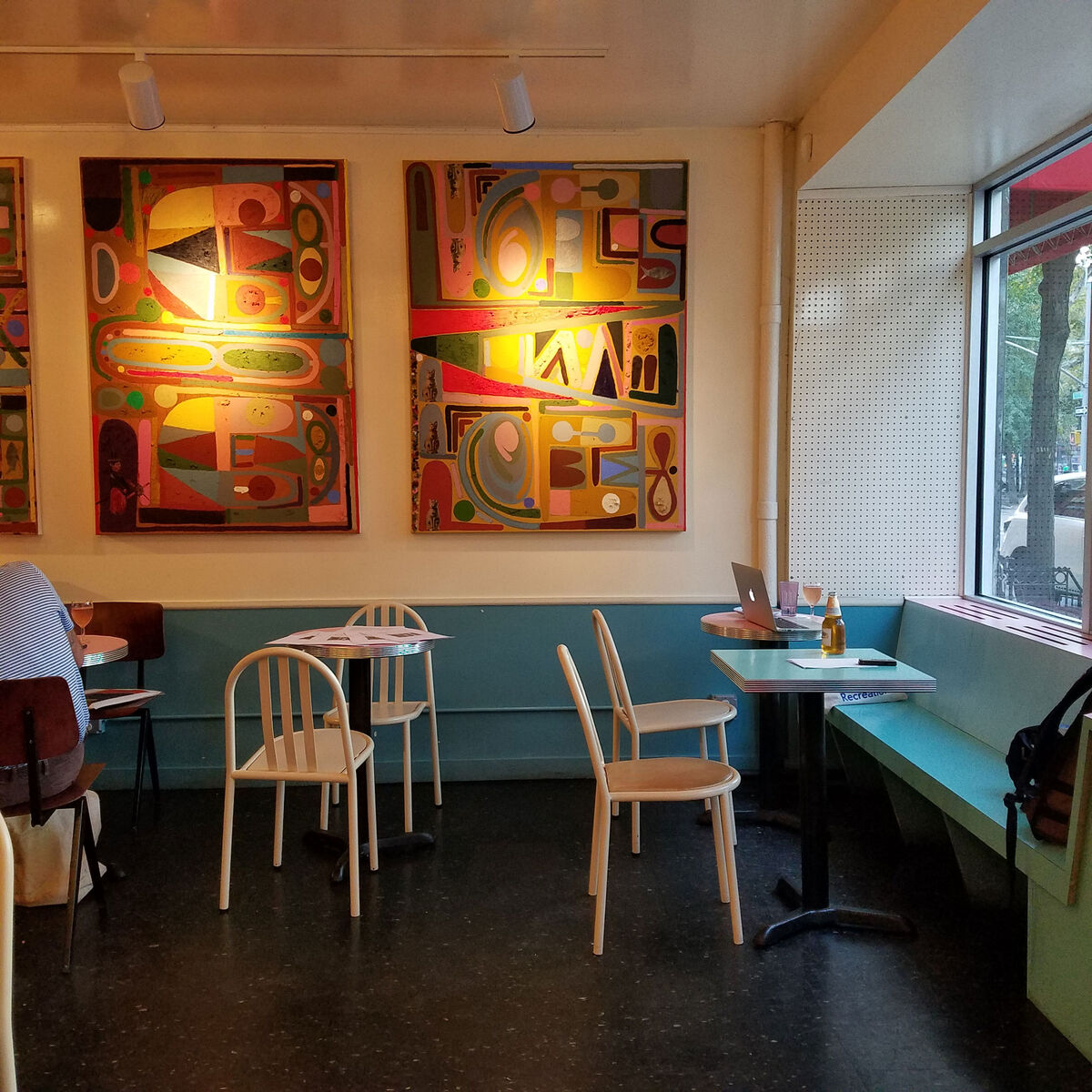 Installation shot of Eddy's work in Café Henrie.
At Café Henrie, the works are offered for $7,000 each, with the typical 50/50 split between artist and dealer. Two sold on Thursday night, to two different collectors. The paintings are an uncanny fit for the room, with Eddy's pinks and robin's-egg blues jibing closely with the venue's own aesthetic. Powers describes the works as "new American folk art with some Pennsylvania Dutch symbols embedded in the abstraction." As befits a project that puts art and nightlife in bed together again, the dealer says that he met the painter at a Vogue party (Hughes and one of Half Gallery's own artists,
Powers, who was born in Hell's Kitchen, evinces a wistful nostalgia for a city that used to be a bit wilder. He recalls the Tribeca nightspot Madam Rosa, where
Times
hilariously quoted the venue's co-owner as saying that "overt yuppie types" were barred: "If they have flair, they're in. Khakis and L.L. Bean, forget it."
"I think you get to a certain age and have a responsibility to do events or create some energy that hopefully will make a 15-year-old from Ohio want to move to New York," Powers offers. "Probably shame on me that I haven't been more proactive with things like this."
That's not to say that he hasn't tried. He points to a 2012 one-off at the Chelsea Hotel that he conceived with the late cultural critic Glenn O'Brien, who played the role of an artist-priest in a confessional. ("You gave him your confession," Powers explains, "and you got a
Genieve Figgis show hosted at a house in Silver Lake. Courtesy of Half Gallery.
Partly, it's about making an exhibition into an
event
again, rather than something to be taken for granted. "I haven't seen
David
Zwirner
yet, but I'm like, 'It's probably up for another five weeks. I'll get there.' Sometimes if you know you only have one day to see something, it creates a sense of urgency or a concentration of energy that people will hopefully respond to."
"I never thought about [this project] much further than just the evening," Eddy tells me. "If you go to a punk-rock basement show, it's just for the night—you don't think about what happens after. This is a good opportunity to show paintings in a centrally-located spot, so why not?"
And from a dollars-and-cents dealer's perspective, an exhibition that runs for a month and a half doesn't always help the bottom line. "These days, so much business is conducted in the run-up to the show, or on the night of," Powers adds. "We're experimenting in public right now, so we'll see how it goes."
Plus, he explains, a one-night-only model can also be an easy way to gauge if a more permanent working relationship is in the cards. "When you do a full-on gallery show, it's almost like moving in together before you've gone on a date," Powers says. "I think of this as like a first date."
In that vein, the next person Powers will be dating, so to speak, is Paul Sevigny. (That show opens, and closes, on October 19th.) While he may be best known for his stewardship of the Beatrice Inn, Sevigny dabbles as a painter. He's also, Powers notes, the first person who ever bought from Half Gallery, back in 2008—a piece by
On Thursday evening at Café Henrie, a crowd mingles to admire Eddy's new works, which are hung tightly together on a single wall, above a bench designed by
Yours Mine & Ours
. A bearded man in the corner looks distractingly familiar until I realize he's Ebon Moss-Bachrach, a.k.a. Marnie's troubled musician boyfriend on
Girls
.
"The art world is supposed to be open to new ideas and paradigms and living in the future, but a lot of it is very conservative and traditional," says Powers. "People don't take enough risks sometimes. It's fun to try something new."
Scott Indrisek is Artsy's Deputy Editor.
Hong Kong Art Week
Sponsored by Hong Kong Art Week