Nine Artists Respond to Climate Change
Actionable measures on energy-usage will meet their fate this week, with United Nations talks and public protests planned as part of Climate Week NYC. Climate change is arguably the most pressing sociopolitical issue of our time, with famine, poverty, and mass-relocation hanging in the balance. The romantic, rambling idylles and shimmering rivers of

The spectrum of artistic practices engaged with the environment is wide. But the term "environmental art" itself really only gained potency in the 1970s with the
Spiral Jetty
, which was subsumed by floodwaters three years later. (Thanks to another round of drought, the work is once again visible.) The term "environmental art" refers specifically to formal practices consciously connecting nature to art and is geared toward breaking sculpture, conceptual art, and performance out of the art world's traditional, institutional bounds. In 1982
7000 Oaks
at Documenta VII, planting, as the title suggests, 7,000 oak trees in and throughout Kassel, Germany.
Sperone Westwater
, up through October 24th, he traveled by foot from the Great Mosque of Córdoba in Andalusia, Spain, to the Cathedral of Santiago de Compostela in northwest Spain.)

But not all environmental art has been the domain of conceptual art kingpins. In time for Climate Week NYC, here's a look at some of the more interesting approaches to environmental art on view today.
Ecofeminist Aviva Rahmani is known for occupying natural spaces to protest political situations that affect the environment. On October 5th, she will complete her piece Blued Trees for "Gulf to Gulf," a New York Foundation for the Arts-sponsored project that connects climate change policy with art. The project is a direct response to the proposed Algonquin Incremental Market pipeline expansion, in which high-volume, high-pressure fracked natural gas will be pumped through private properties and passed within 105 feet of the ever-controversial Indian Point nuclear power plant. Rahmani found a plot of land in Peekskill, New York, and painted sine waves in blue across a tree grove to represent the musical notes that will then be performed by a full-symphony. She copyrighted the work as site-specific and protected it under the Visual Artists Rights Act (VARA). VARA asserts the "moral rights of art," which Rahmani hopes to employ to indirectly prevent the land from being used for the pipeline. Rahmani's practice aims towards the actionable, and there's still time for the pipeline expansion to be overturned, perhaps due in part to Blued Trees.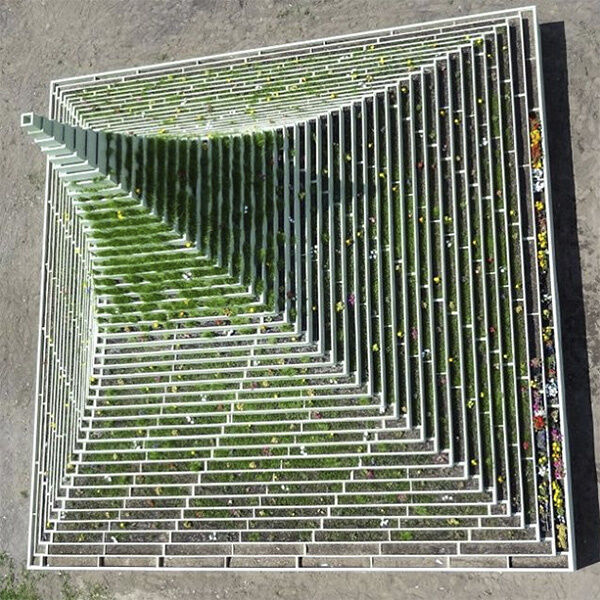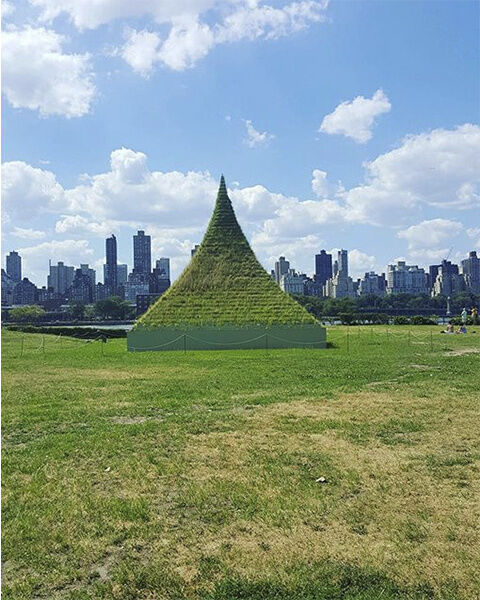 This summer, social media got a hit of Agnes Denes's living sculptural practices when her
The Living Pyramid,
a new archetype for the artist, was planted in Socrates Sculpture Park, in Long Island City,  New York's Astoria Park. Denes transformed a pile of dirt into a multi-tiered pyramid of grasses and flowers. She's also installed an piece from her "Wheatfield" series—12 acres of wheat—this summer in the Porta Nuova District of Milan, a city which hosted Expo Milano 2015 with the
theme of food security and environmental innovation
. Denes began the series in 1982 with a Public Art Fund commission, planting two acres of rubble in a landfill on Wall Street (now Battery Park) with wheat that grew over the summer.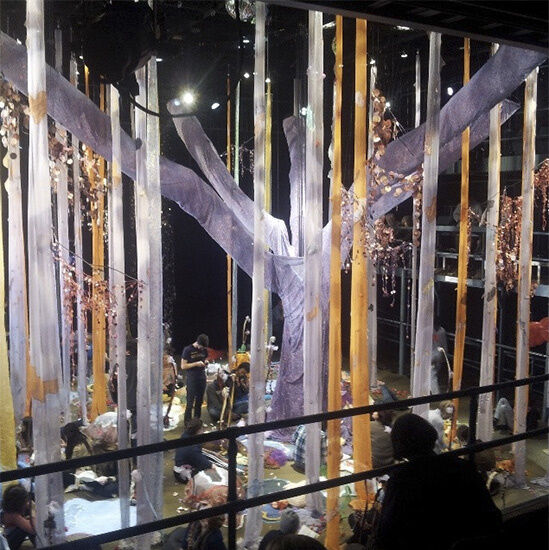 New Orleans's Contemporary Arts Center, under the direction of Neil Barclay since 2013, commissioned performance duo PearlDamour (Katie Pearl and Lisa D'Amour) and visual artist Shawn Hall to realize How to Build a Forest. The eight-hour-long piece sees the artists constructing an ecological environment (inspired by a 100-tree grove destroyed by Hurricane Katrina) out of fabric and found materials, before disassembling it at the end of the day. Unveiling October 23rd, and repeated every night until October 29th, the work shows the artists' intent to highlight the disconnect between urban dwellers and the great outdoors. While much environmental art is of an activist bent, this type of performance veers more towards the Romantic notion of nature as subject.

If there's any question about the deep connection Finns have to the landscape, go to the Alvar Aalto-designed pavilion in Venice's Giardini—or explore It's My Island (2007), where he painstakingly built an island in the Baltic Sea by piling together 200 individual sandbags. For Bark Boat (2010), Laitinen built a raft of bark he scavenged from the forest floor and sailed across the Baltic. (Documentation of the work came to New York for the just-closed show titled "Future Fossils," curated by Artsy's own Tess Thackara and Yulia Topchiy.) Laitinen's work harks back to an era where humans had yet to conquer nature with technology, instead working with and struggling against it for their survival.

Any discussion of environmental art needs to include something on the art world's favorite naked, Dutch uncle. The artist
to be all ways to be,
his contribution to this year's Venice Biennale
, where he is representing the Netherlands, he has displayed biological excavations, sculptures, and prints in the main pavilion. Meanwhile, on an island in the Venice Lagoon he has installed small granite-slab totems engraved with slogans such as "Life Is" or "Death was Here." He also currently has an archive of plants and seeds at the Château de Rentilly in Seine-et-Marne, France, on view in a group show called "My First Summer in the Sierra," inspired by the book of the same title by American naturalist John Muir.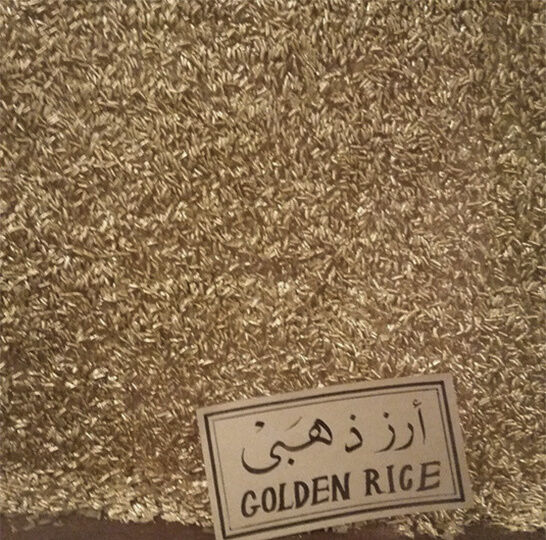 Perhaps one of the cheekiest jabs at climate policy failure is the utterly sardonic and intelligently researched WAM (World Agricultural Museum), which until June was on display at the Sharjah Biennale. The piece was housed in Port Khalid, a site of migrant fishing boats, which frequently meet their fate in the armed hands of Somali pirates. The installation was a dusty, untouched world of a colonial agricultural museum, in which fascist and absurdist politics rule environmental policy. It's dark, deeply funny, and also frightfully realistic.