How Nuns Have Shaped the Course of Art History
How do you solve a problem like Maria, and unveil her place in art history? Maria di Ormanno degli Albizzi, a 15th-century Italian nun, was one of the earliest females in Europe to audaciously paint her own self-portrait. Forgoing the demure profile view that male artists customarily used in their depictions of refined quattrocento ladies, this miniature version of Maria stares out unswervingly from the heart of a sumptuous gold-and-blue checkered background. Yet this groundbreaking self-portrait was only intended to be seen by her Augustinian sisters; di Ormanno footnoted her likeness on the bottom of a page in a 490-folio prayer book.
We may think of nuns as sequestered, but di Ormanno was able to paint a daring self-image precisely because it was nestled between the covers of her breviary, just as she was safely cloistered inside the walls of the Florentine San Gaggio convent. For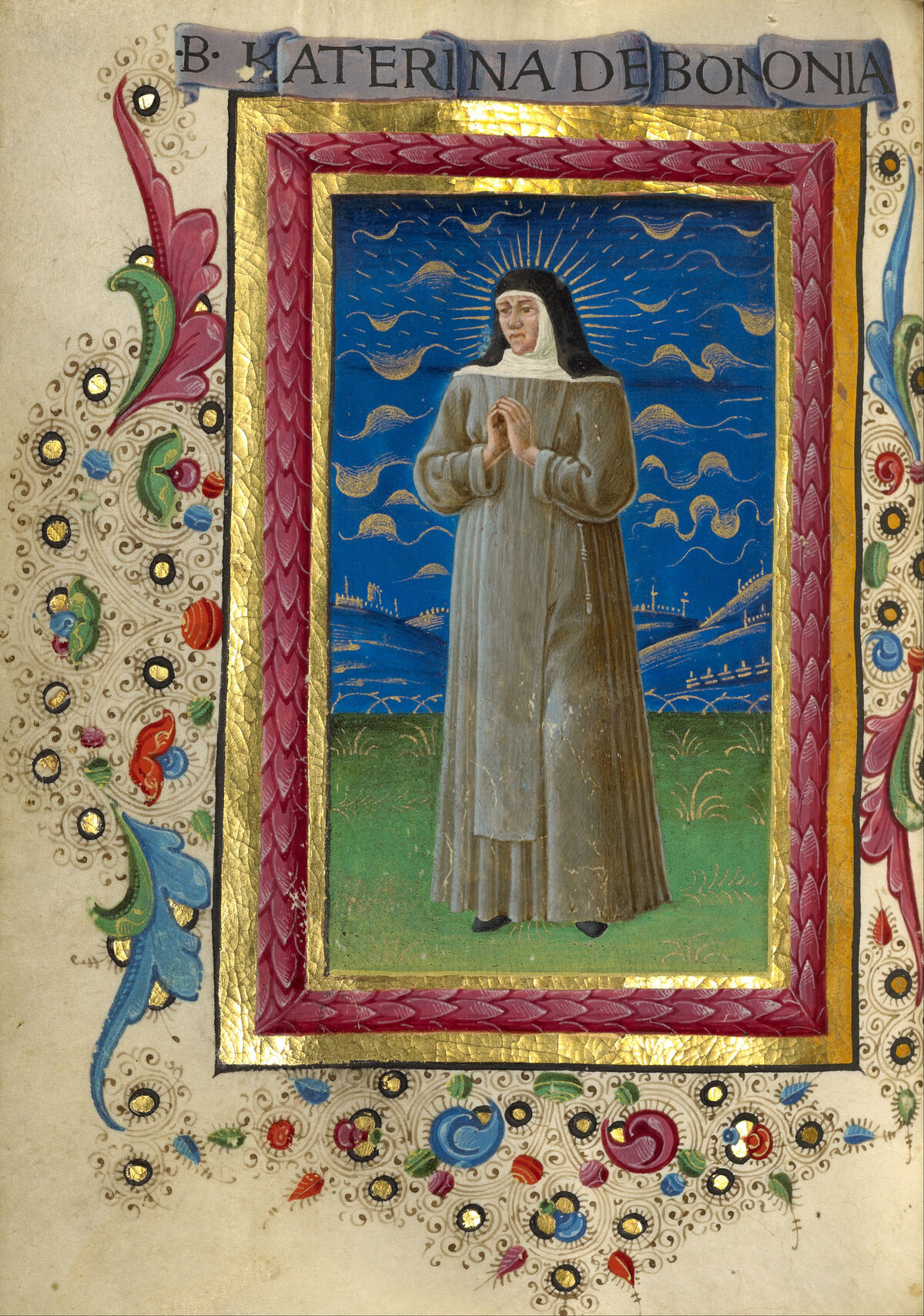 A century later, in the early 1600s, Neapolitan painter Luisa Capomazza sought an escape from her potential future husbands, finding refuge in a convent. She "sent back every advantageous marriage proposal, [instead] nobly enjoying herself with painting, with which she was exceedingly in love," writes her biographer, the late-
During the Renaissance, it was a common practice for families to send women who weren't in line to receive the hefty dowry reserved for the eldest daughter off to convents; but for a variety of economic reasons—plus the inclinations of women like Capomazza—convent populations exploded in Italy during the High Renaissance. In 1515, there were 2,500 nuns in Florence alone, and by 1552, 1 out of every 19 Florentines was a nun. The popularity of this lifestyle is unsurprising, considering the often-repressive alternative. In a way, convents have served as one of the most supportive artist residency programs available to women in the history of Western art.
"We think of these nuns as imprisoned, but it was a very enriching world for them," Linda Falcone told
Artsy
. Falcone is the director of the
Advancing Women Artists Foundation
, a nonprofit organization devoted to identifying, restoring, and exhibiting art by women, much of which lies abandoned in the storage rooms of Italian museums. Italian Renaissance women "could obviously paint as part of their cultural education," Falcone explained, "but the only way they could paint large-scale works and get public commissions was through their convent."
Art historians have long recognized that a monastic life could be conducive to art-making. Some of the most beloved artists of the Italian Renaissance were monks, such as
illuminated manuscripts by their sisters
, however—many of which have remained shuttered in convents for centuries—are just now coming to light.
As they slowly emerge, artworks by nuns have been summarized by a derisive umbrella term: Nonnenarbeiten (German for "nuns' works"). "We would never assign a Sacra conversatione [a type of devotional painting depicting the Virgin and Child] by Fra Angelico and a portrait by Fra Filippo Lippi to the same genre simply because both happen to have been painted by friars," art historian Jeffrey F. Hamburger writes in his book Nuns as Artists (1997). "Far from providing an apt, let alone productive, characterization of the images it seeks to define, Nonnenarbeit stands by definition for deficiency: a lack of both skill and sophistication." The term also neglects that these devotional images were, in their time, considered intellectual arts. Convents have always supported themselves with a number of craft enterprises, the real moneymakers being embroidery and textile work. Pursuing the finer arts—like painting and sculpture—would have been a sophisticated choice for any nun.
Recently, a group of scholars has argued that these works deserve a closer look. As Sheila Barker, an art historian affiliated with the Medici Archive Project, has
written
, it's time "to liberate the nun-artist from Art History's Procrustean bed." Self-taught nun artists may not fit into the mold of the creative male genius, but their work served many important functions: It allowed nuns to exercise their talents, support the financial needs of their religious houses, and generate cultural prestige that attracted educated women to their convents.
Plautilla Nelli, for example, was probably enticed to join the Florentine convent of Santa Caterina of Siena because of its artistic reputation. After entering the sisterhood in 1538 at age 14, Nelli gained access to the convent's large collection of prints and drawings (some of which she may have traded with art historian Lives of the Most Eminent Painters, Sculptors, and Architects, 1550). Nelli learned to paint at the convent. "She, beginning little by little to draw and to imitate in colors panels and paintings by excellent masters," Vasari wrote, "has executed some works with such diligence, that she has caused artists to marvel."
Her works were in demand, and she soon headed her own workshop at Santa Caterina with as many as eight nun-artists studying and working under her. Though they proudly produced devotional paintings for private collectors, the nuns of Santa Caterina also created expensive, monumental artworks for themselves. Nelli's workshop painted a large-scale
Last Supper
(ca. 1560) for the convent's refectory (nearly equal in length to
fresco on the same subject). It is
currently undergoing extensive restoration
and will be unveiled to the public—for the first time in nearly half a millennium—this October.
Convents beyond Italy and after the Renaissance continued to nurture women artists, but their stories are still slowly being patched together as religious works change hands. Decades ago, Marion Oettinger, curator of Latin American art at the San Antonio Museum of Art, spotted an unusual 19th-century painting for sale at a gallery of Latin American folk art in California. He examined the signature and found that it was created by Juana Beatriz de la Fuente, a nun from colonial Mexico. This is still her only known work to date. "We have no idea who she was," Oettinger told
Artsy
. He imagines that her life resembled that of her more famous sister of the cloth, the 17th-century Mexican scholar, painter, and poet Juana Inés de la Cruz, who had the luxury of a room of her own and materials provided for her. (Sor Juana has recently received some contemporary attention, from both a Mexican
miniseries
and a 2017
Google doodle
.)
Further north, during the mid-20th century,
reputation
as the "
But the most famous artsy nun of our time is the recently departed Sister Wendy Beckett. The beloved British nun became an unlikely champion of art history for the masses, hosting a hugely popular series of BBC documentaries in which she offered guided tours of the world's most vaunted arts institutions. When she was
interviewed on the Charlie Rose Show
at the height of her stardom in 1997, Beckett modestly noted that she was happy her programs were a hit, because so many people seemed to find them useful. Her series "helped them to escape from the confines of the narrowness of daily frustrations and anxieties," she said. Art, Beckett suggested, can lift you out of the limitations of secular life. But for many women, it was religious life that freed them from the restrictions of the secular, and allowed them to flourish as artists.