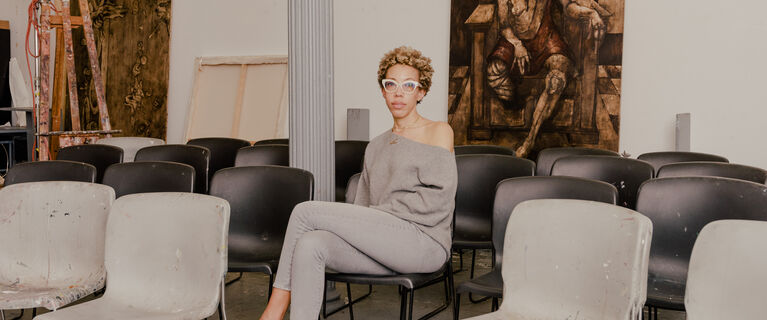 Art
Obama Portraitist Amy Sherald Gives Advice to Young Artists
Ariela Gittlen
On a strangely balmy day in February, a week after her official portrait of Michelle Obama was unveiled at the National Portrait Gallery, Amy Sherald is sitting in a studio at the New York Academy of Art (NYAA). Her long legs, clad in gray jeans, are crisscrossed, and her chin is cupped thoughtfully in her palm. "You're gonna need to have that Oprah ah-ha moment," she says, turning to the expectant art student by her side. "You want to know: Is this something I can sink my teeth into?"
Around her the school is abuzz with activity. In one lecture hall Eric Fischl is delivering a group crit to a cohort of first-year students. Around the corner, the floor is covered in a thick layer of straw while a life drawing class quietly sketches a four-horned sheep and two lolling alpacas. This week, Sherald is here for one-on-one crits with second-year students who are preparing their thesis projects. They'll be graduating in just a few short months. "It's about helping to take some of the pressure off the transition from being an MFA student to being a civilian, if you will," she tells Artsy.
Sherald has just been on the receiving end of a pretty significant crit herself. When her official portrait of the former First Lady was revealed—alongside Kehinde Wiley's portrait of former President Barack Obama—the public reaction came crashing down in a tidal wave of rants and raves. Twitter was awash in fierce opinions. Media outlets from The New Yorker to Fox News had their say, analyzing Sherald's color palette, criticizing Mrs. Obama's bare arms, or disparaging the portrait's supposed lack of verisimilitude.
MFA student Sarah Sager and visiting artist Amy Sherald during at studio critique at New York Academy of Art. Photo by Daniel Dorsa for Artsy.
Sherald isn't bothered by the fracas. "The trolls got bored by Wednesday," she says with a shrug. "Then it was people sending me DMs on Instagram saying that they gasped when they saw the painting or that it made them cry." Others, who were initially skeptical, changed their tune when they saw the painting face-to-face. "I got emails saying, 'I wasn't sure at first, but seeing it in person was a totally different experience. It's beautiful.'"
Crits have long been considered an art school rite of passage; some see them as an opportunity to deliver tough love, or scathing criticism. Sherald's approach is more akin to that of a patient coach: practical and encouraging. "I could go in and tell them, use this color or use that color, but that's not what I'm there for," she explains. "Instead, I try to get a little bit of background and figure out the psychology of the person so that I can get a deeper reading on the work."
Among art schools, the NYAA is something of an anomaly. It offers only MFAs, not undergraduate degrees, and trains students in foundational mediums of drawing, painting, printmaking, and sculpture. While a certain deskilled style may be in vogue in the larger art world, the NYAA's focus is more conservative, privileging craft and draftsmanship. The students' technical prowess is on full display, with masterfully rendered people and animals gazing from every wall.
MFA student Liza Sokolovskaya and Amy Sherald during a studio critique at New York Academy of Art. Photo by Daniel Dorsa for Artsy.
At the moment, the lighthouse beam of Sherald's attention is on a group of paintings by Sarah Sager, a 23-year-old painting student from Louisville, Kentucky, who has the blunt choppy bangs and deadpan tone of the singer Angel Olsen.
Until last week, Sager was painting large oils on linen: warm, muscular portraits of herself and her family as they struggled with her mother's cancer diagnosis. Now she's reconsidering her subject matter and hoping that the residency she's planning to attend after graduation will give her the opportunity to break new ground.
"I used my residencies to read and to do visual research," Sherald says. "I think that's the most important part of work, really getting grounded in your thinking and giving yourself a bigger vocabulary. The bigger your vocabulary, the easier it is to explain these things to yourself, and the bigger your visions are."
"Have you read anything lately that's felt important to you?" Sager asks. Sherald describes her morning routine—a quick 15 to 20 minutes of reading before she gets into the studio—as something akin to a meditation practice. She's currently reading a history of Baltimore by Antero Pietila, Not in My Neighborhood: How Bigotry Shaped a Great American City (2010). Sherald is also an avid listener of podcasts and audiobooks; right now, she says, she's in the middle of one about solitary confinement.
Portrait of Amy Sherald during a studio critique at New York Academy of Art. Photo by Daniel Dorsa for Artsy.
"Wow," said Sager. And then after a beat, "Are there any artists working now who are doing work that matters? Like—capital M—Matters?"
"I wish I had time to go look at art!" Sherald says, a little wistfully. "I was really impressed by Toyin Ojih Odutola's show at the Whitney—that's the last thing I saw." She follows the work of her contemporaries, like Derrick Adams and Marc Dennis, and often looks to street and portrait photography (Vivian Maier is a favorite) for ideas about composition.
Moving on, Sherald next pokes her head into Liza Sokolovskaya's studio, opening with a down-to-business, "So, what have you got going on?"
Sokolovskaya, a 28-year-old Canadian originally from Uzbekistan, has been experimenting with different printmaking techniques, and a number of freshly made prints are displayed on the wall of her studio. A large painting is tucked into the corner, looking a little sheepish. Sokolovskaya directs Sherald's attention to a series of monotypes she's working on: prints of women's faces, each with a headscarf tied under her chin and wounded-looking eyes.
"Are you trying to decide what to pursue?" Sherald asks.
"Yeah, what should I pursue? What serves me better?"
"Are you okay with not painting anymore? Because these are really working," Sherald tells her, gesturing to the watercolor prints. She turns her attention to the bigger canvas. "This painting has a little less sophistication, it looks like you made it in school, but the prints have a lot of emotion, they're just really psychologically captivating."
MFA student Lou Eberhard and Amy Sherald during a studio critique at New York Academy of Art. Photo by Daniel Dorsa for Artsy.
"This isn't the first time I've been told the prints work better," Sokolovskaya admits. "I don't have children but…I get the [same] feeling as if someone came up to me and said, 'Oh, your older son is better than your younger son.' Yeah, but they're both my babies!"
Sherald doesn't miss a beat. "Take some time and mourn it," she says in her quiet yet firm way. "Paint more if you want, but just note that your higher calling might be something else."
Sherald's final crit of the day is with Lou Eberhard, a drawing student who makes work exploring his own body. Eberhard, who wears Clark Kent-style glasses, stands beside two 12-foot-high self-portraits that show him nude and wearing a strap-on. A series of smaller works in white india ink adorned with gold foil occupy the remainder of the wall.
"My work deals with with the fact that I'm transgender, but I haven't medically transitioned yet, so I'm just kind of living this weird in-between state," Eberhard tells Sherald. She admires the elegance of his linework, and asks what direction he plans to go next––perhaps multiple figures, or portraits of other people?
"I'm going to start transitioning soon, so once I change physically, the artwork is bound to change, too, because I'm using myself as a reference," he says.
Portrait of Amy Sherald by Daniel Dorsa for Artsy.
"Are you doing a video journal?" Sherald asks.
"I will once I start the hormones, but I haven't started yet," Eberhard says.
"I'm asking these questions because I think it's going to become so complex that you're going to have to move away from paper," she explains. "Don't sequester yourself to just working on paper. It's such a dynamic and complex story to tell that it may be bigger than this."
Sherald bends down to scrutinize the smaller ink drawings. "I'm not sure about the gold," she decides after a moment of deliberation. "I feel like the drawings are strong, but I would just make the strap-on all gold instead of the background because there's just too much distracting texture."
Both artists pause to contemplate the gold flakes and their powers of distraction. "I don't really have anything to say, and I don't think that's a bad thing," Sherald concludes. "What you're doing here is really strong. I feel like what comes next is gonna be a lot different, so I just want to leave you in peace, if that makes sense?"
"Yeah," Eberhard says with a smile. "It does."
Header image: Portrait of Amy Sherald by Daniel Dorsa for Artsy.