On Venice's Outskirts, Young Artists Are Using Creativity to Solve Real-World Problems
In the small Italian city of Treviso, half an hour outside of Venice, a 17th-century villa has become a modern-day 
Established in 1994 by the Italian billionaire businessman Luciano Benetton—best known for co-founding the United Colors of Benetton clothing brand—Fabrica offers yearlong, funded residencies to photographers,
The architecture of Fabrica reflects its core values and creative mentality. Though it's technically housed within the Villa Pastega Manera (a short walk from the Benetton Group offices, where participants eat lunch each day), the aging building and its grounds were renovated by Pritzker Prize-winning Japanese architect 
Those interested in Fabrica's program must go through a rigorous application process, including a two-week trial on the premises. If accepted, participants (referred to as fabricanti) receive free accommodation, lunches, and a roundtrip ticket to Italy.   
Fabrica's creative directors help students connect with curators, festival directors, and publishers who can help push their careers forward. Enrico Bossan, an accomplished Italian photographer and leader of the editorial department, often invites young talents who show great promise. (His department currently includes two archivists, two filmmakers, and three photographers, each working on personal projects.) Previously, Bossan had come across the work of St. Louis-born photographer Drew Nikonowicz at the Fotografia Festival in Rome, whereupon Bossan immediately invited him to Fabrica. Nikonowicz's landscape-heavy, computer-generated photography seeks to represent the sublime frontiers of the 21st century. "There's no landscape—real or imagined—that isn't touched in some way by technology," Nikonowicz says. "I believe the sublime landscape can only be accessed from the boundaries of technology." Since Fabrica, Nikonowicz has gone on to exhibit his work in Europe and Asia, and last year he won the prestigious Aperture Portfolio Prize.
In addition to the inspiration he found in the Italian landscape and surrounding small towns, Nikonowicz was able to excel at Fabrica due to its excellent facilities and equipment, its willingness to fund approved projects, and the support from leaders like Bossan. Among Bossan's current fellows is Iranian photographer Ali Kaveh—known for his stereotype-defying 
Everyday Iran
 Instagram account. They worked together on 
Iranian Living Room
, a book presenting work by 15 Iranian photographers who welcome viewers into the private homes of Iranian people. "Everything you find about Iran are images of protests, political news, and things that happen outside people's homes," Kaveh explains. "The inside of an Iranian house is a big question for people outside Iran; they don't have any clue what it looks like." When he leaves the program, Kaveh plans to complete a master's degree in documentary photography and photojournalism in Europe.
In contrast to the editorial department, the design and social campaigns fabricanti produce work for specific clients. In keeping with Fabrica's commitment to confronting social issues, the campaigns team creates posters, videos, and installations meant to communicate complex issues in an engaging, beautiful way. In collaboration with UN Women and the Benetton Group's Women Empowerment Program, the department recently created a series of black-and-white photographs and films that convey the violence faced by women as well as a commitment to promoting gender equality. The campaign focuses on five body parts to represent each area of the program; for example, the mind and the need for equal education opportunities, or hips, which signify efforts against discrimination.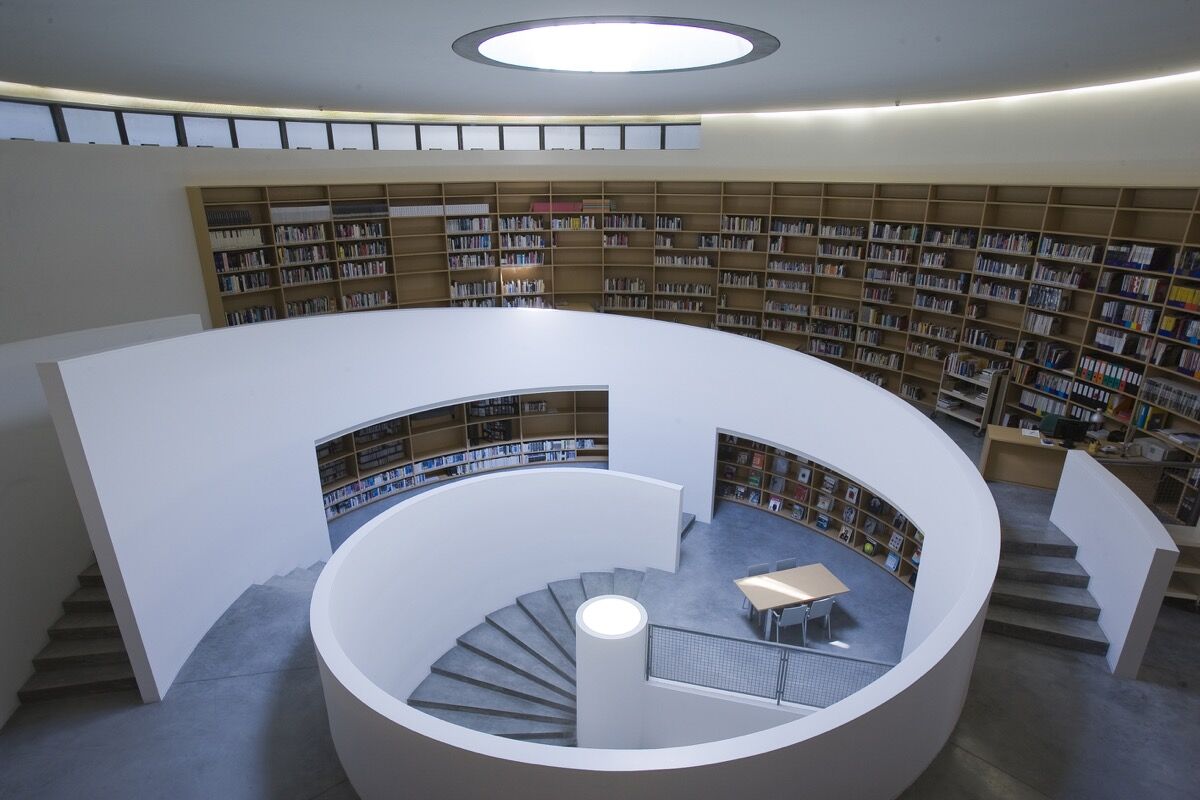 Despite this focus on clients, fabricanti involved in the design and social campaigns departments are also free to propose personal projects. Alexis Gallo, a graphic designer and illustrator from New York and founder of art zine not entirely unlike, helped create artwork in support of earthquake victims in Ecuador. Lorena Alvarado, a Venezuelan-born filmmaker in the social campaigns department, created a short film titled Beatrice, profiling a young Italian Paralympic athlete and the struggles she has confronted.
Fabrica's residencies don't claim to be a substitute for traditional educational experiences; the program instead offers an escape from the pressure of university life or the working world. Here, young artists can hone their craft, collaborate with one another, and apply art and design thinking to real-world problem-solving. Fabricanti leave Treviso with improved networks, business opportunities, and a developed artistic voice. In a time when the art and design worlds often struggle to communicate their value, places like Fabrica are essential.