Once Called the Eighth Wonder of the World, This Art Collection Was Actually Full of Fakes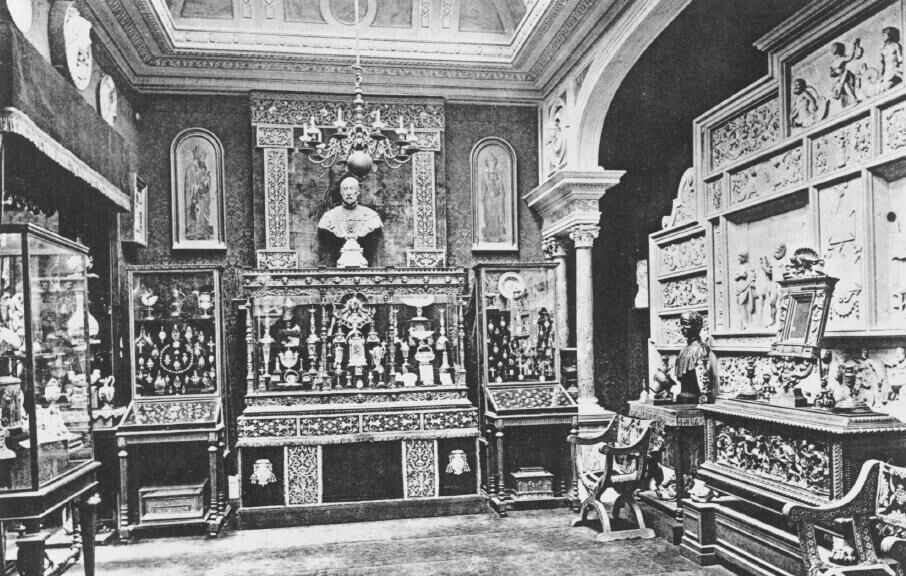 The interior of Spitzer's Paris home.
Spitzer had the keen understanding that selling a work of art was about more than the work itself, something detailed in a recent talk focusing on Spitzer by Paola Cordera, a fellow at the Center for the History of Collecting at the Frick. "He was really able, and capitalized on, the growing demand for decorative art among a growing bourgeois class," Cordera said. Indeed, Spitzer's success came partially from being one step ahead of trends, snapping up works when they were out of vogue and selling them later at markup. From the way he cultivated an aura of art-historical authority by commissioning scholarly texts, to his use of personal relationships to foster clientele, Spitzer was ahead of his time. So, it turned out, were some of the works in his collection. Employing the services of goldsmith Reinhold Vasters (and likely others in Germany), Spitzer had a great number of pieces forged in a foundry in Aachen and sold them as legitimate 15th-century objects.
A page from the catalogue for the 1893 auction of works from Spitzer's collection.
Such was the collection's reputation that when a large chunk of these pieces hit the auction block in 1893, three years after Spitzer's death, it was heralded as the "sale of the century" and papers across the world buzzed with hype. The auction stretched over 38 days, and by the end had netted more than 9 million francs—or $60 million in today's dollars, by Cordera's calculations. "The reason for this success is that making an acquisition from Spitzer's collection was regarded as invaluable investment, both with respect to the quality of object and to increase the purchaser's reputation as a collector," Cordera said.
Spitzer's duplicity wasn't known during his lifetime. For years, despite some doubts swirling at the time of the 1893 auction, the collection was treated as a sacrosanct indication of quality and pedigree. According to Cordera, it wasn't until the early 1900s that curators in Germany began to forcefully assert that some of the works in his collections were out-and-out fabrications or heavily restored to a point that threatened their authenticity. In 1978, a scholar unearthed over a thousand of Vasters's drawings. Among the documents were clear instructions for how to craft the medieval and Renaissance objects they depicted. The revelation cast doubt upon many pieces, including some 45 works in the Met's collection. In response, the museum removed some from display.
One fascinating photograph of Spitzer taken by 

Isaac Kaplan is an Associate Editor at Artsy.