This One-Man Art Factory Created His Own Market—One $5 Painting at a Time
What's the difference between a painting, a poster, and a print? Where's the dividing line between an original and an edition? For
The mainstream art world got a jolt this spring at
Marlborough Contemporary
, where Keene had been commissioned to stage a month-long performative installation in its project space. The larger gallery was taken up with canvases by critic's darling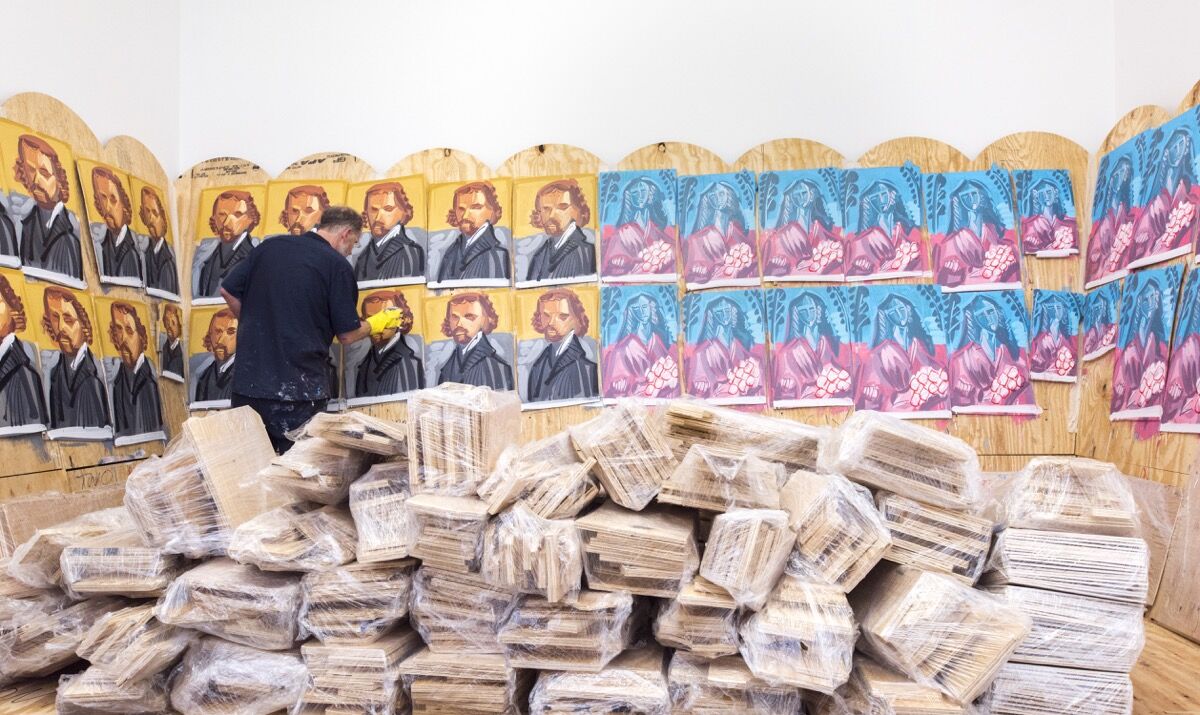 A typical Keene composition is illustrative and barebones—somewhat slapdash, but with real feeling. "In some ways I've dumbed them down, and that's a good thing," Keene tells me. "My work is better because it's simpler, just: dog, cat, tree, blue, red, yellow." Many of his paintings are roughly the size of vinyl record sleeves, and often borrow from album art for their imagery. (Keene has also been commissioned by bands before, including Pavement, who tapped him for the cover of their 1995 album Wowee Zowee). Occasionally he'll depict familiar landmarks—I have a Keenian rendering of Churchill Downs, the site of the Kentucky Derby, hanging in my kitchen—or urban landscapes. He'll paint dozens of variations on the same composition, lining up blank wooden panels and methodically building them up one by one, element by element.
The artist got his start in Charlottesville, Virginia. There, in the early 1990s, Keene would carry bags of his paintings around to bars, selling them to a helpfully pre-lubricated audience. As a result, he reckons there are still "tens of thousands" of his compositions hanging around the college town—a kind of omnipresent interior decoration, whether or not casual viewers know who the "SK" is in each painting's dashed-off signature.
From there, he branched out into D.I.Y. e-commerce—he launched a website around 16 years ago, he says—and also staged exhibitions and sold paintings on college campuses and at university-run galleries. Not everyone understood what he was doing. Keene got flack after one show at Moore College of Art & Design in Philadelphia from some faculty members who thought it was "a stunt, not a serious art activity," he recalls.
Their confusion is perhaps slightly warranted. Marlborough Contemporary, Keene says, indeed hired him as a kind of performance artist, not a painter. "When I paint 100 pictures in one day—that's one piece, in my mind," Keene explains, even if they all end up in different homes. He off-handedly likens his compositions to the "goofy, tradable" picture cards that used to come inside packs of bubblegum.
Audiences get a kick out of watching him paint, he says, because the "physical action is like watching tennis on TV." And the artist—who worked for years as a dishwasher—often returns to service-industry metaphors to describe his practice. "It's almost like I'm creating a restaurant system," he says. "I constantly compare it to food: I'm making 24 pies at a time."    
Whereas one might expect Keene's studio to be a hoarder's den, stuffed to the rafters with endless piles of paintings, he's ultimately business-minded: Most everything he makes is sold. His Greenpoint, Brooklyn home and studio are both located in a building he bought decades ago, before the neighborhood became the face of gentrification in the borough. The work area up front closely resembles the auto garage it once was, with a CNC router that he's using to make a newer series of etched-wood works. There's a hundred or more paintings arrayed together, but they're all waiting to be sent off to an upcoming show at Roanoke College in Virginia.
It's absurd to compare Keene's market to that of the traditional art world, since his abides by its own rules. Whereas he admits that his smallest paintings could certainly sell for $20 each, rather than $5, that would eliminate an important phenomenon: "If they're $5, then people buy four," he says, "and spend half an hour trying to see which look good together. They're creating one work of art by getting four pieces—they're completing the narrative."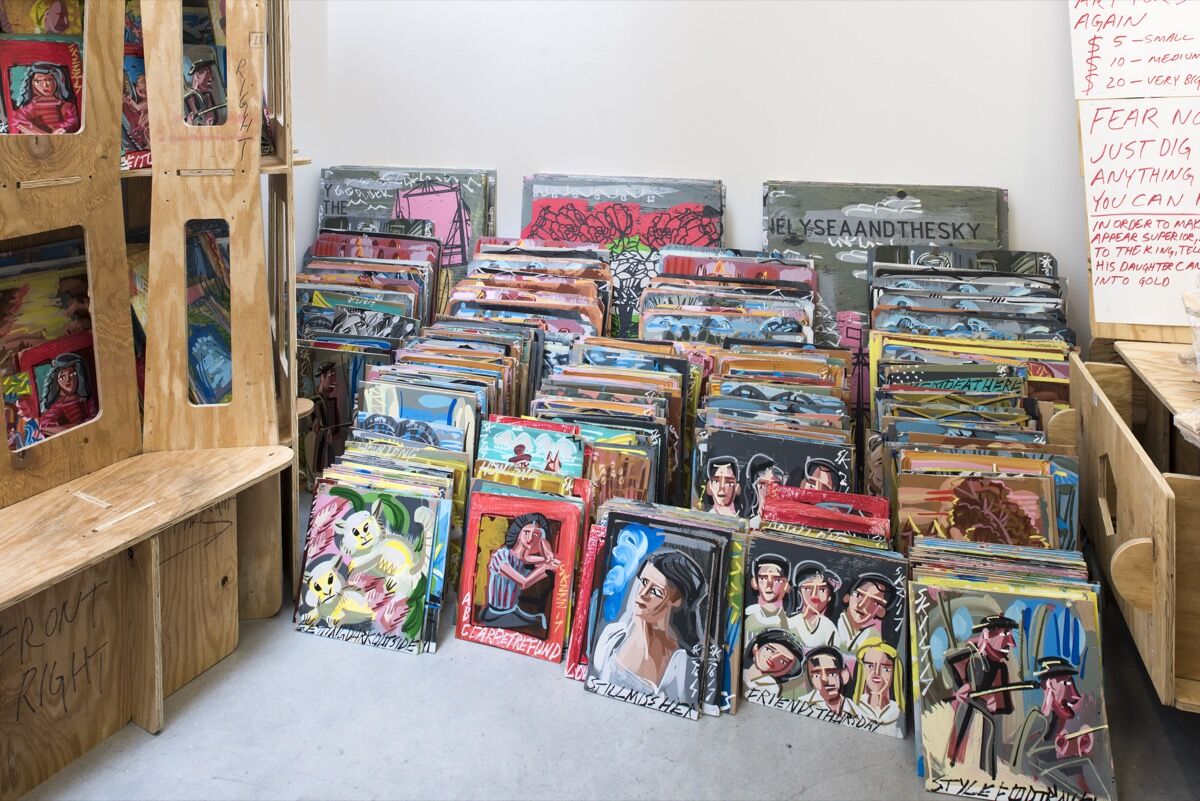 Buying habits also follow geographic and situational trends. Online, he's noticed that "little micro-obsessions with me crop up, that might last for six months or so." In general, though, he says that half of his output ends up shipping to California. At the Marlborough Contemporary exhibition, he sold around 1,500 paintings over the course of the month. Unlike college shows—where buyers would arrive with their cars, ready to pack "armloads of paintings" into the back of an omnipresent Volvo stationwagon—New Yorkers were more discerning by necessity. "They'd spend an hour deciding which small one to take," Keene says. "It's not that they didn't want 10—it's that they'd have to carry them."  
This might all sound slightly crass—painting as product-making—but Keene has found aesthetic reward in a practice that can be as rigidly structured as anyone else's nine-to-five. "I physically enjoy painting," he says. "It's my diary, my response to the day. It doesn't feel like I'm making artwork—it feels like I'm involved in a process."
"I like the idea of not particularly caring about the image," Keene adds, "but what I can do with the image—how far I can push the ritual of artmaking in an extreme direction."
Scott Indrisek is Artsy's Deputy Editor.