Art
Everyone Has an Opinion about Julian Schnabel. But Do We Really Know His Work?
Installation view of "Julian Schnabel: Symbols of Actual Life," at the Legion of Honor, San Francisco, 2018. Photo by Moanalani Jeffrey. Courtesy of the Fine Arts Museums of San Francisco.
Writing in his diary in January 1985, Andy Warhol described a visit to the Park Avenue South loft of Julian Schnabel—one of his primary rivals in art-world notoriety at the time: "Bryan Ferry was there. Julian has all his own art in the place and he tells you about each one, he stands there and reads into his own work. I mean, he literally stands there and…tells you what his paintings mean."
Three decades later, the address has changed, but Schnabel's home is still bursting with his work. And he still seems to relish the role of docent. On a sunny morning earlier this year, the artist walked a small group of reporters and photographers through his sprawling West Village lair, nicknamed the "Palazzo Chupi." He designed the pink Italianate mansion, which sits atop an early 20th-century brick stable. It's easy to see the 12-story palazzo as an architectural extension of the artist's maximalist take on art, design, and life—a persona that has followed him ever since he kicked the quiet braininess of Minimalism and Conceptualism in the face with his loud, brash Neo-Expressionist paintings in the late 1970s and early '80s. This is a man, after all, who soon became known for wearing pajamas in public.
During the recent studio tour, Schnabel was dressed not in sleepwear, but a blue chambray shirt and white jeans. It was a casual visit nonetheless—an opportunity for a few members of the press to preview new paintings destined for the Legion of Honor in San Francisco, which, in April, opened "Julian Schnabel: Symbols of Actual Life." Up through August 5th, the show marks the first and penultimate curatorial foray there for Max Hollein, director of the Fine Arts Museums of San Francisco—the umbrella institution of the Legion of Honor—since 2016. (Hollein was named the new director of the Metropolitan Museum of Art in April, around a week before he opened Schnabel's show, and he's heading to New York this summer.)
For the elegant colonnaded courtyard of the Legion of Honor, a Neoclassical landmark, the institution commissioned Schnabel to produce six massive, 24-by-24-foot paintings, which show white gesso blobs and streaks on faded purple material. The works, which he painted outdoors at his Montauk studio, now tower over the Legion of Honor's collection of bronze Rodins. They are too large to fit in many interiors, and will stay outside for the duration of the show, exposed to the elements. "People comment on the size of his work and say it's grandiose or monumental, but I never felt that way," Hollein told me by phone recently. "I always thought the paintings have a proper size for what he's trying to achieve, which is a very powerful relationship between the viewer and the canvas, with the painting really becoming an object or architectural element."
If the show's title, "Symbols of Actual Life," implies that the Legion of Honor's space was all but dead before Schnabel's arrival, it's not necessarily intentional, though Hollein has seriously energized the institution's contemporary program during his short tenure. Rather, as he explained, "Julian's paintings already have a history. He doesn't paint on cheap white canvas. He paints by selecting the surface, and that surface is already charged with history or symbols of actual life of its own."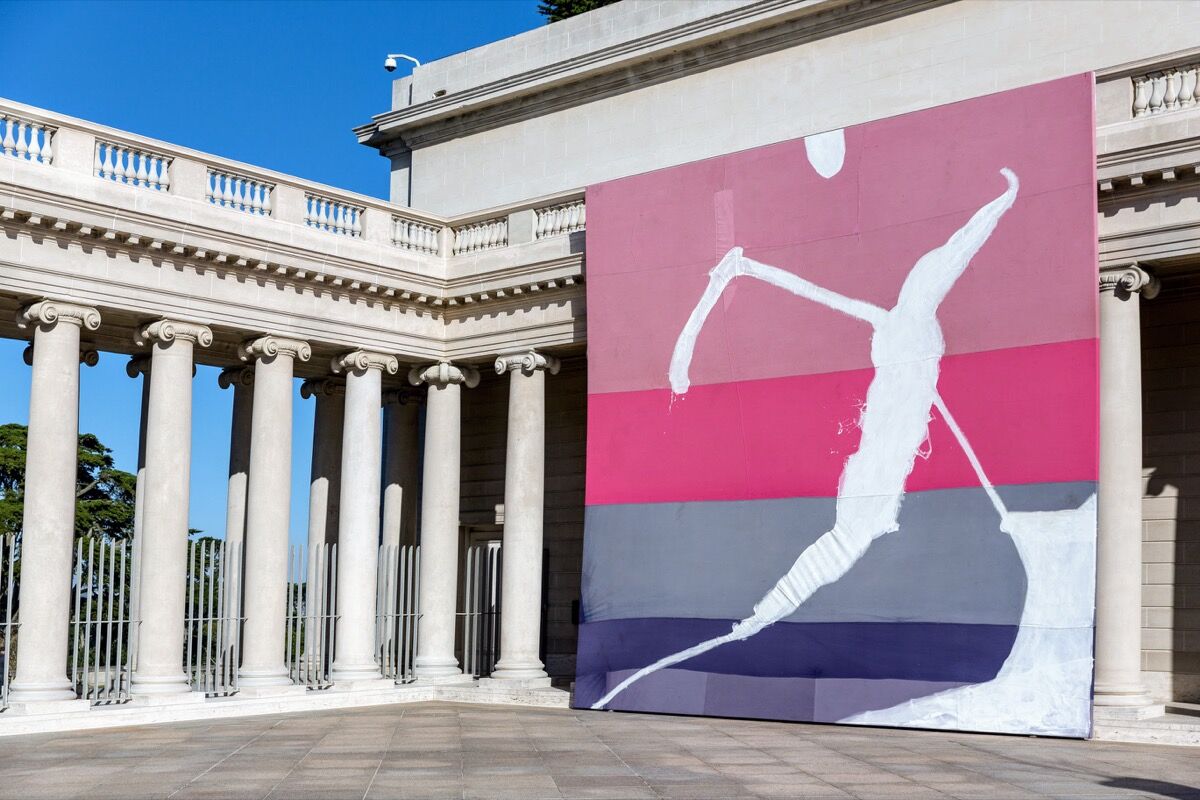 Installation view of "Julian Schnabel: Symbols of Actual Life," at the Legion of Honor, San Francisco, 2018. Photo by Moanalani Jeffrey. Courtesy of the Fine Arts Museums of San Francisco.
Schnabel has painted on everything from velvet and burlap to linoleum and, most famously, on broken plates. His usage of unlikely materials with histories, combined with his unconventional methods of application (hoses, spray cans, fingers, paint-soaked cloth), unite the past four decades of his output. Also at the Legion of Honor are two works from Schnabel's 1990 "Jane Birkin" series—each consisting of an old sail he acquired in Egypt, upon which he spelled out the name of the French model, actress, and singer, who holds a special place in his memory—as well as three "Goat" paintings from 2016. Those take their name from a pre-existing image of a white goat (with a stuffed bunny on its head and a scarf), which Schnabel superimposed onto digitally reprinted French 1850s Dufour wallpaper, then defaced with gestural splatters. They hail from a larger series he's been working on since 2012, which first began as a tribute to the artist Mike Kelley, who died that year. Schnabel showed us several goat pictures around the palazzo, each with slightly altered printed backgrounds and paint stains. "I'm really interested in the idea of how something is printed, whether it's by time or stain or actual printing—how you apply an image to a surface," he said.
Schabel is also interested in where things come from. As we stood in front of another series of irregularly shaped white gesso abstractions on the same faded purple cloth, destined for the Legion of Honor, the artist proudly explained that he didn't mix the violet color, but found it. The material, he said, was cut from sun-bleached tarps that once shaded an outdoor market in Mexico. "It was covering a fruit market in the jungle," he told the group. "It's very hard to make a color like that. In fact, it's impossible."
Installation view of "Julian Schnabel: Symbols of Actual Life," at the Legion of Honor, San Francisco, 2018. Photo by Moanalani Jeffrey. Courtesy of the Fine Arts Museums of San Francisco.
At one point, our tour guide inevitably turned to his latest filmmaking effort, At Eternity's Gate, his forthcoming Van Gogh biopic. ("Has anyone seen The Diving Bell and the Butterfly?" he asked, referring to his 2007 Oscar-nominated feature. "This is going to be much better than that one.") It's hard to imagine that Schnabel has had time to make any paintings over the past few years, but there we were, surrounded by them. (He also has a show of new work—paintings on reproductions of 18th-century calendar prints—opening at Pace Gallery's London location later this month.) And while his painting and filmmaking efforts don't directly intersect, it doesn't seem wrong to read his massive purple squares as film screens, and the white gesso streaks and squiggles as flickering forms of old film leaders whipping across them. But just about anything, or nothing, can be read into much of his imagery.
As the group trailed the artist through the palazzo with the quiet obedience of grade-school students in a museum, Schnabel stopped to share anecdotes. In his bedroom, he pointed to a framed 20-dollar bill with a skull drawn over Andrew Jackson's face by Jake Chapman. "He gave that to me for my birthday, and at first I just thought he was giving me 20 dollars," he laughed. A Picasso hanging in his study was not, in fact, authentic. "I was at Cy Twombly's house once, and I saw this very beautiful Picasso drawing," Schnabel explained, "and I said to Cy, 'Where'd you get that?' And he said, 'Oh, I made that,' so I figured, okay, I'll try to make one, too."
It's fortunate that Schnabel likes to give tours. He's not alone in asserting that his paintings need to be seen in person to appreciate the scale, materials, and processes, but there haven't been many opportunities to see a wide range of them in the flesh. The Legion of Honor exhibition is the artist's first institutional outing on the West Coast in 35 years, and he hasn't had a survey in New York in decades; the closest recent thing was a show at the Brant Foundation in Greenwich, Connecticut, in 2013. (And in 2016, the Aspen Art Museumshowed his plate paintings from the late 1970s and '80s, while Pace showed a series of new ones last year.)
Installation view of "Julian Schnabel: Symbols of Actual Life," at the Legion of Honor, San Francisco, 2018. Photo by Moanalani Jeffrey. Courtesy of the Fine Arts Museums of San Francisco.
When asked what it's like to have championed Schnabel's paintings over the past few decades while many curators were avoiding them—aside from the occasional 1980s group show—Hollein, who curated a Schnabel survey in 2004 while director of the Schirn Kunsthalle in Frankfurt, explained that it's a curator's job to "do what you believe in." He admits that many people have an opinion about Julian Schnabel, the person, but that "99 out of 100 don't have an opinion about the work."
"And if you ask most people who do have an opinion of Julian's work what they've seen recently, or which works they are referring to, they usually say the plate paintings, which basically means these people have not looked at his work for 30 years," he adds. "It's always important, especially with work like Julian's, that you really see it before making your judgements."