As Opioid Epidemic Worsens, Photographers Are Finding New Ways to Capture Addiction
On September 8, 2016, the Ohio city of East Liverpool
shared
two photographs on Facebook showing a man and a woman in a car, both slumped over and unconscious from overdosing. In the backseat was a little blonde boy in a dinosaur T-shirt, staring directly into the camera.  
The images, which quickly went viral, served as visual, chilling proof that that the country is in the throes of a devastating opioid epidemic. Today, people addicted to heroin or prescription pain medication permeate American society—2.1 million in 2016. "The needle doesn't discriminate," noted Philip Montgomery, a photographer who recently
captured
the opioid crisis for the
New Yorker
. "It could really be any of us." No longer are addicts societal outsiders; they are lawyers and football players, nurses and stay-at-home moms. And, as our understanding of drug users shifts, so too does the visual language of addiction.
The United States first stumbled into opioid addiction following the Civil War, when morphine use became widespread among injured veterans. Soon the drug was sold publicly as a cheap, everyday relief for numerous ailments and spurred rampant abuse. When heroin was introduced by the pharmaceutical company Bayer in 1895, designed and marketed as a cure-all morphine substitute, the crisis of addiction only ballooned. By 1914, with the passage of laws taxing opiate and coca leaf products, the U.S. government finally launched an aggressive media campaign against drugs and drug users. Thus, the imagery around drugs shifted from advertising—like Bayer's for heroin—to propaganda that portrayed the addict as an immoral, disease-ridden criminal.
Drug use in America would be reimagined a half-century later through the work of photographers such as
Likewise, Goldin's "The Ballad of Sexual Dependency" (1979–1986) offers glimpses into her own intimate, drug-fueled subculture—each image containing fractured moments of beauty. In one photograph, a man burns heroin in a spoon, the red stripes of his shirt and the red of the belt around his arm echoed in a bright red rotary telephone on the floor.
Then, in the late 1990s, Purdue Pharma (owned by the Sackler family) began an aggressive, calculated, and wildly successful marketing campaign for its new pain medication, OxyContin. The potent addictive qualities of the drug were consistently underplayed, allowing prescriptions to skyrocket. Soon, heroin began to piggyback its way into communities on the back of opioid abuse.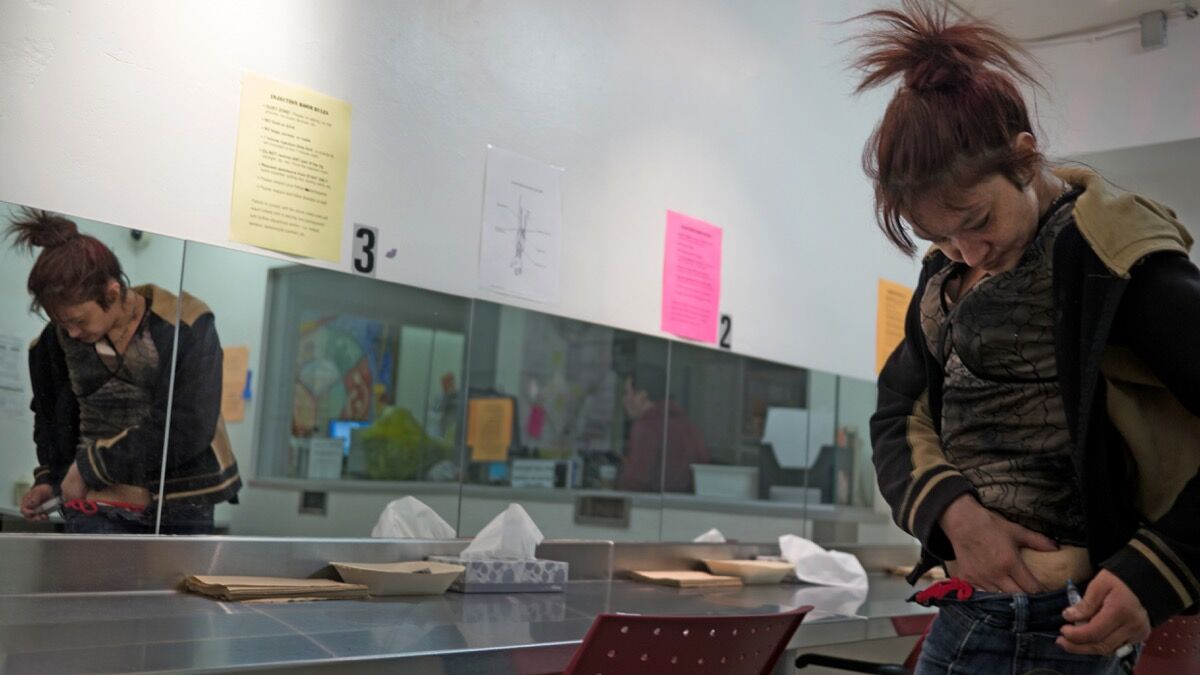 This current opioid crisis has fundamentally destabilized our knowledge of who and what constitutes an addict, allowing a new generation of drug users to re-define themselves. Viral images—like those posted by East Liverpool's police department—have been some of the most common to come out of the epidemic, but there has also been an emerging trend of sustained photographic projects that involve the addict to a higher degree, as a kind of self-portraiture.
Canadian photographer Aaron Goodman, for example, documented the daily lives of three long-term drug users from 2015 to 2016, all of whom were taking part in North America's first clinical trial of a heroin-assisted treatment program. "Photography is limited in communicating everything," he told Artsy. "There needs to be narration or some accompaniment to contextualize." To combat the dominant tropes of drug photography, Goodman showed his three subjects the photographs and asked them to respond; their words accompany each photograph in the series.
In one image, Cheryl—one of Goodman's subjects—injects heroin into her thigh. The photograph could be read as a standard injection scene, like any found in "Tulsa" or anti-drug propaganda. Contextualized by Cheryl's words, however, this scene develops a different meaning. She explains that she is injecting herself at the program's site, and with clinical, non-contaminated heroin. "I want to show the people that this place is where we get our injections for our heroin opiate program," says Cheryl, "[and] that we need these places so heroin addicts can get off the streets." With his project, Goodman says, "I'm calling on the viewer to listen to the drug user—in their own words. The drug use is not important, it's secondary. What's important to me are the people's backstories, and the issues that they're facing on a particular day."
For Scottish photographer
His photographs engage in a process of self-definition. "A lot of what's out there," he continues, "is just like junkie porn, because people love to see people in the shit. It's the same reason people watch all these T.V. documentaries about celebrity rehab, where people relapse continuously. And it instills in people the idea that people never get better." As MacIndoe says of his own project, "People need to know what happened to me, and I recovered."
In January of this year, Goldin—now 64 years old—published a piece in Artforum about her own addiction to opioids, in which she demanded that "the Sacklers and Purdue Pharma use their fortune to fund addiction treatment and education." The story ran alongside photographs that chronicle her addiction to OxyContin: a close-up of her pill bottle, a self-portrait of herself on the drug, an oblique shot of the Sackler name on the wall at the Royal College of Art, London.
The first time around, in "The Ballad," Goldin's self-portraiture was all color and confessions, a peek into her erotic and exotic subculture. Now, however, Goldin has become part of this new strain of addiction photography, that of Goodman and MacIndoe—a reclamation of identity, the grace of context, a photographic language that is meant to help society recognise both a problem and the people at its core. As Goldin has said about her opioids project, "I realized that I wasn't alone and that I had to help people. This is what I've lived through. And I'm a survivor of OxyContin—talk about hell."