How Oscar Weekend Launched a Buying Spree for L.A.'s Art Collectors
But Deitch insists that this time is different.  
"I was there when Norman Braman was trying to bring Art Basel to Miami Beach, and that's what this feels like," Deitch said, walking past the stained glass windows that were built into the house.
"Everyone is going to come, it will be just a new spot on the schedule—Asian collectors, Latin American collectors," Deitch said. "People want to be a part of the scene here—they can relax here."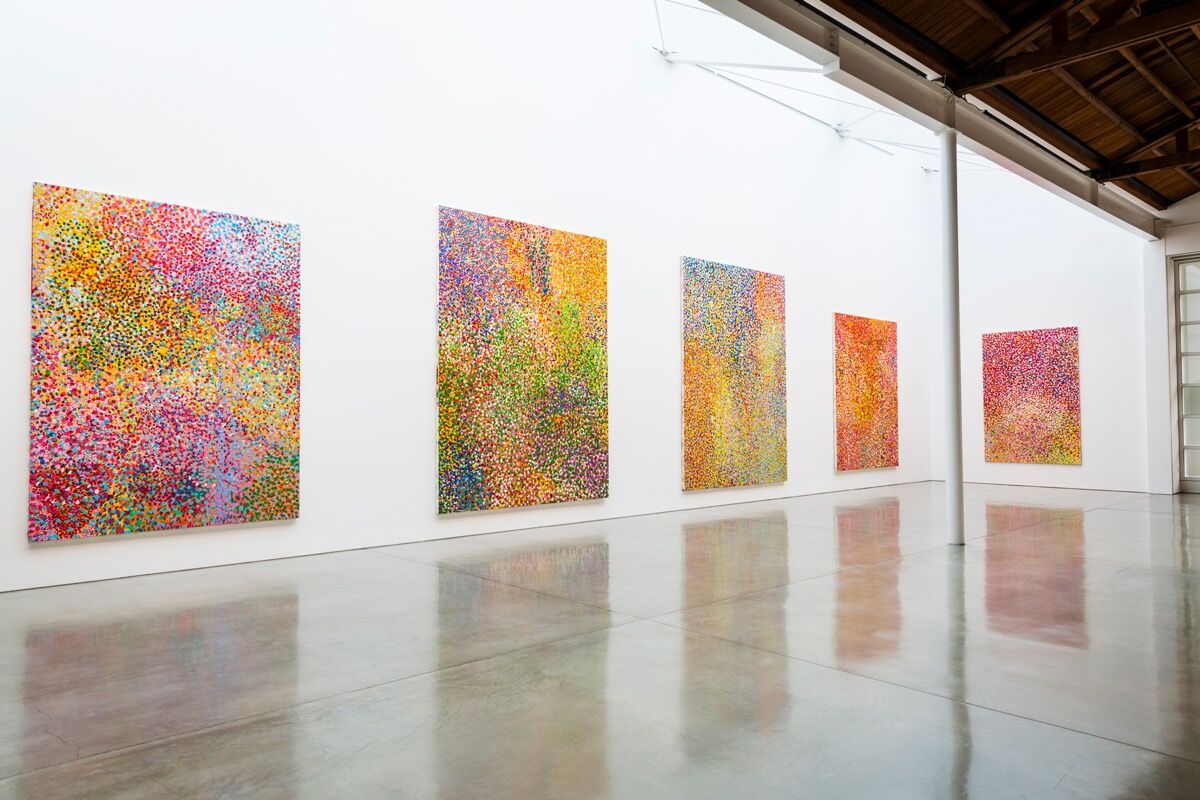 Installation view of Damien Hirst "The Veil Paintings" at Gagosian, Los Angeles. Photo by Emily Berl for Artsy.
This marathon of a night began at the Beverly Hills Hotel's venerable watering hole, the Polo Lounge, and then onto the gallery,
where hundreds of people saw Damien Hirst's new exhibition, "The Veil Paintings
." It kicked off a week of art selling out at galleries—all 24 works in the show sold by dinner, for prices between $400,000 and $1.6 million, Gagosian confirmed. For the select few, there were cocktails on the gallery's roof, which has a little garden displaying work by
$12 million Brentwood house he bought last year
, he's seen as part of the next generation of Los Angeles collectors.
On Friday, I made my way to Deitch's, with the steam billowing from above the heated pool. Hung by the front door was an invitation to the first show Deitch ever put together, which included work by
North By Northwest
. (The home's former owner is also featured in the room's den, where on the wall is a gigantic
Whitney
for the giant
retrospective planned
for this November.
We had originally planned to meet at the new gallery space, but the construction workers can't work in the rain (Los Angeles more or less shuts down when it rains). It's a breezy 15-minute drive from the house to the gallery, and when the programming starts in early September, he'll use the house for dinners and events. The gallery is in a neighborhood that's south of Hollywood and close to Paramount Studios, just an eight-minute drive. Galleries such as Regen Projects, Various Small Fires, and Hannah Hoffman are so close to Deitch's space, you could walk there without Angelenos giving you weird looks—when the fair opens in February, all those spots will have shows up, creating a center of gravity in the sprawling town.
Even if it's opening five months into Deitch's programming, the planning for Frieze L.A. is already very much underway; when I ran into director Victoria Siddall at the Hirst opening, she said they've already started whittling away applicants for the founding exhibitor list, which will set the tenor of the fair. Unlike Frieze New York, which has 190 galleries per year on Randall's Island, Frieze Los Angeles will have just around 60 galleries.
"That's the problem right now, figuring out which galleries will make it in," Siddall said, with an easy smile that made her appear not the least bit concerned.
Crowe is based in New York, but said that L.A. during Oscar weekend was now firmly on the calendar for her.
"It makes sense to take advantage of the crowds who come to town for the awards," she said. "I'm sure it will become the next must-attend destination."
Sunday saw the opening of a gallery consortium space-sharing experiment, something similar to (though not associated with) Condo, the gallery share that Carlos/Ishikawa co-owner Vanessa Carlos started in 2016, allowing London spots to host gallery programs in other countries. Three Los Angeles galleries—Hannah Hoffman, Kristina Kite, and Park View—would be hosting a dozen spaces from overseas, including Düsseldorf's Max Meyer, Cologne's Jan Kaps, and Tokyo's Misako & Rosen.
Nate Freeman is Artsy's Senior Reporter.