Overhauled Armory Show Sees Early Sales Roll In
Installation view of Yayoi Kusama, Guidepost to the New World, 2016, at The Armory Show, 2017. Photo by Adam Reich for Artsy.
"What a difference a year makes," said Genocchio as the fair kicked into gear.
Thanks to widened aisles and more spacious booths, The Armory Show now has one of the most seamless traffic patterns of any art fair its size—gone are the dead ends and straggling aisles. It also newly embraces the industrial character of the piers, something earlier editions have tried to gussy up. The concrete floors have been painted black, replacing the dull carpeting that had previously covered the majority of the fair. It's a subtle shift but one that goes far in making the structure's corrugated roof and metal rafters a branding asset rather than an eyesore. The intent is clear: The Armory Show is forging a new identity.
According to the director, Genocchio "was very much a part of that decision" to return. As for the results, he said, typical of the more organic pace of a New York fair, it will take a few days to ascertain. But he said, "hopefully it will be positive."
"Because of the whole state of politics in the world and all this unknowing, nobody really knows [what to expect]," he said. "But it's been a phenomenal fair, maybe one of our best."
Installation view of White Cube's booth at The Armory Show, 2017. Photo by Adam Reich for Artsy.
"I made him finish this for the fair," said Shainman, visibly moved by the work. "I said, 'I'll owe you.'"
Installation view of Dorian Gaudin, Missing You, 2016. Photo by Adam Reich for Artsy.
The relocated and revamped
Focus
section, this year organized by former LACMA associate curator of contemporary art Jarrett Gregory around a thematic show rather than a regional focus, was nonetheless drawing collectors to the southern pier.
KOW
gallerist Raphael Oberhuber, who shows work by a collective of Congolese plantation workers known as
"I believe more in sections that are based on ideas than media or geography," he said.
Many had praised the 2016 Focus section, which presented work by artists from Africa and the African diaspora. And a number of the galleries who participated in last year's Focus have returned to the fair. Among them is London gallery
Tiwani Contemporary
, which specializes in contemporary African art and this year shows in Presents on Pier 94; Cape Town's
blank projects
has also made the jump.
"The move from regional focus to something more integrated feels like a step up because we're part of a global conversation," said the gallery's Eva Langret. "Some of the artists that we work with might have more in common with somebody from New York, Berlin, or Brussels, than an artist who's from the same continent."
Tiwani is showing ink on paper works by Zimbabwe-based artist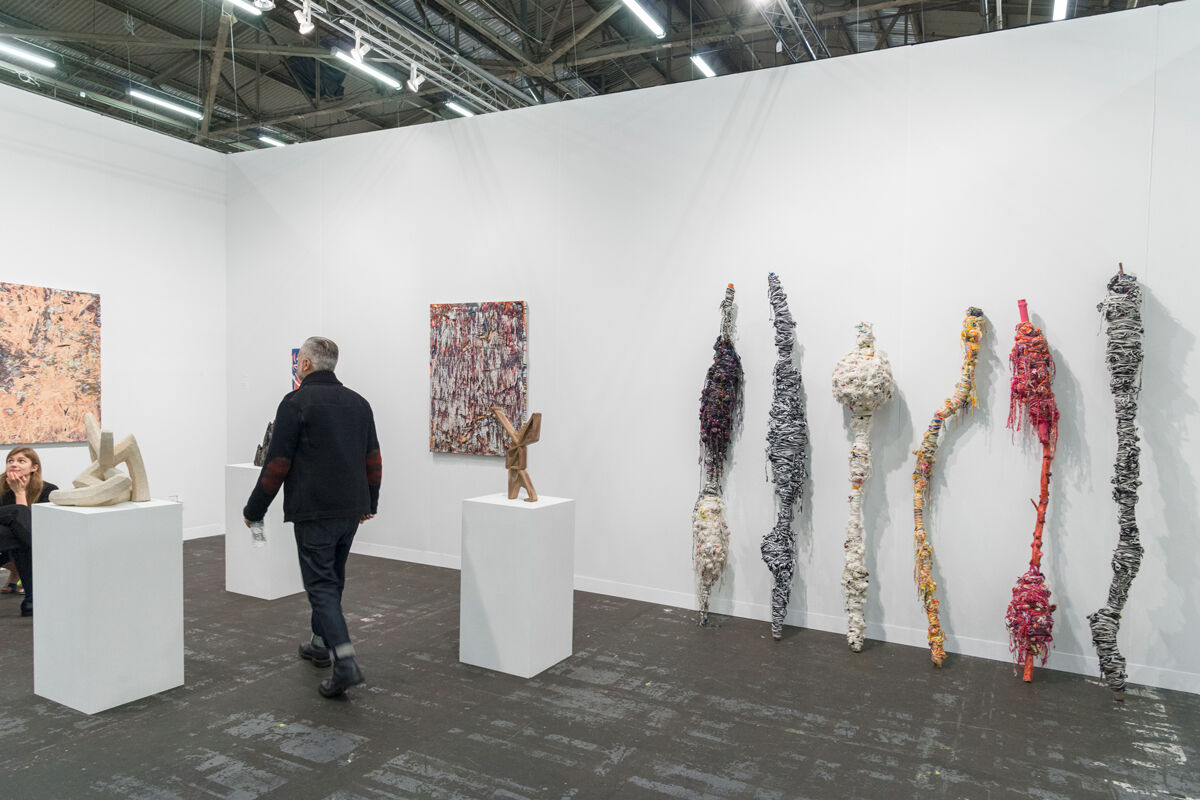 Installation view of Galerie Sultana's booth at The Armory Show, 2017. Photo by Adam Reich for Artsy.
Another newcomer to Presents, Paris gallerist and Paris Internationale art fair co-founder Guillaume Sultana, said he chose Armory this year for "practical reasons." Frieze New York closes just three days before previews of the 57th Venice Biennale begin. The timing will force
Sultana
to sit out of the May fair in order to join his artist, Paul Maheke, in Venice, where Maheke is participating in the new Diaspora Pavilion. Thus far, Sultana said he has been pleasantly surprised by the more open layout and higher caliber of galleries than he recalled on his last visit to the fair. However, he had yet to confirm a sale.
With NADA and Independent opening on Thursday, many collectors were said to be making the full rounds before coming back to Armory on Friday or the weekend to confirm purchases—particularly for young artists' work. And while overall, the selling tempo at fairs has slowed, with many more becoming slow burners rather than charging out of the gate, the energy at The Armory Show's opening day shows a strong resurgence for the New York institution.
Molly Gottschalk is Artsy's Features Producer.
Stir Creativity
See how Bombay Sapphire supports artistry.
Sponsored by Bombay Sapphire