How Artists and Scientists Have Pictured Volcanoes over 600 Years
Humboldt, Ein Naturgemälde der Anden (Chimborazo Map), 1805. Courtesy Bodleian Libraries, University of Oxford.
There's not much David Pyle doesn't know about volcanoes. The volcanologist and professor of Earth Sciences at the University of Oxford, who first became fascinated with volcanoes as a child while living in Chile, spends much of his time teaching and investigating volcanic activity around the world. His latest project, however, is a more unusual adventure for the scientist; he's curated an exhibition.
"Volcanoes" is the result of three years of work mining the archives of one of Europe's oldest libraries, the Bodleian in Oxford—where the exhibition is housed—as well as the Museum of the History of Science and the Natural History museums in Oxford and London. Working with a diverse team that included an art historian and experts in various scientific fields, Pyle has mounted a show that explores volcanic eruptions from a human perspective, through stories, encounters, and visualizations, stretching back to early publications and illustrations in manuscripts from the 14th century right up to the present day.
Mount Etna, 1637, from Athanasius Kircher's Mundus Subterraneus, 1665. Courtesy Bodleian Libraries, University of Oxford.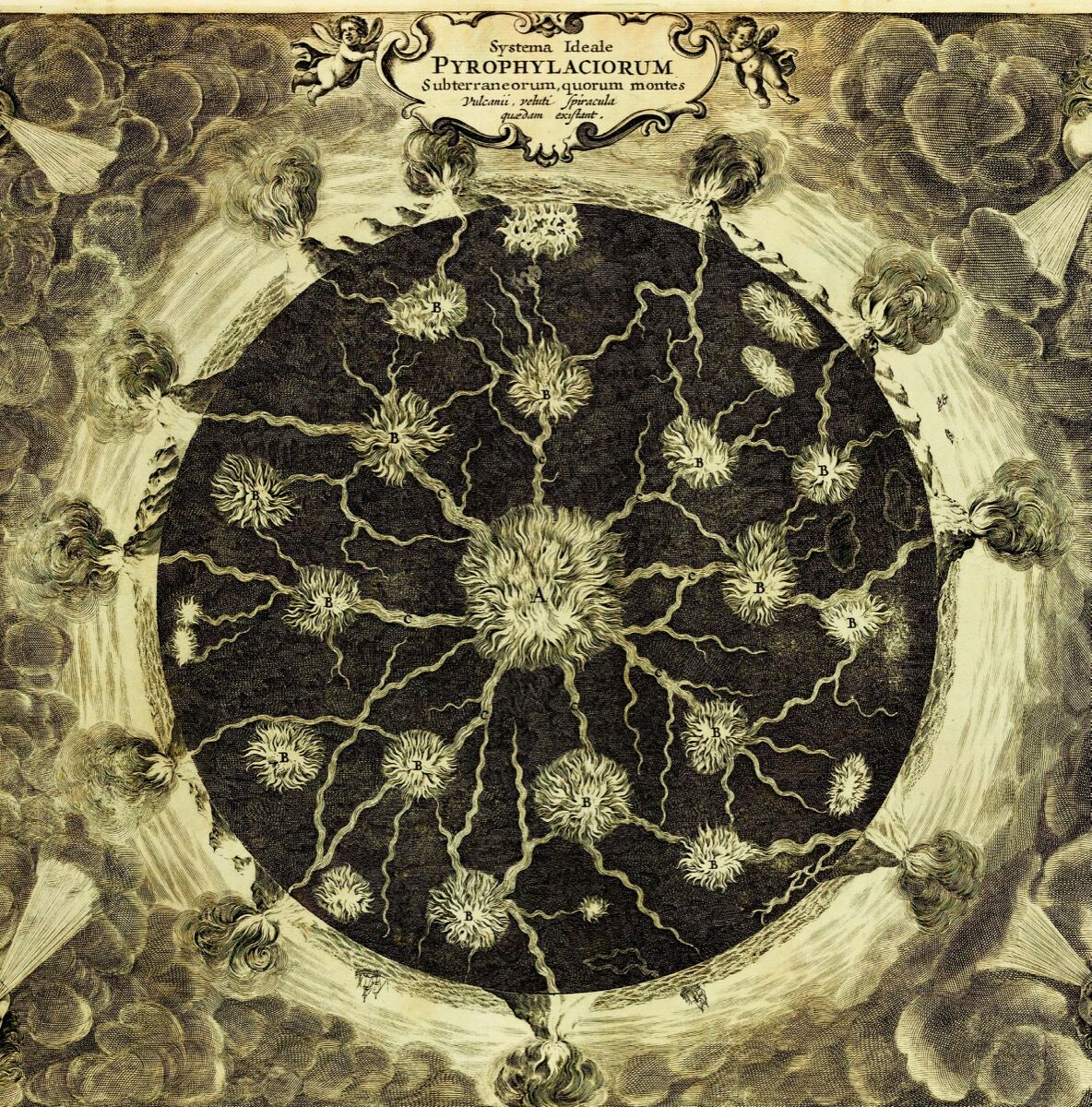 An illustration of the Earth's subterranean fires from Athanasius Kircher's Mundus Subterraneus, 1665. Courtesy Bodleian Libraries, University of Oxford.
The exhibition includes several striking examples of the convergence of science and visual culture, from systems proposed by Athanasius Kircher, a 17th-century scholar, in his 1664 Mundus Subterraneus, to remarkable photographic plates depicting the eruption of the Greek volcano Santorini in 1866. The latter images were taken from the air, using cumbersome equipment. They must have entailed an extraordinary feat at the time, and they're one of the standouts of the exhibition.
Pyle also takes a refreshingly revisionist slant, subtly redressing history with the inclusion of female explorers and their volcanic expeditions, namely Isabella Bird and Constance Gordon Cumming. Cumming hiked to the summit of Hawaiian volcano Kilauea twice, in search of the lava lake at Halemaumau—the first time, she was disappointed to find there was no fire. She returned a few weeks later to find the fire, and painted the scene.
William Ascroft's watercolors of sunsets in Chelsea, London, 1883. Courtesy Bodleian Libraries, University of Oxford.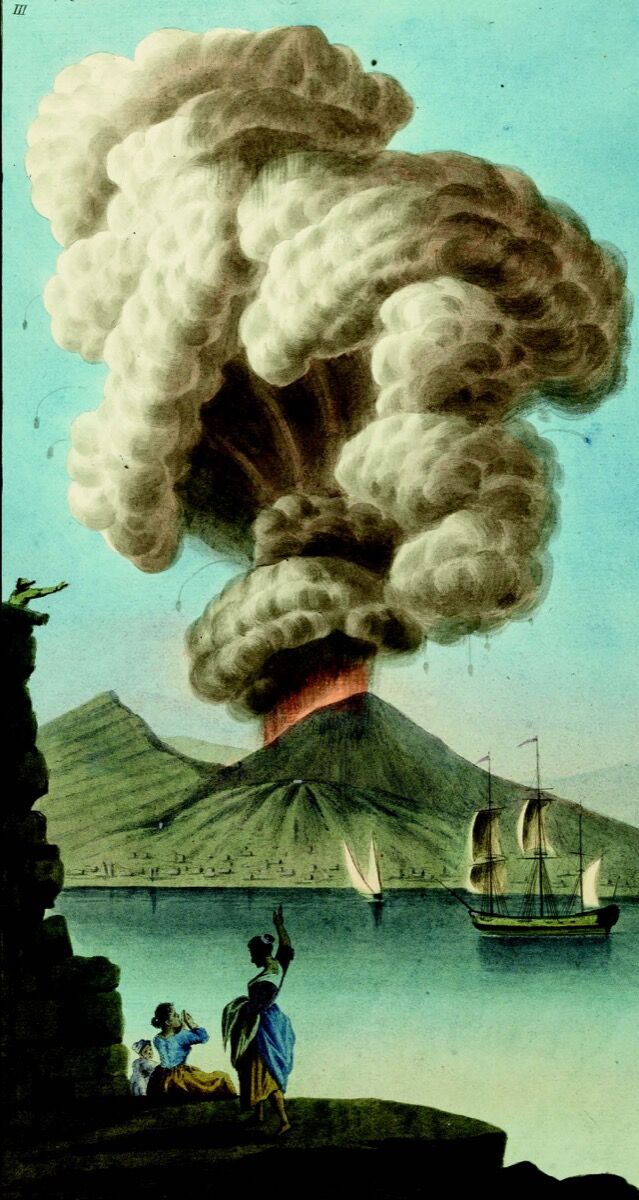 Gouache of Vesuvius by Pietro Fabris, from William Hamilton's Campi Phlegraei, 1779. Courtesy Bodleian Libraries, University of Oxford.
There's more beauty and awe to be found in the pioneering German naturalist and explorer Alexander von Humboldt's infographics, and in British painter William Ashcroft's watercolor series depicting blood red skies over Chelsea in 1883, following the eruption of Krakatoa, in Indonesia. Ashcroft's compositions are spectacular, conveying a powerful, emotive human response to a natural phenomenon, though they were intended as informative records.
A few items from Pyle's personal collection are also on view, showing the ongoing mythologization of volcanoes in popular culture. A poster for filmmaker Rossellini's 1950 Stromboli, starring Ingrid Bergman, decries "Raging Island! Raging Passion!", approximating the internal fire of the volcano with the paroxysms of love. Next to it is an equally dramatic poster for a film of the same year, Vulcano, directed by William Dieterle and starting Italian actress Anna Magnani.
A 19th century infographic by Charles Daubeny, 1827. Courtesy Bodleian Libraries, University of Oxford.
"We're trying to do is show the different ways that volcanoes have influenced people and the environment," Pyle says, "and also the way these past reports of erupting volcanoes and volcanic activity are a really important part of the documentary evidence that we use in reconstructing what is happening to volcanoes."
What is it about volcanoes that appeals to the human imagination? "I think it's the heat, the power," he says, "there's something visceral about the extraordinary scale of volcanoes." And the show Pyle has created manifests his own fixation. It is a paean to human adventure and exploration, as well as showcasing the indomitable force of nature.
Stir Creativity
See how Bombay Sapphire supports artistry.
Sponsored by Bombay Sapphire