Patricia Treib's Sunny Pastels Challenge Ways of Seeing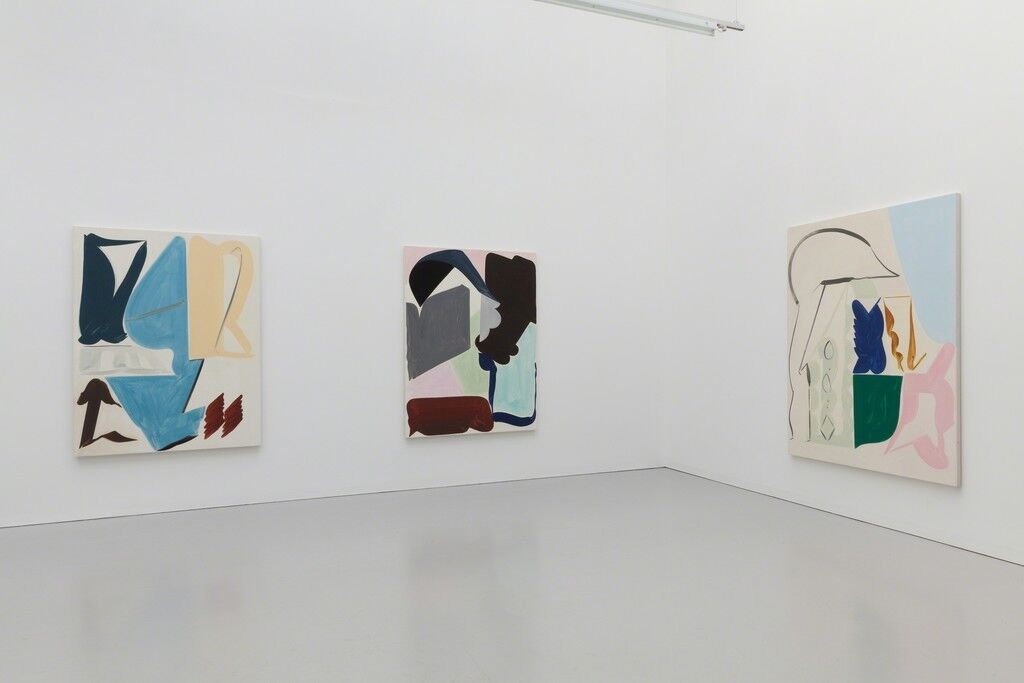 Installation view of Patricia Treib at Kate MacGarry. Courtesy Kate MacGarry and the artist.
Color and form are locked in lively conversation in these paintings, whose ease belies a laborious drafting process. Once accustomed to the heady mix of color, viewers may discern recurrent forms and repeating configurations. Some of these forms have been repurposed from objects that caught the artist's eye: the hand of a 15th-century Russian icon, the outline of a sleeve from a Piero della Francesca. To the viewer, these are indistinguishable from the other shapes that dance across the canvases; their significance exists for the artist alone.

The mechanics of looking, representing, and interpreting are a central occupation here. Memory and recognition may inscribe forms with particular meanings for viewers. Patterns are animated by color, so that the same shape can leap forward and be read as form in one painting and shrink back to be read as background space in another. Each canvas represents a long process of repeating, reshaping and adjusting. Working on the floor or on a tabletop, Treib returns to motifs and configurations time and again, tirelessly remodelling her compositions. Using repetition of form and variation of color almost as variables in a controlled experiment, these works show how we order space according to our expectations, and in doing so highlight the role of individual perception in constructing our experience.

Installation view of Patricia Treib at Kate MacGarry. Courtesy Kate MacGarry and the artist.
The collection of shapes and patterns represented on the 10 canvases exhibited are analogous to vocabulary, a visual language comprised of shapes that the artist has both seen and imagined. Their origins and associations necessarily remain opaque to us in places, but that has no bearing on their communicative power. The process of seeing is a gentle tussle between the eye and the mind, we are reminded—a tussle played out here with exuberance and style. 
Patricia Treib is on view at Kate MacGarry, London, May 1– Jun. 6, 2015.
Stir Creativity
See how Bombay Sapphire supports artistry.
Sponsored by Bombay Sapphire