Peek inside the Intricate Worlds of Art History's Most Spectacular Dollhouses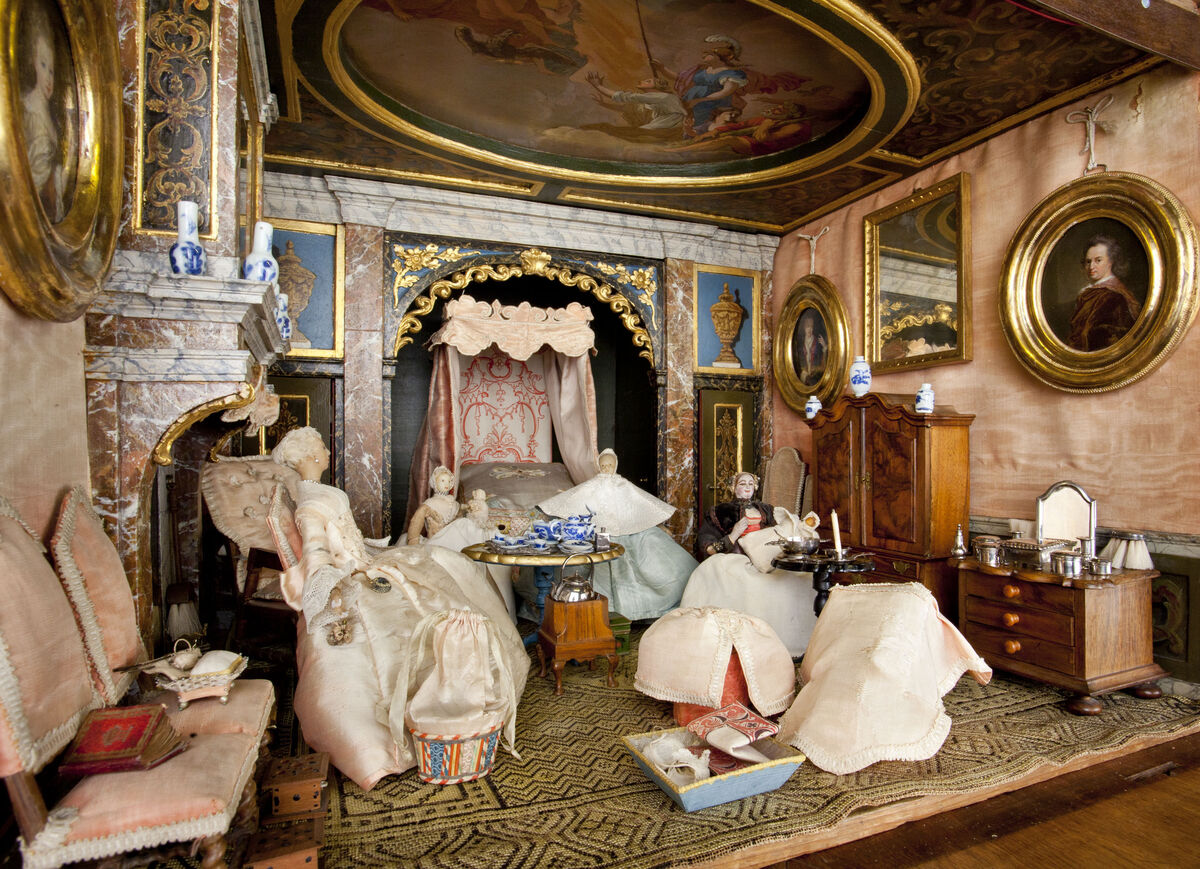 Sara Rothe's Dollhouse, Courtesy of Gemeentemuseum Den Haag.
The Barbie Dreamhouse may have set the contemporary template for dollhouses: mass-produced plastic toys crafted for children not just to play with, but to spit on, break, and quickly get bored with. But it hasn't always been this way.
Traditionally, dollhouses have served various purposes that have had little to do with innocent amusement: They were works of art in their own right. In the 17th and 18th centuries, particularly in northern Europe, wealthy households constructed splendid dollhouses as wunderkammer to entertain and delight visitors—and to exercise their excellent taste. By the same token, these luxurious display cabinets were didactic tools, used to teach little girls the domestic skills they would need to run their households as adult wives.
One of the most famous—and perfectly preserved—examples from this time period lives at the
Rijksmuseum
in Amsterdam. Open the hinged doors of Petronella Oortman's exceptionally realistic dollhouse (ca. 1686–1710) to enter a world of almost unimaginable luxury. The tortoiseshell structure, inlaid with precious materials, is so precise and so precious that it couldn't possibly have been for playtime. Oortman, the wife of a Dutch merchant, must have spent hours amusing her guests with the real, silk-upholstered furniture or tiny porcelain dishes displayed in finely rendered wooden display cases.
Anonymous, Dolls' house of Petronella Oortman, c. 1686–1710. Courtesy of Rijksmuseum.
In the 18th century it was a popular—and gallingly self-congratulatory—custom among the well-to-do to commission exact miniature replicas of their own homes for display. Dolls intended for children to actually play with were introduced to dollhouses in the 19th century; it wasn't until the 1930s that dollhouses began to be mass-produced for mainstream use by children. There's an unexplainable—yet undeniable—satisfaction in seeing familiar things in smaller scale. It is the crucial element of voyeurism, however, that truly exhilarates the dolls' house—one has the ability to play god, master of a small universe.
In the 21st century, dollhouses have become their own very serious cottage industry. Dollhouse and miniature museums dot the United States, not to mention many toy museums and kid-friendly attractions, like the Times Square favorite, Gulliver's Gate. Contemporary artists have also become fascinated with the potentials of dollhouses, using them to explore identity, class, and social mores, or to showcase collections of miniature masterpieces.
Below, we take a tour through seven dollhouses that show just how elaborate and artistic they can be.
Stettheimer Dollhouse (ca. 1916–35)
Interior view of the Stettheimer Dollhouse. Photo by Casey And Sonja, via Flickr.
Over the course of nearly 20 years, Carrie Walter Stettheimer meticulously hand-crafted furnishings and decorations for her lavish, 12-room dollhouse. On its surface, this dollhouse exemplifies the pervasive luxury and sophistication of New York's Gilded Age (a real crystal candelabra lights up the salon). But it's the tiny, avant-garde artworks hung in the elegant rooms that hint at Stettheimer's remarkable and unusual life.
Carrie shared an apartment at Alwyn Court in Manhattan with her sisters
Known for her style (tiaras; jeweled collars) as much as the elaborate meals she planned for her family's soirees (Feather soup! Lobster in aspic! Brabanter torte!), the stately Carrie cannily commissioned members of her avant-garde circle to contribute original, small-scale works of art to decorate the dollhouse. Nude Descending a Staircase (1912) stands as one of the most recognizable works in its collection.
Ettie donated the dollhouse to the Museum of the City of New York a year after Carrie's death, in 1944. On permanent display, the dollhouse reflects, in minute detail, the lives and accomplishments of three thoroughly modern women.
Queen Mary's Dolls' House (ca. 1921–24)
Queen Mary's Dolls' House, ca 1921-24, via YouTube.
One expects a dollhouse intended as a gift for a member of the British Royal Family (even one in her fifties) to be suitably extravagant. The Crown spared no expense, and the Royal Trust Collection goes so far as
to call the toy
"the largest, most beautiful and most famous dolls' house in the world."
They're not wrong. Designed by leading British architect
The dollhouse's most notable feature, however, is its impressive art collection. Princess Marie Louise called for artworks from 700 leading artists, including
Although the queen described her life with King George V as a humble and quiet existence, when the dollhouse went on display in the "British Empire Exhibition" in 1924, it offered the public a rare glimpse into the fabulously artful life of the Royal Household.
Miriam Schapiro and Sherry Brody, Dollhouse (1972)
Miriam Schapiro and Sherry Body, Dollhouse, 1972. Courtesy of Smithsonian American Art Museum.
Fed up with the male-dominated art world, in 1972,
"The age-old female activity of homemaking was taken to fantasy proportions," Chicago and Schapiro
wrote in their statement
for the exhibition. "Womanhouse became the repository of the daydreams women have as they wash, bake, cook, sew, clean and iron their lives away."
Schapiro's contribution to the presentation, a collaboration with Sherry Brody, was a dollhouse: an impressive, 6.5-foot-tall structure that reiterates Womanhouse's momentous, ambitious task on a digestible scale, yet is no less fantastical. In both cases, a house has been built from scratch by untrained women (one goal of the cooperative, Chicago and Schapiro wrote, was "to teach women to use power equipment, tools and building techniques"). And in both Womanhouse and Dollhouse, domesticity and the often confining expectations for women are on full display.
Dollhouse playfully and bitingly explored Schapiro's shifting identities as artist, wife, and mother. Here, the kitchen is empty, and in the nursery, a monster-baby appears in the cradle. In the studio, a man—presumably the artist's husband—models nude for an abstract painting, a miniature version of Schapiro's hard-edge Silver Windows (1967). Reflecting the inclusive mirror Womanhouse hoped to hold up to society, Dollhouse also includes personal mementos (handkerchiefs, bits of lace) the artists had collected from women all over the United States.
Robert Gober, Half Stone House (1979–80) and Burnt House (1980)
Robert Gober, Burnt House, 1979–80. Courtesy of Matthew Marks Gallery.
The haunting-yet-playful presence of
It is
Half Stone House
(1979–80), one of his very first sculptures, that crystallizes all of these concerns. Gober had been half-heartedly working as a painter (mostly making stretchers for more successful artists) when, on a whim, he decided to build dollhouses using materials he had found on the streets. It was mainly an effort to make some money, but he quickly became obsessed by the task; his preoccupation led to an epiphany. As Gober recalls in the catalogue for his 2014
Museum of Modern Art
retrospective, when he surveyed his completed 3.5-foot-tall structure—a typical American home for a middle-class family—he "knew I was going to be a sculptor."
Instead of suburban comfort and security, though, the work incites unease. The house seems eerily abandoned—there are no dolls living here. Yet their presence is strongly suggested. Building the dollhouse was "inextricably woven into the challenge of 'coming out' and whatever that meant," Gober wrote. "My father, as a man, built the house that we lived in. This is what I learned a man does: builds houses." Building a house meant for dolls, however, connected Gober's childhood anxieties about his sexual identity with prevailing mid-century American attitudes about family and gender.
A year later, Gober would construct an even more sinister domestic scene, Burnt House. The roof and top floor windows of the miniature white colonial have been charred by a fire. With little additional context given—the interior of the house is devoid of any furniture or dolly inhabitants—the viewer is left with more unsettling feelings of uncertainty than with a sense of voyeuristic power.
Miss Lucy's Dollhouse (1993)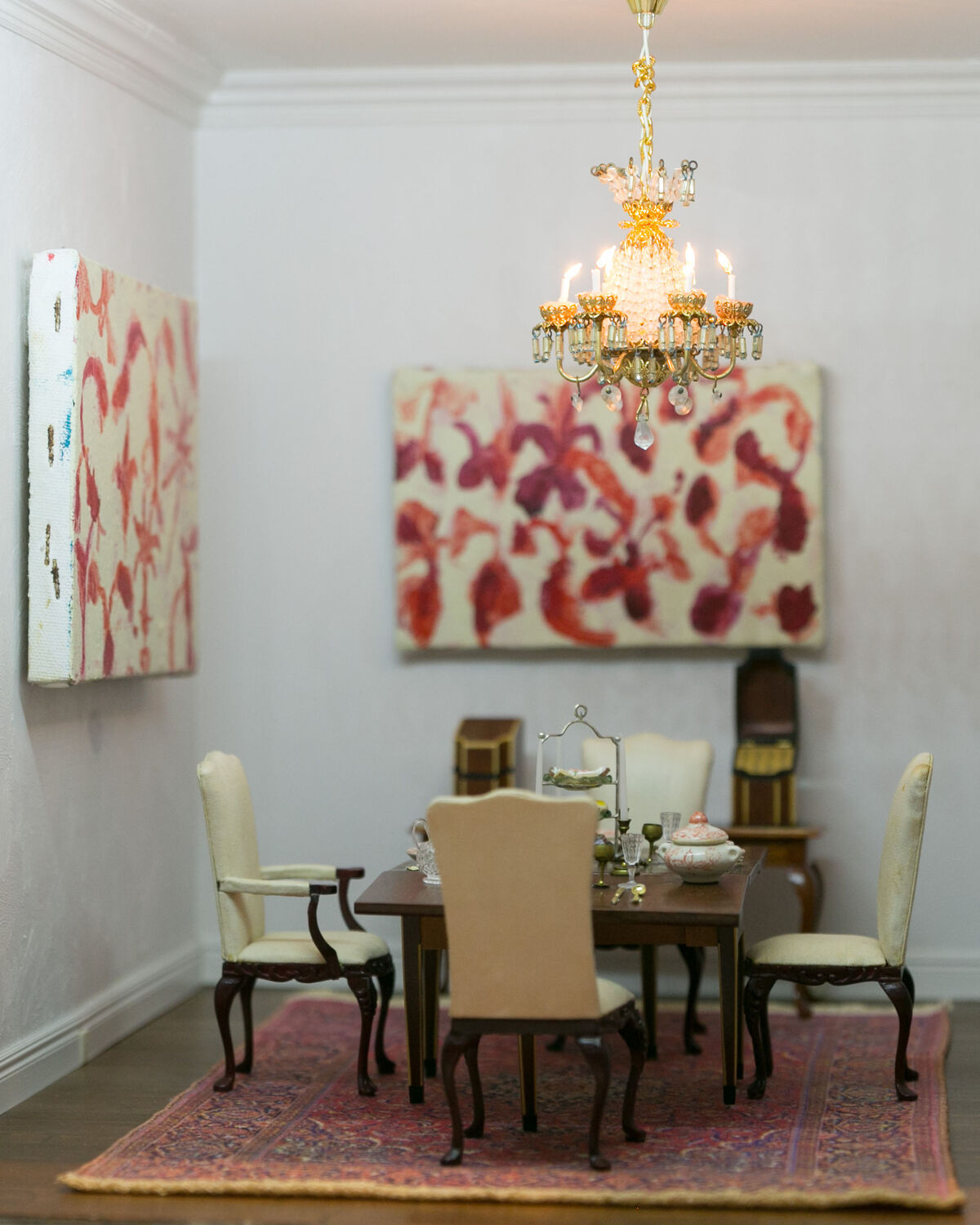 Miss Lucy's Dollhouse, 1993. Courtesy of Norton Museum of Art.
Miss Lucy's Dollhouse, 1993. Courtesy of Norton Museum of Art.
In 1993, Jupiter, Florida, resident Lucy Bassett Andrews was in the midst of a major dollhouse-making project—a hobby she enjoyed with her granddaughters—at her son Douglas's home when she received an intriguing offer from none other than
The elder Andrews recalled
Twombly's ecstatic suggestion that they host "a three-day dollhouse party," inviting all the artists he and her son knew to come down and make miniature artworks. 15 agreed to join in, including
The raucous weekend affair resulted in a collection of more than 50 original paintings and sculptures by the biggest stars of the 1990s art world, sized down to fit more than a dozen small spaces. Andrews remembered offering the artists furniture to outfit their rooms, but all except Twombly left them bare. "They all wanted galleries," she told the
New York Times
on the occasion of
a recent exhibition
featuring the dollhouse at the
Norton Museum of Art
in West Palm Beach, Florida. "I told them how lovely it looked, and then when they left I put the furniture in the houses."
Laurie Simmons, Kaleidoscope House (2001)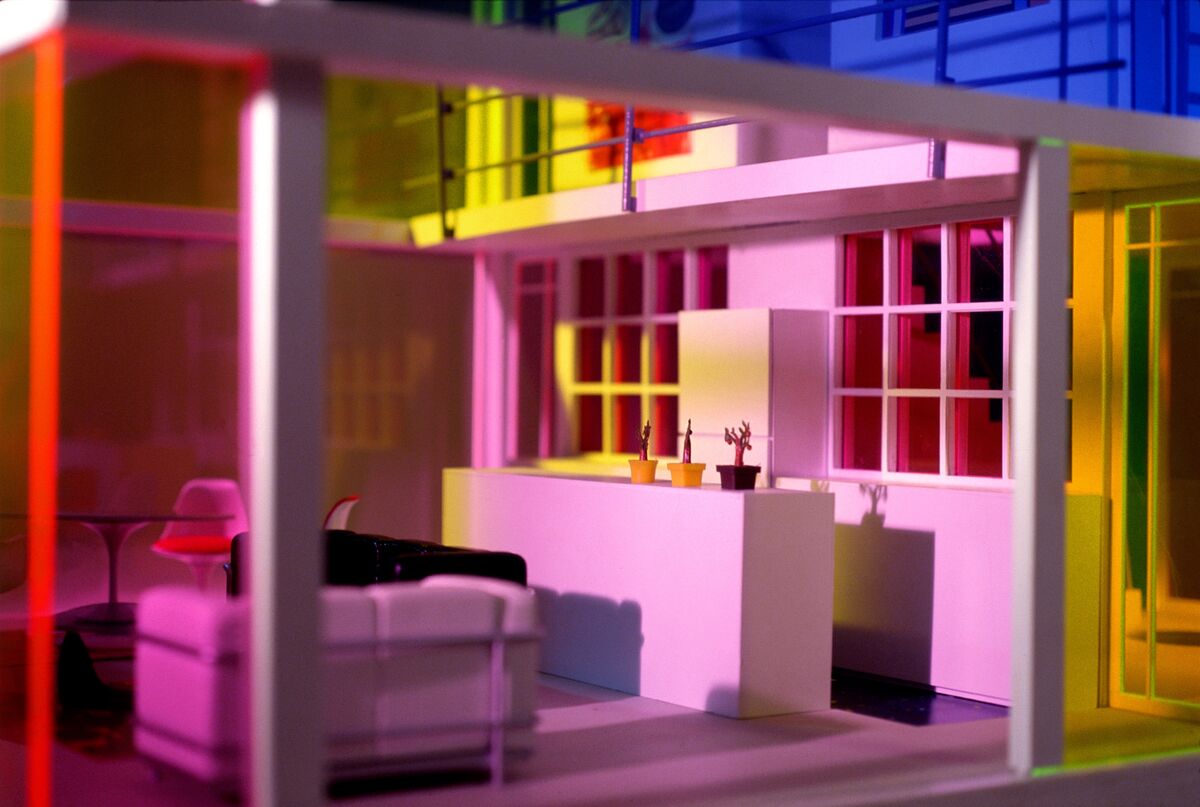 Laurie Simmons, Kaleidoscope House, 2001. Courtesy of the artist and Salon 94.
At the dawn of the new millennium,
The Kaleidoscope House
came out of our shared interests in domesticity and in particular the changing practices of home and family," Simmons and Wheelwright
wrote in the toy catalogue
for their project, distributed in a limited edition by Bozart Toys. "Clearly, there is a need for a new dollhouse in the family playroom."
Although improbably made from neon Plexiglas screens that slide open and closed, Simmons and Wheelwright wanted the house to reflect the "kaleidoscopic" range of 21st-century families. To that end, the open and mutable interior spaces could be combined for working and living, benefiting all kinds of familial arrangements. Aside from this utopic, egalitarian vision, the Kaleidoscope House was canny and pragmatic, geared more towards collectors than children. The house came sans furnishings or accessories, except for a doll family modeled on Simmons, her daughter Grace, Wheelwright, and his son Matt (Laurie's other daughter Lena and friends were available in sets sold separately). The designer living and dining room sets, not to mention the pool furniture, also came at an additional cost.
Particularly enticing catalogue add-ons were artworks by members of Simmons's real life art circle: her husband
Yinka Shonibare, Untitled (Dollhouse) (2002)
The artist
As in Shonibare's other works, the cloth dolls, chairs, and canopy bed in this two-room house are clothed in batik fabrics—a wax-dyed textile whose cultural history
has loaded colonialist implications
. The walls feature reproductions of artworks by only two artists: Shonibare and French
can get their own version
of the house (furniture included) for a cool $450, courtesy of the MoMA Design Store, which notes that it's not meant to sit on a plinth: "Active play with the dollhouse is encouraged."
Julia Wolkoff is Artsy's Art History Editor.
Marc Quinn Iris
Explore the cup collection here.
Sponsored by illy