The Perils of a Man Painting Naked Women in 2018
Installation view of Kurt Kauper, "Women," at Almine Rech Gallery. Courtesy of Almine Rech Gallery.
Since before humans could write, they've been depicting naked women in art. European caves feature drawings of voluptuous, reclining nudes, and the famous Venus of Willendorf dates back to around 28,000–25,000 B.C. Scientists believe that the latter—a reddish limestone statuette discovered in Austria in the early 1900s—represents a fertility figure. Indeed, the earliest depictions of nude women often refer to their procreative properties. From
Brooklyn-based artist
Almine Rech Gallery
on the Upper East Side. Walking into the gallery, the viewer encounters three larger-than-life figures against brushy orange, red, and tan backgrounds. Their intricately shaded and detailed physiques are strong but not overly muscular. Veins seem to pulse under the skin, while kneecaps become complicated convergences of shadow and light. Unreadable, neutral facial expressions offer no hints of underlying humanity. The figures are attractive, but they're not sex symbols. They seem somehow both flat and dimensional. They're intimidating and eerie both in their scale and in their resistance to offer any easy backstory. In other words: See the show only if you're prepared to be a little creeped out.
Kurt Kauper, Study for Woman 4, 2017. Photo by Matt Kroening. Courtesy of Almine Rech Gallery.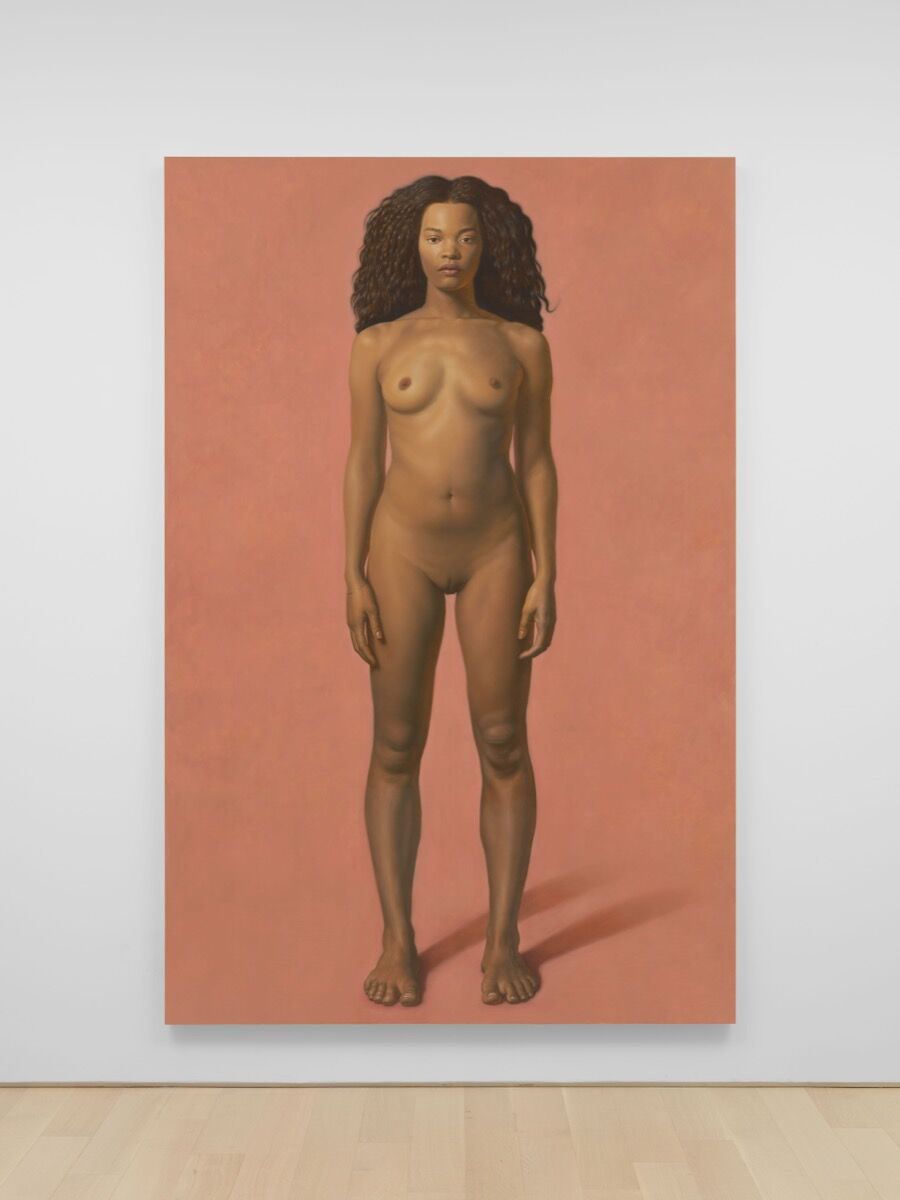 Kurt Kauper, Woman #4, 2017. Photo by Matt Kroening. Courtesy of Almine Rech Gallery.
Understandably, Kauper was hesitant to tackle the oft-tread, fraught topic that he explores in an exhibition called, quite simply, "Women." (In case you haven't heard, many American women are currently ordering a major overhaul of how men relate to their bodies, #metoo.) Sitting in his Bedford-Stuyvesant studio, which doubles as his home, Kauper thoughtfully explained his well-founded reticence—and his ultimate decision to subvert taboo. For the duration of our interview, the artist's current project—a large-scale female nude painted against a brushy blue background—gazed beyond us.
When Kauper finished graduate school in 1995, he says, painting was experiencing a major return to figuration. Artists such as
Around 2010, Kauper says, he considered the "prohibition" he'd put on his art and "thought maybe that's a problem, to tell yourself you can't do something. Maybe there could be something interesting to come out of why you don't want to do something, and how you can do it in spite of that." He attempted to destabilize the division between the two camps he saw female nudes fall into: works about objectification or desire, and works that actively rebelled against such portrayals. In this second group, he mentions such feminist artists as
Kauper found his models through recommendations and via the website modelmayhem.com. He selected young, attractive women who happened to span divergent cultural backgrounds.The three depicted figures on view at Almine Rech are of three different races, though Kauper says this was purely incidental. "I decided to stay with young women because I didn't want the work iconographically to propose an alternative to the traditional female nude," he says. "I didn't want an immediate clue that these were somehow operating outside the traditional paradigm." In other words, painting older women would make a political statement out of line with his project. Kauper simply wanted to challenge the idea that all male artist's depictions of young, attractive nude women need be objectifying. A dicey proposition, of course: fail, and he'd add to the already staggering body of work that divests women of agency and/or portrays them as mere reproductive units. Succeed, and the art world—primed more for protest than for praise, at the moment—might just shrug.
"I wanted the viewer to be in a much more unclear, ambiguous position in relationship to the figure," Kauper says. At first, he tried painting a woman with her hands on her hips. This decision, he feared, offered too much of a "readable narrative." That stance, after all, often clearly signifies empowerment and assertion. In his finished paintings, the figures stand with their hands hanging at their sides. "I've always tried to make paintings—whether they be of men or women—where the figure in the painting is actually the one who is looking at the viewer, or at least on equal footing with the viewer themselves," Kauper says, implying that for all his subjects, power derives from more than a simple hand position, clothing, or lack thereof.
Kurt Kauper, Woman #3, 2017. Photo by Matt Kroening. Courtesy of Almine Rech Gallery.
Kurt Kauper, Woman #2, 2017. Photo by Matt Kroening. Courtesy of Almine Rech Gallery.
If each of Kauper's figures features the intricate details of a woman's anatomy, they also manifest a contrived flatness. "I hope that the paintings exist somewhere on the edge of realism and artifice," the artist explains. The subdued sense of deception also stems from Kauper's aesthetic liberties. He didn't adhere to his models' strict dimensions, but altered them to be totally symmetrical in his preliminary drawings. Then, he began to make alterations, adding what he calls "little incidental asymmetries." ("I often make the model's shoulders wider, to project strength, but not in any absurd or caricatured way," he says.)
So far, Kauper has avoided major backlash. Instead, his most substantial criticism has come from within his home, emanating from his teenage children. "My daughter's not happy about me having big naked women around the house," he says. "My son doesn't care, but my son said he doesn't like my work. He says it's well-painted but it means nothing." Kauper only recently realized how much the work has been bothering his daughter, who's stopped bringing her friends over the house. The artist is currently seeking studio space outside his apartment.
Alina Cohen is a Staff Writer at Artsy.
Stir Creativity
See how Bombay Sapphire supports artistry.
Sponsored by Bombay Sapphire