How Taking a Photograph Can Land You a Visit from the FBI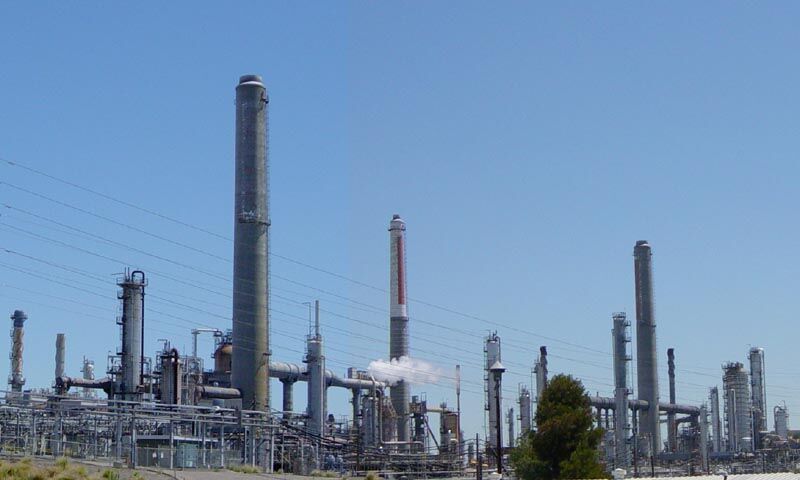 Photo via Wikimedia Commons.
In 2004, photographer James Prigoff parked his rental car outside the fence surrounding a privately owned industrial site in Dorchester, Massachusetts. The object of his interest was a natural gas storage tank decorated with a mural by nun and pop artist Rainbow Swash (1971). Instead, he got something he hadn't bargained for—a visit from the government's Joint Terrorism Task Force and his name on a Suspicious Activity Report (SAR).
Prigoff became a plaintiff in Gill v. DOJ, a case the ACLU initiated in 2014 to challenge the legal standards of suspicious behavior. "Even when the Federal Bureau of Investigation concludes that the person did not have any nexus to terrorism, a SAR can haunt that individual for decades, as SARs remain in federal databases for up to 30 years," alleges the ACLU's complaint. Among the five plaintiffs was another photographer, Aaron Conklin, a graphic design student questioned after photographing a Shell refinery in Martinez, California. The other three plaintiffs were profiled not for taking photographs, but for their ethnicity or religion.
The complaint lists other reasons why people have landed on a SAR: "female subject taking photos of Folsom Post Office," "male nonchalantly taking numerous pictures inside a purple line train," and "suspicious photography of the Federal Courthouse in Sacramento." At the center of this case was the distinction between "reasonable suspicion"—the country's regular standard for criminal questioning—and a lower, broader standard that behavior "may be indicative" of criminal activity, which the ACLU argued the DOJ adopted without informing or educating the public.
"If the federal government wants to amass huge volumes of data about innocent Americans, at the very least it must give a reasoned basis for doing so and provide the public with an opportunity to comment on the proposal," says Linda Lye, senior staff attorney with the ACLU of Northern California. But a judge ruled in favor of the DOJ in March 2017, noting the broader standard was internal policy, not legislation, and that the public was helped by a uniform rule.
Jonathan A. Loeb, a partner at Blank Rome, worked on behalf of the plaintiffs while at Bingham McCutchen (current Blank Rome of counsel Jeffrey Rosenfeld also worked on the case). "The issue here really does come down to security," Loeb explains. "Anybody who is legitimately taking photos could assert their rights under the First Amendment, as long as it's not a protected area." He gives the example of airport security as a protected area. "You can take the photo, but law enforcement can inquire as to why." Even if that conversation goes well, though, there might be repercussions—such as landing on a SAR.
So what did the government think Prigoff was doing? "Corporate espionage and trade secret theft is rampant," explains Loeb, and it's a national security concern. Working in Los Angeles, Loeb has seen plenty of cases of harassing and stalking enabled by telephoto lenses (hello, paparazzi), so he's clear about the ways in which privacy concerns curtails First Amendment rights to photography.
And yet, it's troubling that private corporations, like Shell, can use the government to control people on public land surrounding their equipment—especially when public art is involved. For those of us who have captured the Brooklyn Bridge with abandon, it's hard to imagine a world where private security might come to crash our Instagrams.
"Obviously she's most famous for pictures of people," Johnson says, but "one of her secret powers was to make photographs of people without any people in them." For the FSA, this meant photographing living conditions and folk structures—infrastructure and housing at its most primitive. Says Johnson, "[Lange] documented those things with an eye to the ideal infrastructure that a very little bit of money could help create," or improve.  
In the 1930s, the government was willing to acknowledge that there are political and social advantages to making infrastructure visible. Surely, in this current moment, when America's infrastructure is aging (as anyone using New York's ailing subways system well knows) or else is plagued by inequality (as seen in Flint, Michigan) this type of documentation should be encouraged.
In any case, private infrastructure narrows the amount of public space in ways some argue have serious repercussions related to visibility and oversight. "The overarching drive to privatize resources and services…might not only fail to solve infrastructure problems but might also disrupt the structure of democracy," Donald Cohen, the executive director of In the Public Interest told
The Nation
late last year. "With control comes hidden information"—both financial and aesthetic.
In these hypotheticals, debates over the artistic quality of the photographs—which never came up in Gill v. DOJ—don't pertain to the law. "The burden isn't on the photographer to prove [what] constitutes expression—it's the opposite," says Loeb. It's for the government to decide what "may be" indicative of criminal behavior, and those standards will apply to non-artists and artists alike.
Currently, the ACLU is examining options for appeal in Gill v. DOJ. "I think that photographers should continue to exercise their First Amendment rights without concern that they need to be afraid of law enforcement," says Loeb. "But we also need to ensure that the laws aren't vague." And it's cases like Gill v. DOJ that help show the public and photographers where that line is being drawn.
Correction
A previous version of this article misstated the name and title of the lawyer from Blank Rome who worked on behalf of the ACLU plaintiffs. It was Blank Rome of counsel Jeffrey Rosenfeld, not associate Jeffrey M. Rosenfeld.
Stir Creativity
See how Bombay Sapphire supports artistry.
Sponsored by Bombay Sapphire