Diana Widmaier-Picasso, Larry Gagosian, and Jeffrey Deitch Team Up for Miami Show of Eroticism in Art
Portrait of Diana Widmaier Picasso photographed in Paris by Fred Lahache for Artsy.
Diana Widmaier-Picasso has long been interested in eroticism and art. In 2005, she wrote a book about her legendary grandfather's mastery of the topic, Picasso: Art Can Only Be Erotic. Widmaier-Picasso explains that Picasso himself didn't make a distinction between art and sexuality. "For him it was all the same thing," she told me earlier this month in New York. She took that principle as a starting point to look "all the way through art history at the very early representations of sexuality and how our society has evolved." This week in Miami, Widmaier-Picasso's vision of eroticism in modern and contemporary art finally realizes itself in exhibition form.
Titled "
Desire
," the show is a collaborative effort by Larry Gagosian and Jeffrey Deitch to coincide with Art Basel in Miami Beach. It takes place from November 30th at Miami's Moore Building. (This is the second year the pair have worked together in Miami, with 2015's "Unrealism" focusing on figurative painting.) "Desire" features a roster of over 50 established and emerging artists, the majority of whom have worked with the two dealers in the past, but also a strong contingent of Widmaier-Picasso's choosing who have not. Voyeurism, fantasy, and abstract expressions of desire are all at play in the wide variety of media present: sculpture, photography, painting, video, cartoons, drawings, and live performance. A number of works, like a series of photographs by the Argentinean filmmaker
Alex Israel and Bret Easton Ellis, Trent Looked at Tara, 2016. ©Alex Israel and Bret Easton Ellis; image courtesy iStock and Gagosian; Photography: Josh White/JWPictures.com.
"We have artists in the vein of 
The show leans heavily on major male artists and, like art history itself, predominantly offers a view on men's desire of women. There's a film by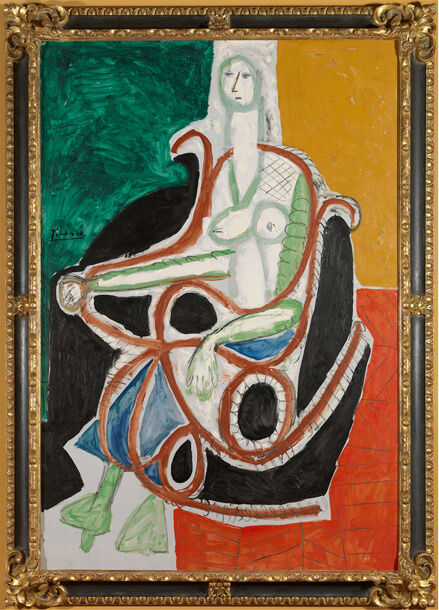 Pablo Picasso, Femme Dans Un Rocking-Chair, 1956. ©2016 Estate of Pablo Picasso / Artists Rights Society (ARS), New York. Courtesy Gagosian.
John Currin, A Fool with Two Young Women, 2013. ©John Currin. Photo Rob McKeever. Courtesy Gagosian.
Some works, like 
What also may not seem obvious at first is the show's consideration of the ethics involved in representations of sexuality and eroticism. "The moral aspect and politics around sexuality is always something that has fascinated artists," said Widmaier-Picasso, pointing particularly to artists' efforts to subvert efforts by the establishment to hem in on eroticism, desire, and sexual expression. Included in the show are polaroids from Polish-French artist 
Ed Ruscha, Desire, 2013. ©Ed Ruscha. Photo by Benjamin Lee Ritchie Handler. Courtesy Gagosian.
It's the effect on viewers created by works that straddle moral boundaries or catch them off guard that most excites Widmaier-Picasso. She says Animation Masks (2011), an animated video that features a caricature of a Jewish man who flips through a copy of Vogue as he recites Richard Brautigan's Love Poem (1967), and is presented in a specially conceived room within the newly renovated Moore Building. Great art, she said, "makes you wonder if it's good to like it. It makes you forget about disaster." With a rocky 2016 now coming to a close, that's likely something that everyone can get behind.
Casey Lesser is Artsy's Creativity Editor.