Playing with Art History and Paint, Josh Smith's Latest Show Delights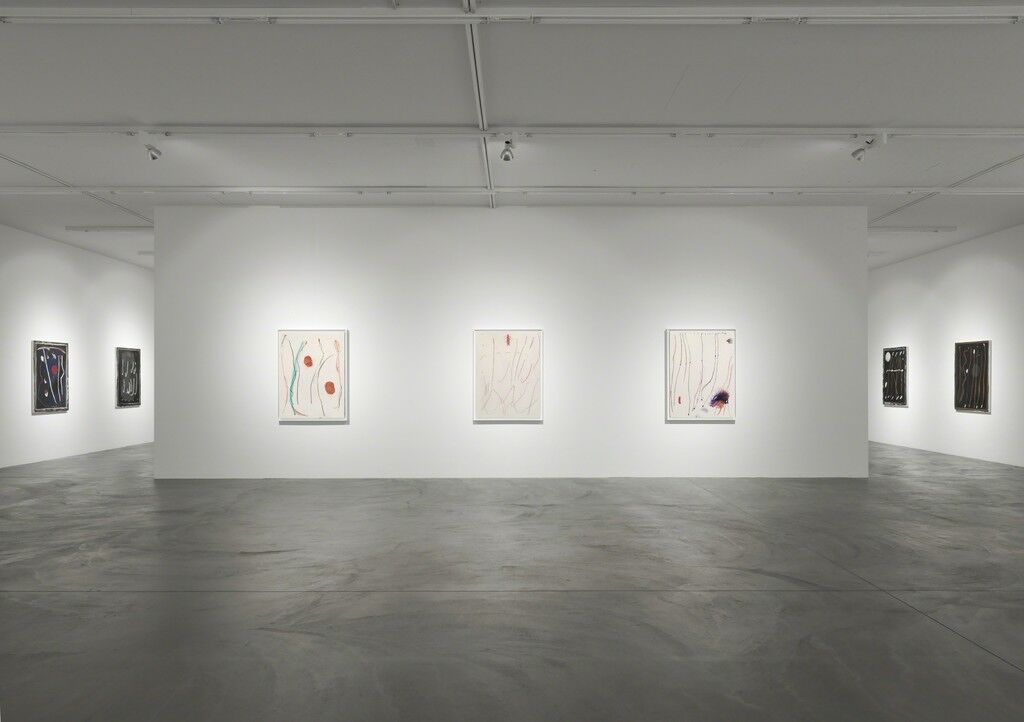 Installation view "LÖWENBRÄU AREAL," at Galerie Eva Presenhuber, Zürich, 2015. Courtesy Galerie Eva Presenhuber. 
A painter dedicated to conceptual abstraction, Josh Smith dissects cliché like a scientist testing a hypothesis. By exhaustively reworking his subject matter—be it his own signature or a postcard-perfect image of palm trees set against a sunset—Smith brings his gestural process to the surface through repetition. Smith's work is as precise as it is humorous, taking on the artifice of contemporary art. Made in quick succession, Smith's paintings are most effective when displayed  en masse, as they are at his current solo show at Galerie Eva Presenhuber. Titled "LÖWENBRÄU AREAL," the show shows Smith riffing on the slap-dash style of early Abstract Expressionists, executed in an informal style that only a skillful artist can achieve.
Smith's references aren't always direct. While from afar the works at Galerie Eva Presenhuber call to mind the canvases of Joan Miró and early Mark Rothko, up close they recall the imitative primitivism of the avant-garde CoBrA artists. Wielding art historical tropes as tools, Smith toys with ideas of originality, quoting fellow artists as if they were visual synonyms, but never committing to just one.
Created with thick brushstrokes of red, black, and white, Smith's squiggly lines and skewed geometries seem to also hint at elemental themes. Moons, trees, and stars come to mind, and such allusions lend a sense of balance to his works.
Installation view "LÖWENBRÄU AREAL," at Galerie Eva Presenhuber, Zürich, 2015. Courtesy Galerie Eva Presenhuber. 
Always bold in his brushwork, Smith's idiosyncratic touches act as a kind of bridge for the viewer to enter his compositions. Rhythmically spaced throughout the white cube gallery, works on view are arranged to direct the viewer's attention to the nature of art installation, touching on how the way a work of art is presented can often play a role in how it is perceived.
Each work leaves the viewer with nothing to do but admire Smith's deft ability with paint. Indeed, walking through the exhibition gives one the feeling of hearing a personal joke from a good friend—familiar, wicked, and always pleasing.
"LÖWENBRÄU AREAL" is on view at Galerie Eva Presenhuber Aug.29–Nov. 7, 2015.
Stay up to date with Artsy Editorial