How Pollock and the Abstract Expressionists Created a New Visual Language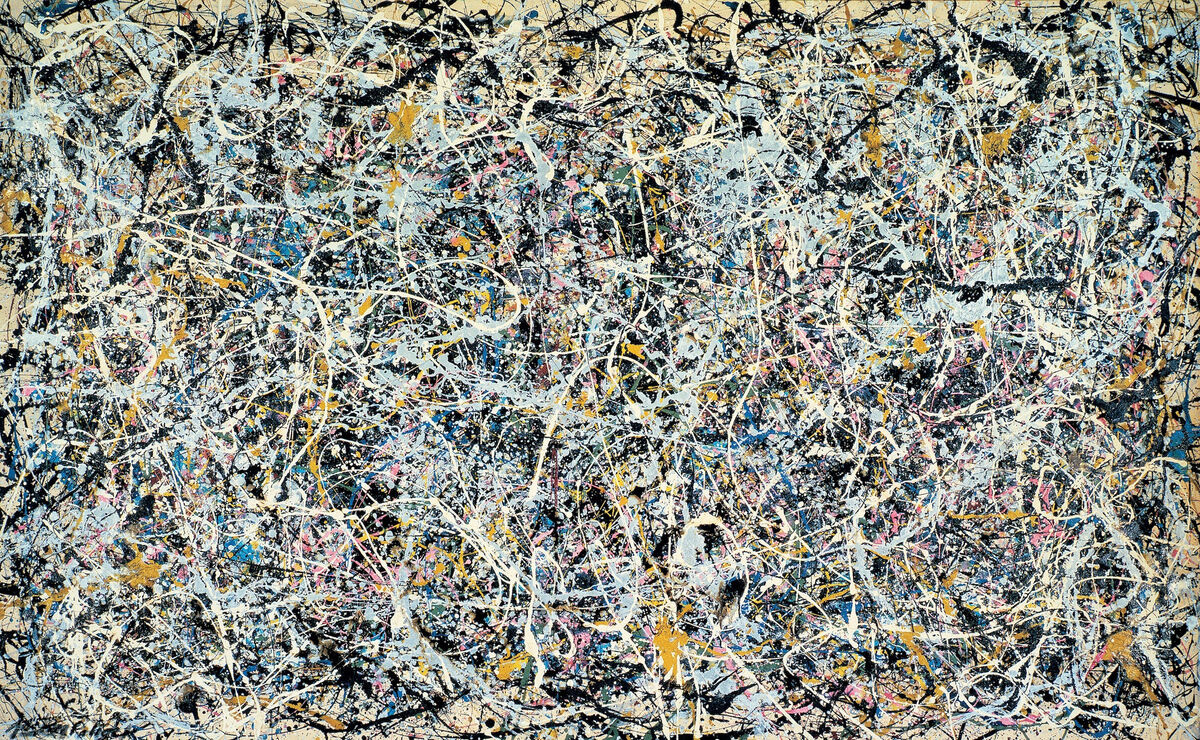 The Origins of Abstract Expressionism
In the 1930s, as the events leading up to World War II began to unfold, many of the artists later known as the Irascibles were still working in a more realist style. Pollock studied with and was influenced by the
Though these more representational works were uncharacteristic of the artistic styles they would ultimately arrive at, the idea of creating painting and sculpture on a large scale derived from this earlier moment.
The group was also heavily influenced by the Surrealists in the late 1930s. As the tide of Fascism rose in Europe, most of the major figures in the Surrealist movement were forced to leave Europe, and several chose New York City as their refuge. The impact of their ideas, techniques, and themes—which focused on
In 1941, Pollock would visit MoMA's exhibition "Indian Art of the United States," where he saw Navajo artists create a sand painting on the museum floor. He and other Abstract Expressionists took a deep interest in so-called "primitive" art—a problematic term used to describe the art of non-Western or indigenous cultures—as a means to connect with the basis of human creativity. "Primitive art has become for artists the romantic dream of our time," Newman
wrote
in 1946, suggesting a resonance between the "terror" perceived in this style of art and that of the modern world in the wake of the atomic bomb.(If one means of making an Abstract Expressionist work was to take this perilous trip to confront the "other," the group barely included any artists of color—though African-American artist
The traumatic experience of World War II and the legacy of the atomic bomb loomed large in philosophy and the arts of the period. Post-World War II existentialism, which grappled with the darker potential of human experience and the need for authenticity in human behavior, led certain Abstract Expressionist painters to think of their canvases as spaces within which they expressed their truest selves, rather than simply surfaces to be covered with paint.
For these artists, the process of making a painting became a heroic battle against the struggles of human existence. Though they were never a defined movement, the Abstract Expressionists shared the belief that abstract art could communicate deeper, more universal truths than naturalistic painting or sculpture, which would typically retain some sort of culturally defined message. Beyond any formal advances their art made, Abstract Expressionism came to represent the capacity for freedom in artistic creation.
The Leaders of Abstract Expressionism
Abstract Expressionist painting as understood today largely falls into two camps: gestural or
Color field painting, on the other hand, sought to engage or absorb the viewer with large areas of intense color, as in Rothko's hazy rectangles of richly mixed color or Newman's more hard-edged geometry.
In the field of sculpture, artists as diverse as Smith and Bourgeois were considered Abstract Expressionists. Smith's welded-steel statues often mingle intersecting geometric shapes with brushed-metal finishes, resembling the painterly techniques of his colleagues. In this phase of her career, Bourgeois created abstract statuettes of discarded wood that she found and painted in such a way that her her process was visible, challenging prior conventions of "finished" works of naturalistic sculpture.
The Women of Abstract Expressionism
It was no accident that Bourgeois was one of very few female artists to ever be associated with Abstract Expressionism. Hedda Sterne, despite her inclusion in the 1951 "Irascibles" photo, perhaps cut to the heart of this imbalance when she
said
in a 1981 interview, "[The men] all were very furious that I was in it because they all were sufficiently macho to think that the presence of a woman took away from the seriousness of it all."
Though they made significant contributions to the group, there was a tendency for female Abstract Expressionist artists to be taken less seriously than their male counterparts. For years, Krasner's works were seen as "tid[ied] up" versions of her husband Pollock's groundbreaking paintings, despite her career starting two decades before their marriage. Similar criticisms were leveled at
Nevertheless, women exhibited countless paintings in major Abstract Expressionist exhibitions, and their work is recognized today as central to the group. Exhibitions such as "
Women of Abstract Expressionism
" (2016) at the
Denver Art Museum
have continued to redress historical disparities by exclusively showing works by women in the Abstract Expressionist camp, including Krasner, de Kooning, Mitchell, and
Why Does Abstract Expressionism Matter?
Abstract Expressionism was also sent abroad in the 1950s in government-sponsored exhibitions, as part of a Cold-War cultural policy to show the world how much more liberated artists were in the United States than in the Soviet Union, where Stalinist dogma dictated the styles in which artists could work.
Header image: Jackson Pollock, Number 1, 1949, 1949. © 2012 Artists Rights Society. MOCA, Los Angeles.